The 10 Best Hikes in Sedona
Glory in Arizona's red rock country on these perfect Sedona hikes.
Heading out the door? Read this article on the new Outside+ app available now on iOS devices for members! Download the app.
Sedona's red rocks and juniper deserts don't reveal their secrets to just anybody. Soaring cliffs and buttes hide natural windows, arches, pinnacles, and slot canyons crafted by millennia of wind and water. With the Coconino National Forest right in its backyard, this Arizona town has dozens of trails—so many that it's easy to wander around and miss the best stuff without even knowing it. See Sedona's highlights in a day with one (or more) of these essential hikes.
Brins Mesa Trail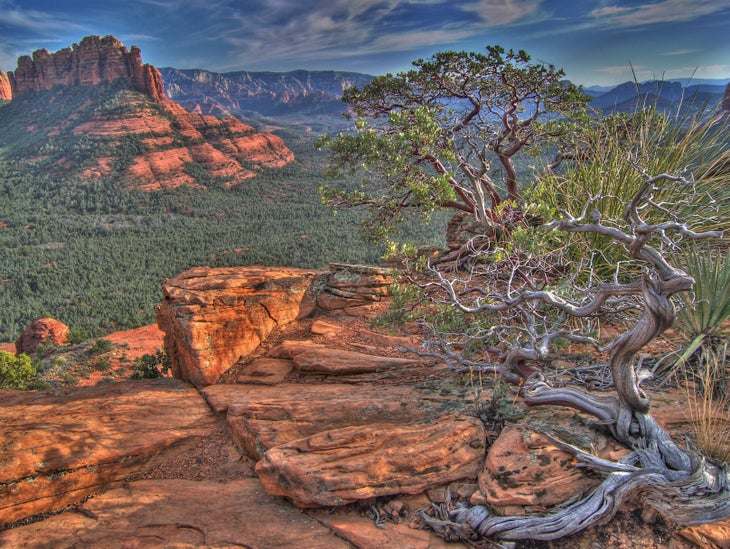 Trailhead Brins Mesa
Mileage 6.4 miles round-trip
Elevation Gain 600 feet
Drive time from Sedona 32 minutes
The unique thing about the Brins Mesa Trail is how open it is. Instead of plunging into closed-off canyons or roughing it through desert brush, you'll enjoy panoramic views all along this moderate trek. Sample the quintessential Sedona landscape as you pass iconic red rock formations like Coffee Pot Rock, Chimney Rock, and Wilson Mountain. To shake it up on the way back, link onto the Soldier Pass and Cibola Pass Trails for a 7-mile lollipop loop.
Soldier Pass Trail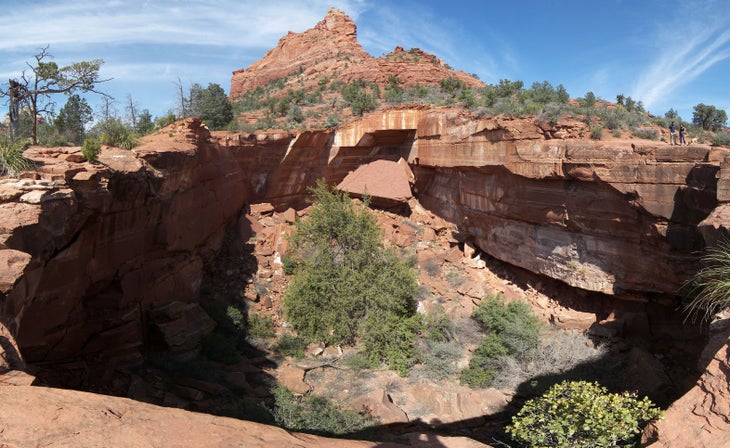 Trailhead Soldier Pass
Mileage 4.8 miles round-trip
Elevation Gain 450 feet
Drive time from Sedona 8 minutes
The Soldier Pass Trail starts in the middle of town and climbs directly into the backcountry. Dip through desert arroyos to reach Devils Kitchen, the largest of Sedona's seven sinkholes, then level out to pass the Seven Sacred Pools, carved into the red rock and filled with murky, sandstone-tinged water. Enjoy the shade of Arizona cypress before a steep climb out of the wash to the top of Brins Mesa, with views sweeping south to Sedona and north to the Mogollon Rim. Head back the way you came or continue another .3 miles to loop back along the Brins Mesa Trail.
West Fork of Oak Creek
Trailhead West Fork of Oak Creek
Mileage 6.6 miles round-trip
Elevation Gain 230 feet
Drive time from Sedona 18 minutes
The West Fork isn't Sedona's most iconic trail for nothing: The route features 200-foot cliffs, 13 perennial water crossings, and the ruins of historic Mayhew Lodge, originally built by a bear hunter and later featured in the 1923 Western The Call of the Canyon. If the initial 3 miles only whet your appetite, there's an entire 11 miles of canyon ahead to explore. Plan ahead if you're going to march off-trail and deeper into the wilderness: it involves more stream crossings, possibly even swimming. Note: This classic is also a crowd magnet; go off-peak for a quieter experience.
Courthouse Butte-Bell Rock Loop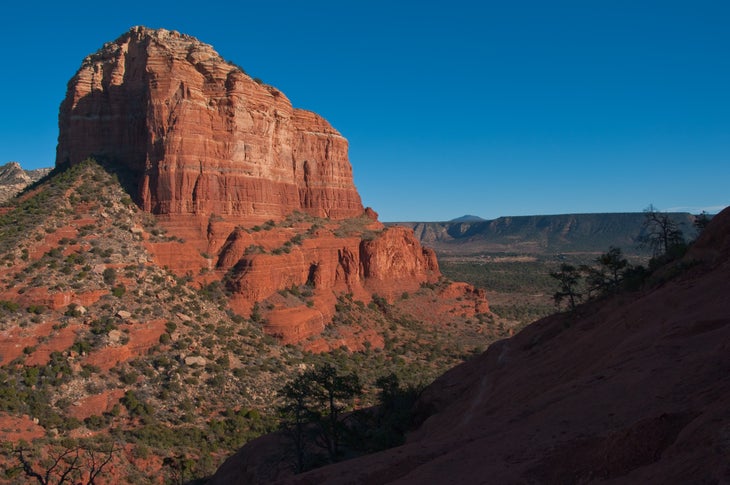 Trailhead Cathedral Rock, on Back O' Beyond Road
Mileage 1.4 miles round-trip
Elevation Gain 600 feet
Drive time from Sedona 10 minutes
Beat the crowds around Bell Rock (and get a better view of it) by heading southeast along this laid-back loop to circle two towering sandstone peaks. When you can look away from the grand buttes, enjoy flowery grasslands, low dry washes, and bare rock terraces. Extend the loop a mile by following the Big Park Trail on the larger Courthouse Butte's south side.
Boynton Canyon Trail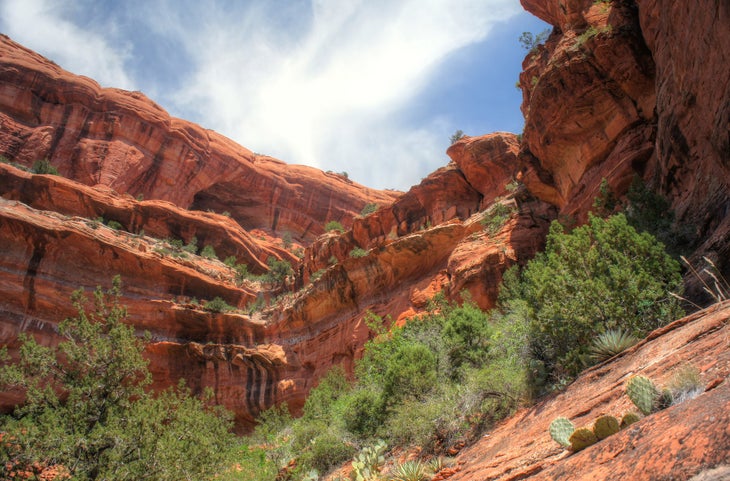 Trailhead Boynton Canyon
Mileage 5 miles round-trip
Elevation Gain 450 feet
Drive time from Sedona 16 minutes
The Boynton Canyon Trail has been a power spot for centuries. Long before Boynton Canyon became known as a spiritual "vortex" to modern visitors, the Yavapai-Apache Nation considered it their people's sacred birthplace. As with other Sedona-area vortexes, believers consider this a spot where natural energies meet and emotions intensify (and you might run into some of these New Age hikers along with javelinas and white-tailed deer). Start out by skirting a recently built luxury resort through low growth scrub forest before plunging to the canyon floor. From there, trace the canyon's deep orange walls for over a mile, then ascend to high pine-oak forest and finally to a plateau above the treetops.
Broken Arrow Trail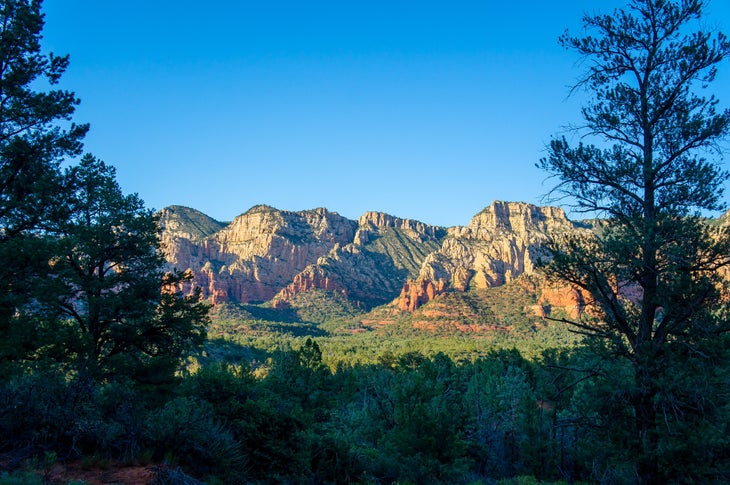 Trailhead Morgan Road
Mileage 3 miles end-to-end
Elevation Gain 300 feet
Drive time from Sedona 7 minutes
Catch another glimpse into Satan's abode (figuratively, of course) on the Broken Arrow Trail as you pass the Devil's Dining Room, a fenced-off sinkhole 100 feet downhill from the half-mile marker on this trail. After admiring the depths of the desert, catch some views from on high as you climb to rock outcroppings along the Twin Buttes. Around mile one, bear right along a side trail and tack on an extra half-mile to the aptly named Submarine Rock, a massive expanse of flat, bare rock rising above the treetops. Skirt Chicken Point to finish at the other trailhead on Chapel Road.
Devil's Bridge Trail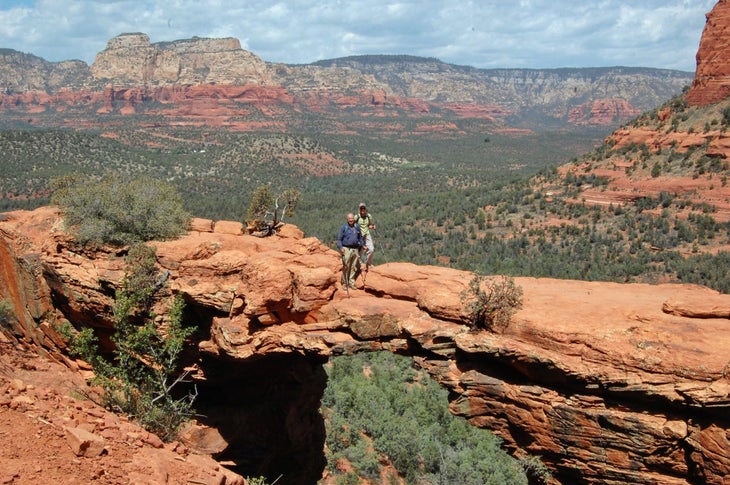 Trailhead Devil's Bridge Trailhead (high-clearance vehicle required) or Mescal Trailhead (additional 2.2 miles round-trip)
Mileage 1.8 miles round-trip
Elevation Gain 400 feet
Drive time from Sedona 13 minutes
It's just a light uphill trek on the Devil's Bridge Trail to reach Sedona's largest sandstone arch and sweeping views of red rock buttes and shrub forest. Start out meandering through washes of juniper and prickly pear cactus. At about .8 mile, a divide in the trail offers a couple scenic options. Keep left to top out at the base of the arch and admire its grandeur from below. Keep right to climb a natural rock staircase to an open rocky field, then Press on to reach Devil's Bridge and, if you're feeling daring, to cross it.
To extend the hike (and spare your vehicle the pains of an unpaved, rocky road), hop on trail at the Mescal trailhead and take a 1-mile connector to the main trail. For an even longer adventure (5.8 miles round-trip), start from the Dry Creek trailhead and link to Devil's Bridge on the Chuckwagon Trail through low-growth forest.
Cathedral Rock Trail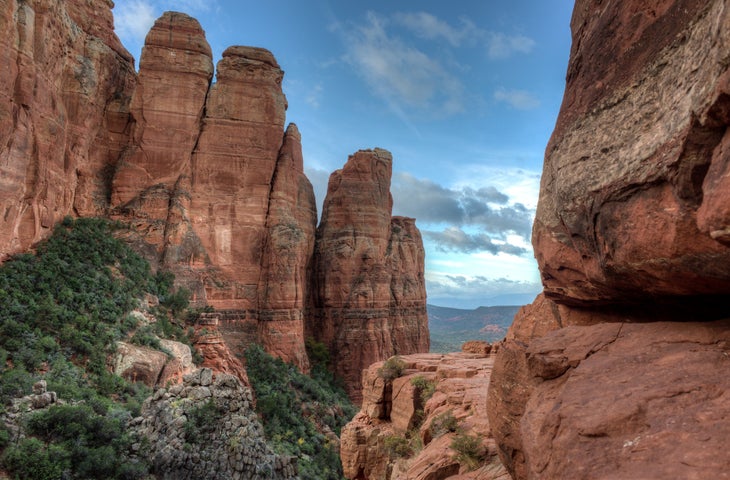 Trailhead Cathedral Rock, on Back O' Beyond Road
Mileage 1.4 miles round-trip
Elevation Gain 600 feet
Drive time from Sedona 10 minutes
The heights of this cathedral are not attained easily. It's a strenuous hike—more of a scramble, really—through washes, along ledges, and over bare rock with toeholds in some places. After the initial steep climb, emerge on a knob and follow cairns over ledges, along a drainage, and up onto a saddle. Crest between the cathedral's spires and reap your heavenly reward: stretches of juniper and oak punctuated with prominent red buttes.
Fay Canyon Trail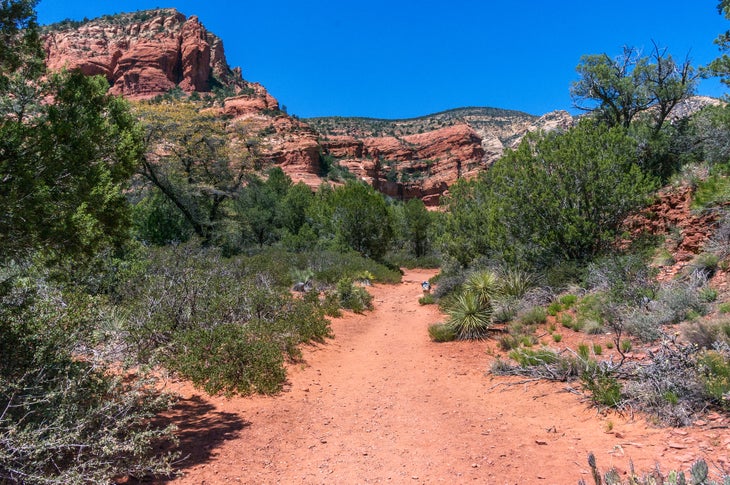 Trailhead Fay Canyon
Mileage 2.2 miles round-trip
Elevation Gain 150 feet
Drive time from Sedona 17 minutes
Relatively flat and laid-back, the Fay Canyon Trail still offers some serious payoffs: red canyon walls, slopes of flowers and cacti, and a towering natural sandstone arch. Stroll the length of this quintessential box canyon to its dead end at a Supai sandstone cliff. A steep 100-foot climb reveals bonus views over the canyon.
Bear Mountain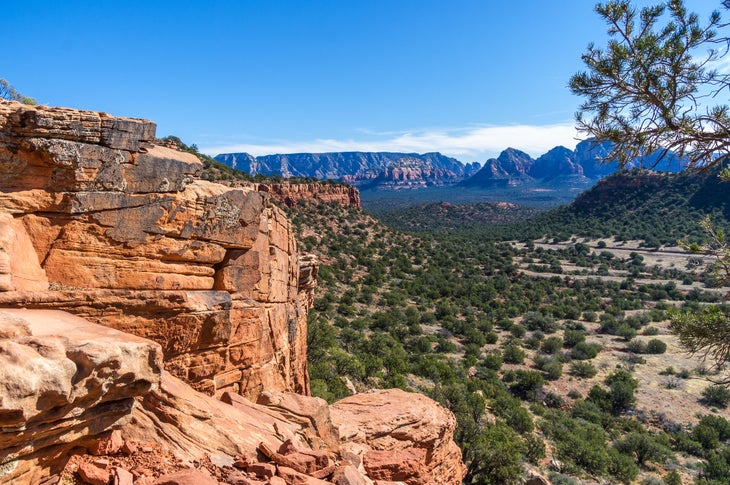 Trailhead Bear/Doe Mountain
 Mileage 4.6 miles round-trip
Elevation Gain 1,800 feet
Drive time from Sedona 19 minutes
See the red rocks top to bottom when you bag Bear Mountain, a favorite among Sedona locals that's light on crowds and heavy on scenery. Climb rocky switchbacks and a steep, narrow side canyon. Take a break at the false summit for views over Fay Canyon, then finish the more gradual climb to the real treat: a panorama over canyons, cliffs, and plains at the true summit and a bonus vista at the Red Canyon Overlook, where you can see all the way to the San Francisco Peaks in the north.