The Ultimate Guide to Hiking the Zion Narrows
The Narrows at Zion National Park offers an incredible adventure in America's most amazing slot canyons. Here's how to safely explore them.
Heading out the door? Read this article on the new Outside+ app available now on iOS devices for members! Download the app.
With 16 miles of sandstone walls soaring up to 3,000 feet above the riverbed and hanging gardens draped above the fast, clear water, Zion National Park's Zion Narrows is a hiking experience that has earned its place on hikers' bucket lists. If you're going to tackle it, though, you're going to need to prepare a little differently than you might for a more garden-variety route: Slot canyons require different skills and preparation than most other hikes, though, and the route through the Narrows has some special considerations. Check out our guide to find out how, when, and why to hike the Zion Narrows.
What Are the Narrows?
As you might be able to guess from the name, the Narrows are a long, narrow stretch of Zion Canyon, at times just 20 to 30 feet wide, rimmed by vertical sandstone walls. Unlike most other hikes in Zion National Park, there is no trail in the Narrows. Instead, hikers wade directly up the clear Virgin River. For that reason, it's important for visitors to be clued into the weather: When it rains heavily, the water in the Narrows can rise to dangerous levels.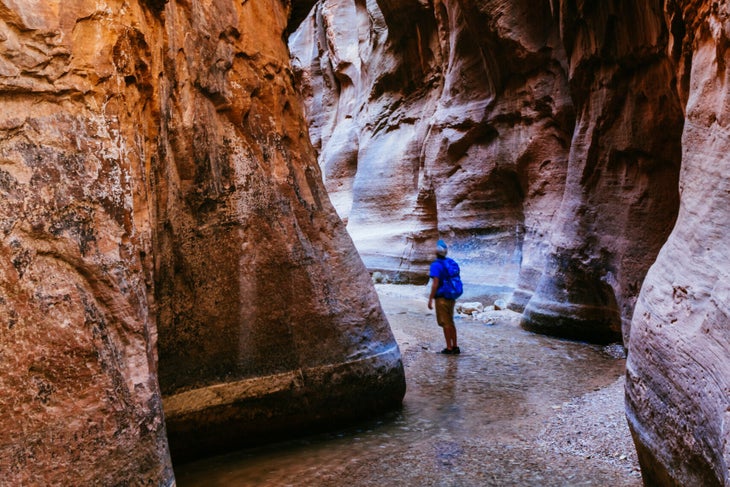 The Route: Zion Narrows
Some people do the Narrows as a dayhike (if you choose that option, be sure to bring a headlamp; you'll start early and end late), but stretching the trip into two days lets you really appreciate the canyon. Start at Chamberlin Ranch, then hike three miles through pine trees and vivid red dirt. At mile three, enter the Virgin River and begin to wade upstream. Another 3.5 miles in, reach The Squeeze, where the canyon walls narrow to just 20 feet apart. A couple miles later, at mile 8.6, Deep Creek joins the Virgin River, and the water level rises. There's also a campsite here, just up Deep Creek, that makes for the best even split between the two days of hiking (though there are 11 other backcountry sites in the narrows if you prefer one long day and one short).
The next big marker is Goose Creek, which comes in at mile 10.6. Deeper water, stronger currents, and slickrock drops make for slower going past this point, so plan your expected travel time accordingly. A mile below that comes a stretch of long, straight sandstone "hallways", where the canyon ceases most of its winding for a bit (you may have to swim here). After that, though, you're home free; mile 13.3 marks the end of the serious slot canyon and it's easy going to the 3,000-foot redrock walls of the Temple of Sinawava and then out to the parking lot.
Zion Narrows Permits
Reservations are required for both dayhikes and backpacking in the narrows, and backpacking also requires a wilderness permit. Reservations open on the 5th of each month for the month after, and fill up extremely quickly; they are specific by campsite, as well. There are also a limited number of walk-in permits available on a first-come, first-serve basis the day of or before a trip. Caveat: If the river has too high a flow (above 120 cfs), all permits will be canceled.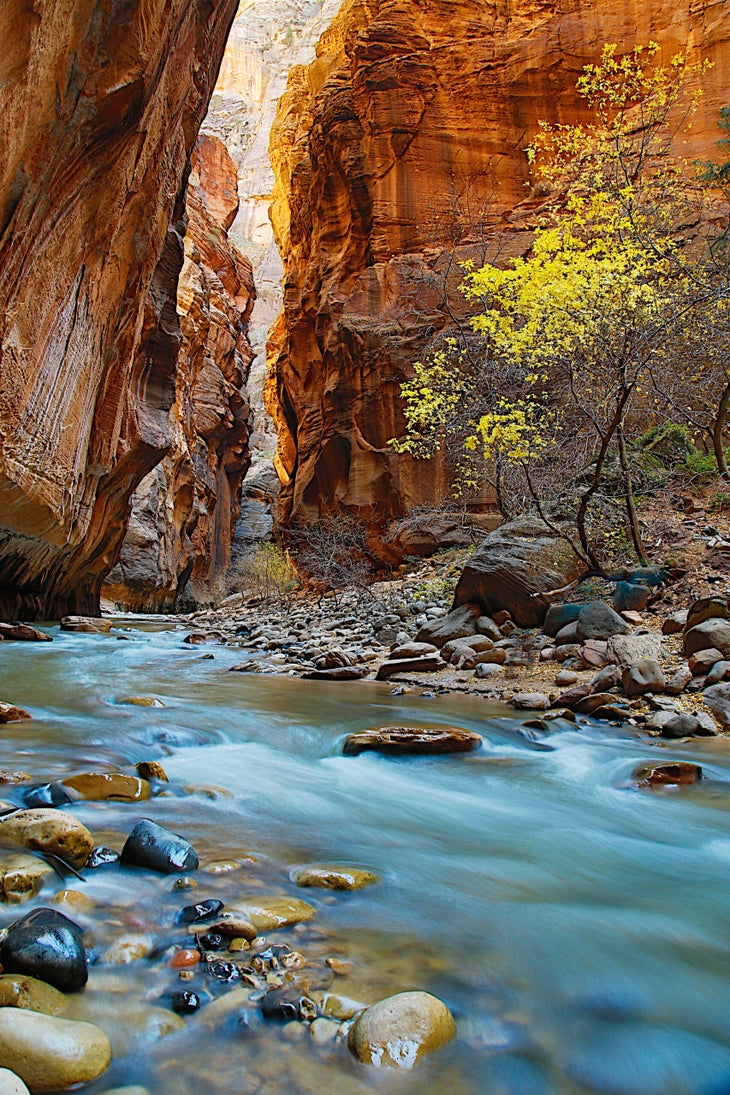 The Narrows are a true slot canyon, and require skills not often used in hiking. Be prepared to swim—not just with physical fitness and knowledge, but also with gear prep. Make sure your backpack is totally waterproofed with a liner, dry bags, or trash bag, and double-bag your sleeping bag. (Alternatively, spring for a fully-waterproof backpack, like the ones made by Mustang Survival.) Bring trekking poles to check the depth and bottom conditions of pools along the way and to aid in river crossings. Make sure your shoes of choice are quick-drying and have grippy soles ready to cling to sandstone drops and wet boulders. Go for fast-draining ones rather than waterproof boots: Once the water gets higher on the cuff of your shoe, a membrane isn't going to do you much good anyway.
Avoiding Floods in the Zion Narrows
Slot canyons like the Narrows are uniquely vulnerable to one hazard hikers may not expect in the desert: flash floods. With no easy escape routes (especially in the narrowest sections or any part with especially sheer walls), hikers in a slot canyon can't avoid rising floodwaters, and any surge can end in disaster. Check the forecast for several days around your trip as well as during your planned hike, and don't just check the weather in the canyon itself–runoff from upstream catchments can cause a flood just as easily. Know the signs of a flash flood so you have a higher chance of finding an escape route if one comes through the canyon: sudden increases in water depth or water speed, the river turning muddy or dark, and a roaring sound like a jet engine. If you see thunderclouds building overhead, even without any of those flood signs, find your way to high ground or out of the canyon as soon as possible. The Narrows don't have any bailout points after you enter the canyon, but some of the side canyons do reach higher ground.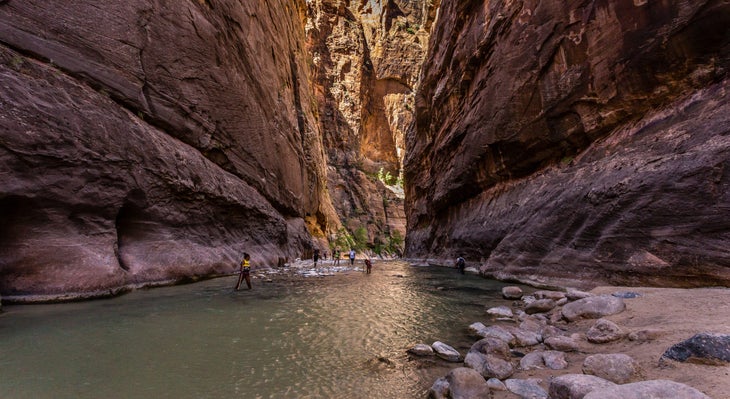 When to Hike the Zion Narrows
Monsoon season in the southwest falls between June and August, so spring or fall are your best bets for a good weather window. Though Zion is in the desert, temps in the canyon bottom can be cool, especially in fall as the summer heat begins to fade: bring warm layers, a windproof shell, and, if you're expecting particularly cool temps, a farmer John wetsuit for the swims and deeper wading sections.