Scramble Above Zion's Canyons on Lady Mountain
Scramble up classic redrock and take in the canyon country views on this 4-mile out-and-back.
Heading out the door? Read this article on the new Outside+ app available now on iOS devices for members! Download the app.
Hungry for more climbs? Check out the rest of our summer summit scrambles here.
Distance: 4 miles
Time: 1 day
Elevation gain: 2,700 feet
There was a time when Lady Mountain was one of the simplest routes you could take to get to the rim of Zion Canyon from its floor. The path up the mountain began its life in 1924 as a project of the National Park Service: Using thousands of feet of cable, ladders, and more than a thousand carved steps, crews created what you could call a trail if you're being extremely generous, and a via ferrata if you're being more realistic. That route would remain in use until the 1960s, when the NPS, wary of the multiple fatalities that had taken place on the route and the annual maintenance it required, disassembled it.
The intrepid can still follow this route up, but it's a little tougher than it used to be; while this route is still very popular, it's far less crowded than its better-known sibling route, Angels Landing, which can draw 1,000 people per day during peak season. Part of that is the difficulty. In fact, it's actually a stretch to call Lady Mountain a scramble: This may not be as adventurous as the park's famous big walls, but there's legitimate, 5th-class climbing on this route. You'll need to navigate up three separate two-story-tall faces on preexisting anchors (up to 5.6 difficulty) in the first mile on this 4-mile out-and-back to the top of one of Zion Canyon's grandest towers.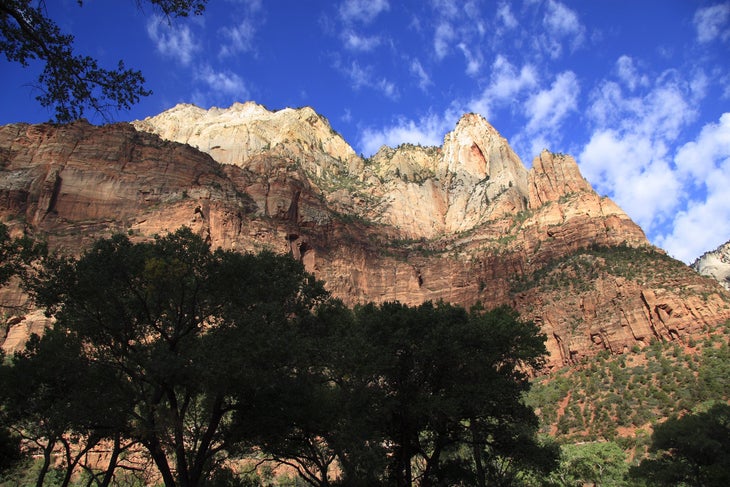 The Trail
To get there, take the Middle Emerald Pools Trail .3 mile to the "Rockfalls" information sign; turn west and ascend the mountain slope on an unmarked path to the first climbing section.
The business of the route begins with a block- and boulder-filled chimney. Make your way up, following chipped steps to another chimney (you'll want to bust out your rope here, if you brought one). More climbing leads to another steep section with a hand crack. Make your way up the sandy trail to the "endless staircase," a long, leg-burning ramp. (You can stash your rope here and grab it on the way down.) From there, link up sections of social trail with scrambles up ledge systems and bouldery chutes to take you to the summit ridge. Follow the ridge to the official summit marker and soak in views of the East Temple and the Great White Throne. Return the way you came, taking care not to stray from the trail.
Recommended Gear for Climbing Lady Mountain
In addition to your standard Zion hiking kit—wicking clothes, sun protection, pants that can stand up to being scraped against sandstone—you'll want to come to this trip prepped for a legit climb. Unless you're supremely experienced on sandstone, you'll want to bring a rope and harnesses, a belay device, a few carabiners and slings, and the know-how to use them. Also nice to have: sticky rubber approach shoes, which will increase your confidence on the rock.