Hiking Angels Landing in Zion National Park: Everything You Need to Know
It's one of the classic day hikes of the United States—and with views like this, it's easy to see why.
Heading out the door? Read this article on the new Outside+ app available now on iOS devices for members! Download the app.
When you're climbing the knife-edge ridge up to Angels Landing, hold onto the supportive chain and don't look down—if you're sensitive to heights, the 1,000-foot drop is sure to make your head spin.
In the southeast corner of Zion National Park, the Virgin River cuts through 270-million-year-old layers of Kayenta and Navajo sandstone. The Angels Landing Trail climbs up from the gorge's belly to a rock overhang above iconic Zion Canyon. Along the way, it bends through green riverbeds, orange-red canyons, and rapid switchbacks. The reward for all that exposure: a 360-degree view of some of the country's most colorful landscape. This guide includes everything you need to know about ticking the hike to Angel's Landing off your bucket list.
How Long is the Angels Landing Trail?
The Angels Landing Trail is a total of 5 miles round-trip, from the trailhead to the summit and back. The hike takes about 4 or 5 hours.
How Difficult is the Angels Landing Trail?
Angels Landing is a strenuous hike, with steep sections of rapid elevation gain in full sun exposure, and occasional scrambling. The total elevation change is 1,488 feet.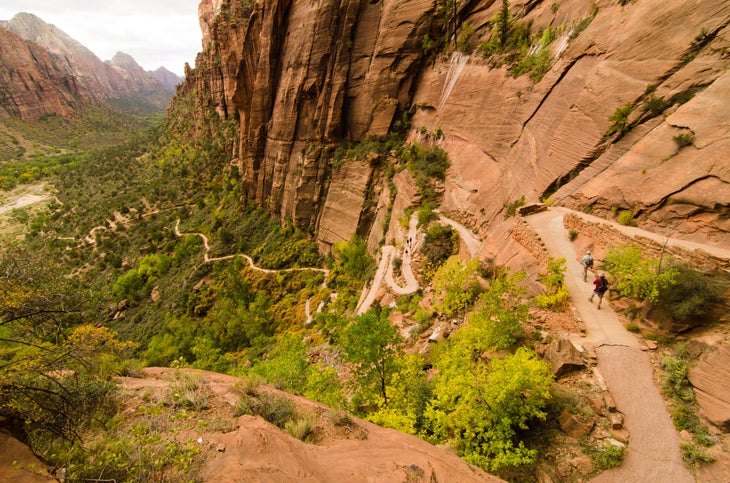 What to Expect When Hiking Angels Landing
It's a strenuous climb with steep sections, but what's most difficult about Angels Landing is the psychological challenge. You'll need mental and emotional fortitude—the half mile of narrow, precarious pathways over deep canyons can be intimidating. At its scariest, the trail is only a couple feet wide, with steep dropoffs of 1,000 feet on both sides. If you have a fear of heights, turn around at Scout Lookout.
Drinking water is available at the trailhead, but nowhere else along the hike. Make sure to pack in plenty.
Restrooms are available at the trailhead and at Scout Lookout (mile 2).
Losing the path is one thing you don't need to worry about: The trail is clearly marked.
The path has full sun exposure, except for sections of Refrigerator Canyon.
There's simultaneous up and downhill traffic on the mountain spine. Expect to pass people even at the most narrow sections.
There will be crowds: As one of Zion's most popular hikes, this trail gets busy, especially in summer. Get there early to avoid the masses.
Who Should Climb Angels Landing?
If you seek stunning panoramic views of pinyon-juniper canyons and colorful sandstone cliffs—with a little thrill along the way—then this is the hike for you. It's not for everybody, though:
Don't bring young children. If they're not old enough to trust around a no-fall drop, they're not ready.
Canine companions are prohibited for safety reasons.
When Should I Hike the Angels Landing Trail?
Angels Landing is open all year, but in winter the trail is more likely to be covered in snow, ice, or rain, which spells danger on the slickrock ridge. The best time to go is March to October.
Keep in mind that temperatures on summer afternoons get up into the 90s, sometimes topping 100 degrees. If you decide to beat the heat by starting later in the day, make sure you have enough time to return to the trailhead before dark.
What Should I Pack?
Bring plenty of water and snacks, including a hydration pack for hands-free water access.
Bring a daypack for your sundries—it will help keep your hands free for the chains on the last, exposed half mile.
Pack sunscreen, sunglasses, and a hat. Most of the trail is fully exposed.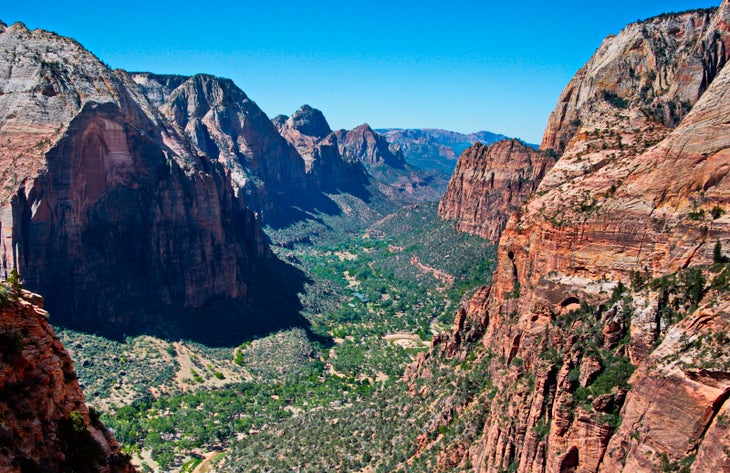 How Should I Prepare to Hike Angels Landing?
Check the weather before you go. Avoid hiking when the trail is wet or during storms or high winds. Ask about daily trail and weather conditions at the Zion Canyon Visitor Center.
Ask about water levels at the visitor center before hiking. The Virgin River is prone to flash floods, especially during the summer rainy season. You can also check flow data online.
Work on your balance. If you're worried about keeping your footing when the stakes (and the trails) get high, try these exercises.
How Much Does It Cost to Hike the Angels Landing Trail?
$15-$30. Zion National Park does charge entry fees. Pay $30 to park a private vehicle or $15 per person with no car.
Do I Need a Permit?
Yes. You need to enter a permit lottery through Recreation.gov for a chance at hiking Angels Landing. Permits are organized by season and cost $6 to apply for a group of up to 6 people. When you receive your permit, it's an additional $3 per person. Didn't land a permit? You'll be able to hike the first 2 miles of the trail up to Scout Lookout, but from there you'll have to turn around. Craving some exposure? Lady Mountain doesn't require a permit, though it is a more rugged scramble.
How Do I Access the Trailhead?
March through November: Park at Zion Canyon Visitor Center and take the free shuttle (arriving every 7-10 minutes) to its sixth stop at the Grotto. Private vehicles are prohibited along the Zion Canyon Scenic Drive.
December through February: Park at the Grotto. (The shuttles do not run in winter.)
Keep in mind that parking in Zion is limited and often fills up quickly. It might be easier to park in Springdale and take the free Springdale shuttle to the Zion National Park pedestrian entrance.
Turn-by-Turn Guide to the Angels Landing Trail
Trailhead: The Grotto in Zion Canyon
From the Grotto Picnic Area, cross Floor of the Valley Road. Take the bridge over the Virgin River and turn right at the junction, heading north along the West Rim Trail.
West Rim Trail
Follow this well-maintained path along the Virgin River before crossing the canyon bottom, where you'll catch a glimpse of Angels Landing rising above Zion Canyon. The trail here is broad, level, and clearly identified with a sign. At mile 1, the trail begins a steep quarter-mile incline into another canyon.
Refrigerator Canyon
As you enter this canyon, bask in the cool breeze. This paved section of trail enjoys all-day shade, making it a great spot for plants, like maple and ash, that can't suffer the constant sun. Enjoy the respite, because the rest of the trek is nothing but exposure and elevation.
Walter's Wiggles
These 21 tight switchbacks climb the steep canyon wall, each one no longer than 25 feet. At the top, catch your breath at Scout Lookout, where you can see the ridge to the south and the remaining hike ahead of you. This is a good opportunity to rest, drink water, eat a snack, and reapply sunscreen. There are restrooms at Scout Lookout, but no drinking water. (Don't like heights? This is your turnaround.)
Hogsback
In the last half mile, cross the Saddle then climb Hogsback, the rocky spine where things really get tricky. Follow the uneven sandstone ridge, holding chains bolted into the stone for balance. The path is narrow, sometimes only a few feet wide, overlooking thousand-foot dropoffs. Watch your feet, take your time, and step aside for hikers passing on their descent.
Angels Landing Summit
Finish at the famed rock outcropping, 1,500 feet above Zion Canyon. Take a break and enjoy the view. Then head back the way you came.
Fun Facts about Angels Landing
The name "Angels Landing" comes from Methodist minister Frederick Vining Fisher, who visited Zion Canyon in 1916. Admiring the cliff above him, he remarked that only angels might land there.
California condors, once declared extinct in the wild, have begun returning to Zion National Park in the past decade. Angels Landing is the best place in the park to spot this endangered vulture—one of America's rarest birds.
Angels Landing is popular with rock climbers as well as hikers. You might hear climbers' voices on the cliffs below you as you admire the views.
Walter's Wiggles, the 21 aggressive switchbacks up Refrigerator Canyon, is named after Walter Ruesch, Zion National Park's first superintendent. In 1925, Ruesch began designing and constructing a trail to Angels Landing. His philosophy: "Zion is God's country; don't make it look like hell." The trail was built with native materials and designed to blend into the landscape.
Ruesch originally designed Angels Landing Trail for both hikers and horses. Look for old horseshoe tracks in the concrete at Scout Lookout.
Seven people have died falling off Angels Landing since the park was established in 1919.
In Zion Canyon, the Virgin River loses an average of 76 feet of elevation for every mile it travels. For comparison, the Mississippi River only loses half a foot per mile.
People have passed through Zion Canyon for centuries, often staying longer than the standard day hike. Ancestral Puebloans farmed the upper regions of the canyon, and Paiute people hunted and gathered along the river. Mormon settlers built irrigation ditches through the canyon floor, where they farmed their crops.
Updated August 18, 2021