The Best Hikes in Yellowstone National Park for Wildlife, Geysers, and More
Explore a geothermal wonderland with the help of Backpacker's experts.
Heading out the door? Read this article on the new Outside+ app available now on iOS devices for members! Download the app.
There's a reason that Yellowstone has been the face of the United States' national park system for 150 years: With geysers sending boiling water dozens of feet in the air, jewel-bright thermal pools, and more wildlife than you can shake a stick at (not that a stick would dissuade just about any of Yellowstone's iconic critters), these 3,471 square miles of land, located on lands traditionally important to 27 different Native tribes, are a microcosm of all the wonder and wildness that National Park visitors seek. There's no other place like this, and hiking it is a life-list experience no matter how many times you visit. Whether it's your first trip through or you're just looking for a way to get even deeper into the park's backcountry, we have a trail for you.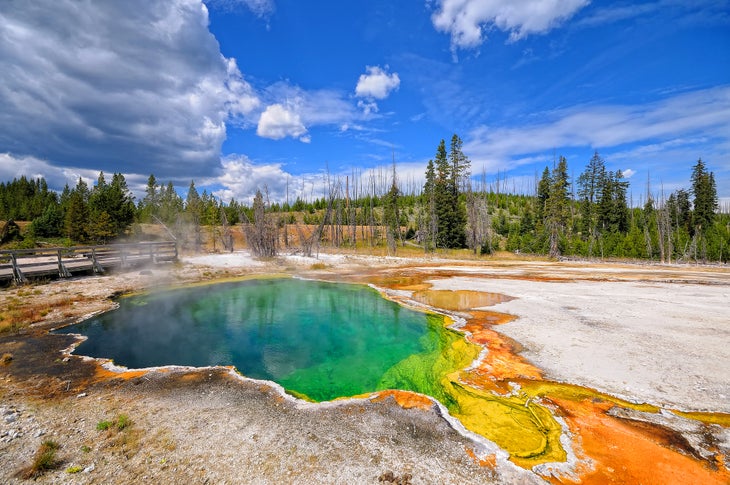 Best Dayhikes in Yellowstone National Park
There are plenty of great hikes, and great views, in Yellowstone that don't require you to spend the night. Whether you want to check out the geysers, climb to panoramic mountain views, or spot some bison, pronghorn, and—if you're very lucky—wolves and bears, there's a dayhike in Yellowstone that will get you there.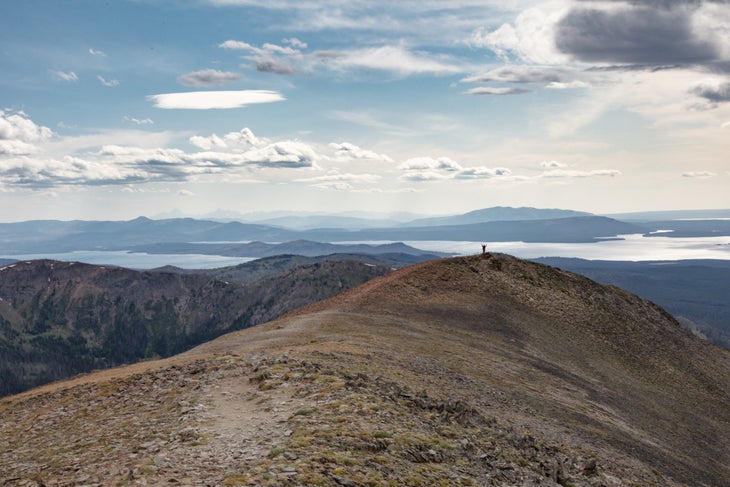 Best Peakbagging Dayhike in Yellowstone National Park:
Avalanche Peak
Length: 4.6 miles

Elevation gain: 2,218 feet

Trail type: Out-and-back

Difficulty: Hard
This challenging climb rewards hikers with 360-degree views of Yellowstone Lake and the Absaroka Range, spreading a sea of craggy peaks in every direction. The trail climbs quickly from a forest of spruce and lodgepole pine to meadows (filled with wildflowers in early summer) and then to a talus-covered bowl below the 10, 568-foot summit. The final section of trail before the peak isn't a bad ridgewalk either.
Find the route on Gaia GPS here.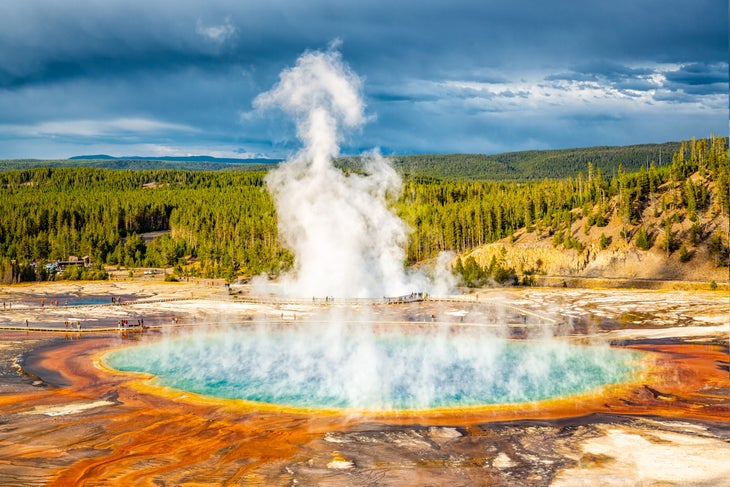 Best Geothermal Features Dayhike in Yellowstone National Park:
Fairy Falls
Length: 4.2 miles

Elevation gain: 170 feet

Trail type: Out-and-back

Difficulty: Moderate
Hike past brightly-colored hot springs (with an option for geyser visits) to one of the park's best waterfalls on this moderate out-and-back. The trail starts by passing by Grand Prismatic Spring, the third-largest hot spring in the world at 370 feet across and 120 feet deep, then climbs to a viewpoint that shows off the spring's vivid blue, red, and orange colors created by heat-loving algae. Past that is a slight climb to Fairy Falls, a 200-foot cascade dropping through an impressive channel the water has carved through the cliff. Continue on the trail to check out Spray and Imperial geysers and add 1.2 miles to the route.
Find the route on Gaia GPS here.
Best Weekend Hikes in Yellowstone National Park
Escaping the end of the work week with a quick jaunt to Yellowstone? That's plenty of time to head into the backcountry. Check out the Continental Divide and the Grand Canyon of the Yellowstone while watching for bison, moose, and bighorn sheep on these quick overnights.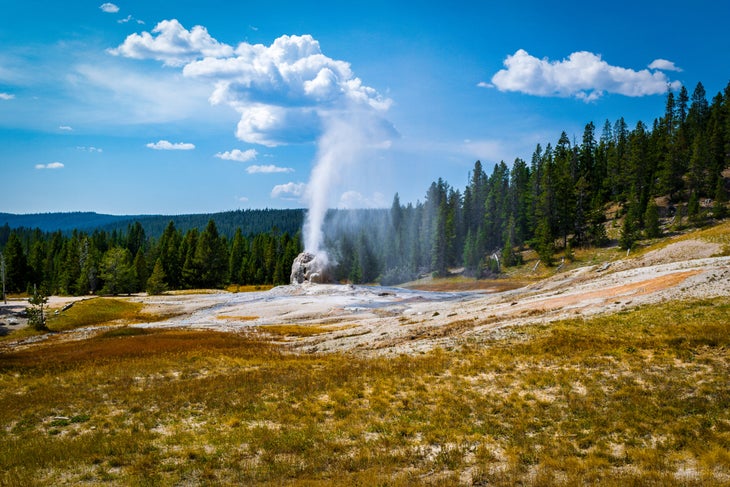 Length: 20.4 miles

Elevation gain: 1,062 feet

Trail type: Out-and-back

Difficulty: Moderate
Camp right on the edge of a geyser basin on this 2-day out-and-back. Starting on the Lone Star Trail, follow the Firehole River to Lone Star Geyser, which erupts every three hours (worth a long lunch, if you arrive a bit before the next eruption). Head out of the thermal features—where bison can often be spotted—and start climbing to Grants Pass and the Continental Divide, then drop back into forested moose territory and the shore of Shoshone Lake. Shoshone Geyser Basin, the largest backcountry geyser basin in Yellowstone with over 500 geothermal features, is nestled along the shore of the lake.
Find the route on Gaia GPS here.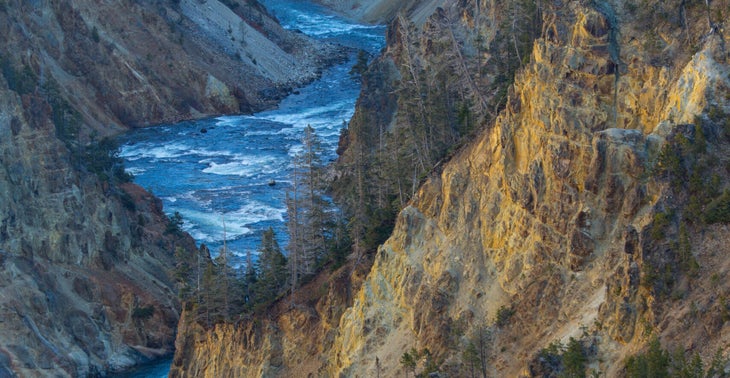 Best Hike in Yellowstone National Park for Spotting Wildlife:
Agate Creek via Specimen Ridge
 Length: 26.6 miles
Elevation gain: 3,055 feet
Trail type: out-and-back
Difficulty: moderate
Specimen Ridge, along one edge of the Lamar Valley, is one of the prime spots to glimpse some of Yellowstone's most famous denizens: gray wolves. Head through sagebrush grasslands to the foot of the ridge, then switchback upward, keeping an eye out for wolf and elk tracks in the trail. From there, drop into the Grand Canyon of the Yellowstone, descending over 1,200 feet in just 1.8 miles, and camp just above the Yellowstone River itself.
Find the route on Gaia GPS here.
Best Multiday Hikes in Yellowstone National Park
Ready to spend your vacation time in unmatched backcountry? Time to plan a mulitday trek into Yellowstone. A few more nights out opens up access to one of the lesser-known facets of this national park and its impressive alpine scenery. Leave the tourists at Old Faithful and head for the hills.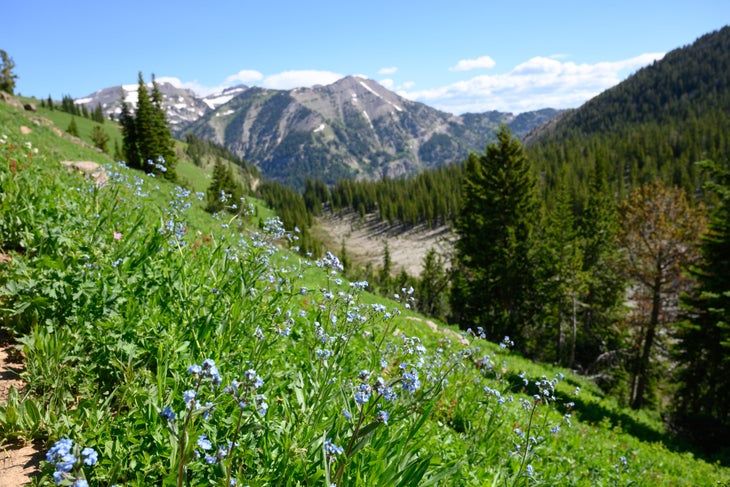 Best Ridgetop Traverse in Yellowstone National Park:
Sky Rim Loop
Length: 18 miles

Elevation gain: 4,652 feet

Trail type: Lollipop loop

Difficulty: Hard
This trail is aptly named: the path climbs steeply to the crest of the Gallatin Mountain Range before spending miles wandering that divide, with views to all sides of the Absaroka Range, the Madison Range, and 11,253-foot Lone Peak (in winter, the slopes of Lone Peak play host to thousands of skiers at Big Sky Resort). At the end of the ridge, cross a knife-edge scramble to Bighorn Peak before dropping back to the meadows below.
Find the route on Gaia GPS here.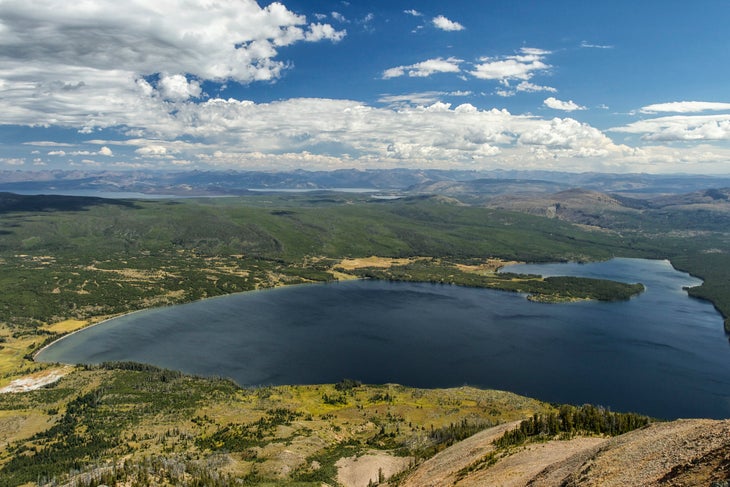 Best Backcountry Scrambles in Yellowstone National Park:
Heart Lake and Mt. Sheridan 
Length: 23.1 miles

Elevation gain: 4,566 feet

Trail type: Out-and-back

Difficulty: Hard
Hike through lodgepole forests still bearing singe marks from the 1988 fire, fumaroles venting steam, and the shore of Heart Lake on the way to summiting 10,313-foot Mt. Sheridan when you tackle this hike. After heading past the thermal features, set up camp right on the shore of Heart Lake. Spend day 2 on the ascent of Mt. Sheridan, where views of mountains and lakes spread in every direction, then on day 3 head back out the way you came.
Find the route on Gaia GPS here.
Packing for Yellowstone
A lot of Yellowstone National Park is up in the mountains, so prepare for cold nights and possible storms at any time of the year—pack a shell, insulating layers, and a sturdy tent even in the middle of summer. The wildlife that draws so many visitors to Yellowstone is out in the backcountry with you, too: Always carry bear spray, and hang all of your food and scented products or use a bear canister. In spring and summer you'll want bug spray, too. 
A $25 permit is required year-round for all stays in the Yellowstone backcountry. Reservations can be made online for trips taking place after May 15 starting in March 2022. For April and early May trips, call the park office to request a permit up to three days in advance. Winter permits are free, but must be requested from the Central Backcountry Office via phone or email 3-7 days before your trip.
When to Go to Yellowstone National Park
Summer is the best time to hit the Yellowstone high country, but it's also the busiest. Pick lesser-traveled trails to get some solitude while the crowds flock to Old Faithful. If you're confident in your snow travel, routefinding, and storm gear, spring is a good season to check out the lower-elevation trips. Fall has less crowds but more storms, and the temperature drops quite quickly by October; pack layers and be prepared for snow. Important note: Between late November and early April, only one road in the park remains open to cars.