8 Rocky Mountain National Park Hikes Full of Purple Mountain Majesty
Summit peaks, swim lakes, and cross the Continental Divide on the best hikes in Rocky Mountain National Park.
Heading out the door? Read this article on the new Outside+ app available now on iOS devices for members! Download the app.
With over 100,000 acres of officially designated wilderness, 118 peaks over 10,000 feet, and 147 lakes, Rocky Mountain National Park is a veritable hiker's paradise. But with that much space to explore, picking just one hike can be hard. Take the guesswork out of your Rocky Mountain adventure with our list of the best hikes in Rocky Mountain National Park.
Before You Go
The East Troublesome and Cameron Lake fires of 2020 caused a lot of damage in Rocky Mountain National Park, and closed several trails; check for updates on conditions here. Thunderstorms are common in the summer, so start early and keep an eye on the weather.
Park entry fees are required, and visitors will be required to register for a new timed entry system. Backcountry sites can be reserved here.
Most Iconic Hike in Rocky Mountain National Park: Longs Peak (13 Miles)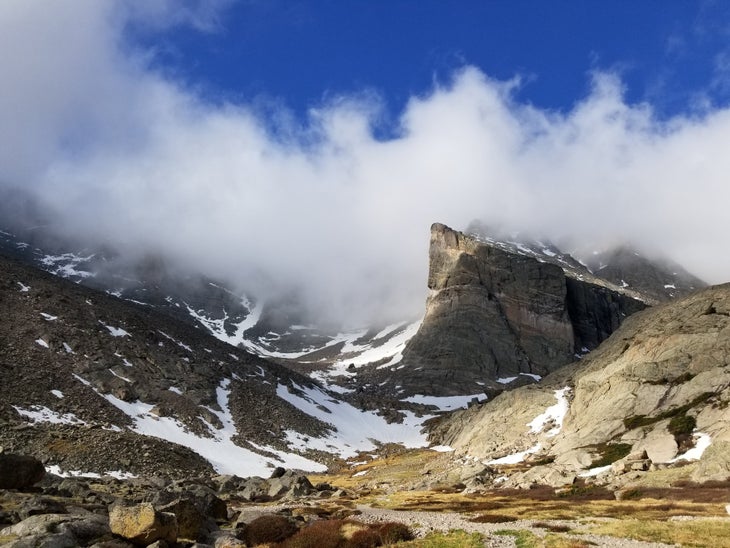 Photo: Ships Prow of Longs Peak, Photo by Jon Hieb on Unsplash
No fewer than 78 of the Rockies' 100 highest peaks lie in Colorado, but even with all of that competition, 14,259-foot Longs Peak is in a class by itself. Credit its striking profile, excellent rock, and spectacular approach. Not surprisingly, crowds of hikers storm the standard Keyhole Route in good weather. Avoid this bottleneck–and up the adrenaline factor–by taking the Clark's Arrow Loop. This clockwise traverse ascends 6,300 feet via the scrambly Loft/Clark's Arrow Route before descending to the Keyhole.
Start at 2 a.m. at the Longs Peak trailhead and hike 4.5 miles to Chasm Lake, beneath the gigantic East Face Diamond. From Chasm, scramble steep slabs and a straightforward but very narrow ramp (class 3) that leads south across cliffs to The Loft, a wide saddle between Longs Peak and Mt. Meeker. Cross the Loft and drop down a steep, loose gully until you reach the base of the Palisade Cliffs.
Find the faded paint splotch called Clark's Arrow, then begin a 1,500-foot, class 3 scramble up Keplinger's Couloir until you intersect the Homestretch, the upper section of the standard route. Ascend the final 350 feet to the broad summit. Complete the loop by returning on the Keyhole Route, which rejoins your inbound trail at Chasm Lake Junction. Caution: Snow, ice, rain-wet rock, and thunderstorms can complicate any climb on Longs.—Steve Howe and Katie Herrel
Alpine Lake Solitude: Pear Lake via Finch Lake Trail (12.4 Miles)
This picturesque alpine lake sits at the foot of 13,176-foot Copeland Mountain and a rugged cirque. Get there on an out-and-back that starts just east of the large Wild Basin parking area. From the trailhead, follow Finch Lake Trail as it climbs southeast to a narrow ridgeline. From here, the trail turns sharply west, then levels out, passing through one of the park's brightest wildflower corridors. At mile 1.4, turn right at the junction, heading west. Half a mile later, stop for views of Mt. Meeker to the northwest. At mile 2.3, continue straight at the 4-way junction, and continue climbing through a burn area, now dotted with flowers.
Near mile four, cross a series of crystalline creeks on log footbridges before skirting Finch Lake .2 mile later. Roughly six miles in, cross Pear Creek and turn right for the final stretch to its namesake lake. Follow the same route back to the trailhead. —Caitlin May and Kim Phillips
Rocky Mountain National Park Sampler: Lily Lake to Sprague Lake Loop (14 Miles)
This all-day loop on the park's east side cruises 3 miles from Lily Lake to Stormy Pass before dipping south toward an abandoned mine and rounding the eastern slope of Longs Peak. The long climb toward treeline continues through alpine meadows and interrupts with viewpoints of the Colorado plains and Long Peak's east face. Watch for elk—and signs of approaching thunder storms—as the trail approaches mile 8.6 and the route's high point at Granite Pass. You'll skirt a backcountry campsite near mile 12, before a rugged downhill section to the bottom of the Boulder Brook Trail. There is another 1,400 feet of climbing from the flats near Sprague Lake to Storm Pass where you'll close the loop. —Tim Shisler
Local Favorite: Lumpy Ridge (10.2 Miles)
Lumpy Ridge rises above Estes Park, CO, concealing climbing routes, elk and deer herds, campsites, and an alpine lake. Get a full day of hiking on this loop or spend a night or two at one of the trailside campsites. From the Lumpy Ridge trailhead, head up the Gem Lake Trail, winding through conifers. At mile 1.5 is Gem Lake, an alpine pool with no outlet stream, tucked under the rocky cliffs. About a mile later, turn right onto Balanced Rock Trail. The trail then turns west and follows Cow Creek. Over the next few miles this loop passes three established campsites: Rabbit Ears (milepoint 4.2), Peregrine (milepoint 5), and Sundance (milepoint 7.8). Turn left (south) after 6 miles and begin the loop back to the trailhead, passing under impressive cliffs and taking in the views of Longs Peak. —Jeff Chow
Secret Valley: Lone Pine Lake via East Inlet Trail (13.5 Miles)
This out-and-back winds from the East Portal trailhead through a jaw-dropping valley, rolling over to two family-friendly destinations—the Adams Falls overlook at mile 0.4 and a spectacular valley viewpoint at mile 1.5—before tucking into a pine-strewn forest and veering uphill. An exposed wall of twisted metamorphic rock lines the trail before it flattens around a river rapid overlook. Another uphill push leads 1.3 miles to an island campsite less than 0.5 mile from Lone Pine Lake, a perfect shoreline for fishing or exploring.
Above Lone Pine, the trail stays on the valley's northern side as it approaches Lake Verna. The 4-mile round trip between the lakes is a great early morning wake-up when alpenglow casts an otherworldly aura over its half-mile long surface.
Note: Backcountry campsites along this trail can be difficult to find. If you're looking for a specific site, with the exception of the two mentioned above, ask rangers for a detailed description of the campsite area.—Kristy Holland
Ditch the Rocky Mountain National Park Crowds: Mt. Ida (13.5 Miles)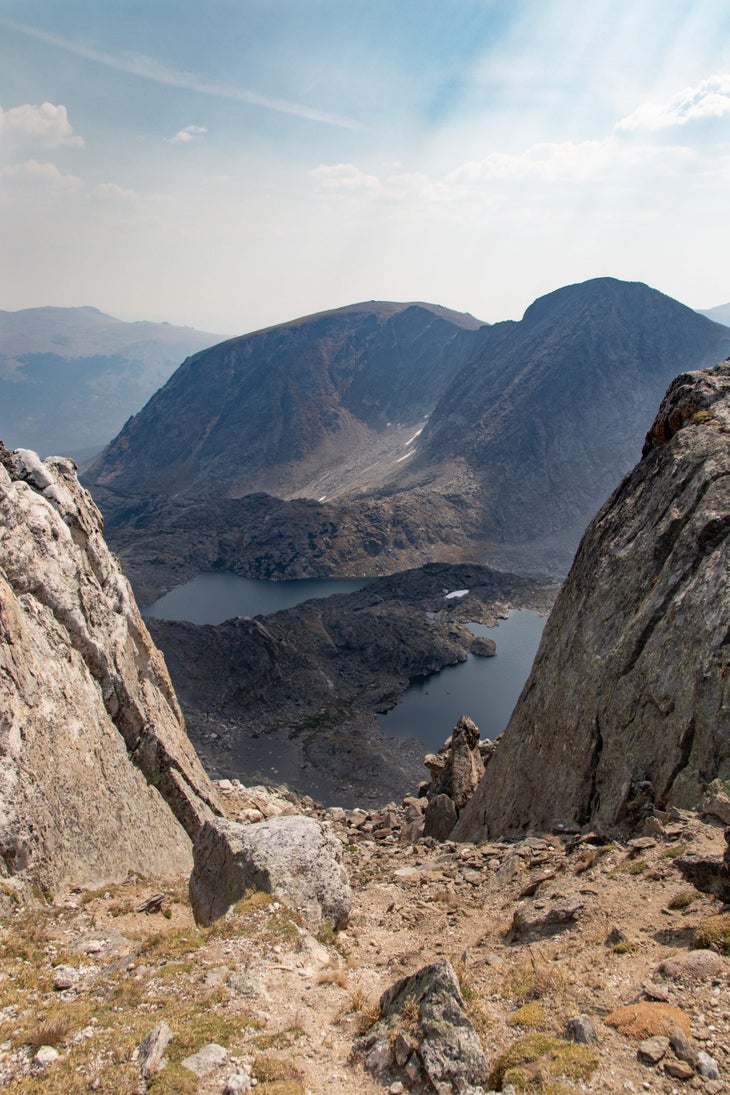 Forget the 14er crowds. Mount Ida, one of the least-visited peaks in the park, falls just shy of 13,000 feet and offers a real chance to experience backcountry seclusion. What this overnight trip lacks in extra altitude it makes up for in sheer strenuousness and stunning scenery. Take the Timber Creek Trail southeast. Follow the well-maintained dirt path for 9 miles, climbing more than 2,000 feet, to the Rockslide Campsite near Timber Lake. Be sure to pack light but warm; summer temperatures can drop below freezing at night. If you remember to bring your fishing pole, wake up early to catch (and release) some trout before scrambling up the saddle. Aside from the unprecedented workout you'll get along the way, massive views await at the summit. The Continental Divide stretches beneath your feet. Never Summers sit to the west. Gorge Lakes lie in the valley below. Grand Lake and Big Meadows are visible to the southwest. Retrace your steps down the mountain, through the saddle, and back onto the Timber Creek Trail. —MacKenzie Ryan and Patrick Digmann
Chase Waterfalls: Ouzel Lake (10.2 Miles)
Photo: "RMNP Ouzel Lake 05_07" by FotoBobCO is licensed under CC BY 2.0
This out-and-back nets you alpine views, several waterfalls, and a mountain lake. From the Wild Basin trailhead, take the sandy Thunder Lake Trail. After a half mile, bear right on the spur trail to Upper and Lower Copeland Falls. Here, Sandbeach and North St. Vrain Creeks converge to form a small but frothy pair of falls. Continue 1.5 miles to Calypso Cascades, where fallen pine trees are lodged between massive, rounded rocks. Another mile on is Ouzel Falls. Taller and thinner than Calypso Cascades, the whitewater of Ouzel sprays onto algae-covered rocks. Large, flat boulders, situated just off trail, make for great rest stops.
Follow the rocky outcroppings and merge onto Bluebird Lake Trail. Unmatched views of Mount Meeker and Longs Peak are to the right; Ouzel Creek flows through the valley to the left. Bear left at the junction with Ouzel Lake Trail. A short distance along the headwaters of Ouzel Creek leads to the alpine lake. Copeland Mountain, Ouzel Peak, and Maharta Peak rim the western shore. When finished relaxing, retrace your steps. —MacKenzie Ryan
Classic Peak: Flattop Mountain (8.1 Miles)
From Bear Lake, this 8.1-mile out-and-back begins by heading northwest on the Flattop Mountain Trail. The methodical upward climb—over 2,800 feet in 4 miles—begins almost immediately and traverses rich conifer forests intermixed with aspen. At mile 1.6, catch your breath at the impressive view of Dream Lake's shimmering surface against the rugged mountains. From the overlook, continue upward on the tight, switchbacking trail.
Just before breaking treeline, the trail passes another overlook above Emerald Lake. Stop for views of Glacier Gorge and Longs Peak that open up to the southeast. Look southwest toward Hallett Peak, and pick out the level profile of Flattop Mountain by following Tyndall Gorge's contour to the west. The remaining 1.3 miles are a long, slow grind up Flattop Mountain's high-alpine eastern slope. During the winter or if the trail is dusted with snow, follow large rock cairns leading to the mountain's north side.
Just before summiting, (the trail junction on the indistinct peak is generally considered the highpoint), you'll pass a hitch rack at the top of Tyndall Glacier. —Tim Shisler and Jenn Fields