Rediscover Adventure on These 4 Classic Hiking Road Trips
With America reopening, it's high time to hit the road. See some of the country's greatest parks, grasslands, and trails on these handpicked routes.
Heading out the door? Read this article on the new Outside+ app available now on iOS devices for members! Download the app.
Over the course of the past year, America rediscovered the road trip. With borders closed and pandemic worries keeping many from feeling comfortable flying, more of us than ever were piling in our cars and hitting the road to find regional adventure. Now, with cases dropping and states around the country reopening to full capacity, airports are packed.
But we're not in any hurry to jump back in a plane: Besides being cheaper and more environmentally friendly than flying, hitting the road gives you a kind of freedom that the jet-setters can only dream of. Packing up the car lets you turn an out-and-back vacation into a point-to-point odyssey, letting you explore hiking hotspots and embrace serendipity in a variety of landscapes along the way. We've assembled four all-time classic routes around the United States, based around national parks, grasslands, and national scenic trails, to get you started. A word of caution: These are some epic trips, and you'll need a lot of vacation time (think three weeks) to properly tackle all of them. If you can't spare that much, no problem: Just pick your favorite segment and go.
Rocky Mountain Classics
Some parks are hidden treasures, but others are famous for a reason. Most of these parks fall in the latter category, drawing visitors from around the world to gape at their snow-covered peaks and otherworldly geysers. The beautiful part of this trip down the spine of the Rockies? Even the miles between stops are gorgeous. Approximate Distance: 1,266 miles
Stop 1: Glacier National Park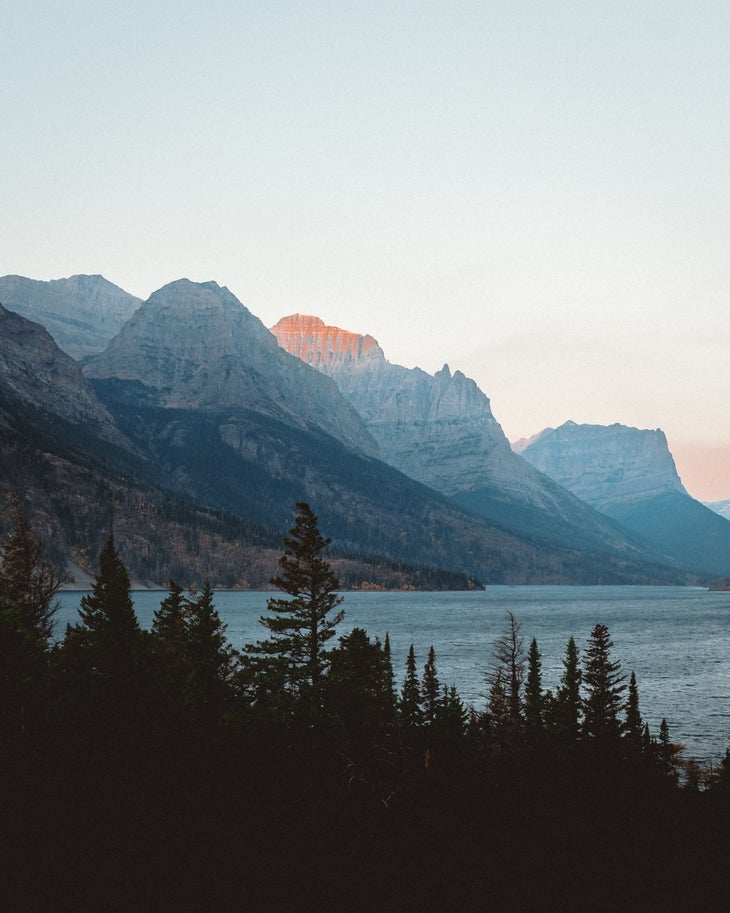 The attraction of this park is right in the name. Glaciers carved this stretch of northern Montana into sharp peaks and valleys, creating a landscape where dramatic views seem to sit around every corner. And it's worth visiting now: According to the National Park Service, Glacier is warming at nearly twice the global average rate, putting its legendary glaciers in danger.
Hike: Swiftcurrent Mountain (12.3 miles)
2,400 feet elevation gain
2 days
Backcountry permit required ($7/night)
You'll like this hike if you like: great views
In a park that's lousy with views, this lookout, the highest in the park, is one of the best. Get there on a 12.3-mile weekend trip that winds past alpine lakes, through pine forests, and up the highest maintained trail in the park.

Stop 2: Yellowstone National Park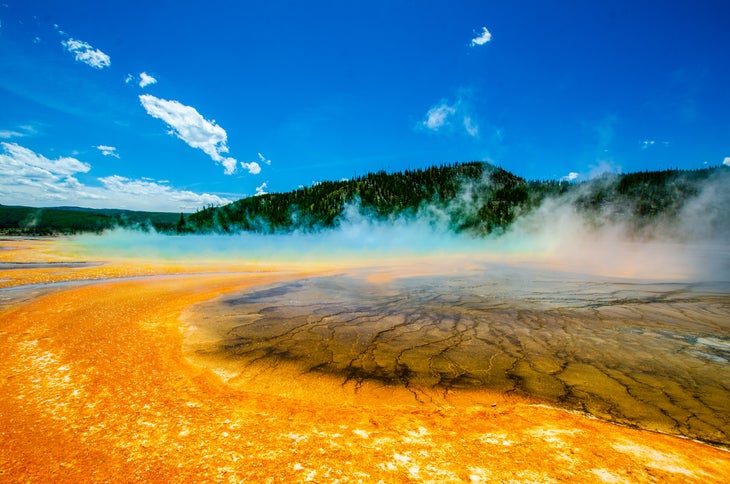 Do we really need to introduce this one? The highlights of America's first national park could fill a book. Its geysers and thermal features have made it a destination for hikers and tourists from around the world, and it's one of the best places to see some of the world's most dramatic wildlife, from wolves to bears (both black and grizzly) to massive herds of bison.
Hike: Shoshone Geyser Basin (27.2 miles)
600 feet elevation gain
2-3 days
Backcountry permit required ($3/night)
You'll like this hike if you like: geysers
Old Faithful? Sure, it's worth visiting—if you're tall enough to peek over the crowd, maybe you'll even get to see it. Instead, break away and see 39 more of them in one go on this 27.7-mile backcountry route with a fraction of the company. From Old Faithful, you'll head to the Lone Star geyser, camp by Shoshone Lake, then see more than 100 gurgling thermal features in less than two miles.
Stop 3: Grand Teton National Park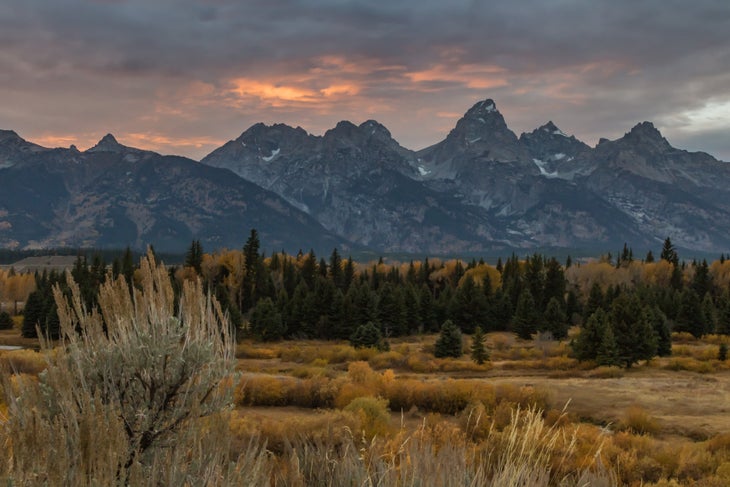 A short hop from Yellowstone lies this rugged (but still popular) swath of land, which protects the sawtooth granite peaks of the Teton Range. The highest point, the Grand Teton, is a challenging ascent that requires legit technical rock-climbing experience, but in this park, it's easy to get some altitude without even leaving the trail.
Hike: Avalanche to Cascade Canyon (17.4 miles)
4,632 feet elevation gain
1-2 days
Permit required ($35 for walk-ins, $45 for advance reservations)
You'll like this hike if you like: exploring
Want to get a full-value Teton experience in just a few days? Leave the trail behind on this largely cross-country hike that links little-traveled Avalanche Canyon with popular Cascade. In 17.4 miles, you'll cross a high pass, pick your way across talus slopes, and camp near picturesque lakes like Taminah and Snowdrift. (Alternatively, power through the whole route in one long day and hustle to your next destination.)
Stop 4: Rocky Mountain National Park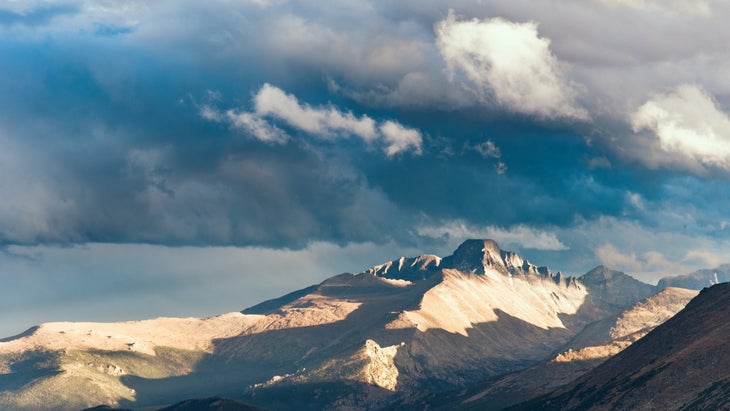 Dense pine forests and dramatic rock walls abound at this favorite Colorado destination on the Continental Divide, tucked into the Rockies near the town of Estes Park. So do herds of elk, which sometimes cause traffic jams on the park roads as visitors pull over to gawk at them. But with 414.78 square miles of alpine terrain to explore, getting away won't be a challenge if you're willing to hike for it.
Hike: Moraine Park to Bear Lake Loop (13.4 miles)
3,840 feet of elevation gain
2 days
Permit required (reserve in advance)
You'll like this hike if you like: backcountry lakes
You'll have plenty of opportunities to see wildlife on this 13.4-mile route which winds through prime elk and moose habitat. Along the way, you'll enjoy nights camping at Fern and Odessa lakes, and, if you can get up early enough, a sunrise lighting up the steep face of Notchtop Mountain.
Stop 5: Great Sand Dunes National Park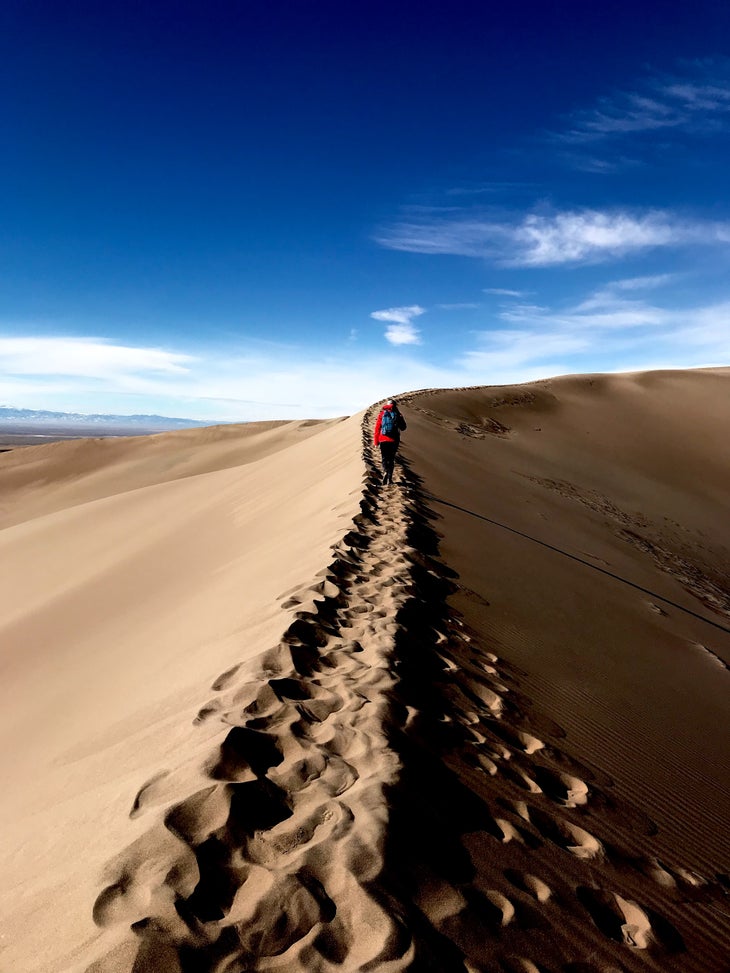 End your trip by leaving the crowds behind at this less-trafficked national park in southern Colorado. Located in the high-altitude San Luis Valley, these dunes—North America's tallest—feel curiously out of place, backdropped by sagebrush desert and high mountains. 
Hike: Star Dune Loop (6.6 miles)
984 feet elevation gain
1 day
You'll like this hike if you like: sand dunes
The park's shifting sands don't exactly lend themselves to trail building, meaning that any hike across the dunefield feels longer than it is, with the ground shifting beneath you at each step. Ascend to the park's highest point on the 6.6-mile Star Dune Loop to enjoy views of the improbable landscape. Bonus: At night, this certified International Dark Sky Park provides out-of-this-world stargazing.
Mountain to Sea
The only rival to Washington's dramatic, rocky peaks? Its dramatic rocky coastline, where volcanic sea stacks jut out of the water like miniature mountains. A few days is all you need to enjoy a sampler of the state's best on this route, which links two essential national parks. Approximate Distance: 253 miles
Stop 1: North Cascades National Park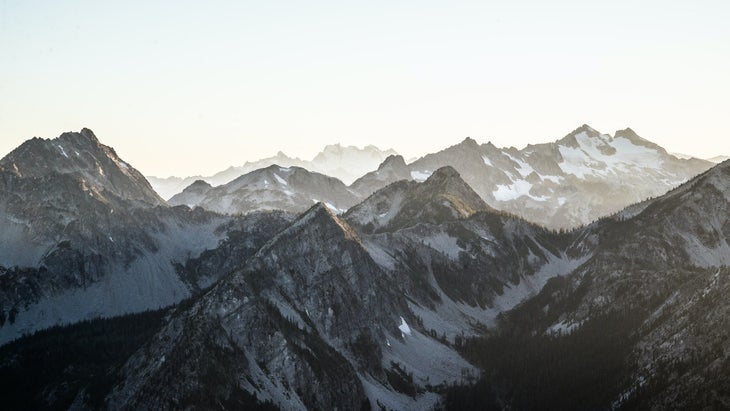 Abutting the Canadian border, North Cascades protects the largest glacial system in the lower 48 states, innumerable toothy volcanic peaks, and incredibly biodiverse forests, with a total of 1,630 different plant species including two species of larch, the only conifer that drops its needles in the winter. To enjoy the best this park has to offer, you'll need commitment, as some of its best trails are among its toughest.
Hike: Cascade Pass and Sahale Arm (11.8 miles)
3,940 feet elevation gain
1-2 days
Backcountry permit required to camp
You'll like this hike if you like: incredible campsites
Sahale Glacier Camp is, hands-down, one of the best campsites in the entire national park system, a protected, 7,600-foot-high site sandwiched between dramatic glaciers and expansive views of the North Cascades. Get there on an 11.8-mile out-and-back, which links up two trails through meadows and rocky talus fields.
Stop 2: Olympic National Park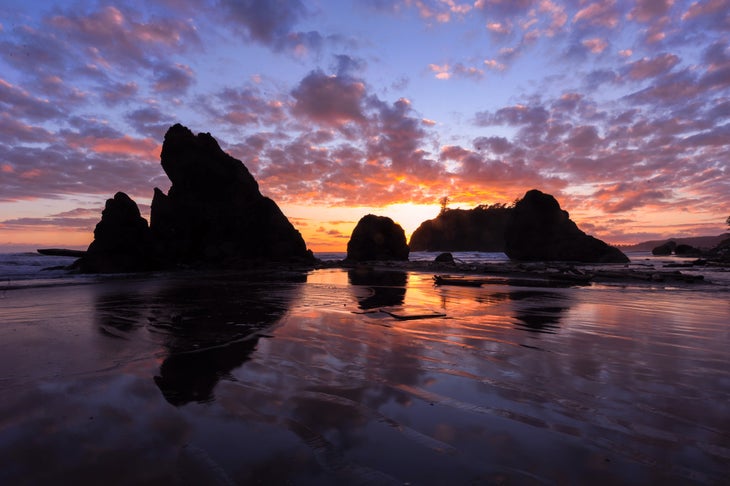 There aren't many parks out there that can boast the kind of diversity that Olympic has. The park ranges from high volcanic peaks where mountain goats graze to a stretch of rugged Pacific coastline. A wrinkle: Several of the park's beaches are still closed due to neighboring tribes' concerns over Covid transmission, so your options are a little slimmer than usual.
Hike: Hoh River to Third Beach (16.1 miles)
2,004 feet elevation
1-2 days
Permit required for overnight stays (reserve in advance)
You'll like this hike if you like: rainforests and beach camping
"Rainforest" may not be the first thing that pops into your head when you picture the rainy, gray skies of the Pacific Northwest, but with almost 12 feet of precipitation every year, the Hoh Rainforest definitely qualifies. Travel from the mossy forest to a long walk along the beach, passing tidepools and berry patches, on this 16.1-mile trek.
Route 3: Northwoods and Waters
One way to beat the heat: head north. Another: Hit the water. This northern route through the upper midwest does both, linking together vast grasslands and long waterways. At the end, you'll ditch your car for a boat, taking a ferry to the least-visited national park outside of Alaska, Isle Royale. Approximate Distance: 875 Miles
Stop 1: Theodore Roosevelt National Park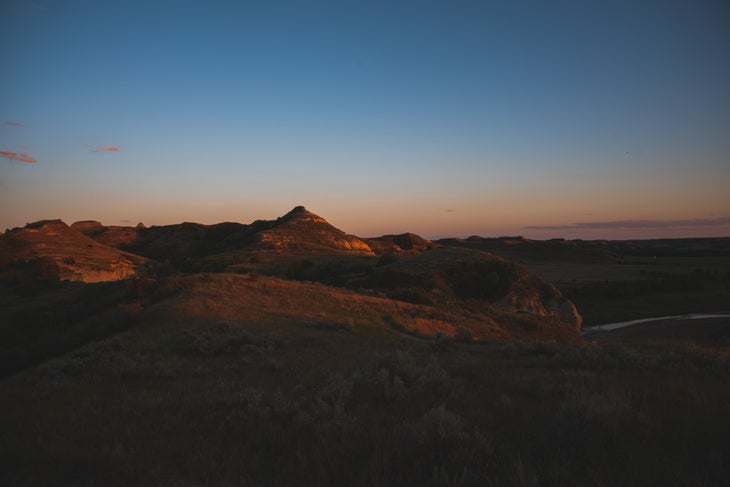 Herds of bison and vast-open spaces are the order of the day in this modestly-sized park, which mixes and matches tallgrass prairie and stretches of forest in three separate units on the homeland of the Mandan, Hidatsa, and Arikara Nation, in the Badlands of North Dakota. (Feel like seeing all three in one go? The 144-mile Maah Daah Hey trail connects them.)
Hike: Achenbach Trail (17.7 miles)
2,358 feet elevation gain
1-2 days
Permit required for overnight stays
You'll like this hike if you like: wide-open views
You'll need sharp routefinding skills to walk this 17.7-mile loop through the tallgrass prairies of Theodore Roosevelt's north unit: It's unmaintained, with trail markers occasionally disappearing in the vegetation (watch for snakes). The mud benches, a collection of 2,600-foot dried-mud buttes starting at mile 5.6, are a prime campsite in nice weather.
Stop 2: Sheyenne National Grassland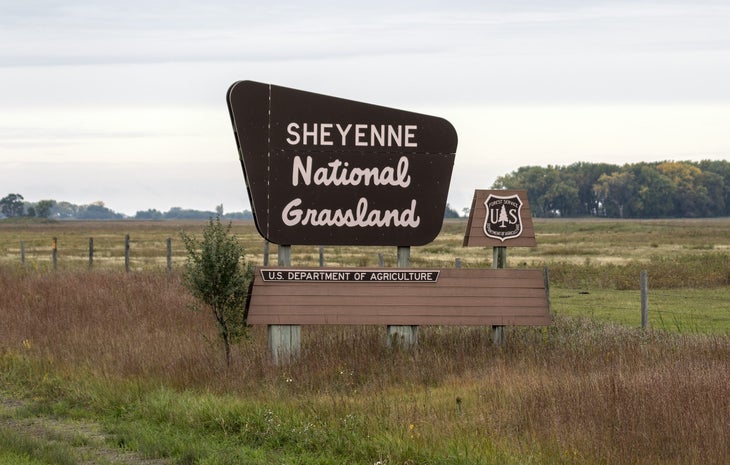 It's not just another prairie: Sheyenne National Grassland contains one of the last remaining stretches of oak savannah, which combines open grassland with copses of oak trees, after settlers plowed most of it for farmland in the 1800s and 1900s. Walk this uncrowded wilderness and you'll also see your fair share of wildlife, ranging from showy prairie chickens to rare butterflies.
Hike: Mirror Pool (10.6 miles)
402 feet elevation gain
1-2 days
No permit
You'll like this hike if you like: grasslands
You'll hike just 10.6 miles on this out-and-back to a quiet pool that incorporates part of the long-distance North Country Trail, but time it right, and you won't have to share the goods with anyone else. Keep an eye out for raptors like red-tail hawks and bald eagles, floating on thermals as they search for their next meal in the grass below.
Stop 3: Voyageurs National Park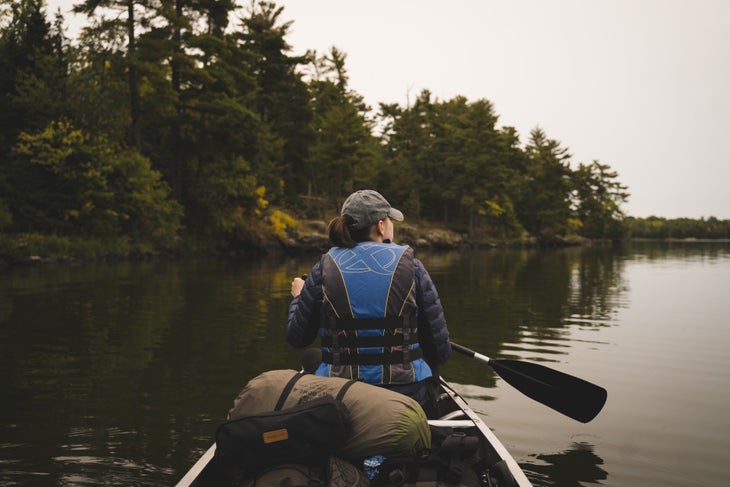 You'll need to beg, borrow, or rent a boat to explore this watery wilderness, a complex of lakes and ponds in northern Minnesota with more than 600 miles of rugged shoreline and 1,000 islands dotting it. The voyageurs of the park's name were French-Canadian traders who plied the waters in birch-bark canoes. The gear may have improved, but you'll still trace their same aquatic routes.
Hike: Kabetogama Lake Loop (65 miles)
930 feet elevation gain
5 days
Permit required to camp ($12-35/night)
You'll like this hike if you like: paddling
Set aside 5 days to cover this 65-mile route, which gives an introduction to what makes this park great. You'll see flocks of gulls and great blue herons at the Gull Island Rookery, camp out on two different islands, and hike a 9.5-mile trail to the Anderson Bay Overlook, a cliffside campsite perched 80 feet above the water. 
Stop 4: Isle Royale National Park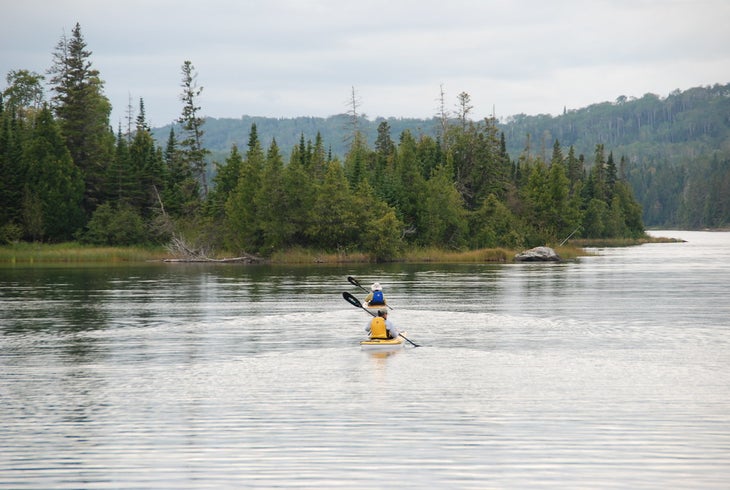 This is the end of the road for you—literally. In Grand Portage, Minnesota, you'll ditch your car and hop a ferry to this island park, which is the least-visited in the lower 48 states. Once there, you'll have 893 square miles to roam; listen for the howls of wolves, which are bouncing back on the island after declining to just 2 individuals in the late aughts.
Hike: McCargoe Cove to Rock Harbor (14.8 miles)
1,865 feet elevation gain
2 days
Permit required for overnight stays
You'll like this hike if you like: island life and wildlife
If you have a week, you can see the whole island on the 43-mile Greenstone Trail. But if all you can spare is a few days, get a taste of the wild life on this 14.8-mile point-to-point hike. From the ferry drop-off at McCargoe Cove, you'll traverse rocky beaches, wind through the island's maple-birch forest, and climb up Greenstone Ridge, keeping your eye out for island wildlife like moose and, of course, gray wolves on the way.
Appalachian Vacation
Not all of us have the time for a thru-hike. If you want to get a sampler of some of the Appalachian Trail's best, pack the car and hit a few highlights of the path's New England section on this four-stop itinerary that will take you from Massachusetts to Maine's North Woods. These are all one-way hikes, so you'll either need to bring a friend and a second car or arrange for pickup. Approximate Distance: 464 Miles
Stop 1: Taconic Highlands

A long stretch of peaks that stretches across four states, the Taconics include notable summits like Mt. Greylock. From its wooded summits to its remote waterfalls, a trip along this range is a classic AT experience.
Hike: CT 41 to Jug End Road (15.4 miles)
4, 152 feet elevation gain
2 days
No permit required
You'll like this hike if you like: classic Appalachian hiking
This 15.4-mile stretch of the AT begins in northern Connecticut and crests the state's tallest peak, Bear Mountain, before crossing over into Massachusetts. What starts as a relatively gentle hike gets rocky and rooty before long, occasionally breaking into open views of the surrounding hills.
Stop 2: Vermont
Hikers on the Appalachian Trail sometimes talk about the "Green Tunnel," and Vermont, where dense forests often envelop the trail, is a perfect place to see what they're talking about. Keep an eye on the weather: Summer rains can turn the treadway here very muddy.
Hike: VT 12 to Elm Street (21.3 miles)
6, 318 feet elevation gain
2-3 days
No permit required
You'll like this hike if you like: post-hike treats
The Appalachian Trail can be rocky and rooty, especially in New England, but this 21.3-mile stretch is a lot friendlier, traversing rolling hills and open meadows speckled with wildflowers like black-eyed susans. Bonus: A quick detour will take you to Cloudland Farm, whose homemade ice cream is worth the extra miles.
Stop 3: White Mountains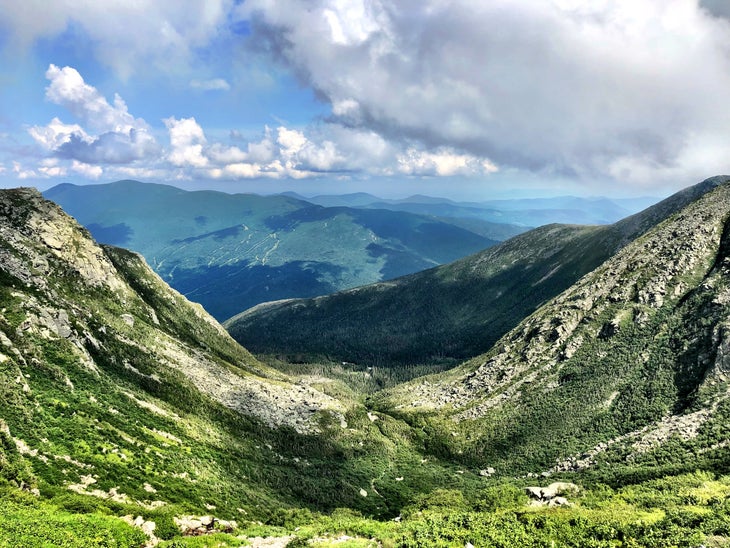 The White Mountains don't have the highest point on the trail (that honor goes to the relatively gentle Clingman's Dome in North Carolina) but they're arguably certainly the most rugged. Mt. Washington—the trail's second-highest point at 6,288 feet, is a strong candidate for being the most dangerous segment of the trail, thanks to its famously unstable weather.
Hike: Presidential Traverse (23 miles)
9,000 feet elevation gain
1-2 days
No permit required, but reservations for the AMC huts are required for overnight stays
You'll like this hike if you like: challenging yourself
The Presi, as it's affectionately called, is a classic New England challenge, linking together eight peaks above 4,000 feet in 23 miles. First, you'll climb 3,500 feet over 3.8 miles through treeline and to the top of Mt. Madison. From there, you'll trace the ridgeline through the high tundra, tagging the summits of Adams, Jefferson, Clay, Washington, Monroe, Franklin, Eisenhower, and Pierce. Along the way, you'll bask in soaring views of the Whites—just as long as the range's infamous weather doesn't sock you in. Break it into an overnight by staying at one of the AMC's huts (opening June 3) or prove your hardman status by tackling it in a single day.
Stop 4: Katahdin Woods and Waters National Monument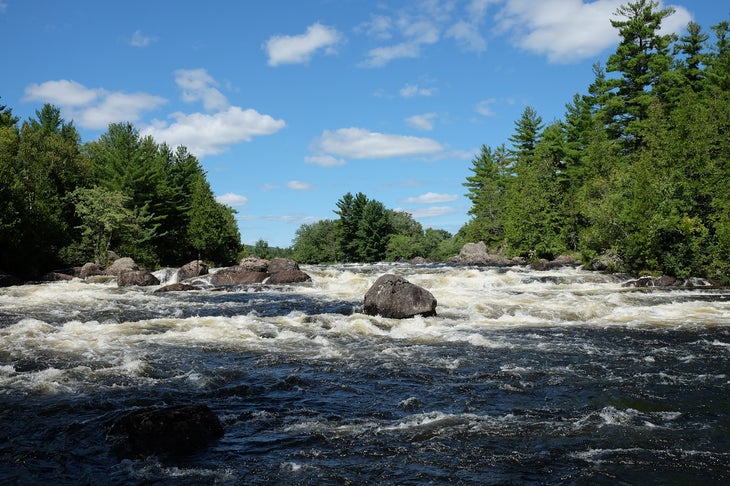 Sure, the Appalachian Trail *technically* ends on top of Katahdin. But motivated thru-hikers can keep on going all the way up to Newfoundland on the International Appalachian Trail, which winds through northern Maine and Canada as it traces the full spine of the Appalachians. You can get a taste of it in Katahdin Woods and Waters, which protects 137 square miles of pine forest and river in the shadow of Baxter State Park.
Hike: Loop Road to Haskell Gate (27 miles)
450 feet elevation gain
2-3 days
No permit required
You'll like this hike if you like: getting off the beaten path
Leave the crowds behind and decompress in solitude on the 27-mile jaunt through the monument's section of the IAT. Over the course of two or three days, you'll spot backcountry waterfalls and ford streams as you trace a combination of footpaths and old logging roads through the monument. Keep your eyes open for moose and black bears, which raid the park's raspberry patches come summer.