Warplanes Are Roaring Over One of the Quietest Places on Earth. Backpackers Are Fighting Back.
Washington's Hoh Rainforest is one of the few remaining landscapes in the world that's free of human noise—if you don't count the Navy jets tearing above it, that is. Hiker and veteran Chris Marvin goes on a pilgrimage in search of silence.
Photo: VW Pics / Contributor ; US Navy
Heading out the door? Read this article on the new Outside+ app available now on iOS devices for members! Download the app.
The tapping of a downy woodpecker on an old-growth Douglas fir has a similar cadence to that of semi-automatic weapons fire. The deep, resonating mating call of the sooty grouse sounds a little like distant artillery blasts. A startled Roosevelt elk leaping through the brush might pique the senses of an alert veteran still with an ear tuned to combat patrols. When you've been to war, even the natural sounds of a temperate rainforest can remind you of it. 
As I and four other combat veterans walked into Washington State's Hoh Rainforest, however, these natural sounds didn't trigger a reminder of our traumas. Quite the opposite, in fact. The natural sonic landscape of the backcountry provided a contrast to war, a connection to peace, and a comfort only found in the natural world. Thanks to the Hoh Rainforest's famous ambient silence, those faunal sounds stood out in a way they usually don't.
But each day without warning, a dull rumble on the horizon would grow into a roar. As the sound pierced the silence, we craned our necks and peered through the tree canopy searching amidst the ever present cloud layers for a glimpse of the noise maker—a Navy electronic warfare jet known as the "Growler."
None of us had flown fighter jets, but we knew one when we heard it. Aaron was a Marine Corps veteran from North Carolina who worked as a backpacking guide in the Great Smoky Mountains. His service buddy, Josh, was an engineer from Chicago. The third Marine, Jimi, was a national parks advocate from DC. Lin served in the Army, and went on to work with veterans in Seattle. And I, a former Army aviator, had traveled in from Honolulu. We didn't have much in common, beyond our military service. Yet, we had all been deployed overseas, and we had all experienced combat. What we experienced on this trip would constantly remind us of that.
Out of sight above the marine layer, but unmistakably audible, the Navy EA-18G Growlers from the nearby air station on Whidbey Island are a constant presence above the Hoh Rainforest, which they overfly on their way to train in the adjacent Olympic Military Operations Area. For years, local residents have complained about the noise the Growlers emit as they take off and land over their rural homes. For many veterans—myself included—this true sound of war tends to be jarring, distracting, and off-putting. And for a small group of us, stopping it—and preserving one of the last scraps of silence in the United States—has become our newest mission.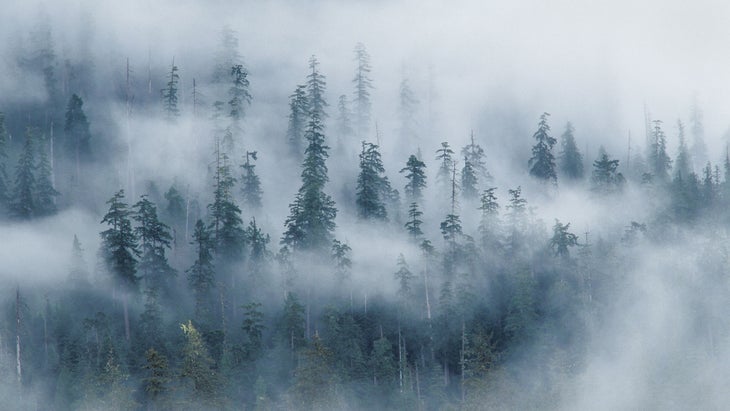 Fewer and fewer places on earth can claim to be free of human-generated noise. Data suggest that "true quiet" is nearly extinct, as 97% of the U.S. population is regularly exposed to noise from aviation and highways. Nine in ten children born today will never experience natural quiet in their lifetime. And excessive noise can have negative health outcomes according to the WHO and the CDC. Noise pollution causes cardiovascular disease, hypertension, sleep disturbance, cognitive impairment, and hearing loss. The incessant noise around us reduces quality of life, well being, and mental health.
Yet, we've normalized the constant din of the world in our everyday lives. A commercial airliner flying overhead barely garners a thought, if it can even be heard over the car horns, construction noises, and cell phone alerts. We have all come to tolerate human-generated noise pollution for the sake of our modern lives.
But for all that, there are still quiet places out there, and the Hoh is one of the quietest in the country. Preserved as part of Olympic National Park over a century ago, this area receives more than 150 inches of rainfall per year, qualifying it as a rare temperate rainforest. The Hoh is a world unto its own, full of mosses, fungi, and old-growth trees that—along with its geographic isolation—help insulate the area from the human noise outside. It's one of the few remaining outdoor spaces spared the incessant sounds of human civilization.
Even within the Hoh, one spot reigns above the rest for its tranquility. In 2005, Gordon Hempton, an acoustic ecologist and Emmy Award-winning sound recordist, identified an exceptionally quiet location inside Olympic National Park along the Hoh River Trail. Using hyper-sensitive audio equipment and high acoustic standards, Hempton found a spot 18 miles down a two-lane park road and then 3.2 trail miles by foot that was free from human noise for hours on end. Marked with a single red rock on a log a hundred yards or so off the trail, Hempton dubbed it the One Square Inch of Silence, and it is as quiet a spot as any we can find on earth today. Experiencing that spot was my group's goal.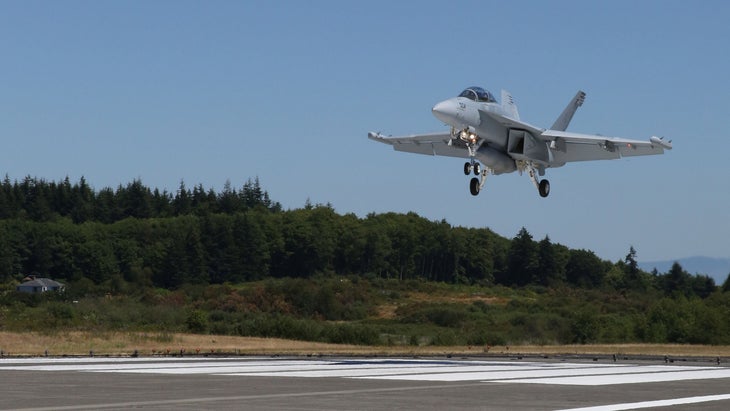 We backpacked on the Hoh River Trail for five days and four nights, and we heard multiple jets each day—some days, upward of a dozen. They varied in frequency, duration, and intensity. Sometimes the noise would last for minutes on end, loud enough to obscure our conversations on the ground. Each one interrupted the sonic beauty of the rainforest and the solace we were seeking.
On day four, we stepped off the trail and into the magical space that surrounds the One Square Inch of Silence. We each sat a few dozen yards apart and out of sight from one another. For more than an hour, we leaned against mossy logs with our eyes closed, absorbing our surroundings.
I could hear the whispering wind, the chirping birds, and the buzzing bees. I began to hear my breath and blood flow. I've always had trouble meditating. But here, in true natural quiet with fresh air and a gentle breeze, I felt transported inside my own mind to that place of serenity that so often eludes me.  
We had read that you can "lose time" in the One Square Inch. So, when we returned to the trail, one-by-one, we asked each other, "How long do you think you were in there?"  No one overestimated; most of us thought it was about half the time it truly was. And when Aaron, the last to emerge, estimated he'd been inside for about 30 minutes, he was shocked to learn he'd spent over an hour and a half in the silence. 
The next day, we spent much of our hike out brainstorming ideas that we might propose to the Park Service to advertise and increase access to this hidden resource. Could they create small alcoves with benches off the trail? Could they encourage guided tours with meditation? More people, we agreed, needed to experience what we had experienced.
Just then, another Growler flew overhead, shaking us out of our bliss and back into the noise of the real world. We realized how lucky we were that our time in the One Square Inch had not been interrupted by the jets, but surely others' meditative moments have been. Those visitors, some certainly vets themselves, never got to find the peace we did. As each jet flew over, I asked myself: Why can't we prevent one of the military's loudest jets from flying directly over one of the quietest spots in the country?
It isn't that we haven't tried. For more than five years, various conservation groups, including parties led by Hempton himself, have attempted to persuade the Navy to use alternate routes when transiting above Olympic National Park enroute to training areas on the peninsula and over the Pacific Ocean. The National Park Service has also entered into conversations with the Navy. But little has changed, and the plane noise was still very much a part of our trip.
The Navy is well aware of their role in polluting this sonic Eden, and they have said they are willing to entertain potential solutions. But no one close to the issue is holding their breath. They've seen this before: The Navy will attend community meetings, dialogue with lawmakers, and provide limited data. In the end, however, the Navy will do what it always has and cite their need to train pilots as a priority over any complaints of noise pollution. Inevitably, a sitting commander gives way to a replacement and the cycle repeats with the new commander requesting more training, more flights, and more noise, while pretending to be oblivious to former complaints and promises. 
In fact, the area is only becoming more noisy: The Navy received permission to expand flights over the area by 33% in 2019. In a subsequent lawsuit, a federal judge determined that the Navy had violated federal law by not properly executing the required environmental assessment. Still, the flights continued. 
Another point of contention is that when the Navy provides evidence of their predicted sound impact on Olympic National Park, they cite their own data modeling. Meanwhile, the National Park Service has conducted actual on-the-ground measurements, which consistently find that the noise from Growlers is the most significant audio nuisance found in the park. Nonetheless, when the NPS has attempted to engage directly with the Navy, they have found minimal success. As an olive branch, the park recently allowed the Navy to conduct rescue training inside park boundaries—a privilege they had previously rescinded—but so far, that generosity has gone unrewarded.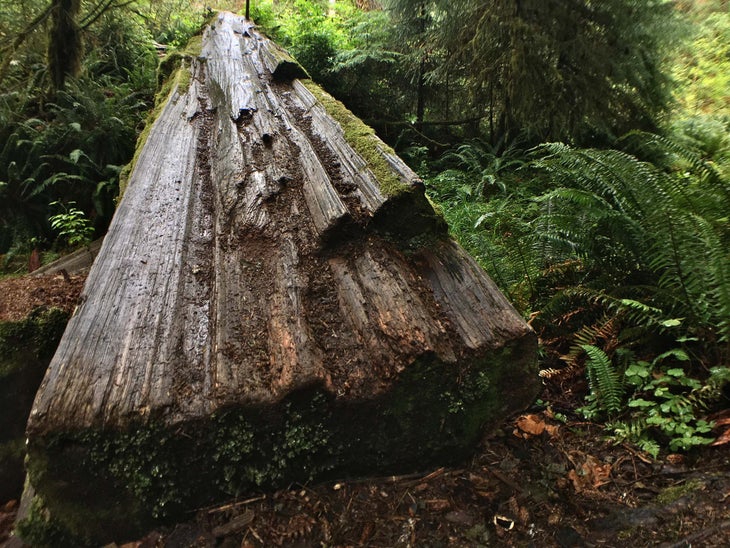 Ironically, it would only take small compromises on the Navy's part to make a huge difference in the park. As a former military aviator, I know something about reducing an aircraft's sonic impact. When I was in flight school, we hand-made maps of our local operating area, on which we identified the specific locations to avoid for noise abatement. (We were even told that one small spot on the western portion of the map was designated a no fly zone, because the farmer that lived there finally got fed up with helicopters flying overhead and took to firing his shotgun at them. It may have been a flight school legend, but we avoided that farm.)  
No doubt the Navy already has strict overflight restrictions of certain locations throughout their training area, and they could do something similar over the Hoh. First, they should ensure that the local area orientations given to new pilots include noise abatement procedures over Olympic National Park—that is, allow the pilots to understand the depth of their interactions within this sacred place. In addition, Navy planes should maintain an altitude of at least 10,000 feet above ground level for all flights over the park. Finally—and most importantly—the Navy should create a 10-mile do-not-fly zone on either side of the Hoh River Valley and the Sol Duc River Valley, a sufficient chunk of the affected area inside the park.
These steps would nearly eliminate the planes' noise signatures for hikers, backpackers, and seekers of silence. Moreover, these relatively easy tasks would not negatively impact the Navy's training. In fact, avoiding these areas would likely make training more realistic by simulating the flight planning necessary to steer clear of civilian populations or hostile threats in combat. 
These compromises would give current military members a chance to give back to those of us who served before them. At this point, I am aware of at least five outdoor adventure companies exploring or planning similar trips for veterans in this part of Olympic. Veterans have discovered the Hoh, and we will continue to populate these trails in search of the healing, solace, and inspiration that so many of us need after our service. My hope is that the Navy can allow us to pursue it without disruption.
When this year's hiking season begins in the Pacific Northwest, scores of people each week will seek the One Square of Silence and the quiet of the Hoh, just as I and my companions did. How tragic that any of their ventures toward calm and respite might be impeded by the growls of Navy fighter jets.
As a veteran, I view protecting national parks as part of my own legacy of service—and I'm not the only one. We will fight to protect the endangered resource of silence, so that in the future, when we commune with the woodpeckers, the elk, and the grouse amongst towering spruce and fir trees, our peace and quiet will not disappear beneath the menacing sounds of war machines above.
Chris Marvin is a former Army aviator and combat-wounded veteran of the war in Afghanistan. He documents his national parks travels on Instagram at @parktoparktour