Map: Beat the Crowds in the National Parks
Hundreds of millions of people visit the national parks every year. Lucky for backpackers, you just have to know where  they go to avoid them.
Heading out the door? Read this article on the new Outside+ app available now on iOS devices for members! Download the app.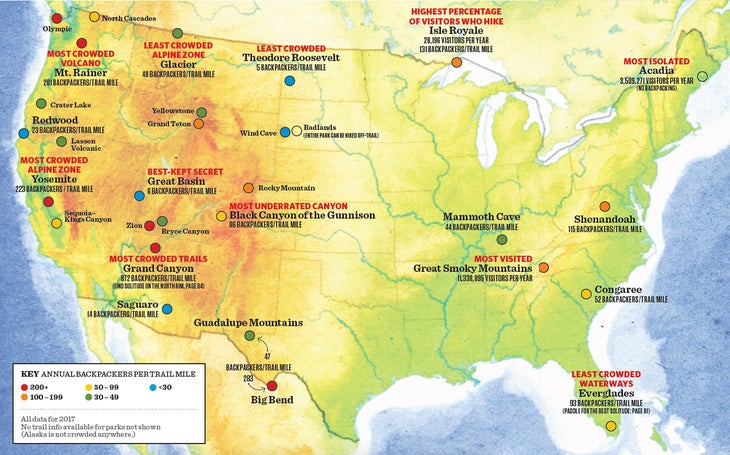 It's no secret that visitation is way, way up at America's iconic national parks. If you've recently tried to get a Yosemite Valley parking spot in July or score a campsite at Glacier anytime during the summer, you know the problem firsthand: More than 300 million people visit the national parks annually, and several of the A-list parks have broken all-time attendance records over the past three years.
There's been lots of handwringing lately about this. In extreme cases, parks have proposed limiting access. Arches is currently considering a proposal to require reservations to enter the park during peak visitation times. And Zion, which has seen its visitation spike by 59 percent over the past six years, is mulling over a plan to make the park's main canyon accessible by reservation only.
And why not? Backpackers have had to contend with quotas in sensitive backcountry zones for years. Want a permit for Mt. Rainier's Wonderland Trail? Good luck. It's a pain, sure, but reservation systems work when it comes to protecting wilderness.
Fortunately, there's a better way to beat the masses than getting in line. We've mapped where people go—and where they don't—so you can target the crowd-free zones. The wilderness is just as deep, but here, solitude comes without reservations.