The Sierra's Rae Lakes Are Spectacular—and More Fun With New Friends
A basin of beauty resides in the middle of Kings Canyon National Park.
Heading out the door? Read this article on the new Outside+ app available now on iOS devices for members! Download the app.
Twisting through the peaks and passes of Kings Canyon National Park, the high-effort, high-reward hike from Onion Valley to Rae Lakes is perfect for backpackers who enjoy light Type-2 fun (it's not miserable, just challenging). So, when I moved to California last summer, this 24-mile route became the top hike on a long list of trails I wanted to explore.
This trail requires a wilderness permit, which could make it hard to go on a last-minute adventure with a group here. Thankfully, I was embarking on a solo mission, so the one permit remaining was calling my name. (As an aside, I've found a lot of success and peace going solo. So if you feel comfortable doing that, seek out those single permits and enjoy some time alone in the backcountry.)
The available permit was from Onion Valley on the eastern side of the Sierra. This is the less-common route because you have two challenging passes to crest before you hit Rae Lakes. More people start from Roads End in Kings Canyon National Park and take on a 40-mile loop.
Starting at Onion Valley Campground, which sits around 9,100 feet, the hike to Kearsarge Pass is about 5 miles, which is also the boundary line for KCNP. It's not challenging, though most of it is exposed—a daunting task for midday hikers. Throughout the ascent to the 11,700-foot pass, I played leapfrog with a group of four middle-aged men. By the time we reached the Kearsarge, I officially became an adopted member of their group. (Going solo can be fun, but being able to hang out with others who also enjoy the backcountry is something to cherish. Plus, I soon learned that they packed in steak. How could I pass that up?)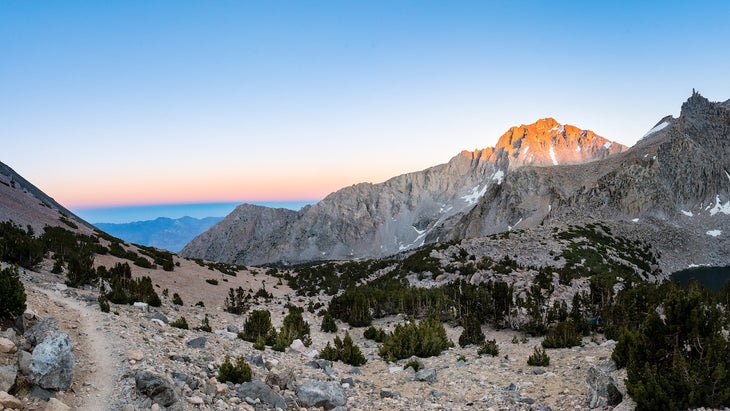 As we trekked on, the views got better and better. We cruised through the Kearsarge Lakes basin and cooled off in the lakes along the way. Unless you want to take a 1.5-mile detour, Bullfrog Lake is the best place to fill up when coming down from Kearsarge Pass. Due to the drought when we went in late August, there wasn't any running water until the base of Glen Pass. As this is about a 3-mile trek, plan your water accordingly.
The views after an exhausting and hot climb to Glen Pass were worth it. From nearly 12,000 feet, you get your first sights of the mesmerizing Rae Lakes glistening in the afternoon sun. Even though you can see the lakes and are probably thinking about jumping in, you've still got a 35-minute hike between you and the water. Glen Pass isn't more than 10 feet wide, and the trail itself is the best place to sit and rest. Thankfully, it's not a crowded trail, so you shouldn't have any issues with people climbing over you.
As you approach Rae Lakes from the south, you'll hike clockwise around it until reaching a fork in the trail. Here, you'll find Sixty Lakes Basin and plenty of camping sites to the left. To the right, you'll continue on the Pacific Crest Trail heading east and then quickly north again.
My group camped an eighth of a mile up the left spur, which allowed us privacy and easy water access for swimming and filtration. Our area had plenty of camping spots, while the divider between the two lakes had fantastic ones too. That evening, the older gents had packed in steak fajitas, and I felt like a peasant eating my freeze-dried meal. (Eventually they offered me one, and I couldn't refuse.)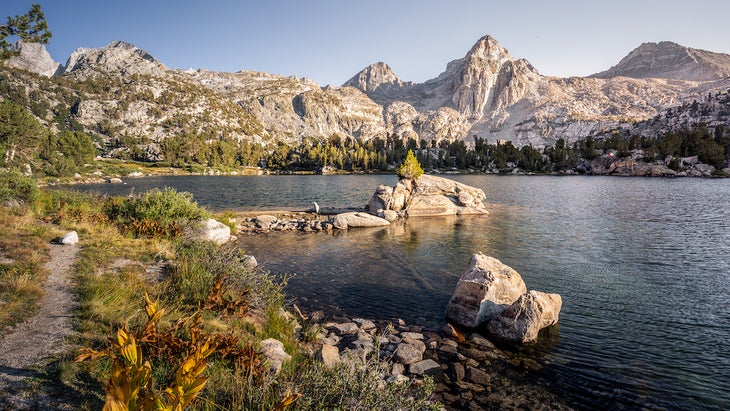 As the sun began to set behind the 13,000-foot peaks, I grabbed my camera and set off to enjoy the twilight and take photos of the Painted Lady and surrounding peaks. As I stood in silence without a soul around, I thought about how perfect a moment and place this was.
The group wanted to leave the basin before the afternoon heat arrived the next day, but I had different plans. As they packed up, I got ready to hike into Sixty Lakes Basin. I didn't know much about this area, but I quickly realized it was not a leisurely stroll but a 500-foot ascent to the pass followed by a rugged descent. With already-tired legs, I didn't go far in but ended up climbing rocks for a better view of the surrounding area. I highly recommend taking a half-day and heading into this gorgeous lake-filled oasis.
A couple of hours later, after spending some time chatting with ultralight hikers summiting nearby peaks under a shade tree, I began my march out. The hot sun was beating down; it was not pleasant. But I pushed on, doing my best speedwalk to the top of Glen Pass for the second time in 12 hours.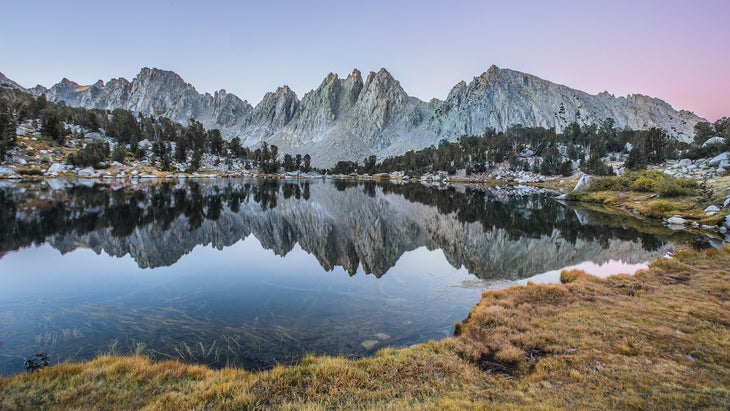 At the top, with no more uphills remaining until day three, I was excited to catch up to the rest of the group and rinse off at Kearsarge Lakes. I sped down the trail, letting my long legs check miles off like weekend chores. By mid-afternoon, I reached the campsite and found the gang enjoying the cool water under the watchful Kearsarge Pinnacles. I dropped my pack, stripped down, and dove in with the grace of a toddler. It was the perfect reprieve after a hot day.
As the afternoon waned, I thought about my new friends. Their kindness in bringing in a complete stranger and letting me hike, chat, and eat their food was incredibly genuine. It made me think about the root of why I go into nature: I'm looking for peace, yeah, but also seeking the kind of connection that we can only find when we ditch our electronics for the peace of the backcountry.
The following morning, I awoke in a little rush. We had 45 minutes of an uphill push and then 5 miles downhill to the parking lot. Even though it was supposed to be a toasty day, I enjoyed the cool morning breeze and spent time photographing the glass-like Kearsarge Lakes. It may have been last-minute, but excursions—and people—like this are what keep me coming back.
Hike It
Permit: Important dates and reservation information here. Permits are required year-round and are available at 7 a.m. Pacific six months before your trip.
Length: 26.8 miles
Elevation gain: 8,830 feet
Camping: You need a wilderness permit to camp overnight. For this hike, get the permit with the entry point to Kearsarge Pass.
Check out more of Alec's writing on his website Explore with Alec.