On the Trail, an Immigrant Ponders the Meaning of Home
Our writer reconciles her family and her future on the path to Harding Icefield.
Heading out the door? Read this article on the new Outside+ app available now on iOS devices for members! Download the app.
At mile three of the trail to Harding Icefield in Alaska's Kenai Fjords National Park, I found myself scrambling up bare rock, the glacier nowhere in sight. The summer sun beat down on my shoulders, wavering into a heat-haze above the forest below. Still, I didn't slow my pace, drawn by the lure of ice far above. 
This was to be my last big hike before I went back to the Lower 48. Leading the way was Pang, my boss at a Seward accounting firm, who over the preceding months had become my partner in adventure. She moved to Seward when she was young and we bonded over our shared immigrant experience—her from Thailand, me from Somalia. We'd both had to figure out how to assimilate into a place while holding onto pieces of our own culture. The resilience built from that experience yielded the toughness needed for long and difficult backcountry trips. I had taken the seasonal job in Seward the same week my family left the States for Somalia for what they had planned to be a year but had now stretched months beyond. For years, I was the leaver. This time, I stayed.
Back on the trail, I paused for a moment to take in the bright green valleys opening below me, framed by sheer gray cliffs topped with snow. After two months as a riverboat deckhand and four more hiking around the Kenai Peninsula, I was confident in my stamina and agility when climbing these peaks, but this trail—scattered with the rocky detritus of a few hundred years of glacial advance and retreat—was still rough enough to present a challenge. Despite the scene, though, my mind was 7,500 miles away in my home village of Badhan in Somalia, where my family now was. In all my nomadic life, I had never been as far from my family as I was at this moment.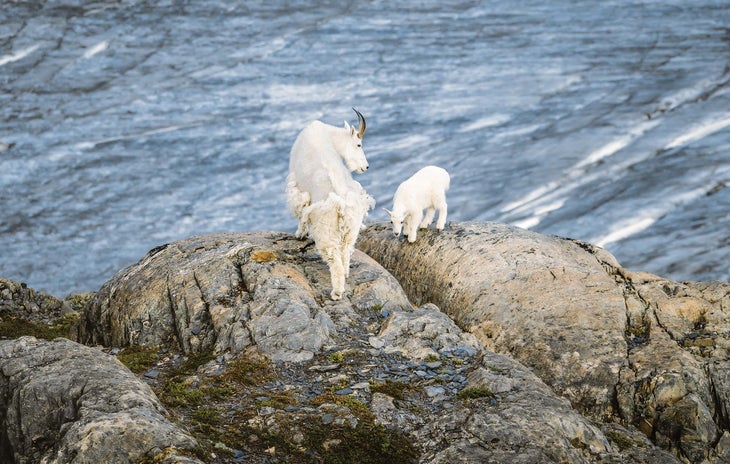 All that summer I had found solace in difficult hikes through Alaska's mountains. As I huffed and puffed my way up ragged hillsides and piles of scree my anxieties drifted away, letting me examine my thoughts without the entanglement of hurt and longing. Facing those fears unique to a remote trail made the others seem somehow just as manageable, even though they were so much larger. Would my family ever return? Was there truly a place for them, Somali immigrants, here in America as it rapidly fractured along political and social fault lines? Was there a place for me?
In front of me, Pang continued quietly trekking forward, as resilient as ever. I'd never seen her falter, either at work or on the trail. Her steady presence had kept my own spirit from stumbling as she taught me how to navigate the Alaskan wilderness, lending me the run of her gear closet as our treks got more serious. The hiking boots I was wearing belonged to Pang—so did most of the gear I was using. 
"You all right back there?" Pang asked as we crested another rise, dipping back into cool spruce forest. "Yes," I panted, lungs burning. As we got closer to the top, switchbacks appeared, diverging into a maze of different paths. We had left the last of the forest behind now for Harding's lateral moraine, an enormous ridge of fractured rock and scree where only the hardiest of alpine plants clung. Beyond the ridge, distant peaks rose in short rocky pyramids above hanging glaciers—not the icefield, not yet, but still impressive. I followed along as Pang chose our route. As we trekked past stubby heather and bright green moss, I was struck with a sudden feeling of displacement. I had come from the Horn of Africa to the Arctic Circle, yet somehow found myself more comfortable in this wilderness than my siblings felt in our family's hometown. How could I build a unique sense of home bridging these vastly different worlds?
Between excursions with Pang all this past summer, I spoke with my siblings often. "The Somalis here don't like us. They call us Americans and throw rocks at us when we leave the house," my little sister said to me. They struggled to adjust to the dry heat and fresh halal meals, suffering through stomach viruses as they switched away from suburban fast food. 
For me, Badhan was my village, the place I was born; I'd spent many happy days following my grandmother around the market square. For my younger siblings, American born and bred, it was as foreign as Ohio, my adopted home, had once been to me. Their trip to Somalia felt like a temporary interlude rather than a return home. I found my mind drifting back to those conversations as the Alaskan scree slipped and slid beneath my boots. My own temporary interlude, crowned by this excursion into the glacial heart of Kenai, was almost at an end. A few months into my family's trip, though, my siblings—and I—had begun to realize that my parents' round-trip tickets were actually one way. I didn't intend to go back to Ohio after Alaska—planning instead on upstate New York and then Vermont—but now that I knew my family wouldn't be in our Ohio home, it was as if my entire wandering lifestyle had lost its lodestone. Should I stay in Alaska, where I'd found such peace in the wilderness? Or push through the sudden feeling of uncertainty and stick to my original plans? 
A pinched nerve in my ankle brought me back to the hike. We were zigzagging up the last of the moraine now, scrambling up a hill of gray gravel. Below me the rocks dropped away to sun-washed forest and distant cliffs—an inspiring view in its own right, but still not the icefield.
On the last stretch of the hike I started getting anxious. Would we make it back by last light? Would we ever actually reach the icefield? By this time, we were down to our shorts and sports bras in the warm sun. At last, we crested the final moraine and there it was: the Harding Icefield. Scrubby willows huddled close in the shadow of the glacier, taking advantage of the relative shelter from the elements. A cold wind whipped up off the glacier to where we stood catching our breath. Sunlight bounced back off the ice, brighter and sharper than anything I'd ever seen on dry red Somali clay. Even as I struggled with my family's absence, I had fulfilled my dreams of the Alaskan wilderness, of climbing into the mountains with new friends and finding my way to wild glaciers. Whatever else came, I felt suddenly that I could find a balance. I shook away my longing with the icy wind, dropping the tension I'd held all the way up the hike in stiff muscles and an aching heart. The Ali family saga that had burdened me all summer felt moot in the face of such a moment, such a wildness. I still had a little time left in this glorious state. The Northern Lights were beginning to creep into the sky, night by night. Somalia was my first home, but I'd found a place of my own in Alaska, too; and I can return to this sense of peace wherever I go.  
Do It
Permit None Season summer and early fall Trailhead 60.1885, -149.6308 Distance 8.2 miles Days 1-2