Pipiwai Trail: The Hiker's Guide
This 3.6-mile route in Haleakala National Park leads through bamboo forests to a 400-foot spring-fed waterfall in a sheer-walled lava amphitheater.
Photo: VisualCommunications/E+ via Getty Images
Heading out the door? Read this article on the new Outside+ app available now on iOS devices for members! Download the app.
One of the best hiking trails on Maui, the Pipiwai Trail is often overlooked by hikers who make a beeline for Wai'anapanapa State Park or Ohe'o Gulch ("Seven Sacred Pools"). Add this 3.6-mile trail to your to-do list for a picturesque ramble to a 400-foot waterfall. On the way pass under an enormous banyan tree, through thickets of vibrant bamboo, and past brightly flowered but invasive tulip trees.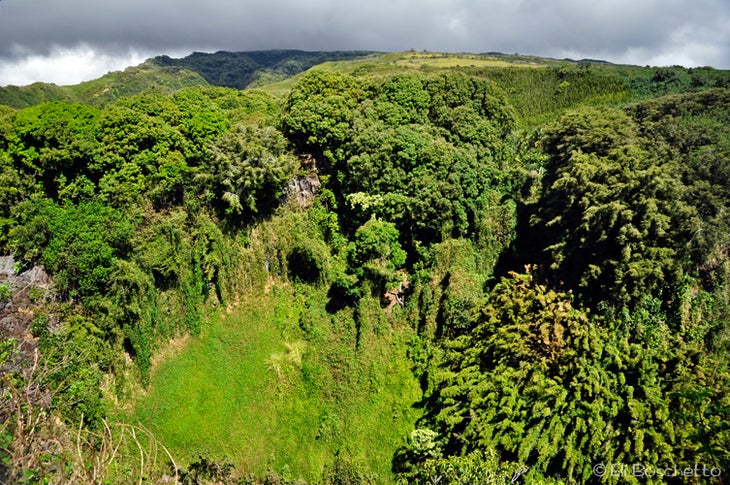 The Route: Pipiwai Trail
The trail starts at the north end of the visitor center parking area near the halau (long house) and climbs steadily up the ridge alongside Palikea Stream. The first viewpoint opens up beside an old concrete pylon, once used by farmers for getting sugar cane across the gorge.
Less than a quarter-mile later, a rock-walled overlook offers sweeping views across the gorge and of Makahiku Falls. From the overlook, the trail dives back into forest, then passes a now-closed spur trail. (Some guidebooks show this spur leading to a pool at the top of Makahiku Falls, but the NPS has since closed off this route due to several fatalities.)
After 0.6 mile, the trail passes beneath the sprawling branches of an sprawling banyan tree, then shortly beyond, a spur trail breaks off to the right and descends to a viewpoint over a waterfall spilling into the "Pool of No Return," a large, deep pool that sits in a collapsed lava tube. Back on the main trail, pass the remains of an old sugar mill dam, then cross two bridges over a series of deep chutes and pools, carved into the riverbed's lava rock where the Palikea and Pipiwai Streams converge.
At mile 1.1, trek through a dense stand of 40-foot-tall bamboo trees that block out much of the sunlight, (and create a clacking sound in the breeze), then cross the creek for the final 0.1-mile stretch to Waimoku Falls, a 400-foot waterfall that drops down mossy cliffs (watch for falling rocks). Drop your pack and soak up the scene before backtracking to the trailhead.
-Mapped by Eli Boschetto, Bosco Mountain Photo
When to Hike the Pipiwai Trail
You can hike at any time of the year in tropical Hawaii, but your best bet to avoid rain is to hike in the drier summer months, April to October. Always check the weather before heading out on a hike; serious storms, with high wind and torrential rain, can occur at any time of the year, and can trigger flash floods. Temperatures at lower elevations usually range between 60 and 80 degrees.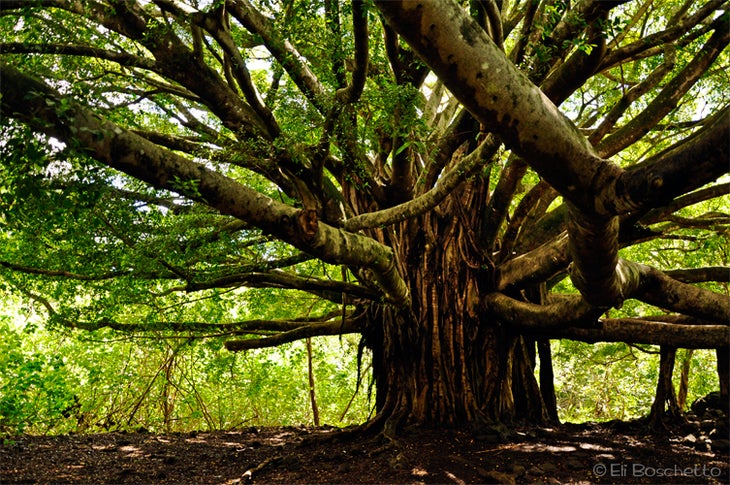 Gear for Hiking the Pipiwai Trail
Especially on a rainforest trail like the Pipiwai Trail, you should always carry rain gear: a shell jacket and possibly rain pants, too. Wicking clothes are best for the region's high temps and high humidity. If you're hiking in an area with sharp or poisonous plants, go with long pants; for less brushy hikes shorts are fine. Bring plenty of water (or a high-quality water filter) on trail, and make sure to pack plenty of sunblock.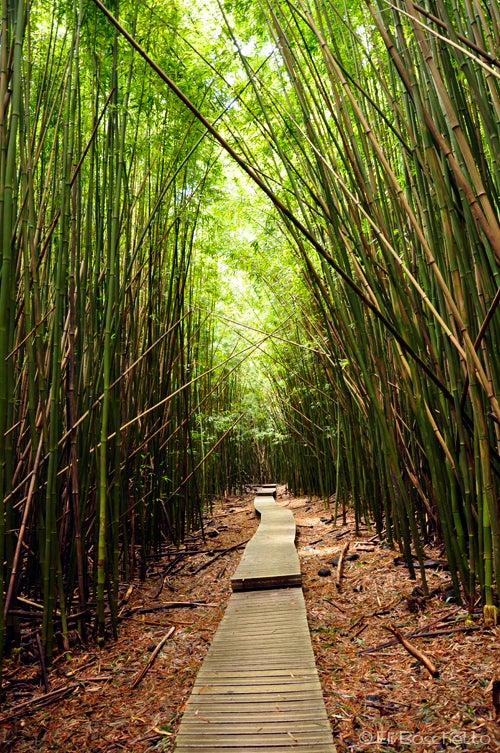 Permits for Hiking the Pipiwai Trail
Haleakalā National Park requires an entrance fee ($30 for a 3-day vehicle pass or $55 for an annual pass good at all national parks in Hawaii that aren't free to enter). No trail-specific permit is required, but weekends tend to be busy; go on a weekday or get an early start to avoid the crowds.