5 National Park Campsites for an Epic Night Out
There are campsites—and then there are campsites. Settle in for one fantastic night at one of these prime spots, from mountain views to a beach getaway in the middle of Yosemite.
Heading out the door? Read this article on the new Outside+ app available now on iOS devices for members! Download the app.
Enjoy this excerpt from Backpacker's 2021 January issue. Members can read the full story with all 10 campsites on our site.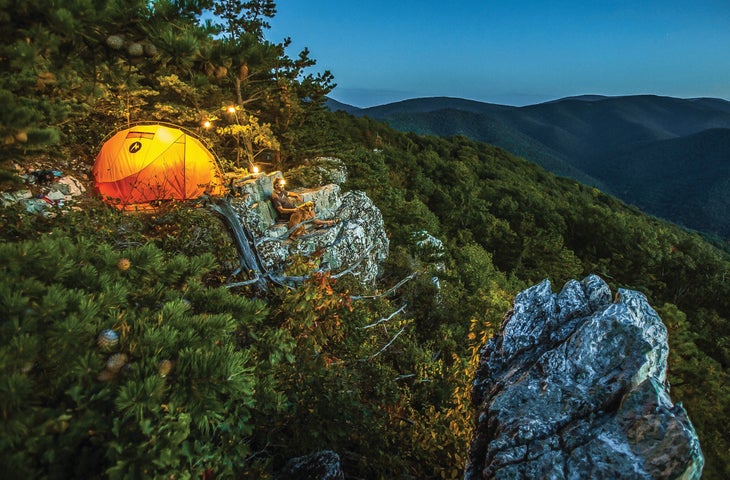 Off the Beaten Path:

Rocky Mountain, Shenandoah National Park, Virginia

Welcome to the insider's club. As soon as you leave behind Skyline Drive and the Appalachian Trail, you'll enter a corner of Shenandoah all your own. The handful of hikers who venture up 2,741-foot Rocky Mountain tend to do the 10-miler as a dayhike, but not you. Tucked atop a granitoid outcropping you'll find a solitary, secret campsite and views over Rocky Mount and the Southern Shenandoah Wilderness. Pitch your tent as close to the edge as you dare (there's only one obvious spot, but don't worry—it's seldom occupied. When in doubt, there are more sites past the summit about a mile down the Gap Run Trail). Find the perfect backrest on a lichen-covered ledge and settle in to watch sunset over the Blue Ridge. Get here from the trailhead just north of the Two Mile Run overlook on Skyline Drive. Follow a ridge through oak-hickory forest for 2 miles with intermittent views before dipping down to a junction. A left turn will lead you 800 feet to the summit. Previously, downed trees and overgrowth encouraged hikers to catch these views from the road. But the trail has since been cleared, affording you smooth sailing and solitude worth staying the night.

Trailhead 38.2992, -78.6466 Get Here Park overnight at the Two Mile Run overlook at mile 76.2 on Skyline Drive. Permit Self-register at the trailhead.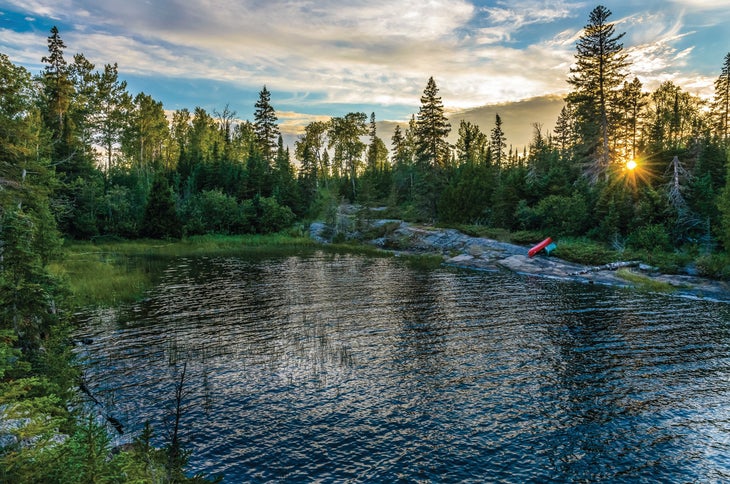 Private Island:

Moskey Basin, Isle Royale National Park, Michigan

It starts with a halo of dawn light reflecting off the water. A loon's resonant lilt breaks the silence. Beneath the awning of a wooden lean-to, watch the rising sun color the aspens, paper birch, and mountain ash surrounding the long inlet. Before long, the 3-mile stretch of water between Moskey Basin and the Rock Harbor Lighthouse will be bathed in soft pink. Swans drift by and river otters dive for trout and whitefish near the end of the natural rock ramp extending down from your campsite as the wilds wake up. Keep your ears open and your eyes up as you pack in the morning and you may be rewarded with the distant howling of wolves or a final flicker of green from last night's aurora borealis. Reach this piece of paradise from the dock at Rock Harbor by hiking southwest on the Tobin Trail for 3 miles, then taking a left on the Mt. Franklin Trail. After a half mile, turn right onto the Rock Harbor Trail and continue on for 4.2 miles. At the next two intersections, take a right, and then a left, reaching Moskey Basin in another 3.9 miles. Alternately, experienced boaters who can read currents and manage wind-built swell (calmest early in the morning) can paddle the 3 miles from Rock Harbor. However you land, plan to turn in as the evening settles—you'll want to be well-rested for one of the best wake-up calls in the entire national park system. 

Trailhead 48.1444, -88.4855; Get Here $136, take the ferry from Cooper Harbor to the dock at Rock Harbor Permit $7 per day ($14 for an overnight), six shelter sites; first-come, first-serve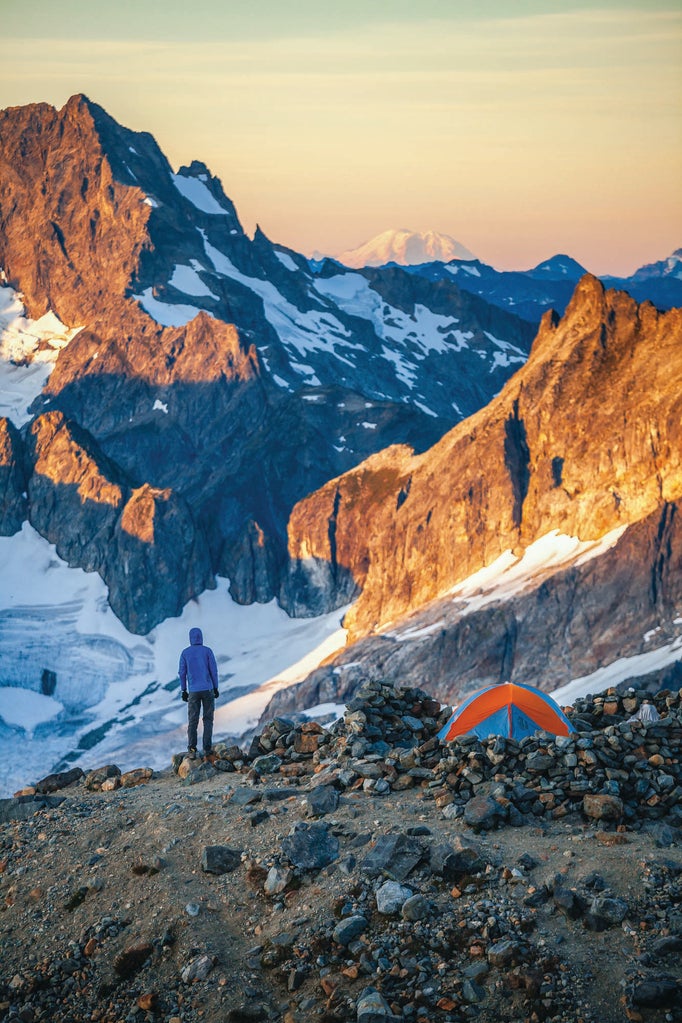 Stairway to Heaven:

Sahale Glacier Camp, North Cascades National Park, Washington

It's hard to say which sight is more awe-inducing: the North Cascades' night skies or its peaks. Experience unobstructed views of both from the foot of the Sahale Glacier—at 7,400 feet, this is the highest campsite on our list. With a near 360-degree panorama of jagged mountains and hanging glaciers, you'll have up-close encounters with Magic Mountain, The Triplets, and Mix-up Peak as 10,781-foot Baker and 9,131-foot Shuksan beckon in the distance. Of course, views like these come at the price of total exposure to the wind as it whips over rock and ice. That's where the circular rock wall at your campsite comes in, providing just enough protection to keep you on terra firma. Start your climb from the Cascade Pass trailhead by hiking up 35 switchbacks over 1,700 feet until you break through the treeline. Traverse across a meadow brimming with wildflowers (and marmots) until you hit the intersection with the Sahale Arm Trail at mile 3.7. Swing a left and circle a thousand feet above the jagged shoreline of Doubtful Lake for another 2 miles. Listen for the telltale squeak of pikas as you scramble up the final 500 vertical feet to camp, and keep an eye out for the resident mountain goats while setting up your tent. Then, as the sun sets behind Forbidden Peak, lean back in your chair to watch the stars overhead emerge from the darkness. Enjoy the show.

Trailhead 48.4755, -121.0751 Get Here From Highway 20, drive south on the Cascade River Road for 23 miles to the trailhead Permit $20; six-group limit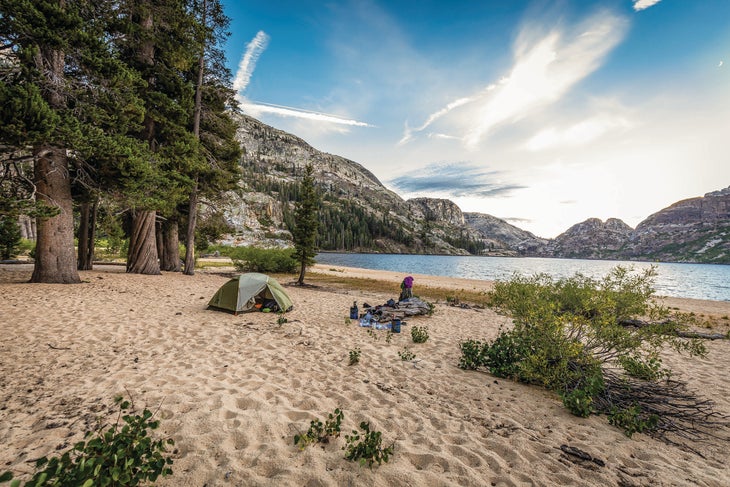 Beach Party:

Benson Lake, Yosemite National Park, California

Trade the crowds squeezed between the Valley's 3,000-foot granite walls for over 1,500 feet of white sand set against mile-long Benson Lake in the park's remote northern backcountry. Make camp beneath a lodgepole pine—a prime source of shade—before wading out into the turquoise-blue water: Unlike other lakes in the area, this one, lower than most at 7,600 feet, is more than warm enough for a midday swim. When you're finished, stretch out and catch some afternoon rays on the Riviera of the Sierra. Feel the gentle breeze roll across the lake as it rustles through the aspens and keeps the heat of the day (and the mosquitoes) at bay. Later in the afternoon, join the pelicans fishing for brook and rainbow trout at the lake's outlet along Piute Creek—watch for river otters playing beneath the willow trees. Cap it off with a campfire (restrictions permitting) as the sun disappears behind the granite domes surrounding the lake, including 10,541-foot Piute Mountain to the northwest. To get here, follow the Robinson Creek Trail for 5.9 miles to connect with the Peeler Lake Trail. In another 1.9 miles swing left on the Kerrick Creek Trail and continue until you hit the PCT at mile 14.6. Follow that south for 3.6 miles, then take the Benson Lake turnoff. Reach the lake in another .3 mile. Camp here or walk as far along the beach as you like—finally, a place in Yosemite where there's no competition for that perfect spot. 

Trailhead 38.1464, -119.3800 Get Here Robinson Creek Trailhead is at the end of Twin Lakes Road; $5 overnight fee Permit $10 for advance reservations, $5 for walk-up; max 60 people per trailhead/day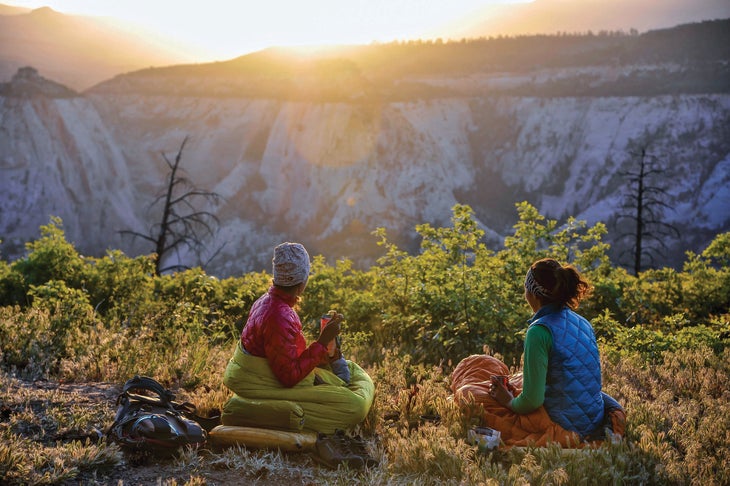 Before Sunrise:

Campsite 5, Zion National Park, Utah

Never before have you faced such a dilemma as the one posed by Campsite 5 on the West Rim Trail. Do you set up your tent facing west, looking out across Phantom Valley to see evening light hit the white sandstone of piñon-topped Incline Temple and Church Mesa? Or do you orient yourself to the east for a show that begins at sunrise, as oranges and pinks reflect off the rock in Zion Canyon? The indecisive never had it so good. Whichever direction you choose, leave the fly off your tent (summer and fall are your best bets for clear skies) to watch as the Milky Way and stars wreath you on all sides. Your trek starts from the trailhead near Lava Point Lookout. Begin with a gentle downward descent from 7,800 feet along a shady plateau. Hit Potato Hollow Spring at mile 5.2 (check with rangers in the backcountry office to see if it's running; pack in water if it isn't). Veer right in 1.6 miles at the intersection with Telephone Canyon Junction. Hike another mile to reach the site—then drop your pack and check out the view from all angles before setting up camp. No wrong choices here. 

Trailhead 37.3815, -113.0230; Get Here $40 shuttle Camp $5, limit of four/day; reserve online