Topeka: Horsethief Canyon
This 4.4-miler mixes prairie with rolling wooded hills, scenic bluffs, and sandstone hoodoos in Kanopolis State Park, the first state park in Kansas.
Heading out the door? Read this article on the new Outside+ app available now on iOS devices for members! Download the app.
-Mapped by Jon Conard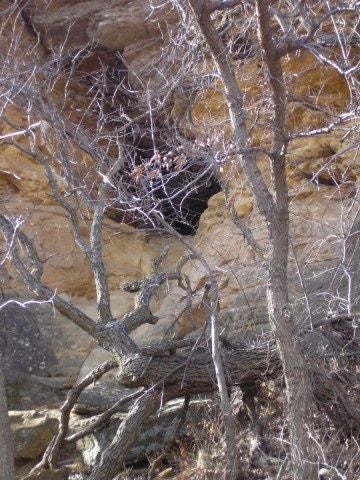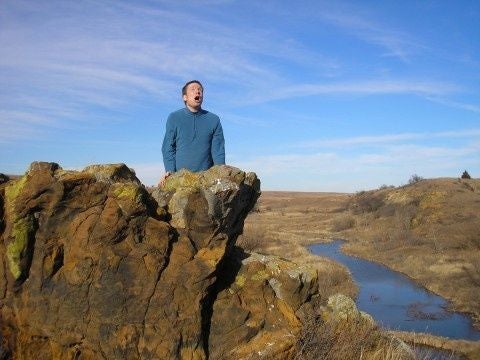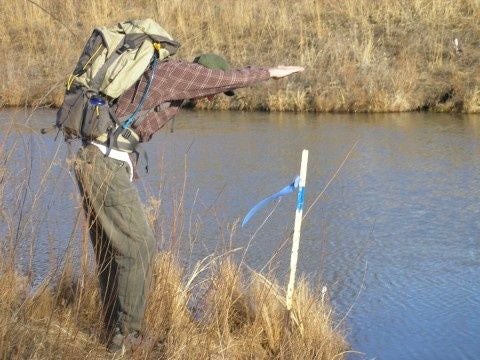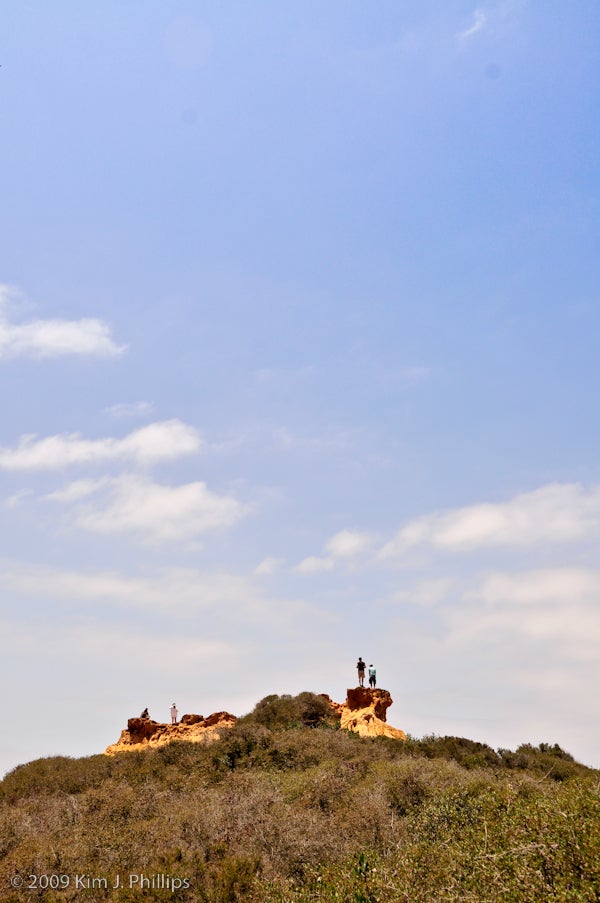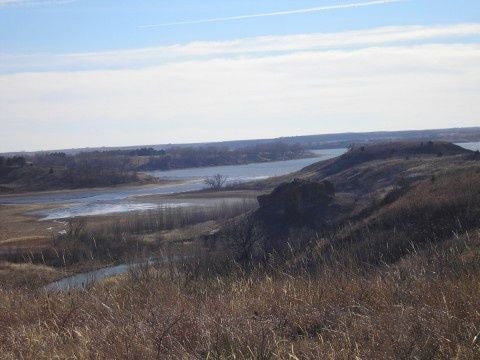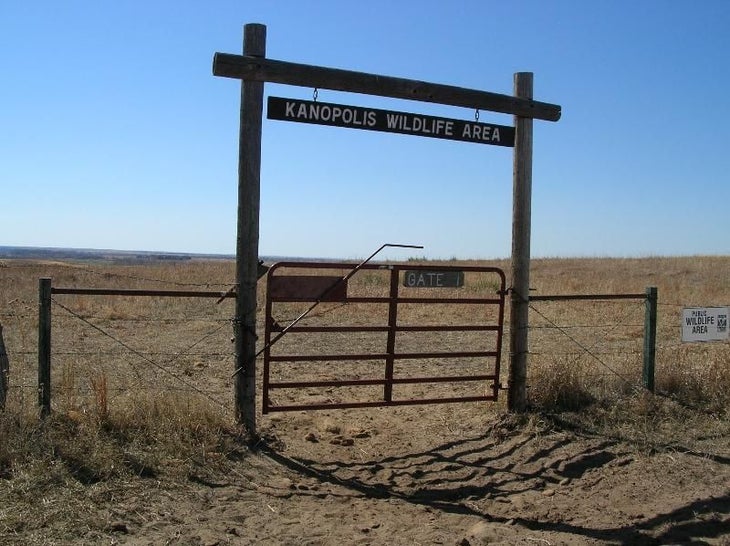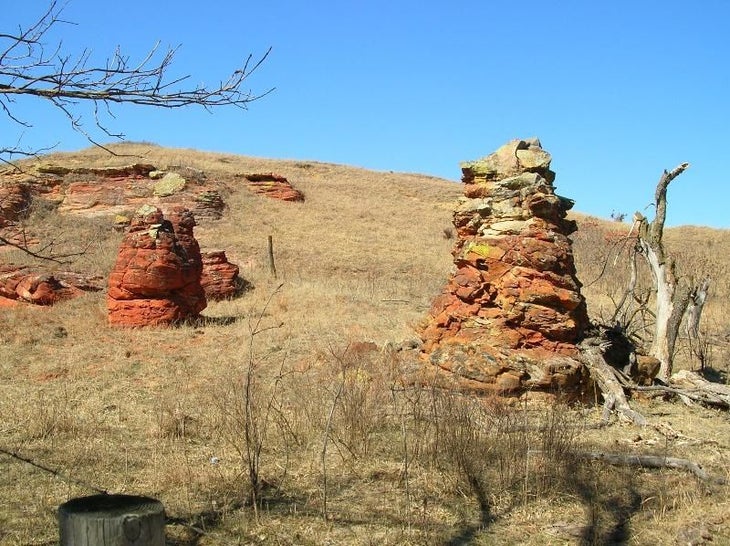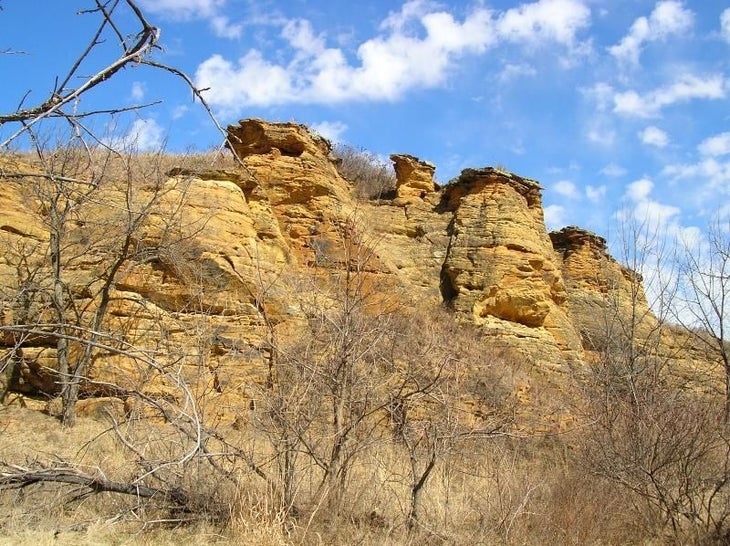 Trail Facts
Waypoints
Cave
Location: 38.677235, -97.993369
©Jon Conard
Howling On Rock
Location: 38.674751, -98.002281
©Jon Conard
High Water Crossing
Location: 38.675842, -98.003891
©Jon Conard
Rock Outcropping
Location: 38.675941, -98.002754
©Jon Conard
View of Kanopolis Lake
Location: 38.67963, -98.001244
©Jon Conard
Gate At Trail Junction
Location: 38.678408, -98.010943
©Jon Conard
Red Rocks
Location: 38.681877, -98.006149
©Jon Conard
Sandstone Bluffs
Location: 38.679362, -98.005493
©Jon Conard
HTC001
Location: 38.671958, -97.999485
Head NNE on the Buffalo Tracks Canyon Trail
HTC002
Location: 38.677235, -97.993627
Look behind scraggy bushes for a small cave carved into the sandstone bluffs; swing W and wrap around bluff point into the adjacent canyon
HTC003
Location: 38.681221, -98.000122
Stream crossing; at sundown, coyote yelps echo inside the canyon
HTC004
Location: 38.67963, -98.001544
Vantage between canyons offers almost clear views to Kanopolis Lake
HTC005
Location: 38.681839, -98.006248
These 12-foot-tall sandstone hoodoos belong in southern Utah, not central Kansas
HTC006
Location: 38.678374, -98.011158
Swing L, heading S on Horsethief Trail
HTC007
Location: 38.675941, -98.003128
Keep straight @ T near large rock formations
HTC008
Location: 38.675251, -98.00164
Use huge, sturdy beaver dam to cross swollen creek with deep pools
HTC009
Location: 38.6758, -98.000549
Continue E @ junction
HTC010
Location: 38.675752, -97.999367
When the water level is more than shin-high, it's best to leave trail briefly here and head SE to cross stream on second beaver dam. Then swing back upstream to rejoin the main, well-marked trail.
HTC011
Location: 38.67556, -97.99881
Carefully cross log-jammed stream again; turn R and head S to trailhead