Top 3 Dune Hikes
Trek through a trio of wilderness playgrounds on shape-shifting mountains of sand.
Heading out the door? Read this article on the new Outside+ app available now on iOS devices for members! Download the app.
Oregon Dunes, OR (Charles Gurche)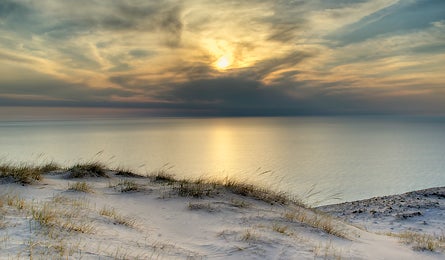 Sleeping Bear Dunes, MI (Chuck Haney)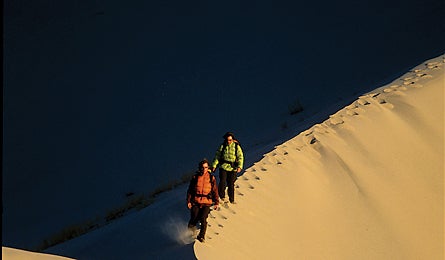 Eureka Dunes, CA (Lee Cohen)
OREGON DUNES, OR | SLEEPING BEAR DUNES, MI | EUREKA DUNES, CA
OREGON DUNES, OR

Dive into waves of seaside sand.
Surrounded by 500-foot-high drifts, you'll think you're crossing the Sahara, not the Pacific Northwest coast. But the Oregon Dunes National Recreation Area is the largest expanse of coastal dunes in North America (it's 47 miles long by 2.5 miles wide)–and the inspiration for Frank Herbert's sci-fi classic, Dune. Hit the three-mile (one way) John Dellenback Trail to explore the Umpqua Dunes, the park's biggest. Cross a bridge over Eel Creek and hang a left for a half-mile lope through lodgepoles to open dunes. Pockets of wind-stunted trees dot the slopes and provide shelter for gray fox and black-tailed deer. The sand tapers into the Pacific, where a soft beach invites a swim in the chilly water. Like the scenery? Stay over at Eel Creek Campground ($5/day). fs.fed.us/r6/siuslaw; (541) 750-7000
Recharge

Head north on US 101 to Hall Lake, just west of Tugman State Park: This locals' swimming hole is bordered by a dune that slides right into the water.
The way

From Reedsport, take US 101 south for 10.5 miles to the trailhead, just beyond Eel Creek Campground.
OREGON DUNES, OR | SLEEPING BEAR DUNES, MI | EUREKA DUNES, CA
SLEEPING BEAR DUNES, MI

Explore America's Third Coast.
Towering above Lake Michigan, the dunes at Sleeping Bear National Lakeshore are mightier than many of this state's pine-topped mountains. The tallest drifts are 200 feet high and sit atop the already-lofty bluffs lining the lake. These "perched" dunes cover 15 square miles of lakeshore. Take the four-mile (round-trip) Dunes Trail to an isolated beach perfect for an early-summer swim. The route begins at the Dune Climb, a popular 10-minute slog to the top of the sand with views over Glen Lake's azure waters to the east. From there, follow the blue-tipped posts west. In spring and early summer, wildflowers such as wood lily and red anemone bloom among the tufts of dunegrass. Bring a towel so you can kick back on the beach and listen to Lake Michigan's lapping. $10/vehicle;
nps.gov/slbe; (231) 326-5134
Recharge

Sandy toes are welcome at Tiffany's (231-326-5337), an ice cream shop in Empire that scoops homemade sweets.
The way

From the visitor center in Empire, drive five miles north on MI 22, then take MI 109 to the Dune Climb parking lot and trailhead.
OREGON DUNES, OR | SLEEPING BEAR DUNES, MI | EUREKA DUNES, CA
EUREKA DUNES, CA

Listen to singing sands.
Skip the iPod on a hike in Death Valley's Eureka Dunes–you'll want to listen to the sand. Known as "singing" dunes, they produce a low-pitched booming sound when the sand is extremely dry (bury your hand wrist-deep to test). They're also the tallest in California, shooting to heights of 680 feet above the plain. No official trail explores the sand pile, measuring three miles long and a mile wide, but the open slopes make it easy to choose your own cross-country track. Start at the parking area at the dune's north end and hike a ridge about a mile to the apex of the highest dune. Hear the strange song along the steepest pitch. $20/vehicle; nps.gov/deva; (760) 786-3200
Recharge

Cruise into Carroll's Market (760-938-2718) in Big Pine for $2 barbecue-beef sandwiches.
The way

From Big Pine, drive 39 miles east to the signed turnoff for Eureka Dunes. Hang a right and go 10 more miles.