This Badlands Overnight is the Perfect Stargazing Hike for Beginners
Take in the stars from an easy-to-reach backcountry campsite in Badlands National Park.
Photo: LiHotShots/iStock via Getty Images
Heading out the door? Read this article on the new Outside+ app available now on iOS devices for members! Download the app.
This excellent overnight comes from our round-up of the best first trips for beginning hikers. Read the full-length piece—and much, much more—with your Outside+ membership.
Distance: 1.2 miles
Time: 2 days
Elevation gain: 43 feet
If your new hiker loves stargazing, this is the trip for them. The Wall is a rock formation separating the lower south prairie and higher south prairie, eroded into the characteristic towers of the Badlands. There are few trails in the park's north unit, but you won't need them; the formation is visible from all along the park road, and as long as you're half a mile away from any infrastructure, you can pitch camp anywhere.
Once the sun goes down, there's nothing in the way of a horizon-to-horizon star show. With few nearby towns to cause light pollution and scarce hikers, your only camping companions will be the Milky Way and the moon. For an extra boost to the nocturnal show, time your visit to coincide with a meteor shower. While you're waiting for the sun to go down, keep an eye out for the park's herd of bison, one of the largest protected groups of the animals in the country.
Spot That Constellation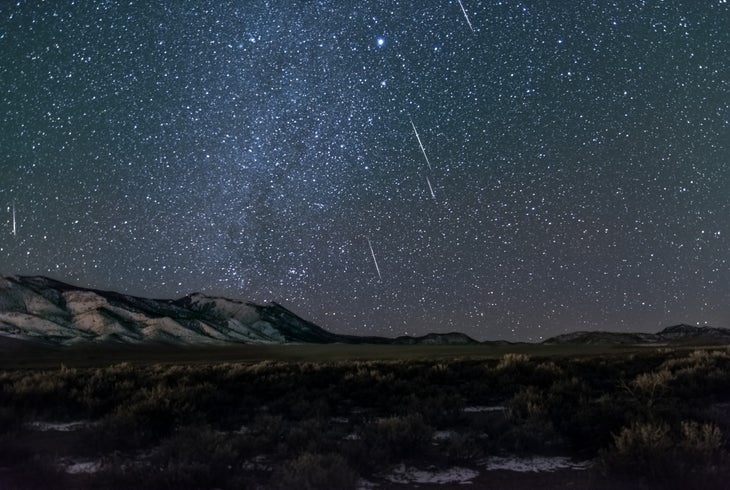 What's visible in the night sky changes with the seasons, but during peak summer camping season, there's a few easy-to-identify patterns in the northern hemisphere. The easiest to find is the big dipper, Ursa Major. Follow the two stars at the front of the "dipper" to find the North Star, Polaris, and the constellation Ursa Minor. Though it is almost always referred to in the singular, the North Star, Polaris, is actually a triple star system; Polaris A, the primary star, is a yellow supergiant, while the smaller Polaris B and Polaris Ab are both dwarf stars.
The Trail
The north unit of Badlands National Park has few established trails. Instead, drive west along the Sage Creek Rim Road from the Pinnacles Entrance until you see a section of The Wall you like, then park and start hiking. You can camp anywhere, as long as you're at least a half-mile from the road.