These Are the Trails We'd Hike for Eternity
You can hike one trail for the rest of your life. Which would you choose?
Photo: © Marco Bottigelli / Moment via Getty Images
Heading out the door? Read this article on the new Outside+ app available now on iOS devices for members! Download the app.
The desert island game is a popular one—we've all contemplated what albums, books, and snacks we'd want if stranded with infinite time to kill. But what about hikes? If you had access to only a single hike for the rest of your life, which would you choose? From backyard rambles to international adventures, these are the trails our staff would walk for the rest of our days. 
Titcomb Basin from the Elkhart Park Trailhead, Wyoming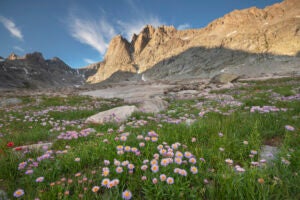 If I can only hike one trail for the rest of my life, I'm going to be strategic. My trail needs a little bit of everything: First, some trees, because nothing gives me the same sense of peace as rambling through a shady forest. Water is also imperative, ideally a lake to cool off in. Stunning alpine scenery is a must, of course. And if I want to still be hiking when I'm 80, I'd like some gentle terrain giving way to steeper climbs to challenge me as long as I'm able. If there's one sunset I'd be content watching for the rest of my days, it's the one I viewed from my camp in Titcomb Basin in the Wind River Range a few summers ago. The first few miles on Pole Creek Trail offer gentle walking through lodgepole pine and spruce trees to Photographer's Point—the perfect section to offer reward in the years after my knees give out. Beyond that, the trail passes a series of lakes ringed with granite peaks. There's plenty of scrambling nearby for more adventurous days, and opportunities to laze on the beach. And nothing beats that alpenglow at day's end. —Zoe Gates, Senior Editor, Backpacker
Stone Lions Trail, Bandelier National Monument, New Mexico
This 15-mile loop hike takes you through a variety of terrain—exposed mesa, really deep canyons, and forested mountains—and the payoff in the middle is that you see two stone lions carved centuries ago by the Ancestral Pueblo people, who didn't leave behind much of this kind of art. You can do it as an out-and-back to the lions, which is shorter, but the full loop is cooler and harder. —Alex Heard, Editorial Director, Outside
Croagh Patrick Trail, Ireland
There's a footpath ascending Croagh Patrick, a pyramid-shaped peak looming over Clew Bay in County Mayo on the west coast of Ireland. To some, it's a four-hour, 5-mile leg burner straight up and down 2,500 feet of black dirt and scree. To others, it's a pilgrimage to the tiny whitewashed church at the top. To me, it's my childhood playground. I lived in a small fishing village nearby, and on "Sunday Fundays," my family and I often huffed to the apex with PB&J sandwiches. Fair-weather picnics rewarded us with panoramas of emerald fields and bobbing dinghies in the calm sea below. Mostly, fog and drizzle, or snow, socked us in. But, if you wear a rain jacket, you're game to scramble, and sheep don't scare you, it's doable year round—and always worth it. —Patty Hodapp, Interim Digital Director 
Sentiero Italia CAI, Italy
The Sentiero Italia CAI, which opened in 2019, is one of the longest hiking trails in the world (approximately 4,400 miles from one end of to the other). It heads through all of Italy's regions and that, my well-trod friends, means a kind of food tour one can only dream of. Imagine popping into trattorias up in the mountainous north for a plate of hearty risotto, or into a cafe down south for a quick cannoli, or perhaps accepting an invite from someone kind in Sardinia who has talked your ear off about pasta topped with fresh pecorino cheese. Delightful! The track takes an estimated seven months to complete (though fewer than a handful of hikers have done the whole thing thus far), and the government is considering adding even more mileage. With sections abutting the sea, taking in the Dolomites, and passing through idyllic countryside filled with olive groves and historic structures, there's no question this is the trail I'd enjoy exploring for the rest of my life. —Tasha Zemke, Associate Managing Editor, Outside
Mt. Neva via Arapahoe Pass Trail, Indian Peaks Wilderness, Colorado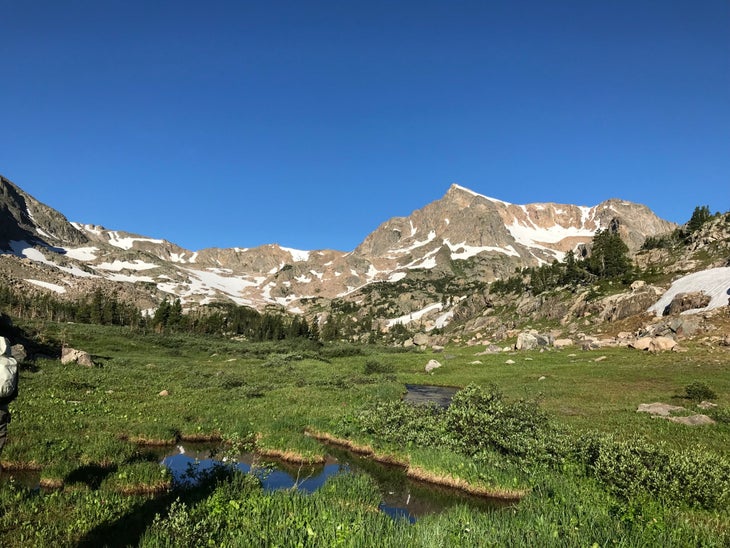 Hiking isn't just a vacation activity for me: I've worked as hard as possible to make it into part of my everyday, and that means finding the beauty in the Front Range of Colorado, where I live. There aren't many places that epitomize that like the hikes off the Fourth of July Trailhead in Colorado's Indian Peaks. The trailhead lies up a rough dirt road (usually packed in summer, but this is my fantasy, so let's say I can always get a parking space). From there, the Arapahoe Pass Trail ascends gradually through the pine forest before emerging on a mountainside, where it traverses through trail-crossing waterfalls and over emerald-green mountain valleys that hold pockets of snow all through the summer. After crossing a talus field and gaining Arapahoe Pass, the business begins: An unmaintained trail and some scrambling takes you to the top of Mt. Neva, a craggy, 12,814-foot peak overlooking two unnamed alpine lakes. The descent eventually joins up with the Arapahoe Pass Trail, allowing you to finish the lollypop loop back to the parking lot. It's less than an hour by car from Backpacker and Outside's downtown Boulder office, but I'd put this 8.6-mile jaunt up against any dayhike on earth. —Adam Roy, Executive Editor, Backpacker
Tour du Mont Blanc, France, Italy, and Switzerland
The 10-day Tour du Mont Blanc often tops lists of best hikes in the world, and with good reason. It has all the things: epic scenery, lovely accommodations (mountain huts and little hamlet inns), fantastic food and libations. It loops around Montt Blanc through three countries so you get to enjoy three unique cultures, languages, cuisines. I did this trip in 2018 with my then-14-year-old son. It was our first big multiday hike together (his first ever) and he absolutely fell in love. I remember on our last day when we were about to hike down into Chamonix to finish the hike, Joey turned to me and said, "Mom, can't we just do a 180 and hike it back around the other way? I'm not ready for it to end."  It was so incredible to witness his joy and it was the start of a tradition that has become my absolute favorite thing in the world: Every summer, Joey and I take a big trekking trip together. We've been to Peru, Bolivia, Austria, and we've done three different routes in Switzerland. This summer, it's New Zealand. But the TMB will always be the magic place for us, and we intend to go back and do it again one of these days. —Kristin Hostetter, Head of Sustainability and Contributing Editor, Outside
Kungsleden (The King's Trail), Sweden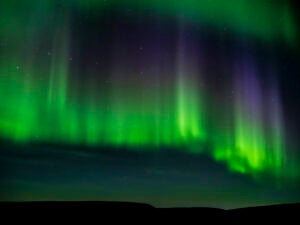 If there was a modern-day hibernal Eden, I'm pretty sure it'd be in Abisko, Sweden. In December 2018, I spent several days exploring the snowy trails of the country's secondmost northern national park, and it very quickly became my favorite hiking spot. A 10-mile out-and-back dayhike from the northern terminus is the most popular section of Sweden's 270-mile thru-hike. After spending years logging miles on the Pacific Crest Trail in my home state of California, it was so special to see the trails that backpackers in other countries have at their doorstep. Most thru-hikers set off for their journey in July, but in winter, the trail still attracts plenty of dayhikers and ski tourers. As the snow crunched under my snowshoes, the pure-white Arctic landscape contrasted with the streaks of pink, coral, and peach in the sunset. I made a pact with myself to return in the summertime to complete the trail's first section (Abisko to Nikkaluokta) and witness a region completely unrecognizable from that in wintertime. —Emma Veidt, Assistant Editor, Backpacker