Hike the World on These 10 Larger-Than-Life Trails
Start planning a far-flung adventure with these 10 classic and soon-to-be-classic hikes.
Heading out the door? Read this article on the new Outside+ app available now on iOS devices for members! Download the app.
There's no better way to learn and explore than to hike, and as we finally get out of lockdown (or wait for the day when we will), there's nothing we want to do more than head straight for the global hiking hotspots we've been salivating over on Instagram. Sure we've got nice hiking here at home, but after two years? We're ready to head for the most far-off hills we can find.
With the entire globe to pick from it can be hard to select where to go first. We're here to help: These are ten classic and less-trod life-list hikes to tackle in 2022, from following in the footsteps of cougars in Canada to walking ancient footpaths through Machu Picchu in Peru. Start planning the trip of a lifetime now.
Contact: Liechtenstein Tourism 
Length: 2-3 days, 46.7 miles 
Check out the route map on Gaia GPS here.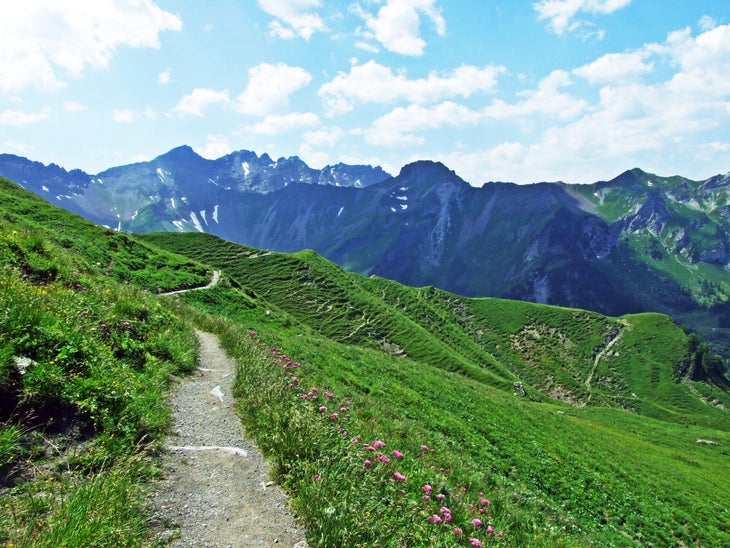 It's tough to hike across an entire country in a week—unless that country is Liechtensteiin. Landlocked between Austria and Switzerland, Liechtenstein is Europe's fourth smallest country and the sixth smallest country in the world by area. The pint-sized microstate is home to 92 named mountains, topping out at over 8,000 feet, and a 46.7-mile trail that passes through all 11 of the country's municipalities. 
The trail first opened in 2019 to commemorate Liechtenstein's 300 years of sovereignty, and offers an immersive history experience unlike any other trek. Hikers can use the LIstory app, which has detailed maps of the entire route, to experience the trail's 147 historical sites and points of interest via augmented reality; some of the best include Gutenberg Castle, which was built in the 13th century on a site that has been inhabited since the Neolithic, and another castle in the capital of Vaduz which is believed to have been constructed in the 12th century and still serves as the home of Lichtenstein's royal family. 
Sections of the route are accessible to hikers with limited mobility. The trail is best enjoyed from March through November. There is no permit required.Once you've hiked across the country, be sure to check out Liechtenstein's 248 more miles of hiking trails. 
Overland Track, Australia
Contact: Cradle Mountain – Lake St Clair National Park
Length: 5-6 Days, 47.4 miles 
Check out the route map on Gaia GPS here.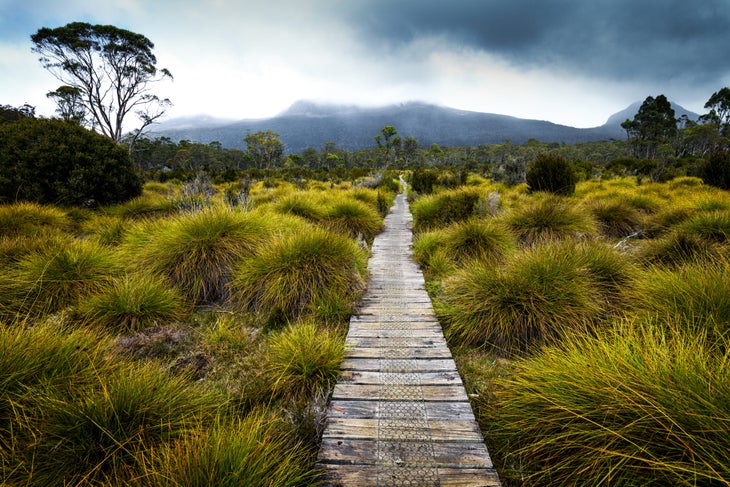 Tasmania, an island about 150 miles off the southeast coast of mainland Australia, isn't the best-known hiking destination in Australia—but it should be. The Overland Track through Cradle Mountain-Lake St. Clair National Park is on par with any mountain trail in the world, and it's one of the only places you can hike through eucalypt forest and then into the alpine just a few miles apart. 
This trek starts at Cradle Mountain, and on average takes between six to seven days to complete. There are huts all along the route, but you aren't able to book them ahead of time, so carry a tent in case all the bunks are taken. The trail heads from rainforest to drier eucalypt forest and then into the high mountains, where the alpine zone starts at 3,000 feet thanks to the high latitude (Tasmania's peaks contain over half of all of the alpine and subalpine area in Australia).
Along the way be sure to keep an eye out for some of Tasmania's iconic wildlife, including platypus, echidna, wombats, and—of course—the Tasmanian devil. These endangered creatures are the largest surviving carnivorous marsupial. You may hear them before you spot them, as they are known for being noisy eaters. 
 A trail reservation is required for this trek. 
Annapurna Circuit, Nepal
Contact: Nepal Tourism Information 
Length: About 17 days, 154 miles 
Check out the route map on Gaia GPS here.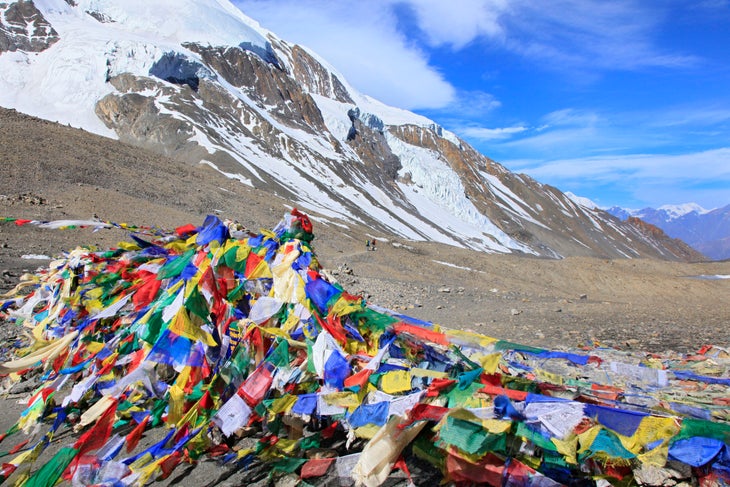 With around 75% of the country covered in mountains, Nepal is a premier destination for hikers all over the world, and one of the most popular routes is the Annapurna Circuit. According to the Washington Post, this is one of the oldest treks in Nepal and has been drawing hikers to the country since the late 1970s.
Before heading out on the trail, it's important to give yourself plenty of time to adjust to the altitude, which is something even seasoned hikers will struggle with on this route: Thorung La pass, Annapurna Circuit's highest point, is at 17,770 feet above sea level. 
Starting in the lower-lying Lamjung Region, where you'll encounter subtropical valleys and lush terraced rice fields, pick up the 128-mile trek in Besisahar. From there head into the world's deepest gorge, Kaligandaki, which drops nearly 6,000 feet from top to bottom through cliffs of gray and brown schist and granulite; walk along the Marsyangdi, which means "raging river," a fitting name as this spot is known around the world for its whitewater rafting. Keep your eyes open, and you might even spot an elusive snow leopard. Along the way, you can stay at the trail's teahouses, which are more like small hotels and restaurants (though they do all serve tea).
The route ends in Pokhara, which is home to the emerald-hued Phewa Tal lake–the second largest lake in Nepal–and is about a three hour drive west of Besisahar. 
The circuit is best done in October, which is outside of Nepal's monsoon season (June through September). In order to hike the trail, you'll have to purchase a permit, which is about $17 USD.  You can buy it at the Karmachari Sanchaya Kosh Building in Kathmandu. 
Contact: Zermatt Tourism
Length: 9-10 days, 1117.4 miles
Check out the route map on Gaia GPS here.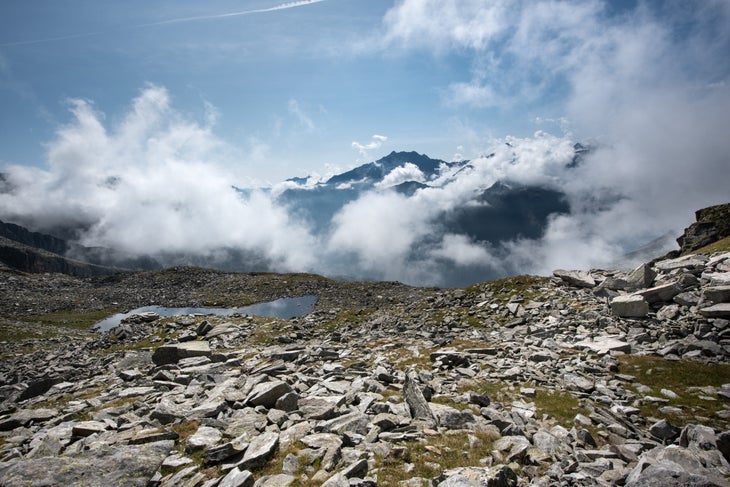 The Alps are on nearly every hiker's bucket list, and the Tour Monte Rosa shows off the best of them. This 101-mile route circles the second-largest massif of mountains in Western Europe. It's believed that James D. Forbes, a Scottish scientist, was the first to complete the whole route in 1842, but the trail follows ancient paths used by farmers, smugglers, and soldiers.
The route starts in the Swiss mountain town of Zermatt and is normally completed counterclockwise, which gets the highest elevation climb out of the way first. It's best to complete the trek between May and September, when much of the winter snow has melted. 
Along with breathtaking mountain views, the Tour Monte Rosa treks right across glaciers and through historic villages like the Italian town of Gressoney-Saint-Jean, home to Castel Savoia, a picturesque castle that was built between 1899-1904. Most trekkers stay in huts and hotels along the way, which are best booked in advance. 
Contact: West Highland Way Management Group
Length: 96 miles, 6-7 days
Check out the route map on Gaia GPS here.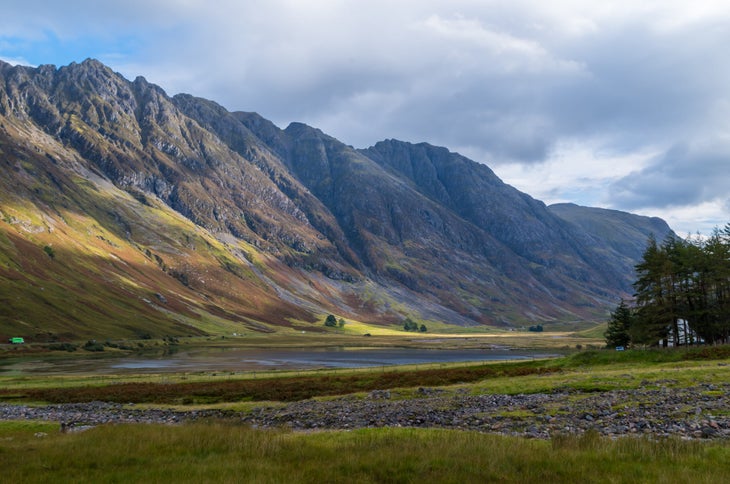 Tucked in among the heather and gorse of Scotland's storied green landscapes, you'll find the West Highland Way. The trail sees around 40,000 thru-hikers a year, but there's still plenty of solitude to be found once you head into the hills.
The trek is best completed from south to north, as the further you go, the steeper it gets. Most hikers start in Milngavie, which you can reach from Glasgow via train. 
Starting in the south, where the terrain is fairly flat, to let your legs and lungs warm up before heading to the mountains around Loch Lomond, where red deer, golden eagles, and osprey frequent the rocky shores of the lake. There's signs still left here from human inhabitants, too; the Ardess Hidden History Trail, which leaves from the Ben Lomond Ranger Station, winds through the ruins of a farming village from around 400 years ago. The Highland Way also passes by the Dumgoyach standing stones, a set of megaliths set in front of Dumgoyach Hill. You are allowed to camp along the hike, but the rules for where and when can change throughout the year in varying sections of the trail, so do your research in advance.
The Highland Way ends in Fort William, a just under four-hour train ride from Glasgow. While you don't need a permit to hike the trail, you can opt to buy the Highland Way Passport, which allows you to collect stamps along the way. 
Inca Trail, Peru
Contact: Peru Tourism
Length: 23.6 miles, 4-5 days 
Check out the route map on Gaia GPS here.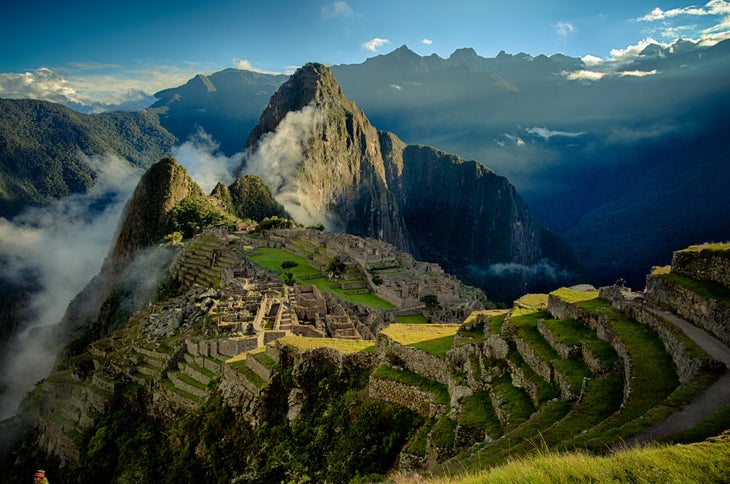 We suggested this one back in 2020; you saw how that went. Now, we're finally ready to check the Inca Trail off our bucket list. Nestled between two lofty peaks are the ruins of a city carved right into the Andean mountainside: Machu Picchu. It was constructed by Pachacuti, an Incan ruler, in 1450 A.D., but largely abandoned just a century later due to disease and colonization by the Spanish conquistadors. Explorer Hiram Bingham is commonly credited with rediscovering the ruins in 1911, but there was no rediscovering to be done: Everyone living in the area already knew about the city. However, he did bring international attention to the site, setting the stage for it to become the tourist magnet we all know. 
Today, hikers can discover for themselves what has drawn people to Machu Picchu for centuries on the 26-mile Inca Trail. The distance might not be quite as daunting as some of the trails on this list, but that doesn't mean it's easy; The terrain is harsh and the altitude ranges from 7,972 feet to 13,828 feet above sea level. If you can, stay in Cusco for a few days ahead of time to acclimate. 
Between the views into the rocky towers that form the heart of the Andes and the terraces carved out of the passes between them,  keep an eye out for the more than 200 species of orchid found in Machu Picchu itself as well as Andean condors, the largest flying bird in the world with a wingspan of up to ten feet and a weight of over 30 pounds. 
Since 20o1, all those looking to complete the trail must do so with a licensed guide or tour group. Avoid doing the Inca Trail from November through April, as that's monsoon season. 
Mueller Hut Route, New Zealand
Contact: Aoraki/Mount Cook National Park
Length: 6.46 miles, 1-2 days 
Check out the route map on Gaia GPS here.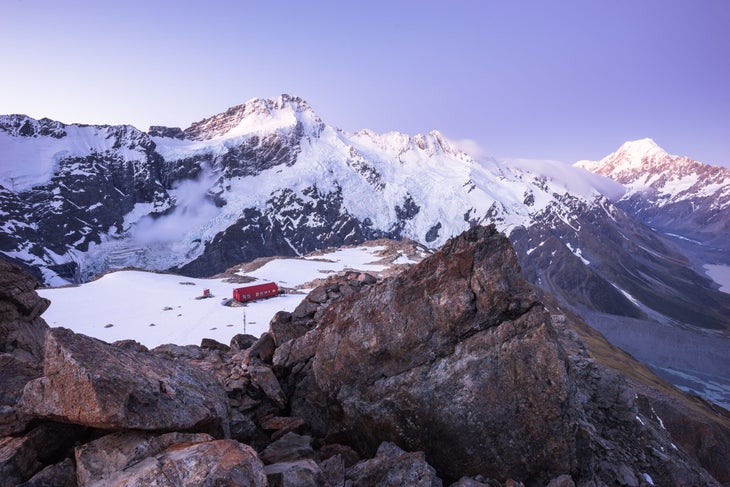 There's no shortage of scenery and adventure in New Zealand, but the Mueller Hut stands above it all–literally. Located high in the alpine crest of Aoraki/Mount Cook National Park on New Zealand's southern island, the hut sits amid a panorama of glaciers, jagged peaks, and Mt. Cook, the highest point on the entire island. The approach isn't long, but that just leaves you more time to admire the view; spend a weekend up in the peaks or, for those with technical mountaineering skills, make it a week and tackle some of the surrounding summits.  
Start at Aoraki/Mount Cook Village or the White Horse Hill Campground. The first stretch of the route is relatively easy, until you reach the 2,000 zigzagging stairs that climb to the overlook that marks the route's halfway point. The lush green forest of Hooker Valley spreads below, and —if you hit a lucky clear day—Aoraki/Mt. Cook spreads across the horizon.
Past this point the route is less defined, following orange trail markers through loose scree and rocky scrambles to the hut itself at just under 6,000 feet above sea level. Surrounded by New Zealand's highest peaks, this region is part of the country's designated dark sky zone; don't go to bed before you a catch a glimpse of the stars.
While you don't need a permit to complete the hike, you will have to reserve a spot in the hut ahead of time. During the winter, you'll need to call the Aoraki/Mount Cook visitor center to sign into the park's intention system and pay the applicable fees. 
Note: Non-essential travel from the US to New Zealand will not open until at least the end of February; check the US Embassy website for updates.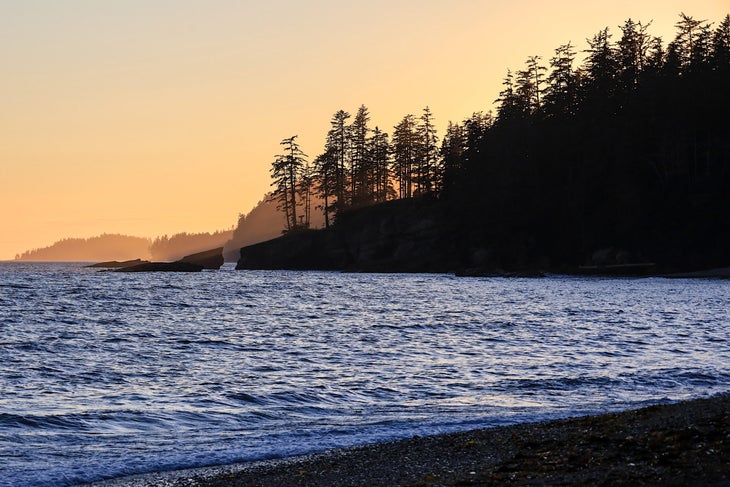 Cutting through the homelands of the Huuay-aht, Ditidaht, and Pacheedaht First Nations, this 47-mile route follows ancient paths on the picturesque west shoreline of Vancouver Island. Stretching from Pachena Bay to Gordon River, it takes between six to eight days to complete, and only experienced backpackers should attempt it: changing tides, unpredictable weather, slippery conditions, harsh terrain, and surprise flooding are all common, adding a layer of challenge to an already remote trek.
Those who do brave the rough terrain and wet weather, though, will reap uninterrupted views of the Pacific Ocean, coastal cliffs hemmed with barnacles and sea anemones, and temperate rainforests filled with old-growth western red cedars and western hemlocks. 
This region is also a haven for bird watchers. All year, hikers can keep their eyes peeled for bald eagles, Steller's jays, and common loons. In the spring,  rufous hummingbirds and orange-crowned warblers flit through the trees. The area is also home to cougars, black bears, and coastal wolves, which are actually a distinct subspecies best known for swimming between the islands off BC's coast. 
You can get a West Coast Trail permit from May through September. 
Contact: Garden Route National Park
Length: 5 days, 27 miles 
Check out the route map on Gaia GPS here.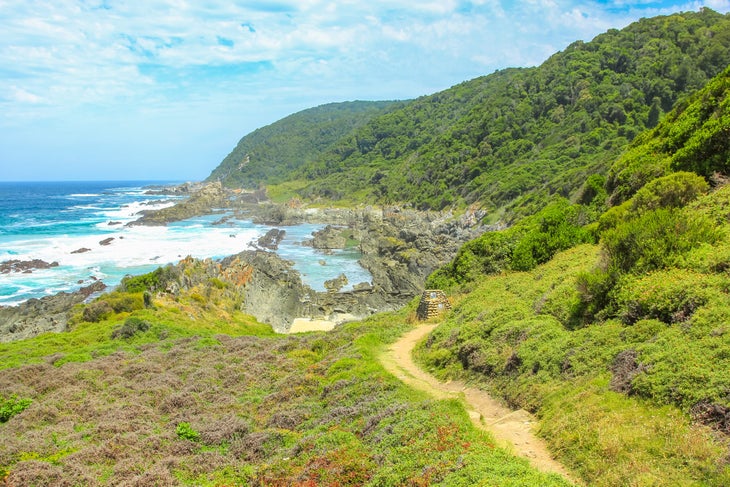 Found only in Africa, the African clawless otter, which eats crab and fish, is the third largest otter species in the world. It also has the distinction of having a 27-mile trek named after it in South Africa's Garden Route National Park. 
The park, which was established in 2009, is home to endangered African black oystercatchers, globally significant wetlands, and fynbos, a type of shrubland unique to the region. The Otter Trail follows some of the park's 50 miles of Indian Ocean coastline, where hikers can often spot dolphins and porpoises in the waves offshore. Along with the trail's eponymous otter, which prefers springs and rivers,  look out for blue duikers, a tiny antelope that doesn't grow taller than 16 inches.
Before heading out you must check in at the Storms River Reception Building, where your bag will be weighed and you will pay any applicable fees. Along the way there are huts to stay in. Each one has a braai or grill, bunks, and a toilet. Be sure to check hut availability before you head out and keep in mind that their capacity might be limited due to Covid-19 restrictions. 
The route ends at the De Vasselot Rest Camp where you can get a certificate of completion, and takes most hikers five days and four nights to complete. 
The W Trek, Chile
Contact: Torres del Paine National Park
Length: 5 days, 50 miles
Check out the route map on Gaia GPS here.
Patagonia encompasses 260,000 square miles of desert, glaciers, and mountains at the far southern tip of South America, including one of the continent's only growing glaciers; it's been a top hiking destination for years for very good reason, and the W Trek through Torres Del Paine National Park should be on every bucket list. Winding through 50 miles of wilderness from glacier-edged lakes turquoise with suspended silt to beech forests and hanging glaciers beneath enormous snow-topped peaks, this trail has no shortage of scenery, and you'll find yourself tempted to linger at every single turn as new vistas open up.
Most hikers go from east to west, picking up the trail at Refugio Las Torres. Along the way, you can either camp or stay in refugios (mountain hostels), many of which offer meals. Along with the scenery, the park is home to pumas, condors—which have a 10-foot wingspan—and the endangered huemul deer, the national animal of Chile. 
In order to hike the trail, you'll need to reserve a park pass. 
Before you head out on your trek, be sure to check your destination's latest rules and regulations regarding Covid-19 restrictions.