The Path to Shangri-La: Eastern Tibet's Unclimbed Peaks
Climb hiker-friendly 16,000-foot summits--and maybe nab a first ascent--on a shoestring budget, plus get an unchaperoned glimpse of Tibetan culture.
Heading out the door? Read this article on the new Outside+ app available now on iOS devices for members! Download the app.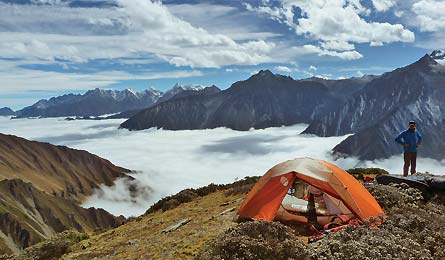 Nyambo Konka'a south ridge (Photo by Mark Jenkins)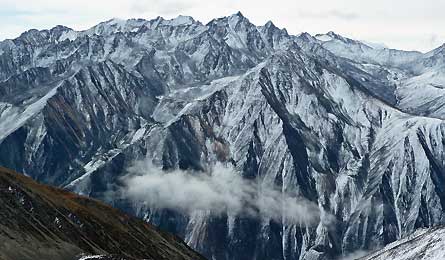 Unnamed Peaks south of Minya Konka (Photo by Mark Jenkins)
We camped on a high pass, mountains as far as we could see.
To the north, glacier-crusted, 24,790-foot Minya Konka cut into the horizon like a diamond. To the west, the endless mountains of the peak-spiked, 12,000-foot Tibetan plateau broke the skyline. To the east, a wet mattress of white clouds floated over the rice fields of central Sichuan, China. And to the south: uncountable unclimbed peaks.
Our 14,100-foot pass, Tsemed Kha La, was cold, windy, and scabbed with snow. We erected our tent at dusk and within minutes a fog of ice closed in. By morning, two inches of rime coated the Tibetan prayer flag poles atop the pass. We drank hot milk from titanium cups and stared south at the closest series of peaks. Just a couple of miles away, they looked about 16,000 feet high. My partner, Joel Charles, could see the serrated ridgeline I was eyeing and wanted nothing to do with it. "That's all yours," he said, nodding at the arête. "I'll take the S-shaped line up the easternmost peak." Joel, 33, was the perfect partner for exploring mountains in eastern Tibet. Tall, wiry, with forearms like Popeye and fingers permanently stained from working as a wrench at a bicycle shop, he's the kind of guy who goes hiking in the winter alone, follows a moose trail in the snow to an unknown granite spire, climbs it, and gets home long after dark. Self-sufficient, to say the least. We stayed together when conditions warranted, but had no problem splitting up in a wonderland of peaks like this.
After breakfast we set off for our individual goals. For a while, hiking upward, we could see one another steadily ascending our chosen peaks, but eventually ridges blocked the view. As Joel had rightly suspected, my nice snowy arête transmogrified into a mess of fractured, dangerously tilting rocks. I exchanged trekking poles for an ice axe and strapped on my crampons, then traversed right, aiming for a snow gully, hoping the surface would be solid. It wasn't. My ice axe useless, my crampons skittering on icy rocks beneath the crystalline snow, I slid one step back for every two steps up. When I finally reached the summit, I could just barely make out Joel, far away now, standing atop his own peak in his red down jacket. This was his first trip to the Himalayas, and he was enthralled by all we'd seen and done so far. I could just hear him telling the tale back in Wyoming … his cowboy boots shiny, his handlebar mustache slick, his voice quietly dramatic: "And there we were, smack in the middle of Asia, spending nights in Tibetan monasteries and hiking unknown, unnamed peaks, easy as if it were our own backyard!" My Garmin said 15,884 feet. Joel's summit couldn't be much lower. In the Lower 48, both would be peakbagger magnets. Here, amazingly, they may never have even been climbed.
When climbers and trekkers imagine the Himalayas, the first thing that pops into their minds is usually Mt. Everest. But that's like thinking Rainier represents the entire Cascade Range. There's so much more.
I can say that with confidence because I've seen the big as well as the small. I first went to the Himalayas in 1984 and climbed 26,300-foot Shishapangma; last year I climbed Everest. In between I did a dozen other expeditions to the region, from Pakistan to Bhutan, Tibet to India. What have I learned? Forget Everest. It takes too much time and too much money. Ditto the other 8,000-meter peaks. These monsters only make sense if you're a serious high-altitude mountaineer. Even 7,000-meter peaks require permits, porters, and plenty of time for acclimatization. The sweet spot is all those peaks under 6,000 meters. And there are a lot of them. The Himalayas sweep like a toothy, 2,000-mile smile across the face of Asia, and there are thousands of seldom-climbed and hundreds of unclimbed summits in the 16,000- to 19,000-foot range. These are pygmy peaks by Himalayan standards—though they'd be giants almost anywhere else—and few climbers even know about them, much less care. These are the peaks waiting for people who want authentic adventure. People who welcome backcountry surprises, and who want to experience a foreign culture without being led around by an overpriced guide. If you can backpack for three weeks on the PCT, hold your own on Fourteeners, or crampon up Mt. Hood, you can climb these mountains. In short, you should have more skills than tools, more tools than rules, more rules than rituals. Knowing how to self-arrest with an ice ax is imperative, even if you'll ascend mostly with trekking poles; crampons are essential whether you know the difference between pied à plat or piolet ancre; no coffee doesn't mean no alpine start. And, as always, go with a good partner.
The biggest challenge for DIY explorers in the Himalayas? Finding an area where regulations haven't drained the adventure out of adventure travel. It's possible in some parts of Nepal, where you can still find accessible peaks aplenty if you simply have the courage to get off the beaten track. Not so in Sikkim and Bhutan, where permits and/or expensive, mandatory, preset tours impose limits, and many mountains are simply out-of-bounds. In 2012, independent travel within Tibet's official boundaries became even harder: Only group tours and parties of five or more were allowed at press time, and all individuals in a private party had to be the same nationality. No thanks. I wanted to avoid the whole complicated game, save some money, and have the freedom to see a good-looking peak and climb it. For that, Joel and I traveled to China's Sichuan province. Our destination is culturally and geographically part of the Tibetan Plateau, but it's outside of the Tibet Autonomous Region's boundaries, and climbing anything below 6,000 meters doesn't require a permit. For independent-minded peakbaggers, it's Shangri-La.
After working hard to reach the top of my nameless peak, I was in no hurry to leave. I sat on a rock and stared south at a sea of virgin summits. One, about 17,000 feet high, was the spitting image of the Grand Teton. Another of similar height resembled a crumbly Mt. Whitney. Glaciated peaks that looked like the Cascades' big brothers towered to the southwest. And, directly west, a thin ridge connected my summit to other beckoning peaks. The ridge seemed eminently doable.
Joel and I had agreed to meet back at the tent for lunch, but I unilaterally changed my plans with no way of telling him. I wasn't worried. We were partners, not codependents. Who knows, maybe he was tempted by a detour to his own private summit?
For the next four hours I traversed along the lip of a north-facing cirque, summiting one point after another, four in total. I don't know if they were first ascents. They were not technical, so sometime in the past millennium some wandering monk or lovelorn yak herder might have climbed them. But it's not likely. Most Tibetans view mountains as the abode of the gods, best left alone; they typically don't go any higher than their yaks can graze.
On the highest peak, at 16,057 feet, I sprawled out on my back, closed my eyes, and dozed.
At some point a shadow cut across the sun and my eyelids sprung open. A bearded vulture, with a 10-foot wingspan, soared directly above me. I sat up immediately so that this immense bird would know I was not dead. According to Tibetan custom, when a person dies the corpse is taken to a certain class of monks for a "sky burial." High on some remote hill, the monks dismember the body with meat cleavers and the vultures carry away the parts. I've seen the process in central Tibet. It's organic, if macabre.
The bearded vulture, or lammergeier, is a scavenger that survives almost entirely on bone marrow. If a bone is too big to devour, the vulture will carry it into the sky and drop it over rocks, smashing the bone and exposing the fat-rich tissue. I've seen this as well. The bird circled so close I saw its head twitching and its orange-rimmed eyes blinking. I thought it might open its large, sharp beak and screech at me, but it didn't. It just floated in circles. After five minutes, it sailed away, hardly flapping its enormous wings. Perhaps in my younger years, on past expeditions to Tibet, I would have thought of the encounter as some kind of omen, creating out of this bizarre meeting between earth-bound man and sky-borne beast something Buddhist-like, mystical, portentous. But no longer. I knew better. We were both simply following our natures: The bird was hunting and I was climbing.
After a summer of rigorous shakedown trips in the Rockies, Joel and I departed out of Denver International Airport in mid-October. We each had a 52-pound backpack plus a 10-pound carry-on containing mountaineering boots, chocolate, magazines, more chocolate, books, and maps—1/10th the weight of the average load for a traditional Himalayan expedition. And for $1,200—1/10th the cost of such an expedition—we flew to southwestern China's Chengdu, a densely packed city of cranes, cars, and some 14 million souls. We caught a bus to Ya'an, a taxi to Luding, and that same taxi the next morning all the way to the trailhead in western Sichuan's Daxue Shan Mountains (a range running north/south located northeast of the central Himalayan chain).
Setting out with 10 days of food and fuel, we had Plan A and Plan B. Plan A was to attempt an unclimbed 20,000-foot peak (yes, that's higher than I previously suggested, but I had a grudge to settle). Hence, for the first week we endeavored with single-minded intensity to ascend a horrifically rotten ridge on Nyambo Konka, a satellite peak of 24,790-foot Minya Konka. We bailed at 18,000 feet, just before killing ourselves. That's when Plan B happily became Plan A: peakbagging. But we needed a couple of days to lick our wounds, so we headed to the Minya Konka Monastery, a two-day hike up-valley. Like the unknown peaks, this remote, 700-year-old monastery was one of the draws for reaching this off-the-radar range.
On the first day's journey toward the monastery, we walked on a horse trail and spent the night in a three-story home. We'd been invited in by a husband and wife whose children were going to boarding school down valley. We offered a few dollars and in exchange they gave us a big dinner, warm lodging beside a wood stove on wool rugs, and a huge breakfast, plus directions to the monastery—all part of the luck and allure of unscripted travel. The next morning we ascended through elbowy rhododendron trees draped with moss. At a clearing bathed in sunshine, multi-colored prayer flags swayed in the wind. According to Tibetan Buddhist beliefs, every time a flag flaps, it sends out a prayer. Joel solemnly tied on his bright Green Bay Packers neckerchief. "Can't hurt, right?" he grinned.
Walking past mani walls made of stone slabs etched with Buddhist scriptures, and around small, whitewashed stupas with the images of Buddhist saints behind green glass, we reached the brightly painted monastery. Founded in 1285, it has drawn a steady stream of devout pilgrims ever since. On our visit, we met a group of elderly female travelers who had walked 100 miles with purses and packs to reach the gompa. The square temple is perched at 13,563 feet on a steep, wooded slope in the middle of the Daxue Shan, below the imposing west face of Minya Konka—Gongga Shan to the Chinese—first climbed by four Americans in 1932. Under a fluttering rainbow of flags, we silently navigated a perimeter pathway lined with red prayer wheels. Inside the temple, 20-foot high, gilded statues of Buddha and local saints crowded the cavernous room.
After an hour in the monastery, a monk directed us to wooden bunks in a stone building where we crashed out in our sleeping bags. In the evening, music coming from across the muddy courtyard awakened us. It wasn't traditional Tibetan chanting or drumming. Investigating, we discovered two monks in a small, windowless room singing in falsetto to a Chinese pop song squeaking from a cell phone. They were holding the flashing phone above their shaved heads, laughing and dancing like teenage girls. Both were dressed in the de rigueur dingy, huge-sleeved maroon robes, but underneath the younger monk sported a fluorescent green soccer jersey emblazoned with "Brazil." The other monk was performing a few practiced hip-hop moves, singing at the top of his lungs. Upon seeing us, he pulled us into his whirling orbit. "Good thing I brought my dancing shoes," yelled Joel, bouncing up and down in his massive, worn-down, mud-brown mountain boots.
After another three songs, the phone died and the four of us huddled close to the wood stove. The monks passed us steaming bowls of yak butter tea. "I don't know why people don't like this stuff," exclaimed Joel, licking his lips. "I love it." Many Westerners can't get used to the saltiness of butter tea, but not Joel. Skinny as a rail, he also loves the fat on meat more than the meat and the gristle more than the fat. But there was no meat in this spiritual outpost. Instead, the monks brought us packages of spicy Chinese ramen noodles and filled our titanium cups with stove-boiled creek water.
Through sign language and symbols, we learned that the younger monk was 17 and studying to be a lama, the older monk 28 and caretaker of the monastery. It was once common in Tibet for one child per family to join a monastery, but because of smaller families under Chinese rule, this tradition has all but disappeared. Late that night, I stepped outside to pee. There wasn't a breath of wind. The air felt like chilled, autumn-scented liquid. Moonlight illuminated the ice-coated flanks of Minya Konka with such brilliance that the mountain appeared to be a massive blue gemstone looming over the tiny, gold-roofed temple. I was enveloped, for a moment, by something indefinably sublime.
After recuperating in the monastery and then climbing those peaks above Tsemed Kha La pass, where Joel and I enjoyed our separate summits, we hitchhiked west across the Tibetan plateau for a few days, camping and hiking wherever we found ourselves, then doglegged back to Kangding with an inchoate notion of finding some more peaks to climb. We took a room in Sally's Knapsack Inn, a Spartan place on the dusty edge of town, and splurged on a Chinese restaurant ($3 each for a heaping plate of spicy Sichuan chicken). That night, down a dim hallway in the hostel, we discovered a chalkboard with a crude map. It showed a dotted line running north from Kangding to a town called Danba, little triangular peaks drawn in on either side, and the words "six-day trek" scrawled in the margin.
On Everest, sticking to a rigid plan can save your life. While traveling Shangri La-style, it's foolishly tedious. Unplanned detours enhance every trip simply because you don't know what they will bring—and serendipity is often the portal to adventure. The trail appeared to go up over a pass called Ya La, beside a 19,000-foot peak named Snow Mountain. We copied the map onto a scrap of paper. We might as well have been setting forth on a mountaineering trip in Colorado with a hand-drawn map of the Rockies. "We'll just go have a look for ourselves," said Joel jauntily.
In the morning, a taxi dropped us at the trailhead. We made 12,814-foot Ya La pass in five hours of fast hiking on an old animal trail. En route, we occasionally passed herds of wide-horned black yaks, but we never saw a single human. Atop Ya La, a 10-foot cairn sported snapping, tattered prayer flags. Due south, Snow Mountain reared up with a jagged ridge of heavily glaciated spires. It was too technical for us to attempt. However, adjacent was a pyramidal peak of perfect proportions. Backtracking down into the valley, we camped in a tangle of birch trees at 12,489 feet. The following dawn was clear and cold. We could feel winter coming. Using the crest of a crescent-shaped lateral moraine, we hiked up to the base of the unnamed peak we dubbed Innominata.
"Looks like more rotten rock to me," said Joel, handing me the monocular, "and deep snow."
I was already strapping on my crampons. He knew I was going up and I knew he wasn't.
"I'm happy just to sit here and watch, bro." (Joel, being more mature than yours truly, had wisely decided that some unclimbed peaks actually weren't worth climbing. Sacrilege!)
I waded upward in thigh-deep froth, plunging my ice axe in with every step. For the first hour I could see his red down parka growing smaller and smaller. Then weather started moving in and he vanished. I should have gone down, but didn't. I couldn't help myself. I plowed up through more snow, gained a sword-like ridge, crept over perilous blocks, dropped off to the left, dropped off to the right. With no route, every decision was my own, every move consequential. This is the point and the crux of climbing an unclimbed mountain. There's no route, no beta. Your mind is naked. You are your own guide, and good judgment is all that will keep you alive. It doesn't matter how high the peak or how technical the terrain, as long as it tests your ability.
I summited the 17,374-foot eastern horn of Innominata at 3 p.m., then turned tail, forsaking the main summit to avoid a potentially deadly bivouac. Hours after dark, I stumbled back into basecamp in a wet, swirling snowstorm. Knowing I would be exhausted and soaked, Joel had made a fire and stacked a pile of branches. I stripped off my wet boots and socks and hung them on a line over the flames while Joel made me dinner. All I wanted to do was curl up beside the campfire. The small cone of heat from the flames turned the snowflakes into fat raindrops; naturally, I was half-cooked, like a marshmallow, my knees and face toasted, my back wet and freezing. But I was too content and too tired to care. I couldn't imagine a better place to be than beside a campfire in a snowstorm in an unknown part of far eastern Tibet.
We got a late start the following day, and with loaded packs hiked up Ya La pass again and dropped down into a new watershed. We only met one person along the way, a Tibetan yak herder on a pony so short the man's legs almost touched the ground. He looked surprised to see us, but spurred his stunted white steed right by without a word.
Joel tried to figure out where we were from our hand-drawn map, but ultimately abandoned the effort. We simply followed the trail downhill. After four hours of hard hiking, we came upon a vast condo complex, unfinished and abandoned. It was snowing again, and I was starting to limp from blisters. Joel was starving. Having expected to find Tibetan camps along the way—yak butter tea, yak meat, yak yogurt—we'd only brought three days' worth of food, all of which was gone. We kept walking. Near dusk, with snow falling so densely we could hardly see, we reached a highway. We didn't know where it led, but it didn't matter. Within seconds, three Tibetans on two small motorcycles roared up and offered us a ride. Nothing short of a miracle. Joel climbed onto the motorbike with just a driver, his pack hanging out over the rear wheel. I squeezed in between the two men on the other motorcycle, the man behind me obligingly hanging my heavy backpack on his shoulders. And we were off. Tibetans are cowboys by nature and upbringing. They're fast and fearless riders. In the past decade, they've exchanged horses for motorcycles, and are just as wild on their motorized mounts. At first, it seems they're reckless, but they know exactly what they're doing. We flew through the snowstorm, through the mountains, through the mud. In the next few days we would visit more monasteries and mountains before shooting back to Chengdu for our flight home—but for thrill-a-minute adventure, nothing, nothing at all, would compare to this ride. I was reminded of why we seek adventure in far-flung countries in the first place. After all, you can find plenty of peaks worth climbing in North America. But your maps will be too good. You won't dance with Buddhist monks on the way up. And on the way home, the journey won't be as exciting as the climb itself.
Zooming along side by side, I saw that Joel couldn't stop grinning. His driver was whooping and kicking his motorcycle as if we were in a horse race. My driver, the long sleeves of his Tibetan chuba curled over the handlebars, gunned his engine.
Snowflakes were shooting at us like a spray of tiny white parachutes. Then my motorcycle driver began to sing in a loud, high-pitched voice. The Tibetan behind me joined him and together they crooned a sweet, melancholy song. I listened to the duet in stereo, the words unknown but the meaning clear. They sang with full-throated passion, for themselves, for me, and for the joy of being free in the mountains.
Mark Jenkins wrote about surviving repeated attempts on Nyambo Konka in the October issue (backpacker.com/risk).
PEAKBAGGER SKILLS

Is your goal to summit as many mountaintops as possible? Learn more:
>> Avoid Jetlag

>> Adjust to Altitude

>> Get Foreign Beta

>> Transport Your Gear Safely



Tibet Trip Planner

Get there Fly to Chengdu, China, and use buses and taxis to reach the trailhead south of Luding. From there, it's a 20-mile hike west and then north to Minya Konka Monastery. You'll find countless peaks under 17,000 feet in the vicinity.

Season Spring or fall, on either side of the summer monsoons

Maps The best topo is a 1:100,000 Chinese map (H47-96; $20; omnimap.com). Omnimap also has an English-language regional map (Southern China #1; $15). Find a free online orientation map at bit.ly.com/MinyaKonka.

Gear Pack for cold weather (nights down to 0°F) and snow travel. Take an ice axe and crampons, and know how to use them.

Visa U.S. citizens need a visa for travel in China. Find details at travel.state.gov.