The Most Peaceful Hikes, According to Our Editors
Enough of Type 2 Fun. These six hikes give you that just-left-the-spa peaceful feeling.
Heading out the door? Read this article on the new Outside+ app available now on iOS devices for members! Download the app.
It's well-documented that nature is a balm: Being outside (or even just looking at pictures of the natural world) lowers your blood pressure, heart rate, muscle tension, and cortisol levels. Some trails have more relaxing powers than others, though—the kind of peace that has you returning to your car floating on a cloud.
We put it to Backpacker's editors and our colleagues at Outside: Where's the trail where you felt most at peace? Their answers surprised us. While some pointed to little-traveled trails deep in the wild, others wrote about backyard rambles or midwestern forests bordered by fields; one even talked about Central Park. Here are what six of us said.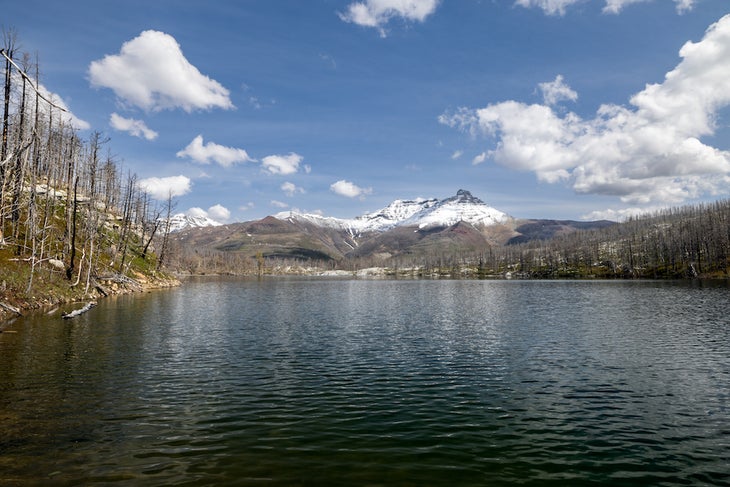 Crandell Lake, Waterton Lakes National Park
When I want peace, I have to be alone. My blood pressure doesn't drop if I can still hear hikers chatting, cars revving, or speakers booming in the distance. I haven't felt a sense of meditation like I did on a hike around Crandell Lake in Alberta's Waterton Lakes National Park in early June 2022. Although this can be a popular hike in the summer, we had the trail largely to ourselves that day. A serene lake is one of nature's greatest gifts, and I spent all morning in a meditative state looking out onto the water, never wanting the moment to pass. —Emma Veidt, Assistant Editor, Backpacker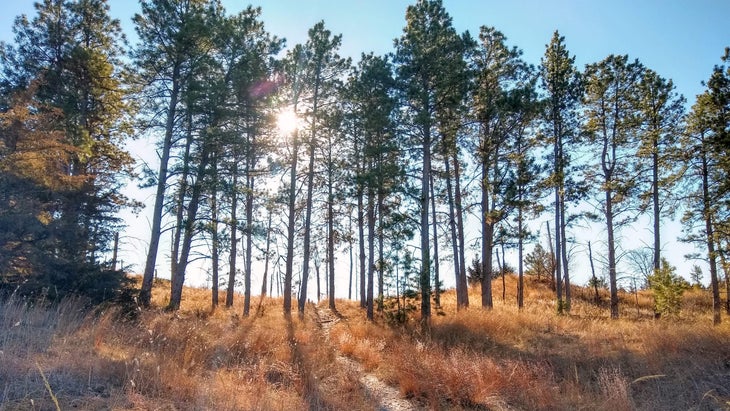 Bessey Ranger District, Nebraska National Forest
There are almost no trails in Nebraska National Forest's Bessey Ranger District, a 141-square-mile spread of human-planted forest split by pockets of rangeland located near Halsey in central Nebraska. That makes sense because there are almost no backpackers there either: After hunting season ends and the ATV'ers have abandoned the trails on the forest's east side, the place feels downright deserted. When I showed up for an overnight early one December, mine was the only car in the parking lot. Over the next 24 hours, I rambled around the sandhills with no set agenda, following cow paths through skyscraping ponderosas and exploring rutted, overgrown seasonal roads to where they petered out in the tall grass. It made me feel like a kid again, getting lost in the forest preserve down the road from my Chicago-area home—and any hike that can unlock that kind of magic is worth it in my book. —Adam Roy, Executive Editor, Backpacker
Feldtmann Loop Trail, Isle Royale National Park
Isle Royale, an archipelago in Lake Superior off the coast of northern Minnesota, consistently tops the charts as one of the least visited national parks in the U.S. (It's only accessible by seaplane, ferry, or private boat.) I met my husband at a trailhead there, we backpacked it for our honeymoon, and at this point, unlike most tourists who day hike from Rock Harbor or Windigo, I've bagged nearly all of the island's 165 trail miles. But, the Feldtmann Loop Trail—a 30 mile section on the southeast side—wins my vote for maximum peace. On its dynamic single track, you climb ridges, rim a lake, weave through 10-foot-tall grass, cross marshes, and scale downed ponderosas. The best part? You're more likely to stumble across moose and wolves than other hikers. And, thanks to stunning views and the sounds of whispering backcountry, it makes me feel like the only person on earth. —Patty Hodapp, interim digital director, Outside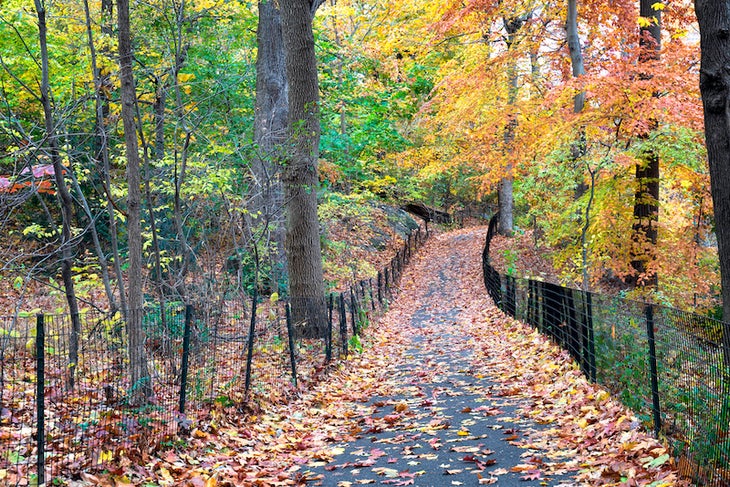 Central Park, New York
Peacefulness is a relative thing—as are hikes. I learned this during my nearly seven-year stint in New York City, where even my most desperate attempts to escape from the clamor were, at best, incomplete. I live in the country now, with easy access to seldom-traveled trails, but I'd say that some of the most peaceful moments of my life—moments when I was best able to relax into the relative stillness of my environment—were on long walks in Central Park, particularly in the winding (and mostly paved) "forest" of the Ramble. You can still hear the fury of cars and horns and sirens in there, but these sounds are hushed and distant, layered behind the sound of birds and breezy trees—and I think there's something about the contrast that allows places like that, though not objectively peaceful, to bring us peace. —Steven Potter, Digital Editor, Climbing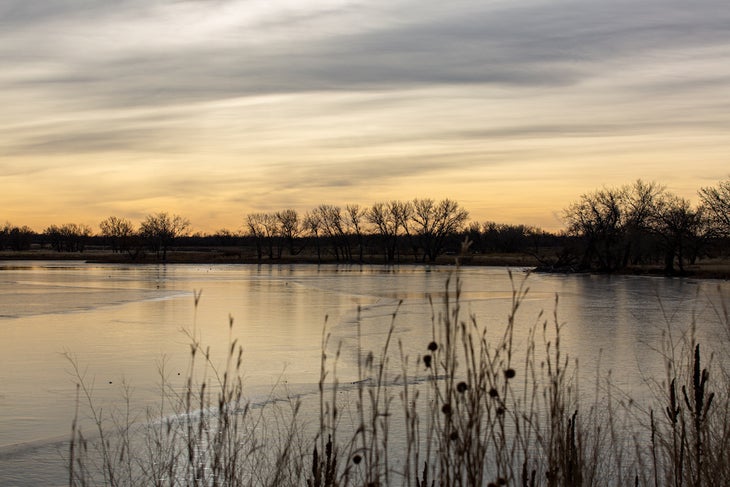 Rocky Mountain Arsenal Wildlife Refuge
I live in Denver, which seems to be getting more crowded by the day. Which is why I feel lucky to live close to Rocky Mountain Arsenal Wildlife Refuge, in the far northeastern part of the city. The place is a totally underutilized gem where you can visit pretty much any time of day and have the refuge's almost 16,000 acres to yourself. My favorite trails are two of the lake loops: Lake Ladora and Mary Lake. There's something about the gently lapping water, the sounds of the birds that congregate on the lake surface, and chirps of the prairie dogs along the sides of the trail that help me relax. If your timing is right, usually early morning or dusk, you can peep some bison looking majestic against the city skyscape. Even a quick visit tamps down my anxiety and helps me reset. —Samantha Berman, Executive Editor, SKI
Hermit's Peak, Pecos Wilderness
I'd consider Hermit's Peak, which is in the Pecos Wilderness north and west of the town of Las Vegas, New Mexico. It's named after an actual hermit who lived in a little cave on top in the 1800s. The route leading to the cave are (last time I went anyway) lined with makeshift crosses put up by people who go up there as a type of pilgrimage. —Alex Heard, Editor in Chief, Outside