The Hoh Rainforest is One of America's Rainiest—and Greatest—Hikes
The 33.2-mile round-trip Hoh River Trail winds through a rainforest wonderland fueled by over 12 feet of rain per year.
Heading out the door? Read this article on the new Outside+ app available now on iOS devices for members! Download the app.
Driest, highest, furthest, beariest: We're collecting some of our favorite extreme hikes in this series.
Don't bother waiting for a fair-weather forecast on this one before planning your trip. The Hoh Rainforest, on Washington's Olympic Peninsula, is one of the wettest places in the contiguous US, with an average 140 inches and over 200 days of rain per year. Lush green moss drapes the banks of the Hoh River, the maples and cedars towering above, and even the trail itself, providing a home for 13 different species of amphibians. Ravens and bald eagles share the treetops, while wolves and bobcats prowl below. It feels as though myths will step from the shifting fog at any moment.
For determined hikers (well-equipped with rain gear) it's a destination unlike any other. A sturdy rain fly, taped tent seams, and solid rain jacket and rain pants are essential. Braving the damp, though, nets you days of solitary wandering through a biome found in only a few spots on the globe, with a unique ecosystem that has netted it designation as both a UNESCO world heritage site and a biosphere reserve.
Spot This: Epiphyte Communities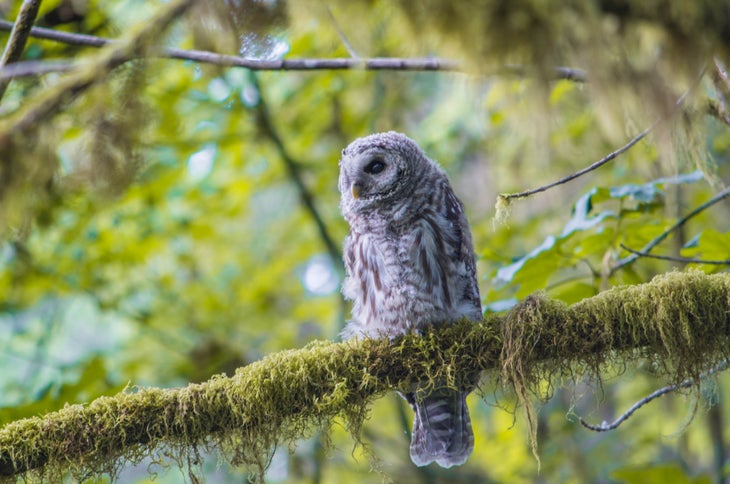 The hundreds of species of moss in the Hoh Rainforest don't limit themselves to the ground. Thick mats of moss and lichen build up on the trunks and branches of trees until they've trapped enough dirt to support other flora, like ferns and huckleberries (and occasionally smaller saplings). These are known as epiphytes, plants that grow on another plant but aren't parasitic. They play an important role in the rainforest's nutrient cycles, and provide food and shelter for some species of birds and flying squirrels that spend almost their entire lives in the canopy.
The Trail: Hoh River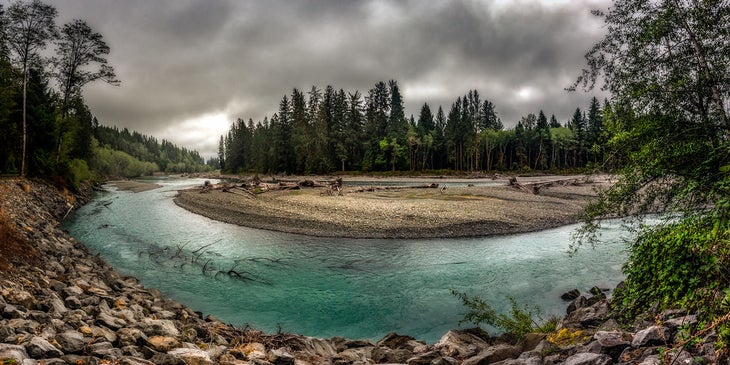 Climb to the base of Mt. Olympus on a 34.2-mile round-trip trek that dead-ends at the toe of 2.6-mile-long Blue Glacier, the largest sheet of ice in Olympic National Park. Meander east on the Hoh River Trail through a primeval forest of gargantuan red cedars, Sitka spruce, and big-leaf maples. Set up basecamp at mile 9.9 in Lewis Meadow (campfires allowed), or choose a more solitary site along the countless gravel bars that flank the trail. The next morning, tackle the remaining 6.7-mile climb (and 3,700 feet of elevation gain) that leads right to the edge of the 900-foot-thick glacier on Olympus's north face. BackpackerMagazine
Permit Reserve in advance here Info Olympic National Park
Used to drier hikes? Level up your rainy-day trail savvy with our skills guide here.