The High Life: Hiking Utah's Highline Trail
Watch your step on Utah' Highline Trail. The nonstop views and rampant wildlife are distractingly spectacular. Plus: Gaze away on 9 more elevated hikes.
Heading out the door? Read this article on the new Outside+ app available now on iOS devices for members! Download the app.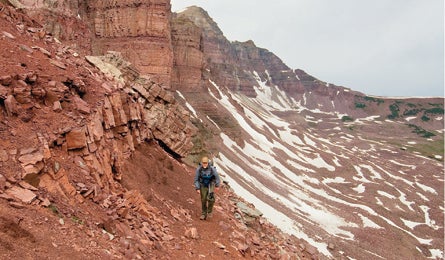 Utah's Highline Trail (Steve Howe)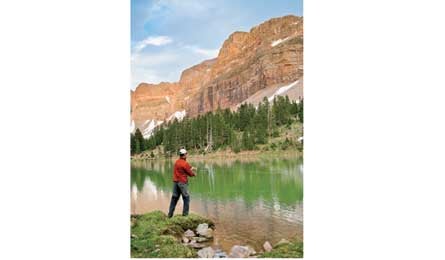 Casting for brook trout in Dead Horse Lake (Steve Howe)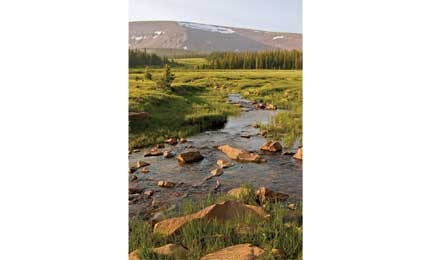 Upper East Fork of Whiterocks River (Steve Howe)
"I love wildlife, but this is getting ridiculous," Pete laughs, after a coyote wail scares the bull moose we've been watching just outside of camp. He has a point. We'd only hiked a half mile from the trailhead near Hacking Lake on a warm August day when we stopped to ogle a herd of 35 mountain goats. Minutes later, a weasel darted upon our track with a mouse hanging in its mouth. Another half mile, and Pete stumbled two spotted elk calves lounging near timberline. Then, two more goat herds on the five-mile climb to 11,700-foot Gabbro Pass, from which we flush 100 elk on the far side. After just 10 miles of hiking, we've had about one animal encounter per mile. And that's just counting the obvious ones. We surely missed more, with 100-mile vistas hogging our attention nearly every step of the way.
Views of every kind—distant horizons, nearby wildlife, isolated lake basins—are better on ridgeline hikes. And the king of the hill is the Highline Trail, which runs 78 east-west miles through the 456,705-acre High Uintas Wilderness of northeast Utah. The often-bouldery track crosses nine major passes and seldom dips below 10,500 feet. It's the perfect aerie to spy the wilderness's 26 summits above 13,000 feet, an estimated 1,000 lakes and ponds, 36 major streams, and megafauna galore. My partner, Pete Rives, an Appalachian Trail thru-hiker from North Carolina, brought a fly rod, and I've packed my camera, the tools of our stop-and-play hobbies. This is not a recipe for ticking off miles, but with these surroundings, we'd be fools to rush it.
You'd think all of this unobstructed beauty would attract a crowd, but fewer than 50 people a year thru-hike the ridge-hugging track—it's overshadowed on a regional menu that includes the Tetons, Sawtooths, Wind Rivers, and Colorado's Fourteeners. The Uintas' long, brick-red ridgelines of billion-year-old quartzite, gradually being swallowed by their own talus, have a powerful majesty that 19th-century explorer Ferdinand Hayden singled out among all the mountain ranges he'd seen. Compared to others, he wrote, the Uintas stands alone for its "contrast so pleasing to the eye."
Of course, treeless alpine grandeur doesn't come without some risk. The next night, we camp at Fox Lake in a bowl not far below 12,710-foot Anderson Pass, at mile 33, the trail's highest point. Clouds appear and gusts swirl. We get ready to run for it, but fortunately no lightning appears.
We drop packs atop Anderson Pass the next morning to side hike to Kings Peak, Utah's 13,528-foot highpoint. There's no summit register, just another world's-end vista of lake-dotted tundra, spiked pine forests, and mazes of snow-banked ridgeline. On lesser treks, this would be the highlight moment. Here, such views are routine.
Descending from the peak into Painter Basin, we skirt the banks of Yellowstone Creek in a huge bowl filled with stunted pines and rushing blue water, our horizon ringed by tiered ridges. The sun sizzles our skin while the breeze simultaneously cools it. We can't help but take another long pause, this time to yak, snack, and scratch ourselves lazily in a state of high-road aboriginalism.
The next morning, in Oweep Basin at mile 52, thick frost makes the bouldery trail around Mt. Lovenia a slick-footed struggle. Atop the broad saddle of Red Knob Pass, beneath the talus slopes of Tokewanna Peak, we gawk at the shattered tooth of 12,516-foot Mt. Beulah rearing across the gorge. Our next destination, Dead Horse Lake, shines like a milky turquoise mirror at the head of the valley. Immediately beneath us, a large elk herd grazes on an alpine shelf. Three small calves play on a snowbank, spinning and bucking like rodeo bulls. We watch for an hour, then descend to camp. Feeding trout spread rings across the calm water, and Pete heads off with his rod. I scout the wealth of five-star sunset vantage points. Like every camp so far, this one seems finer than the last.
At mile 62, we reach a junction and a choice: take the official Highline Trail and drop into forest to quickly reach the trailhead (mile 73.4), or extend our vista trek by detouring on the Head of Rock Creek Trail. Duh. We loop north another five miles to stay in the alpine zone. When faced with a quandary, always take the high road.

The way Though this trail is within striking distance of Salt Lake, you'll need to add one day to your itinerary for the 224-mile (one way) shuttle. Go to backpacker.com/highline for complete directions.
Season July through September. Pack an ice axe for early-season. Mosquitoes are fierce around lakes in July and early August.
Map Trails Illustrated High Uintas Wilderness ($12, natgeomaps.com)
Contact (801) 789-1181; fs.fed.us/r4/ashley
(Arizona)
Superstition Ridgeline, Lost Dutchman State Park
Scramble high in the desert terrain just outside of Phoenix.
Get see-forever payoffs equal to the sweat-forever challenge on this 12-mile epic through the Superstition Mountains. You'll clamber 2,700 feet up Carney Springs Trail, then ride a craggy Sonoran Desert ridge before scrambling 2,500 feet down the Flatiron Trail to Siphon Draw. Do it in a long day and carry at least a gallon of water per person (more for an overnight); avoid summer's heat. Follow cairns along the spine and painted dots over boulders on the descent. You'll get solitude, vistas across the entire wilderness, and ever-changing views of Weaver's Needle, a sheer volcanic spire. Start at Carney Springs Campground (abandoned) and end at Lost Dutchman ($8/night for parking).
Maps USGS quads Weavers Needle and Goldfield ($8 each, store.usgs.gov)
Info (480) 982-4485; pr.state.az.us/parks/lodu
(Alberta)
Nihahi/Compression Ridge, Kananaskis Country
Discover the wild Canadian Rockies.
Any spot high in the far northern Rockies has a good view. But ascending above treeline often requires an arduous bushwhack. This tundra ridgeline in Elbow-Sheep/Kananaskis Provincial Park avoids that tangled struggle via a well-marked, 1.5-mile trail that switchbacks up 1,280 vertical feet. After you fill your memory card with the stunning centerpieces of Mt. Joffrey, Opal Ridge, and Spray Lakes, follow a faint trail northward along the ridgeline's narrow top. Mountain-savvy trekkers—who get lucky with the weather—can traverse the entire ridge for a 10-mile, all-day epic. (Not quite ready for the whole thing? Turn back at the first summit.) After passing several moderate cliff bands, you'll reach Nihahi's 7,800-foot northern summit at mile seven. The most difficult part of the full traverse: descending steep but nontechnical talus off the ridge's northeast shoulder, and the cross-country trek to the Prairie Creek trailhead. Hardcores who continue north along squiggle-shaped Compression Ridge will encounter a long class 3-4 scramble with many easy but exposed moves on loose rock.
Map Bragg Creek (free, maps.nrcan.gc.ca)
Info (403) 673-3985; tpr.alberta.ca
(Texas)
Franklin Mountains Traverse, Franklin Mountains State Park
Score a solitary ramble in this rugged range at the edge of El Paso.
Chisels of cactus-draped limestone jut skyward north of town, and this 9.8-miler—with class 2 to 3 scrambles and more than 5,600 feet of climbing—lets you walk across the top. From the end of North Stanton Street, follow the Thousand Steps Trail and turn left (north) along the crest. Intersect the Ron Coleman Trail near McKelligon Canyon saddle at mile 5.6, and scramble (use chain handrail) past The Window, a 40-foot cliff. Continue to Smuggler's Pass on the Trans-Mountain Road. Pack a gallon of water.
Maps USGS quads Canutillo, North Franklin Mountain, and El Paso ($8 each, store.usgs.gov)
Info (915) 566-6441; tpwd.state.tx.us/franklin
(Virginia)
Falls Ridge, George Washington National Forest
Follow the crest of a limestone ridge.
Discover a Mid-Atlantic gold mine of solitude, with views across an ocean of lush deciduous forest. The 11.7-mile loop starts from the end of Dellinger Gap Road (15 miles from Woodstock). Climb north on the yellow-blazed Falls Ridge Trail, where vistas open onto Long and Devil's Hole Mountains. Once atop the ridge, turn left onto Great North Mountain Trail and track through rock outcrops and open meadows with views of Tibbet's Knob and Big Schloss. In May and June, gray beardtongue, wild flags, and mountain laurel color the trail. After 4.1 miles, pass left around radio towers, then descend a steep pipeline clearcut (ankle alert). In a half mile, link left onto the Laurel Run Connector Trail and follow it 1.4 miles to the Stack Rocks Trail. Follow that for 1.5 miles back to the first junction near the trailhead. Sweet camping option: the pond and small spring near the start of the ridgeline stretch.
Map hikingupward.com/GWNF/FallsRidge
Info (540) 984-4101; fs.usda.gov/gwjnf