The Good, the Bad, and the Ugly: How 7 Popular Trails Have Changed
All trails have changed quite a bit in the past 5 decades. Here are the trails that changed the most.
Photo: Cavan Images via Getty Images
Heading out the door? Read this article on the new Outside+ app available now on iOS devices for members! Download the app.
Hiking trails are in a constant state of flux. Every year, crews construct new trails, well-loved paths fall victim to floods and windstorms, and wildfires, and routes that lack funding or dedicated volunteer crews become overgrown and fall deep into disrepair.
It's been this way for far longer than Backpacker has been touting these places, but since the first issue of this title went to print 50 years ago, the cycle seems to have accelerated. An increasing number of wildfires and droughts have put pressure on popular hiking areas, and the Covid-19 pandemic brought more people than ever into the outdoors to explore, piling on impacts from over-visitation. 
But even while some trails languished and suffered, others celebrated grand openings or received much-needed financial or volunteer infusions that brought them back from the brink. We've picked the trails that we think have benefited or suffered the most over the past few decades—the good, the bad, and the ugly—to encourage you to explore somewhere new, give popular trails a break, or invest your time and money to rehabilitate the natural areas you love.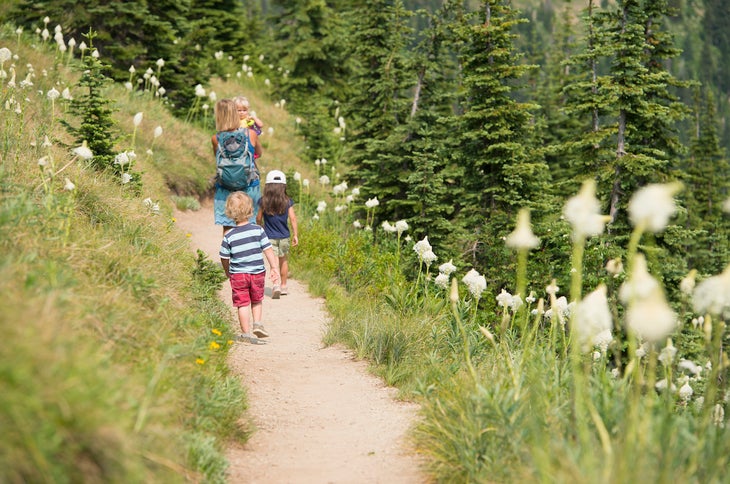 Good
Seboeis Riverside Trail: Maine
Opened in December 2022, the shiny new 7.2-mile (one-way) Seboeis Riverside Trail along the picturesque Seboeis River runs deep into the Maine Highlands region—which includes the area surrounding the state's tallest peak, Mt. Katahdin. Located east of Baxter State Park's North Entrance, the isn't just an escape in its own right, but it also serves as a backup destination for hikers that couldn't get a permit for Baxter or found Acadia packed to the gills.
But this isn't a state park or even a national forest: the trail received funding from Penobscot River Trails Inc., a family-funded charitable foundation supported by philanthropist Gilbert Butler's Butler Conservation Fund. The trail is free for hiking and camping and you'll wander through dense woods populated with pine, birch, ash and cedar, and spot Sugarloaf Mountain in the east (and Kahtadin on the drive in). Two miles from the end of the out-and-back trail, a simple but cozy post-and-beam lodge outfitted with four sleeping cots, a wood burning stove, and surrounded by a few campsites awaits, offering hikers and snowshoers a place to rest or spend the night on an easy two-day backpacking trip.
Whitefish Trails: Montana
Located 20 miles from overcrowded and over-touristed Glacier National Park is Whitefish Trail, a system by locals, for locals. It's still expanding, but it already features 47 miles of multi-use trails. Fifteen easily accessible trailheads are located directly in and around the town of Whitefish and a number of connected loops, including ADA trails and a recently completed adaptive MTB trail, offer plentiful recreation opportunities. There's even access to a network of trails that connect to those at Whitefish Mountain Resort. While backcountry camping isn't currently allowed, the plan for the next few years is to link up to an under-construction network of trails in Flathead National Forest, which is fewer than 10 miles from the town of Whitefish.
What makes this extensive trail system so spectacular isn't just the scenic routes through pine woods, cedar-hemlock forest, and lakes, but the community-driven collaborations that built it in order to protect public land that was slated for development. Whitefish Legacy Partners, the Montana Department of Natural Resource And Conservation, the city of Whitefish, the Forest Service, private owners, and more all came together to protect and maintain the area and transform over 6,000 acres of local land into a permanent conservation area.
The Pacific Crest Trail: California, Oregon, Washington
Yes, it's popular: Since its designation as a National Scenic Trail in 1968, the 2,650-mile Pacific Crest Trail has only seen its fame grow. Most of that boom has occurred in the last decade or so thanks in part to the trail's portrayal in the media. Thousands of thru-hikers complete the entirety of the well-marked trail, following white blazes through the desert and the Sierra in California, past abundant waterfalls in Oregon, and over the majestic Cascades in Washington, all in a matter of months. Thousands more hikers enjoy just a section at a time, whether on a leisurely evening stroll or a weekend backpacking trip.
But hear us out: For all the wear, tear, and crowding, that popularity has had an upside. In order to preserve the trail and the land it's on, including many stretches on private property, the Land and Water Conservation Fund provided nearly $46 million over the last two decades to acquire and protect more than 33,000 acres along the path, helping secure its place as a hiking holy grail for future generations. And while there are challenges ahead—year-round fire seasons are making it more and more difficult to hike the trail end to end—hard work by dedicated groups of trail lovers and the Pacific Crest Trail Association is helping to ensure that hikers will be able to appreciate this adventure for years to come.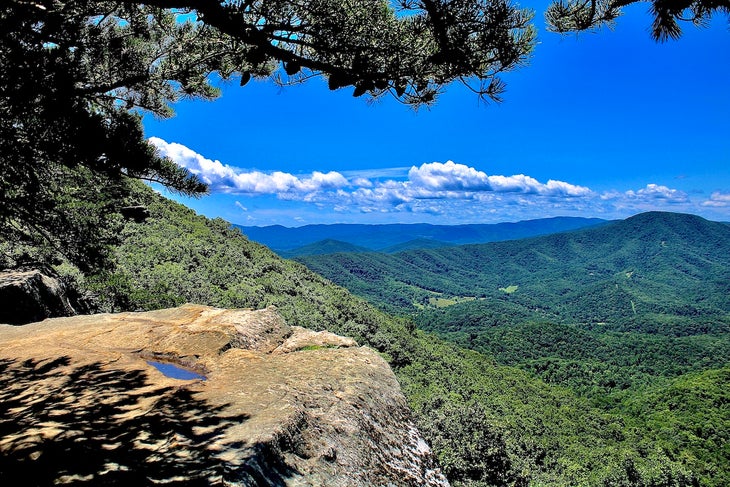 Under Threat
Mineral Creek Trail: Snoqualmie Region, Washington
Mineral Creek Trail has been nearly impassable for perhaps a decade thanks to frequent wildfires and extreme winter weather. The 5-mile route, which leads into the Alpine Lakes Wilderness, is one of the quickest access points to the PCT near I-90, but even just a few months ago, navigating it felt like swimming through a sea of brush and overgrowth according to the Washington Trails Association. Due to its link to such a well-known thru-hike and easy accessibility to local communities, fixing it was a priority.
Fortunately, WTA's partnerships between land managers like the U.S. Forest Service and other nonprofits, including Back Country Horsemen of Washington, enabled the agency to hire two professional crews in addition to volunteers. They've cleared paths, re-established tread, and made the trail and others in the region fully accessible once again. But while the trail is in good shape for now, destructive wildfire seasons are increasingly common. Anna Roth of the WTA says trail maintenance in the state is a never-ending process. "One bad winter storm in a wildfire area, and you can lose an entire trail to burned trees falling across it," she says.
Virginia Triple Crown: Appalachian Trail, Virginia
The Appalachian Trail is one of the most well-traveled trails in the country, and not just because of the thousands of thru-hikers who follow the white blazes from Georgia to Maine every year: Thousands of weekend backpackers and dayhikers ply shorter sections of it every year. That's largely due to the trail's accessibility, including in the popular region known colloquially as the Virginia Triple Crown, a loop trail that encompasses Dragon's Tooth, McAfee Knob, and Tinker Cliffs.
But because of that ease of access and the popularity of the 34-mile loop, an increase in hiker visitation (plus additional climate-related threats) has resulted in an increase in litter, graffiti, fire rings in places they shouldn't be, human waste issues, trampled vegetation, and social trails that have caused more than a few hikers to lose their way. The Appalachian Trail Conservancy and local partners like the Roanoke Appalachian Trail Club have outfitted full-time and volunteer ridge runners to educate hikers, collect data, and report back on conditions. But with the increase in foot traffic—especially on weekends, especially since COVID—it's hard to keep up with the damage all the additional boots on trails cause.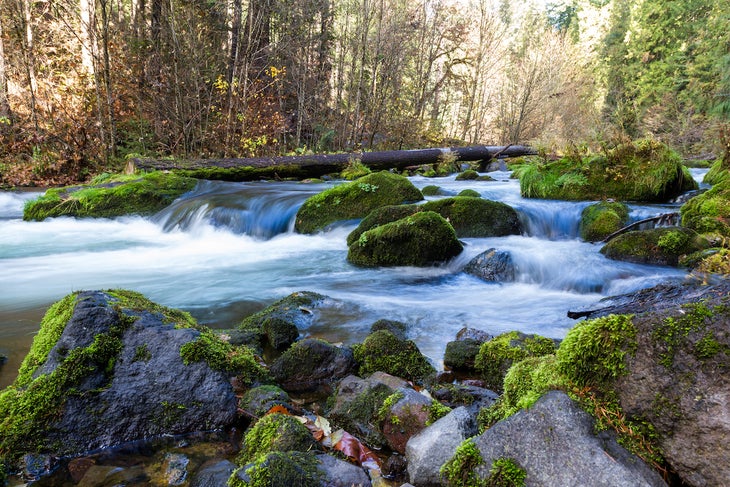 Off The Rails
South Fork Merced River Trail: California
This 21-mile hike in the Sierra National Forest in California is a stunner. Between the picturesque Solitude River, mountain peaks, and pine-swathed hills, there's no question why it's a local favorite for those who want to skip the crowds at nearby Yosemite National Park and explore some proper wilderness. But in the past half decade, it's suffered some real decimation. First, years of little-to-no maintenance and pine beetles left whole sections of standing dead trees; then, wildfires swept through, consuming the dry wood and burning entire hillsides and carpets of chaparral, which grew back over the trail with a vengeance after fire, eating up developed trails for breakfast. Windstorms blew down much of the remaining standing dead trees and torrents of rain and epic snow storms brought eroded the denuded soil
"And then COVID hits," says Bill King, founder of Mariposa Trails, the organization handling trail maintenance and conservation in the area. "It's been the perfect storm to derail a lot of trails in the area." In fact, this trail, which he describes as beautiful, merciless, and in an impressive state of disrepair, is the reason he finally broke down and bought a Garmin InReach. Mariposa Trails has received a grant from the Sierra Nevada Conservancy and is hacking away at repairs, but it's going to be a few years before it's navigable by any except the most experienced hikers.
North Umpqua Trail: Oregon
The North Umpqua Trail (colloquially known as NUT) is a 79-mile trail that winds alongside the North Umpqua River near Oregon's Mt. Thielsen Wilderness. Accessible via 12 separate trailheads, it's a multiuse trail open to hikers, mountain bikers and equestrians. Although it has always offered epic adventure opportunities to surrounding communities, the Archie Creek Fire in 2020 followed by the Jack Fire in 2021 resulted in the closure of 30 total miles of trail, most of which is either still closed or in rough shape.
The fires decimated 11 bridges on USFS land, more on BLM land, and thousands of trees, which led to increased landslides in the steep, wet canyon. Trail tread deteriorated, downed trees blocked trails, and slopes became wildly unstable, making large chunks of the path unrecognizable at best and impassable at worst. Land managers have replaced three bridges so far, but with expensive steel versions specifically designed to survive increasingly intense fire seasons. Currently, about 4 miles have officially reopened and are in good condition thanks to trail crews. The hope is that a push for local volunteers will help open more of the trail by this summer, though it will likely be several years before trail maintenance is complete and the forest service can hire a professional to construct a system that has a better chance of outlasting future fires. What's more, much of that future work hinges on the National Forest Foundation continuing to receive grants, funding, and donations—not a sure thing in the current economic climate.