The Goat Trail to Skolai Pass, Wrangell-St. Elias NP, AK
These 10 miles of pure Alaska experience are among the best 100 miles of trail in the whole national park system.
Heading out the door? Read this article on the new Outside+ app available now on iOS devices for members! Download the app.

Get this view of Russell Glacier, near Skolai Pass, on Alaska's Goat Trail. Photo by Doug Roane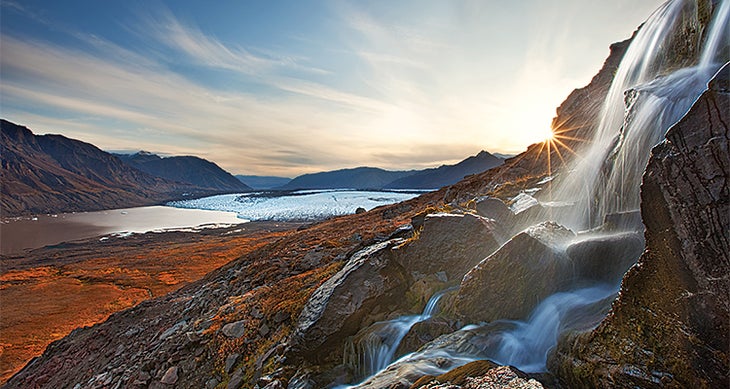 10 miles / The Alaska Experience
How did we zero in on just 10 miles in the 8 million acres encompassed by Alaska's park lands? It's partly a technicality: Actual trails are hard to come by in this wild state. But mostly, it's because this chunk of tundra where the Wrangell and St. Elias Ranges meet is raw Alaska at its finest (and in truth, the aptly named Goat Trail is still only sort of a path).
Reaching this primo stretch requires a bush plane flight to the Wolverine airstrip and miles of forest and canyon hiking, plus several dicey river crossings, but the fun really begins when you hit the infamous Goat Trail. The route follows a path worn by Dall sheep and picks its way across a ketchup- and mustard-striped cliff band of crumbly limestone for a mile (scout carefully for the real trail—following one of the hoof-made spurs too far can cliff you out). Once across, follow the Chitistone River northeast and spill out onto the spongy tundra of Chitistone Pass. Here, forget-me-nots and moss campion bloom under nameless, glacier-crusted peaks and, on a clear day, the views stretch deep into the colossal University Range. As you crest the northern side of the 3-mile-long pass, the Russell Glacier comes into view like a 20-mile-long, 2-mile-wide tongue unfurling from 16,421-foot Mt. Bona. From there, you'll drop another 2 miles to Skolai Pass. Keep your eyes peeled for grizzlies, caribou herds, and the occasional wolf before meeting your plane at Skolai Lake. Congratulations—you've just punched your Alaska hiking card in a big, big way.
Trailhead 61.508746, -142.299173 (wrangellmountainair.com)
Total hike 16 miles (4 to 7 days).
Camping Allowed throughout route; no permit required
GuideSt. Elias Alpine Guides
Infonps.gov/wrst
See the other best miles