The Challenges of Resupplying on the PCT in Oregon
With resupply options few and far between, our correspondent has plan ahead.
Heading out the door? Read this article on the new Outside+ app available now on iOS devices for members! Download the app.
I've arrived in Ashland, the first resupply point in Oregon, to take my first zero-mile day since South Lake Tahoe, more than 600 miles ago. I'm doing quite a bit of lazing about, tending to my rest-swollen knees and arguing ankles, and also a lot of catching up with the real world.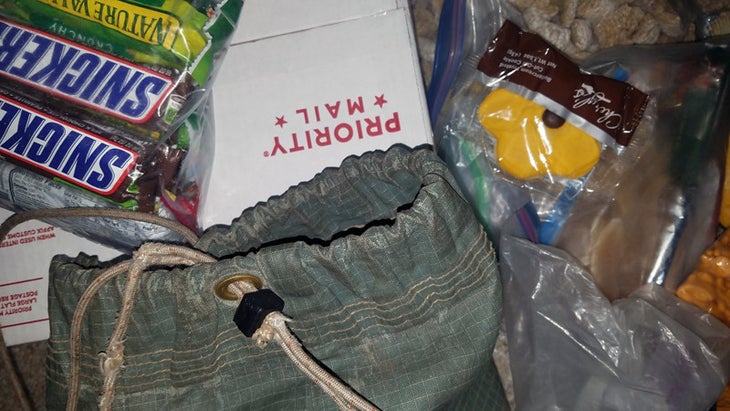 But mostly, I'm avoiding resupplying—here in Oregon, it's a real chore.
Since the start of the trail, I've been using a buy-as-you-go strategy. After making sure my stomach was full—never put your wallet and pack weight in peril by resupply shopping on an empty stomach—I'd head to the store and buy whatever looked good. Being stoveless, I had to be a bit more picky about dinners, which were usually either refried beans and rice or lentils and couscous. Breakfast, lunch, and snack-wise, I could adapt to the whims of that particular day. My tastes have certainly changed over the course of the trail, and it's been nice to be able to adapt.
In Oregon and Washington, however, there are fewer larger stores and they're farther off the trail. The stores closer to the trail, where there are any, carry fewer products. To try to stay as close to the trail as possible, I'll be sending myself boxes to various resupply points throughout Oregon from here in Ashland, and to points in Washington from Cascade Locks.
I'm finding, though, that sending myself boxes is a little more restrictive: I can't really send myself things like cheddar cheese or fresh donuts without expecting that they'll mold, I can't adapt for my tastes changing, and I won't necessarily be able to supplement if I end up packing too little food. I also have to guess at how long it will take me to reach various resupply points, which may be as far as 300 miles ahead. On the bright side, though, I've had my stove sent to me, so I'll be able to expand my dinner options to things I've been eyeing in others' resupplies, like macaroni and cheese.
So today, I'll be doing lots of math, estimating how long it's going to take me to get to my chosen resupply points, and how many meals I'll need to eat between them. Then it'll be gathering boxes from the post office and food from the store and spreading everything out across the floor in an effort to sort it into a semblance of order, to be shipped out on my way back to the trail tomorrow. 
It's still amazing to me that the trail constantly finds ways to throw you new challenges. Luckily, I'll be able to learn from any mistakes I make with Oregon's boxes for Washington and the last leg to Canada.