The Big Parade: Hiking Los Angeles
My hike, like a million other trips each day in Los Angeles, starts with a ride on a rumbling bus.In the heart of Los Angeles, a band of hikers starts a local-trails revolution--one step at a time.
Heading out the door? Read this article on the new Outside+ app available now on iOS devices for members! Download the app.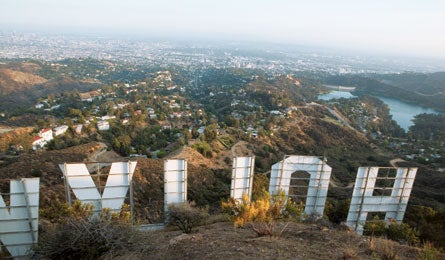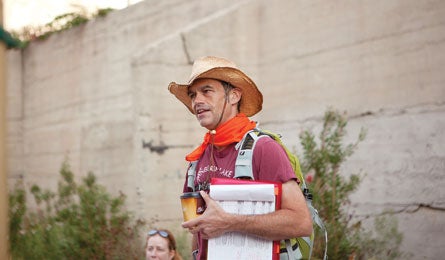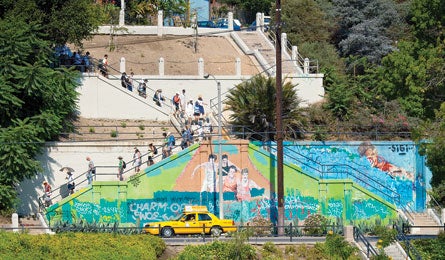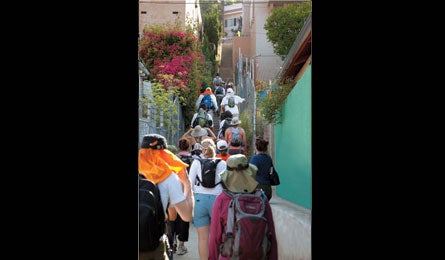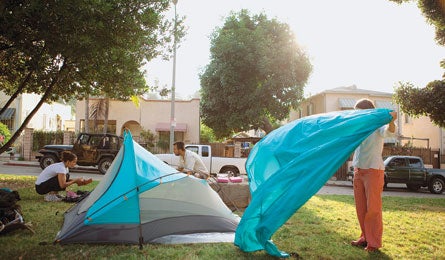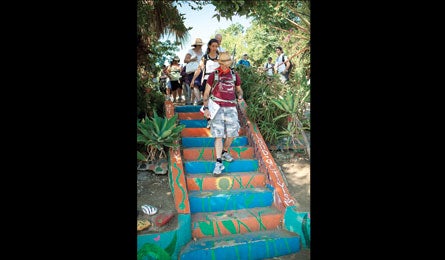 My hike, like a million other trips each day in Los Angeles, starts with a ride on a rumbling bus.
In the heart of Los Angeles, a band of hikers starts a local-trails revolution–one step at a time.
But it's a Saturday in July, before six in the morning, so the passenger load is thin. By the time the vehicle delivers us downtown, three blocks from the bottom of Angel's Flight, there's just me, my girlfriend, Kalee, and the driver. The walk begins here, at the only state park in America at which the key piece of terrain can be counted in stairs (117).


If all goes as planned, Angel's Flight will be the first of 111 public stairways that we'll ascend over the next two days. Connecting them all, we'll cover 42 miles on foot and gain more than 10,000 feet of elevation. We'll pitch tents at a grassy intersection surrounded by apartment houses. And we'll turn what was once my private obsession–climbing L.A.'s little-known network of staircases to train for mountaineering trips–into a symbolic backpacking journey in the heart of America's most car-centric city.


After years of researching, mapping, and climbing local stairs, I'm ready to unleash a friendly, hiking version of a Critical Mass bike ride. With a procession of trekkers too big to ignore, we'll show that backpackers have a place in the urban landscape as well as on its wilderness fringes. We'll prove that local hiking happens where you live. And if it can happen here, it can happen anywhere.


But we can't start without our companions. And at this point–we're an hour early, as anticipation had caused me to lie wide-eyed and restless, unable to sleep–it's unclear who is joining us, or how many. I'd invited friends and strangers via email and web postings. I'd reached out to hardcore hikers and novices alike. To be honest, I'd tried to invite all of Los Angeles. Over the previous week, newspapers, radio stations, and local bloggers had written about the walk.


Unlike a backcountry hike, this trek has stops and a schedule, so that anyone can join or depart at any time. A Facebook page, website, and Google group give timetables and instructions. Twitter updates will enable participants and observers to track our progress. The cost to join: nothing. Online, I had posted advice–be ready for the heat, wear comfortable shoes–but only one major rule: We will walk together. The swift will wait for the slow.


Now, I'm anxious to learn if the message had been heard. Will we reach our critical mass?


As we approach Angel's Flight, I'm busy trying to organize the pages of my binder of timetables, maps, and crib notes for the little talks I'll give at landmarks along the way. "Look up," Kalee says. Forty people cluster at the base of the stairway. Some are outfitted with hydration packs and hiking boots. Others wear sandals or tennis shoes. I count about 15 familiar faces. I hand route maps to Ying–a five-foot-tall powerhouse who'd helped in planning and often joined me on practice jaunts, carrying a 50-pound backpack, just because she could. And there's Alissa, our official Twitterer. I spy Lisa Anne, a photographer, who also came on some practice walks, and had been discouraged by a couple of them. "I've never walked so far," she says now. "I don't think I can do the whole thing."


I know she can.



I began walking the stairways of Los Angeles in 2002, mapping them and connecting them. I created complex loops that ensured maximum steps without ever crossing the same stairway twice. I wrote about my urban hikes for BACKPACKER ("I Climbed Los Angeles," June 2004), and that story started me down a new path: sharing my obsession. Ying and her husband, Andrew, experienced mountaineers, contacted me and asked if I'd lead them on stairway treks. I developed about a dozen routes, ranging in length from four to 25 miles, and posted them online. After the Los Angeles Times published a 2008 story about my fixation, I began offering public excursions, usually on weekday evenings.


And I continued to make discoveries. Some of the places I surveyed were small miracles. Once, when I scrambled up a hillside surrounded by a trio of freeways, I found a cabin, seemingly abandoned. The structure had once been the home of Paul Landacre, a mid-20th-century printmaker. The next day, I returned with a printout of a Landacre linocut called "Sultry Day." It depicts the artist's wife reclining in the cabin's doorway. A cat lay beside her, and outside stood the same live oak and toyon trees growing there now. I climbed a thistle-covered slope to the cabin and stood by the old entrance. What I could hear was modern–cars roaring below–but what I could see was nearly identical.


As I explored L.A. on foot, something happened. I found myself falling in love with the city in a way I'd never imagined. I saw it as a backpacker sees an endangered wilderness–on the brink of ecological disaster, yet full of potential. I wanted people to see the hillsides as I do, with a sort of X-ray vision that could peer through the houses and development and expose the naked chaparral. I wanted them to see the stairways as I did, not as artifacts, but as arteries. Their number and health increase the city's quality of life, which I'd begun to measure, more and more, as directly related to how much foot travel is possible, and beautiful, and enjoyed by many. I wanted people to see the city as a hiker might. To see a city with a future.


Thus, my community walk. But what to call it? For months, I'd struggled to come up with a name for the adventure, something that captured the size and spirit of the attempt. (Stair Trek? No.) The name needed to contain and imply what my foot journeys had led me to understand: that a more livable and open Los Angeles is not just a distant fantasy. L.A. is walkable right now, accessible and varied and filled with treasure not in spite of the city's sprawl, but because of it. This wouldn't be a protest hike–it would be a celebration. It would be The Big Parade.





We leave downtown and pick up a dozen newcomers at Vista Hermosa Park. I'd designed the route as a series of loops, making it easier for participants to join and depart. I'd also arranged stopovers specific to the communities we'd be walking through. In the Temple-Beaudry district, a diverse neighborhood of longtime residents and recent immigrants, we'll visit a children's art center. In Silverlake, where I live, we'll stop at an off-the-grid homestead.


In Los Angeles, public stairways are actually considered streets, harking back to their prefreeway function as connectors for dozens of private trolley lines that ran along what were, essentially, the paved floors of deep canyons. At the bottom of the longest stairways, I point out where the old "Red Car" tracks (the last and most famous of those lines) had been.
Between the talks and stops, I fret about wrong turns and sticking to the timetable. We fall behind schedule almost immediately, and keep sliding. Though I'd rehearsed each segment of the route, I deliberately chose to never actually walk the entire distance at once. I wanted the passage to be the asphalt equivalent of a first ascent. Now, of course, I'm encountering the surprises of a virgin climb. For example, it takes 50 people a lot longer to use a single coffee-shop restroom than I'd expected.


Nevertheless, by noon on Saturday we've established a rhythm. When we cross streets, parade members hold traffic at intersections with a cyclists' technique called "corking"–stopping vehicular movement in all directions. Not a single driver honks, though a few press their faces to the windows, baffled.


At the start of each mini loop, an influx of new walkers swells the group to 70 or more. After about five miles (the length of each micro tour), there's more coming and going, save for a couple of dozen loyalists who appear determined to finish the whole thing. On Saturday's most formidable ascent, 237 zigzag steps leading to a ridge above Dodger Stadium, I watch from above as the group spreads out along the incline. Each person climbs patiently. No rabbits, no turtles. It looks just like I'd hoped: a big parade.


We arrive at our campsite as darkness falls, which I suppose is more or less on schedule for a typical backpacking trip. Planning the parade, I was adamant that we sleep out in a public park. It would connect Saturday and Sunday, of course. But I also wanted official permission, which would mean the city perceived the event as legitimate, rather than an act of eccentricity. The bureaucrats seemed to understand, but making it happen was another thing. Finally, 18 hours before the start, I got permission (with the caveat that I rent an outhouse) for us to camp in a pocket-size park across from a flight of steps known as the Music Box Stairs.


This particular stairway was made famous by an Oscar-winning Laurel and Hardy short, called The Music Box, filmed there. In it, the comics struggle to hoist a piano to the top. The 133 steps sit almost exactly at the center of the two-day route, but more importantly, it is my staircase. I live three blocks away. And I knew that the comic connection would subtly but surely give a lift to sore, blistered hikers.


Also good for spirits: Urban campers can have burritos and margaritas at a Mexican restaurant. On Sunset Boulevard, we eat as mariachis serenade us.


Two hours later, we crawl into our tents. The night swells with salsa music from a nearby club, the growl of passing vehicles, and the voices of tipsy revelers (camping is a win for symbolism, not so much for sleeping). I'm surprised that not a single passerby notices the five tents pitched beneath the grassy triangle's single tree. No one even approaches us until early the next morning. A dog walker, obviously in a state of disbelief, stares at our little encampment. I prepare my walkable-city-stairways-as-arteries-big-parade explanation. But after she ponders the sight for a few moments, she asks simply: "Are you German?"


By the time we pack up in the morning, 25 new hikers have arrived. Andrew shares fresh guava pie–he made a prestart sprint to a nearby bakery. Thirty minutes later, at the start for Sunday's main loop, we're up to 80 people. I lead the crowd to the only stairway on the entire route that we won't climb.


Razor wire and chain-link fencing–installed, illegally, by a resident who lives on the stairway–cut off public access to the steps. I'd been trying for years to get it, and others, reopened. During my explorations, I'd learned of more than 20 stairways that local residents had shut down, usually as a way to restrict "annoying" foot traffic (similar to Hollywood moguls who live on the Malibu waterfront and resist providing public rights-of-way to "their" beaches).


I explain to the group that stairways are legally streets, and I ask whether anyone thinks that he could get away with chaining off the pavement in front of his home. "But why won't the city do anything?" a newcomer asks.


There's no good reason, I answer. Over the years, I'd sent letters and photographs and even petitions to the Los Angeles Department of Streets. A few months before The Big Parade, an investigator was dispatched. Over the phone, he confirmed that the closures were unauthorized. But opening them, he said, was a low priority (compared, at least, to filling pot holes and installing speed bumps). To me, this showed exactly how pedestrians were viewed by city bureaucracy: at the bottom of a stairway that went nowhere.


Several would-be activists ask why I didn't just knock the barriers down myself. Some even volunteer to help. The answer, of course, is that vigilantism shouldn't be necessary. The stairs belong to the public, and opening them should be a public act.


At mile 10 on Sunday, we reach a set of 14 flights crammed along two miles in the Franklin Hills neighborhood. I based this segment on a 1950s Sierra Club handout that is, according to my research, the first-ever recreational stairway route created in Los Angeles (the timing makes sense, as it was likely a reaction to the booming car culture).


We're going clearly uphill, now. The Hollywood sign seems tantalizingly close, though the route winds another seven miles before we'll actually reach our destination (and we're way behind schedule). We pass the Ennis House, a Frank Lloyd Wright edifice that resembles a Mayan temple; its exterior doubled as Harrison Ford's apartment complex in the movie Blade Runner. Below, we can see a sprawling mansion called Los Pavoreales–Spanish for "The Peacocks"–formerly owned by Madonna, and now listed by a local realtor as a "celebrity compound" for $7 million. At the neighborhood's hilltop boundary, we slip through a narrow public gate into Griffith Park.


For the first time in two days, we join traditional hikers and trail runners as we climb a fire road to the park's famous observatory. Lisa Anne–the photographer who thought she couldn't finish, but is still going, enthused and energetic–tells our group the scandalous story of Colonel Griffith P. Griffith, who'd donated the land for the park in 1896. The goodwill failed to help him beat charges of attempted murder against his wife seven years later.


By late afternoon, the 90F heat has thinned our group to 15. And attrition threatens to reduce our number further. Alissa has pushed on for miles with an aching knee and stuttering gait; we both know she's risking injury, and–after great hesitation–she heads home. Morgan–a longtime hiking buddy who'd recently completed a Pacific Crest Trail thru-hike–suffers so badly from chafing that somebody asks, "Who invited Donald Duck?"


I may be in the worst shape of all. My pace is slowing. I'm tired. Darkness is falling. For 36 hours and as many miles, I've been focused on forward momentum. I knew there was elation in the line behind me, but I hadn't felt it; the information came via the Tweets of departing walkers. "The most fun I've ever had in L.A.," one said. Another wrote: "There's no stopping The Big Parade! LOL!"


But I need more than enthusiastic Tweets at the moment. My carefully planned timetable has us reaching the Hollywood sign at 7 p.m. Now, at 7:30, we're still more than four miles away. I fear the walk will soon become the trudge I'd made every effort to avoid.


What keeps me going? It's not that our final six stairways are exceptionally beautiful, which is true. The granite and stone flights of Beachwood Canyon are among the city's most unique steps, since they act not just as transport, but also serve as retaining walls that literally hold the community up. Nor do I find some deep, internal reserve of strength. That was spent on miles 30 to 35. And it's not a boost of emotional energy from the handful of committed troops who have gone the distance with me.


Surprisingly, my rejuvenation comes from people who've hardly ever walked in Los Angeles–though some have lived here for decades. People who've never known the stairways existed, or that you could even hike to the Hollywood sign.


These people are waiting, two dozen of them, at our final meeting point–the beginning of the homestretch. Some have waited patiently for hours. And they are living, breathing, hiking proof that my experiment is a success.


Our final climb ascends a stairway that leads from Belden Street to Beachwood Canyon Drive, and it falls into a unique category–even for a stairway obsessive like me. It is a circuit, or a stairway with two distinct sides. In order to allow walkers to hit every step, both up and down, we'll climb one side and descend the other. I make a brief explanation of what we're going to do. I decide that I'll wait for the end of the line. I need the rest.


By the time I start, paraders crowd the stairs on both sides. A giddy madness seems to have broken out–a silliness sparked by the up-and-down rules, by the prospect of finishing, by the new and familiar faces. Descenders walk shoulder to shoulder beside those still climbing. Along the 148 steps, giggling supplants the huffing and puffing. Those heading down exhort those still climbing. They dole out the goofiest high-fives this side of a Will Ferrell sports parody.


The nine of us who've walked continuously for 40 miles are tired and limping. Our feet are raw. But we're cheered and fueled by the whole scene, by the energy and the newcomers and the startling fact that we're all still together.


For me, I realize, it's time to let go so that I can be inspired, too. It's time for me to be led.


It's long past sunset when we tackle the final unpaved switchbacks. The route suddenly feels treacherous. We share three flashlights and stay close to each other. Kalee, who'd been floating through the crowd for the entire walk, joins me.


The Hollywood sign is brightly lit, visible to most of Los Angeles. On the actual climb, though, it disappears just as you're closing in. Reaching the ridgeline, you're suddenly north of the structure, staring down at the San Fernando Valley. You walk another quarter-mile, then hairpin back to face south, above the landmark. First-time visitors are usually surprised to find that the huge letters are wafer thin.


The vista from the sign is far better than the view of it. To the northeast, you can see 5,700-foot Mt. Wilson, the antenna-topped peak that crowns the vast and rugged San Gabriel Mountains. The city itself spreads out below. Boulevards filled with cars stretch along razor-straight lines. Downtown's skyscrapers glow alongside the Hollywood Freeway, which cuts a curved and surprisingly graceful path before disappearing into the San Fernando Valley.


What's most lovely, though, is how all the urban motion comes to an end. The city seems to fold into darkness. Maybe, at first, you'll think this is merely the horizon. But there's a sprinkling of lights beyond, and as your eyes adjust, a true edge faintly appears. This empty stillness is the Pacific Ocean.


As breathtaking as the vista is, however, this walk isn't about the views. It's about people. It's about a community making this city, our home, better. And that's exactly what's happening right under our feet. The final few miles were the toughest I've ever hiked, but now fatigue and joy blend and revive me. For the first time in two days, I feel no need to explain.
I sit down and take a deep breath. I suddenly realize that I haven't even announced our arrival. I pull my phone out and see that Alissa–recovering at home–has been sending messages as we walk, encouraging us. Her final note had come only seconds earlier: "Trying to watch you on the Hollywood sign webcam. Do something BIG!"


A group of us gathers to wave. But the truth, of course, is that we can't do anything bigger than we already have.



Dan Koeppel's most recent book is Banana: The Fate of the Fruit That Changed the World. Big Parade II, held last June, attracted more than 300 participants (bigparadela.com).