National Scenic Trails: The Best 50 Miles
On its 50th birthday, the National Scenic Trails system boasts nearly 19,000 miles. Not sure where to start? We've scoured the whole network to bring you the best 50 miles.
Heading out the door? Read this article on the new Outside+ app available now on iOS devices for members! Download the app.
It would have been easy for Congressional legislators to punt on trail issues in 1968. The year started with the Tet Offensive, intensifying opposition to the Vietnam War. That was followed by the assassinations of Martin Luther King Jr. and Robert F. Kennedy. The country was in turmoil.
But in October of that year, Congress passed the National Trails System Act. The origin of the bill can be traced to President Lyndon B. Johnson's 1965 speech on the "Conservation and Preservation of Natural Beauty," in which he said, "The forgotten outdoorsmen of today are those who like to walk, hike, ride horseback, or bicycle. For them we must have trails as well as highways. . ." He called for a national system of trails and said, "In the backcountry, we need to copy the great Appalachian Trail in all parts of our country. . ."
When his vision became law, it established several categories of trail. The highest status was accorded to National Scenic Trails—paths of at least 100 miles that could only be designated by Congress. (The bill made the Appalachian and Pacific Crest Trails the first of these.) National Recreation Trails, which are more urban, and Connecting and Side Trails were also created; they have no minimum length and can be established by the Secretaries of Interior and Agriculture. A decade later, National Historic Trails were added to the lineup (they also require Congressional approval).
In the 50 years since the National Trails System Act was passed, more than 50,000 miles of trail have been designated. It is, as President Johnson envisioned, a network where "old and young alike can participate." And it created something he probably couldn't have imagined: a community of thru-hikers, section hikers, weekend hikers, and dayhikers whose lives have been changed by these paths.
Very few hikers will ever walk all of them. But that doesn't mean you should miss out on any of the best spots along our National Scenic Trails. To help you do it, we've identified the top 50 miles in the system. Tie your boots and scroll down to get started.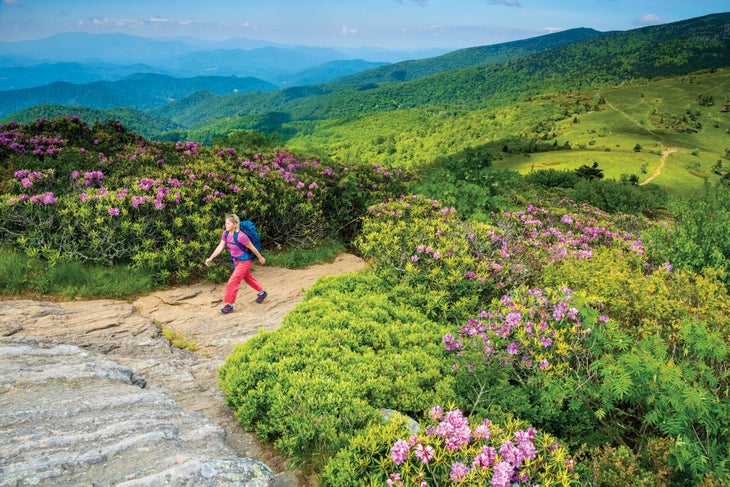 Appalachian Trail: Grassy Ridge, North Carolina
There are two kinds of beauty along our National Scenic Trails: the durable, timeless kind sculpted of stone and mountains, and the fleeting turns of color filling the spaces between. In June, find the second kind along Grassy Ridge, a 2-mile-long catwalk atop Roan Mountain where two types of rhododendron burst into bloom and slopes of fragrant balsam fir fall away into deep valleys below. From Carvers Gap, take the Appalachian Trail east across Round, Jane, and Grassy Ridge Balds for views of the Roan Highlands framed with pink and red Catawba rhododendrons and flame azaleas.
Trailhead Carvers Gap (36.1063, -82.1104) Total distance 4 miles (out and back) Permit None 
Pacific Northwest Trail: Lake Ann, Washington
If you could sum up the Pacific Northwest Trail in a single view, the one from would do it. The 4-mile hike parallels the glaciated Shuksan Arm, offering near-constant views over aprons of subalpine forest to a Who's Who of North Cascades celebrities, like Mt. Baker and Mt. Shuksan. About 3 miles in, the path climbs into a wildflower-dotted basin where 5-acre Lake Ann nestles at the base of 9,131-foot Shuksan. Set up camp near the cobalt water just west of the North Cascades National Park boundary (no red tape) and listen for the calving ice chunks crashing off 200-acre Lower Curtis Glacier.
Trailhead Lake Ann (48.8501, -121.6865) Total distance 8 miles (out and back) Permit None
Arizona Trail: Buckskin Mountain (Passage 43), Arizona
The last view on a northbound Arizona Trail hike is one for the brochures. Cresting the final canyon ripple en route to Utah, you're hit with waves of red- and Creamsicle-colored sandstone that ebb across the Colorado Plateau all the way to the horizon. But the best part about Passage 43 is its contrast: A desert wonderland surrounds a subalpine-like island of firs at nearly 7,000 feet.
The 10.6-mile section of the AZT from the Kaibab Plateau to the Utah state line is itself life list-worthy, dancing in and out of high-desert canyons and ponderosa pine forests the whole way. The best bit is the 3-mile section along the North Larkum drainage, where low sagebrush means you're face to face with a panorama of Paria Canyon and the wavy, sandstone Coyote Buttes when you do it northbound. Plan on pitching your tent among the pines near mile 6.6; there's a water tank there where you can top off before closing the section.
Trailhead Winter Road (36.9179, -112.1071) Shuttle car State Line (37.0011, -112.0350) Total distance 10.6 miles (point to point) Permit None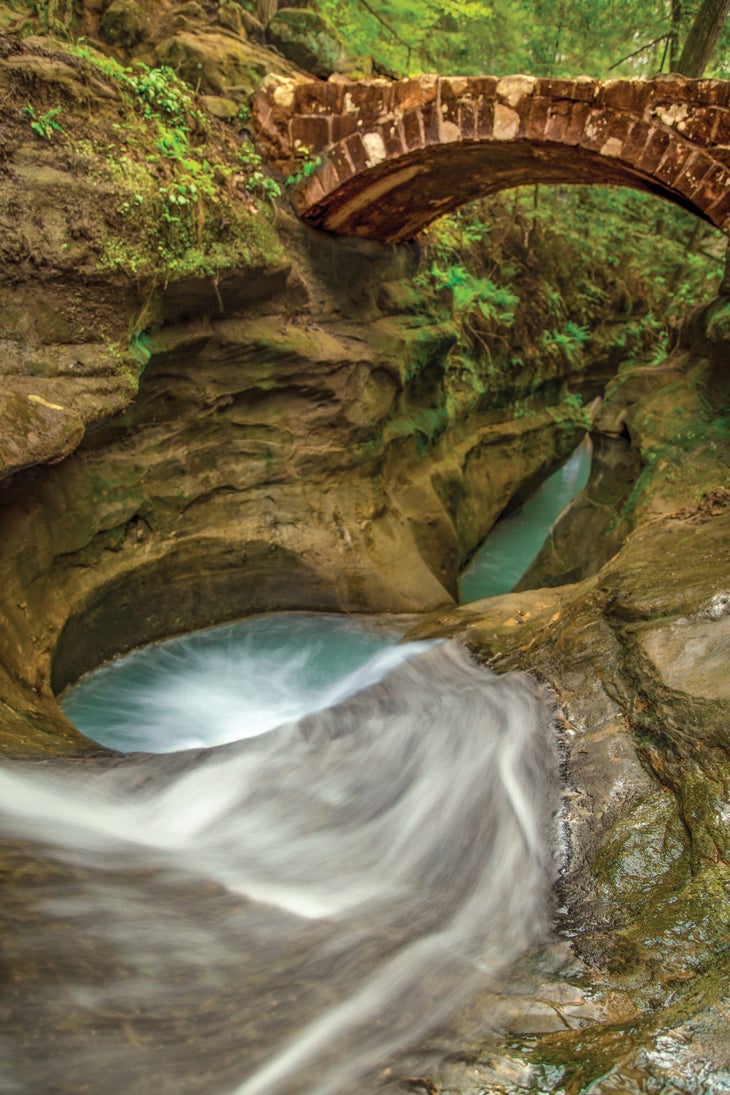 North Country Trail: Hocking Hills, Ohio
This spot, where russet rock shelves conceal explorable caves hollowed out by water and time, might be the Midwest's best-kept secret. See the spectacle for yourself on a 6-mile loop that passes through and above a sandstone gorge. Follow the canyon bottom out to Queer Creek near mile 1.1, where waterfalls pour from the rim, ferns drip with spray, and—come winter—stalactites of ice crawl down the cliffs. Bonus: These glorious 1.5 miles deliver a threefer, as they're shared by the North Country, Buckeye, and American Discovery Trails. At Cedar Falls, loop back to the starting point along the canyon rim.
Trailhead Old Man's Cave (39.4353, -82.5414) Total distance 6 miles (loop) Permit None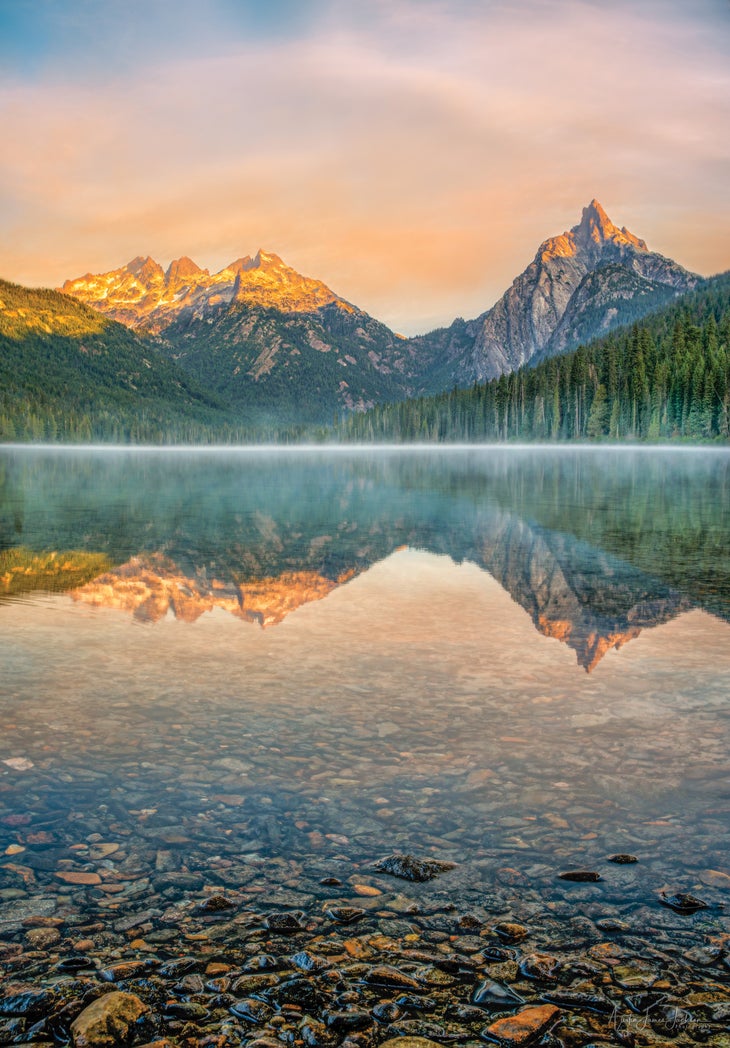 Pacific Crest Trail: Waptus Lake, Washington
If hiking the Pacific Crest Trail is a pilgrimage across North American hallowed ground, then the collection of stained-glass pools it passes in Washington's Alpine Lakes Wilderness is the holiest of holies. There, in the 75 trail miles between Snoqualmie Pass and Stevens Pass, the PCT skirts dozens of Cascadian pools and provides access to hundreds more. For lake lovers, even looking at a map of the red, hashed line splitting between ovals of blue is overwhelming. So how do you narrow down such a picture of beauty? Plainly, you need a week. The best miles of perhaps the best section of the PCT are smack in the middle of the 75-mile shuttle hike.
Beneath the Summit Chief and Mt. Daniel massifs, the PCT unspools through meadows of columbine and tiger lilies where horizon-hoggers like 14,410-foot Mt. Rainier punctuate the views across aprons of old-growth forest. Those 4 miles are nothing short of magical. Get there near mile 30 of a northbound hike, switchbacking down a basin cupping 250-acre Waptus Lake, such an image of perfection that it looks like the mountains rose up just to protect it. In a way, they did.
Trailhead Snoqualmie Pass (47.4279, -121.4135) Shuttle car Stevens Pass (47.7464, -121.0868) Total distance 75 miles (point to point) Permit Required for overnighting (free);
self-issue at trailhead kiosk
Appalachian Trail: Sinking Creek Mountain, Virginia
Virginia, where the rollers are generally treed on top, is notoriously stingy with views. That means McAfee Knob—where a diving board-like rock juts out of the canopy—will always be standing room-only. Thankfully, the Appalachian Trail offers a better alternative on the next ridge over. You won't find a rock fin worthy of Instagram on Sinking Creek Mountain, but you'll land the best view of McAfee's famed outcropping.
It's a 2-mile, 1,200-foot haul to get up to the Sinking Creek Mountain ridgeline going northbound. Take your time along the 6-mile-long crest, savoring peek-a-boo vistas over rows of green peaks to both sides of the Eastern Continental Divide. If you do it as an overnight, bunk up along the way at the Sarver Hollow shelter before closing the shuttle hike at Lee Hollow.
Trailhead Sinking Creek (37.3518, -80.3798) Shuttle car Lee Hollow (37.3793, -80.2501) Total distance 9.3 miles (point to point) Permit None
Arizona Trail: Grand Canyon Inner Gorge (Passage 38), Arizona
The mind-bending scale of the Big Ditch has the power to wow just about anybody—but especially thru-hikers who just spent the better part of two months tracking through long, dusty stretches across the desert. The Arizona Trail merges with the South and North Kaibab Trails in Grand Canyon to roller-coaster 21.8 miles rim to rim. The best perspective comes early on a northbound trek, when you're skittering across skinny Cedar Ridge where, for .5 mile, the view into the chasm may be the best of the AZT—and state.
Trailhead South Kaibab (36.0528, -112.0838; take a park shuttle) Shuttle car North Kaibab (36.2171, -112.0568; take a park shuttle) Total distance 21.8 miles (point to point) Permit Required for overnighting ($10 + $8/person per night); obtain online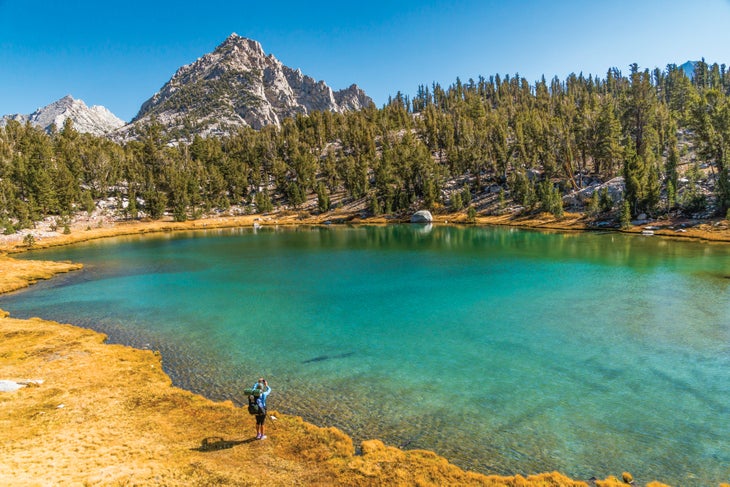 Pacific Crest Trail: Dorothy Lake, California
Smashed between granite cliffs and ancient conifers, Caribbean-blue Dorothy Lake looks decidedly intimate. That's probably what drew John Muir to its storybook shores, and we bet you'll like it, too.
There's only one way to Dorothy, and it's not easy: The lake lies about 25 miles south of Sonora Pass and 50 miles north of Tuolumne Meadows along the Pacific Crest Trail, tucked away in the northern reaches of Yosemite National Park. But solitude snobs know that's a virtue. Make Dorothy Lake the centerpiece of a 75-mile hunk of the PCT that passes snow-speckled ridgelines, groves of 100-foot-tall pines, and meadows bursting with summer wildflowers. Do it southbound, so you drop into the Dorothy Lake basin, and plan to take miles 22.5 to 25.5 very, very slowly. You'll climb past half a dozen alpine pools before crossing Dorothy Lake Pass and coasting to its jewel-like namesake. And yes, you may—and should—camp there.
Trailhead Sonora Pass (38.3282, -119.6372) Shuttle car Tuolumne Meadows (37.8789, -119.3584; take a park shuttle) Total distance 75 miles (point to point) Permit Required for overnighting ($5 + $5/person, or try for a walk-in); obtain online.
Continental Divide Trail: Knife Edge, Colorado
It takes a lot to stand out among the endless stack of mountain ridgelines in southwestern Colorado's famed Weminuche Wilderness—but nothing compares to this brief stretch of the Continental Divide Trail. For a few hundred yards, the route etches into a cliff between overhanging shale and a view prickling with the pinnacles of the 14,000-foot San Juans. The Knife Edge is out there, so the best way to do it without a shuttle car is on a 25-mile
lollipop-loop of the Williams Creek, Indian Creek, Palisade Meadows, and Continental Divide Trails. Hit the Knife Edge near mile 11 and prepare for dizzying heights—but it's not just the exposure that will make your head spin.
Trailhead Williams Creek (37.5413, -107.1978) Total distance 25 miles (lollipop-loop) Permit None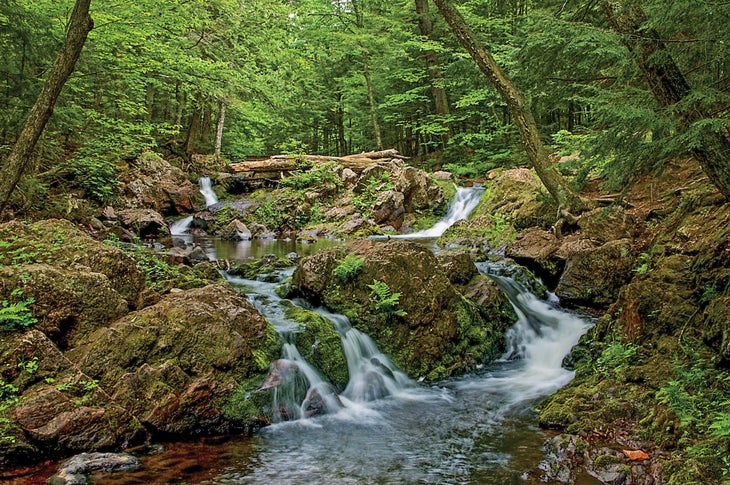 North Country Trail: Porcupine Mountains, Michigan
The 4,600-mile North Country Trail is as much a tour of classic Midwest cities as it is a hiking trail, which makes its 550 mostly-roadless miles across the Upper Peninsula a treat if backcountry solitude is what you're after. For a weekend-size taste, head to the west end, where the Porcupine Mountains set a scene of lakes, waterfalls, rivers, and forests. Find the best .2 mile on the Superior Trail, where it runs so close to its namesake you can feel the spray of waves. The next 1.5 miles, where the NCT doglegs south past a series of small cascades on the Little Carp Trail, aren't bad either (camp here). Reach this span near mile 5.5 of a 16-mile, eastbound section from Presque Isle.
Trailhead Presque Isle (46.7073, -89.9748) Shuttle car South Boundary Road (46.7280, -89.7575) Total distance 16 miles (point to point) Permit Required for overnighting ($15/night); obtain from Porcupine Mountains Wilderness State Park.
Pacific Crest Trail: Mt. Thielsen, Oregon
Fire and ice conspired to form 9,182-foot Mt. Thielsen and its iconic horn 250,000 years ago. Enjoy the tooth's close-up on a view-packed half mile on the Pacific Crest Trail, which hugs the cinder cone's west flank near mile marker 1,862, about 6 miles north of the North Crater trailhead.
From there, you're in prime position to climb the thing on an easy spur: Tackle the class 4 west ridge on a 2-mile out-and-back from the PCT. The exposed summit scramble isn't technical, requiring only a few hand-over-hand moves. They're worth it: From Thielsen's wind-whipped summit, secure the best top-down view of Crater Lake from outside the national park, as well as a horizon pricked by the Three Sisters to the north. On clear days, you can even see the cropped top of Mt. Shasta, 120 miles south.
Trailhead North Crater (43.0922, -122.0931) Total distance 14 miles (out and back) Permit Required for overnighting (free); self-issue at the trailhead.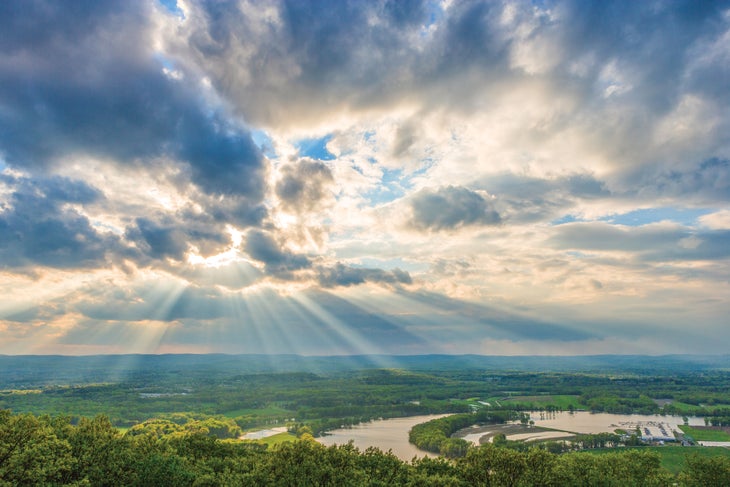 New England Trail: Mt. Tom, Massachusetts
The New England Trail wanders through miles of deep woods and shallow river valleys, making the top-down view from Mt. Tom's 2-mile-long massif a standout. For a 7-mile out-and-back, start at the Eyrie House Ruins parking lot and hike southwest to 835-foot Dry Knoll, at the edge of where the Connecticut River bisects the tiny Mt. Tom Range. From there, continue south to tag the mini-summits of Goat Peak, Whiting Peak, and Mt. Tom proper, keeping an eye out for red-tailed hawks swirling on thermals during the September migration.
Trailhead Eyrie House Ruins (42.2798, -72.6216) Total distance 7 miles (out and back) Permit None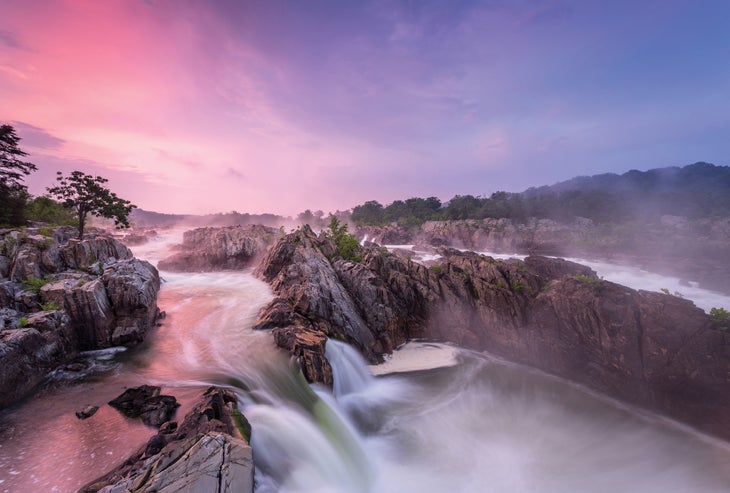 Potomac Heritage Trail: Mather Gorge, Virginia
Mother Nature is her own best architect, a fact never more evident than along this small section of the 924-mile Potomac Heritage Trail, where the northernmost peaks of the Piedmont crash into the Atlantic coastal plain. There, the Potomac River cascades down small rock shelves, building momentum before surging through arrow-straight Mather Gorge. Nab the best view of the transition on the 1.5-mile River Trail, which traces the cliffy escarpment above the action the whole way.
Trailhead Climbers' Parking Area (38.9933, -77.2541) Total distance 3 miles (out and back) Permit None
Continental Divide Trail: Gilpin Lake, Colorado
The Continental Divide Trail stitches together mountains, lakes, tundras, and meadows of such aesthetic brilliance, you could place your finger just about anywhere along a trail map and point to a place pretty enough to brag about. But the section of trail through northern Colorado's Zirkel Wilderness still stands out. The centerpiece, Gilpin Lake, pools beneath the ramparts of Gilpin Ridge, Big Agnes Mountain, and 12,180-foot Mt. Zirkel—where the natural infinity pool drops off to its eponymous creek. In August, yellow arnica wildflowers grow between chunks of granite, making the whole scene shine.
Find your way there on the 11-mile Zirkel Circle. Head counterclockwise through stands of lodgepole pine along Gold Creek to mile 3, where the going gets really good. Begin a 2,000-foot climb to the saddle—and the first view of Gilpin Lake. The scenery hits you like a cymbal crash, so slow to a stroll and relish the descent to the tarn at mile 6. From there, add 3 scrambly miles and an additional 1,700 feet elevation gain to touch the summit of Zirkel before setting up camp amid full Colorado glory. Next day, dip below treeline to loop back to the trailhead along Gilpin Creek.
Trailhead Slavonia (40.7831, -106.7230) Total distance 11 miles (loop) Permit None
Natchez Trace Trail: Highland Rim, Tennessee
Once a vital trade and travel route for the Choctaw, Chickasaw, and Natchez tribes, the Natchez Trace is now a scenic byway lined with hardwoods. It has about 60 fragmented trail miles, too, but no great backcountry camping, so explore its best on a 6-mile out-and-back along the Highland Rim. There, near the northern terminus, the Tennessee Valley Divide interrupts the landscape, sending the watershed's flow north into the Cumberland River and south into the Tennessee. Wildflowers like trillium and Solomon's seal dot the slopes in spring, but fall is when nature puts on its best show, with sugar maples flickering red and yellow.
Trailhead Garrison Creek (35.8737, -87.0322) Total distance 6 miles (out and back) Permit None
Florida Trail: Econfina Creek, Florida
Get a snapshot of the whole Florida Trail without hiking the whole thing on the 17.7-mile Econfina Creek section. Whereas other segments are perhaps defined by their bioregion—swamp, beach, forest—this Panhandle bit has it all, plus some of the long path's best backcountry camping.
From Scott Road, head southwest through a forest of magnolias to mile 1.8, where the fun begins: The next 6.5 miles wend through cypress swamps, giant white oak forests, and pine uplands en route to 40-foot-deep, turquoise Devil's Hole. (Spend the night at pine-framed Trap Pond near mile 4.) Close the final 9.4 miles through long-leaf pine forests.
Trailhead Scott Road (30.5489, -85.4358) Shuttle car FL 20 (30.4283, -85.6097) Total distance 17.7 miles (point to point) Permit Required for overnighting (free); self-issue at the trailhead.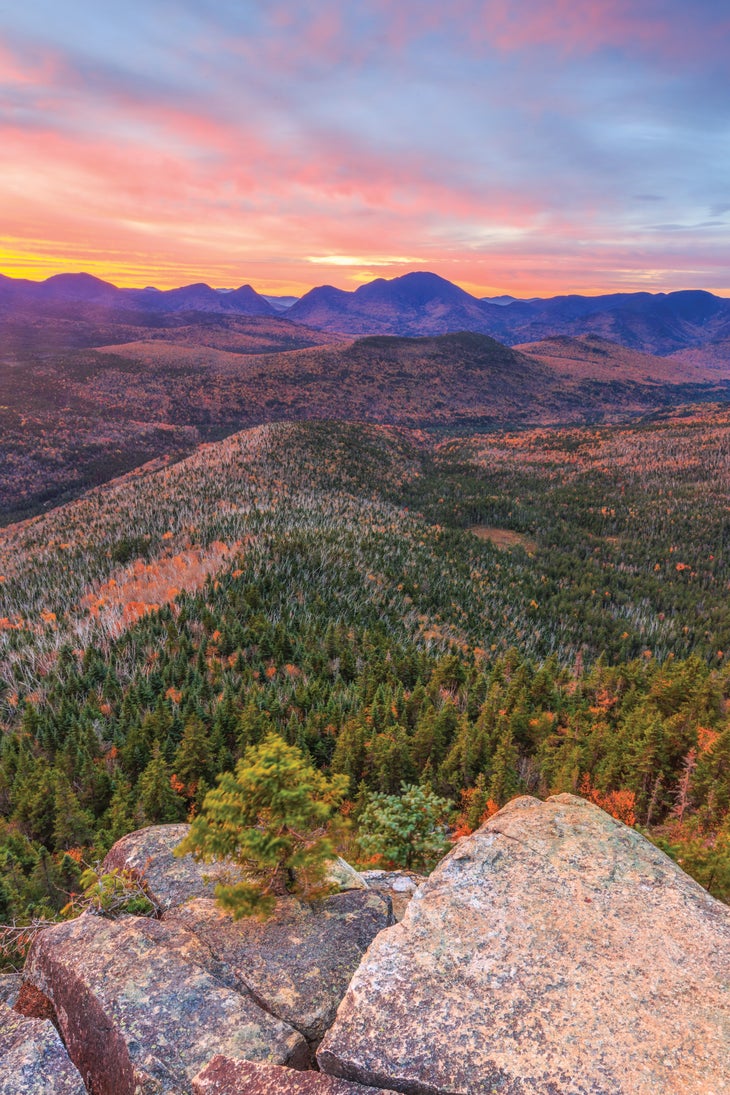 Appalachian Trail: Zeacliff, New Hampshire
A tip for hiking in the White Mountains: When you see "cliff" appended to a name, go there. The views are better, the crowds thinner, and in cases like Zeacliff, the fall-away scene of trees, rocks, and sky—but no roads—lets you forget you're in the busiest hiking corridor in the Northeast.
From the Zealand trailhead, connect with the Appalachian Trail at 25-foot Zealand Falls (mile 2.5). Another mile along the ridge toward 4,260-foot Zealand Mountain delivers you to the stony lip of Zeacliff. Stop, savor, and continue. Pass Zeacliff Pond's stream-fed waters on your way to the summit, socked in by spruce and birch, then return for an 11.2-mile out-and-back.
Trailhead Zealand (44.2249, -71.4786) Total distance 11.2 miles (out and back) Permit None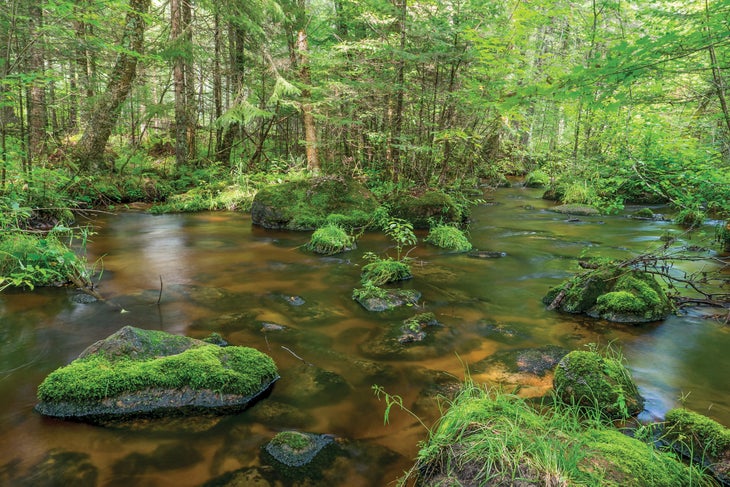 Ice Age Trail: Plover River, Wisconsin
Imagine this: boulders wallpapered with moss, morning mist floating over a silent creek, the rhythmic calls of wood frogs, wind fluttering through tendrils of primordial ferns. Though it's true most of the National Scenic Trails evoke big, soaring vistas, a visit to the Ice Age Trail turns your appreciation to the small things—and the ancient things. The result of massive, long-gone rivers of ice, Wisconsin's rippling maze of terminal moraines, giant eskers, kettle lakes, drumlin hills, and erratics is on display along the IAT. Travel 2.6 million years back in time to see its best on the 5.7-mile Plover River section.
Do it southbound, ducking beneath mixed balsam fir woods and hiking past patches of white trillium (blooming in spring) to the best bit. Near mile 1.5, the forest seems to close in around you with a sort of history-heavy silence and then the natural jungle gym begins: Pick a path of least resistance across a boulder train, where an ancient glacier spit microwave-size rocks across the earth, before following a fern-edged path to the Plover River. After, the canopy opens to reveal a wide vista of the glacial plain.
Trailhead CTH-HH (45.0509, -89.2242) Shuttle car Sportsman Drive (45.0010, -89.2636) Total distance 5.7 miles (point to point) Permit None
Pacific Northwest Trail: Parker Ridge, Idaho
Hikers don't tire of mountain views, and for that we should be thankful for this piece of the Pacific Northwest Trail. For 5 miles, the route follows a ridge in the Selkirks that's been scalped clean by ancient glaciers and recent wildfires. It's a common formula on the deceivingly low-elevation Pacific Northwest Trail: Though it hovers around 7,000 feet, Parker Ridge feels twice as high with its view into the glacier-carved Kootenai Valley and the Canadian Rockies.
To get there, climb 1.5 miles to 6,700-foot Pyramid Pass on the PNT, then ramble 5 miles north on the granite runway. Keep your eyes on the horizon to spy the squared top of 7,653-foot Smith Peak to the west and the teeth of the Bugaboos to the north. At the end of the ridge, dip down to the teardrop of Parker Lake to camp before looping 20 miles back along the Parker Creek Trail, Fisher Peak Trail, and Trout Creek Road to your car.
Trailhead Trout Creek (48.8054, -116.5996) Total distance 27 miles (loop) Permit None