43 Ways to Have Your Best Summer Ever This Year
From swimming holes to wild berries, it's prime time for hikers. Tick off these 43 trips and experiences to make the most of the season.
Heading out the door? Read this article on the new Outside+ app available now on iOS devices for members! Download the app.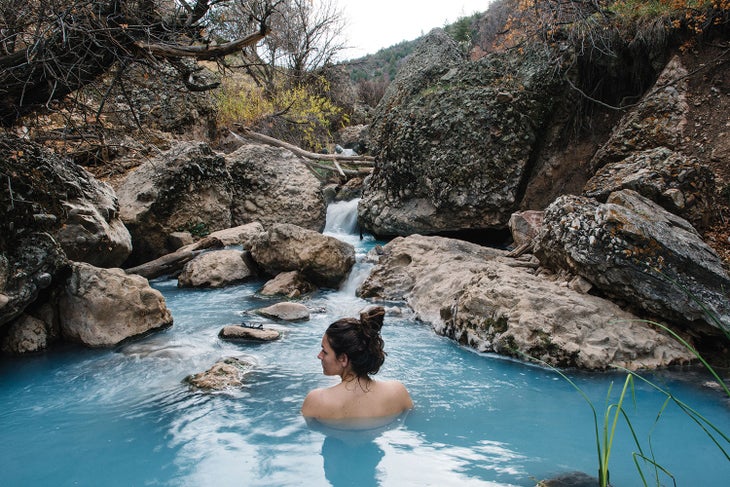 Soak in Fifth Water Hot Springs.
Uinta-Wasatch-Cache National Forest, UT
These steamy tubs stacked under a trio of waterfalls don't just feel heavenly: Minerals burbling up from the deep turn the pools bright shades of cobalt, periwinkle, and olive green, making them look pretty darn heavenly, too.
Your au naturel spa day is an easy, 2.3-mile (one-way) hike away. Start along Sixth Water Creek; at mile 1.1, cross the bridge to trace Fifth Water Creek into Diamond Fork Canyon. Follow the smell of sulphur to the soaking pools, which begin 1.3 miles past the bridge. The underground hot springs mix with the chilly cascades to fill a terraced series of about a dozen pools, each augmented by rock walls built by previous bathers. They get hotter the farther upstream you go, so choose accordingly.
Soak season Year-round Trailhead Three Forks (40.0845, -111.3551) Regs None 
Forage the sweetest fruit.
Mid- to late summer means berries (all kinds) across the Lower 48. Snack straight from the bush (after checking local regulations) or gather enough for a backcountry pie:
Pack for a pie. Bring: two 10-inch flour tortillas, two spoonfuls of jam (any flavor), and oil. Extra credit: Pack a baggie with a small handful of powdered sugar and pinches of nutmeg and ground cardamom.
Pick for a pie. Pluck 1 or 2 cups' worth of berries.
Make a pie. Heat oil in a frying pan over medium heat. While it's heating, spoon half of the jam into each tortilla. Add half the berries to each and roll into burritos. When the oil is sizzling, put the hand pies in the pan, fold facing down. Flip once so both sides are golden. Remove, coat with sugar mixture (if you went for it), indulge. –Zoe Gates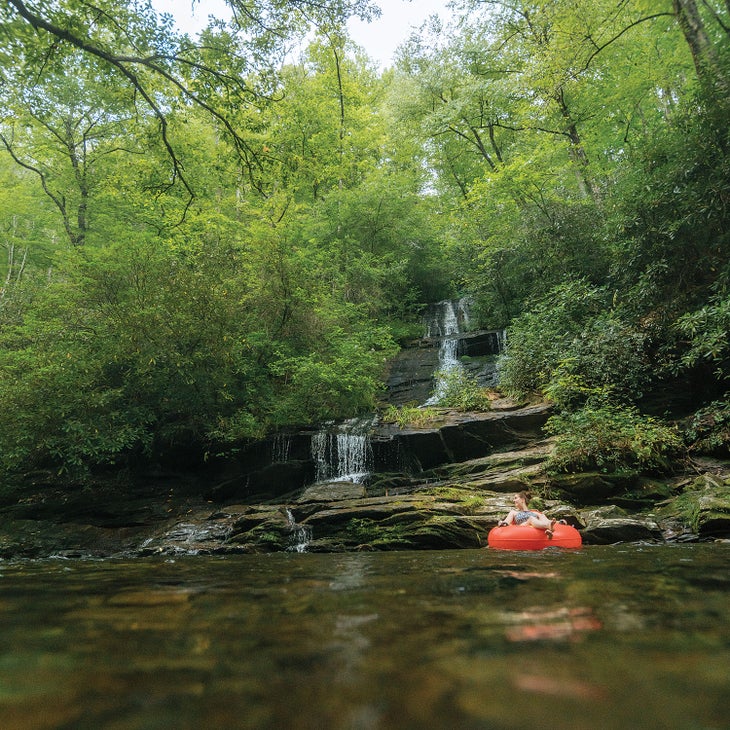 Tube Deep Creek.
Great Smoky Mountains National Park, NC/TN
Let's get this out of the way: Yes, tubing Deep Creek is totally something the Dollywood crowd would do. Just this once, join them. Cruising down the rhododendron-fringed stream punctuated with weepy waterfalls is that much fun. Shoulder a tube and trace the water a mile to the farthest put-in, where Indian and Deep Creeks meet. The rapids on the shorter upper section get rowdy in high water, but then the creek chills out into a lazy river-style float. Ready to ditch the crowds? Hike 2.5 miles upstream to backcountry site 60 for a lonely night under the trees.
Swim season June to September Trailhead Deep Creek (35.4647, -83.4337) Regs Permit required for backpacking ($4/person per night; reservation required)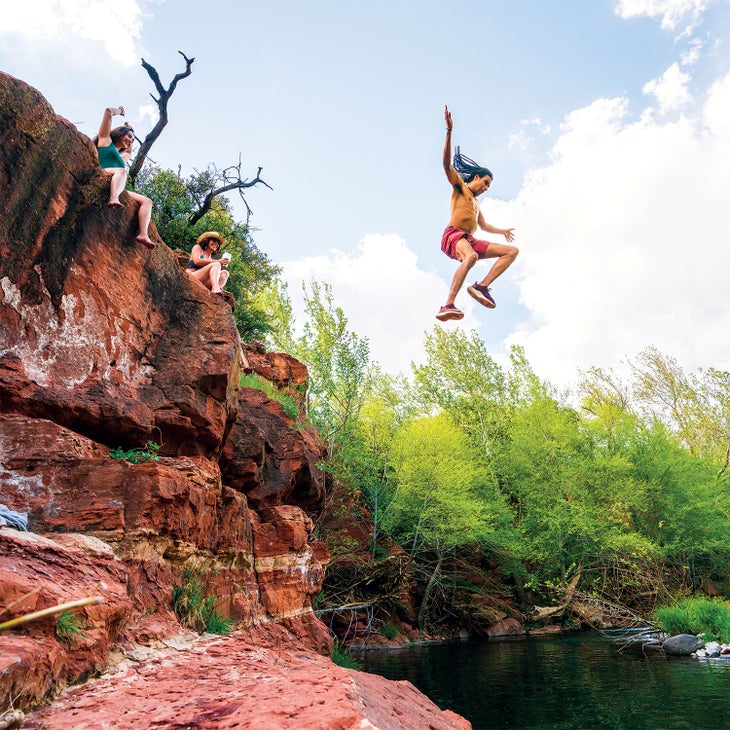 Launch into Oak Creek Canyon.
Coconino National Forest, AZ
Maybe it's a quirk of geology, or maybe it's Sedona's famed spiritual vortexes—but whatever the reason, this slice of slickrock country boasts some of the desert's best backcountry swimming. The water features here can draw a crowd, so target midweek to visit the mini-waterfalls, sandy beaches, and boulder-lined pools in Oak Creek Canyon. An easy-access road parallels the creek, but the best way into the chasm is the scenic approach on the Huckaby Trail, which delivers views of iconic Sedona sights like Steamboat Rock before reaching the stream at mile 1.5. A mile's worth of swimmable pockets line the waterway from here, so get sampling. Adrenaline add-on: Hike another .5 mile on the adjoining Allen's Bend Trail to Grasshopper Point, where a popular azure swimming hole sits below sandstone ledges that double as diving boards.
Swim season May to September Trailhead Schnebly Hill (34.8667, -111.7487) Regs $5 parking fee or Red Rock Pass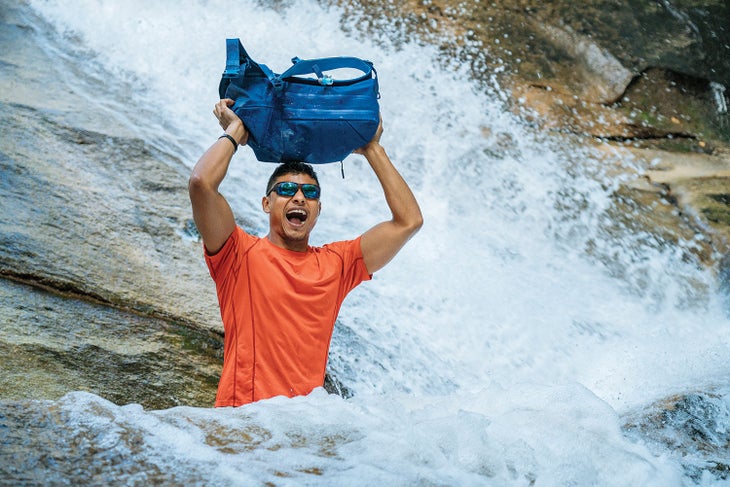 Hike to Ely Creek Falls.
Dinosaur National Monument, CO/UT
Bigger isn't necessarily better when it comes to waterfalls, which this 15-footer tucked into a remote corner of Dinosaur National Monument proves. Standing under the cascade in summer feels more like a back massage than a knockdown pummeling, and the ankle-high pool at the base is safe enough for little ones to join the fun. Better yet? Because there are only two backcountry sites at the mouth of Ely Creek, it'll feel like your own private water park.
Hit the cascade at the midpoint of the easy, 4.3-mile Jones Hole Trail, which follows Jones Hole Creek through a gaping, orange canyon to the Green River. Scan for Fremont pictographs and petroglyphs on the walls near mile 1.5, then hike another half-mile to the campsites at the junction with the Island Park Trail. From there, it's a .3-mile walk west to the falls and 1.3 miles south to the beaches on the mighty Green, where bighorn sheep often gather.
Swim season May to September Trailhead Jones Hole Fish Hatchery (40.5886, -109.0586) Regs Permit required for backpacking (free; obtain at either visitor center). 
Jump into Three Pools.
Willamette National Forest, OR
Yeah, You can reach this trio of pools on the North Fork of the Santiam River from a parking lot. But splashing into their Caribbean-blue waters from the surrounding basalt walls feels all the more refreshing after you earn it. Forgo the overcrowded parking lot and get there on a 2-mile out-and-back from the Little North Santiam Trail that traces the opposite banks. At the pools, take the plunge from clifftops that range from mellow to foolhardy.
Swim season June to September Trailhead Santiam River East
(44.8458, -122.2981) Regs $5 parking fee or Northwest Forest Pass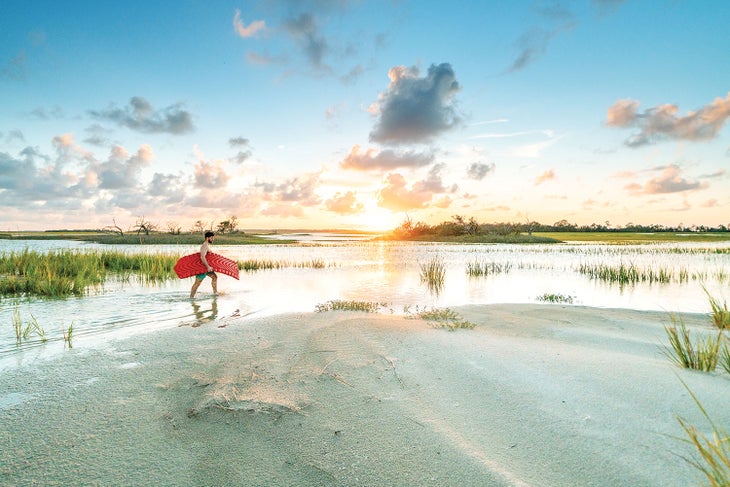 Paddle to Little Tybee Island.
Little Tybee Island State Heritage Preserve, GA
On this untouched lowcountry refuge, a smattering of sandy hardwood hammocks (slightly raised areas) and patches of salt marsh come together to form a primitive barrier island. And the whole 6,780-acre preserve's shoreline is open to camping—that's a lot of real estate for scouting a personal beach.
Launch a kayak from Tybee Island at low tide (grab a tide table and know how to read it; tidal changes here are extreme, ranging from 7 to 9 feet). Paddle about a mile across Tybee Creek for the quickest access to Little Tybee, scanning for ibises, herons, and ospreys above and dolphins below. When choosing a campsite, stick to the beach and steer clear of the sensitive dune habitats (BYO water).
Swim season April to October (but beware midsummer bugs). Put-in Alley 3 Boat Launch (31.9933, -80.8538) Regs None 
Keep the bugs away.
Don't let 'skeeters ruin a summer evening in camp.
Pre-treat your gear. Spray a layer of permethrin on your tent, rainfly, and clothing before heading out. Most treatments last long enough to repel mosquitoes and other pests all summer.
Get high and dry. That lakeside campsite might seem appealing, but higher elevations (away from water) have fewer bugs. Ridelines with a nice breeze offer extra protection.
Gear up. Dress in light-colored, loose-fitting clothing. When all else fails, raingear is your best armor.
Embrace your last resort. DEET and citronella are your tickets to bug-free camping. –Z.G.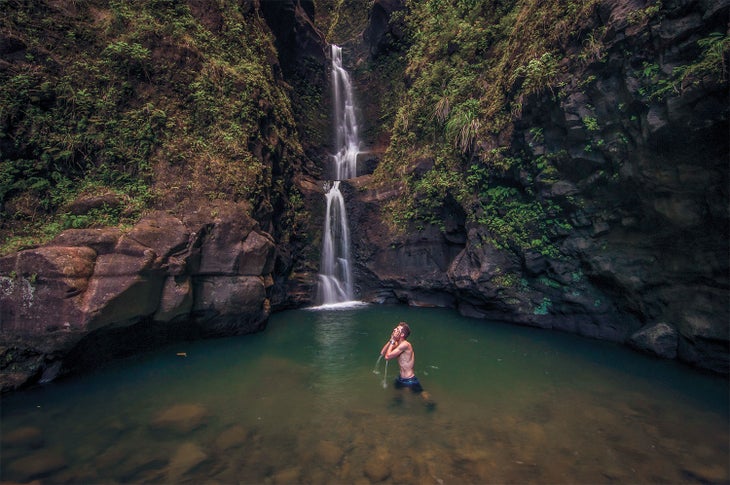 Cool off in Makaleha Falls.
Kealia Forest Reserve, HI
Like your swimming holes with a tropical flavor? Hidden in the lush folds of northeast Kauai, the double-decker Makaleha cascade tumbles through a blocky stone channel decked with electric-green ferns. Better yet is the perfectly invigorating pool (waist-deep to well overhead, depending on recent rains). Paradise, found.
It's no cakewalk to get there: Squeeze 2.6 miles through a dense, tough-to-navigate bamboo forest on an easy-to-lose trail, splash across Makaleha Stream a handful of times, and deal with epic mud along the way. The jungle opens up at the confluence of two creeks, revealing views of several cascades pouring off an emerald cliff face. Follow the northern drainage to reach the falls. High water makes the route hazardous, so avoid this one during and after heavy rains.
Swim season Year-round Trailhead Makaleha Falls (22.1023, -159.3854) Regs None 
Claim Bear Creek Hot Springs.
Caribou-Targhee National Forest, ID
At many hot springs in the Rockies, chances are good you'll be sharing your soak with a neighbor or three. Not so at this quiet pool deep in the Caribou Range, where the long hike in, numerous stream crossings, and a brutal final climb keep the masses away. That leaves this bus-size hot springs to those made of sterner stuff.
To get there, follow Bear Creek 6.5 miles into the woods, crossing the stream at least a dozen times along the way (the water drops to about knee height in midsummer) and watching for moose and elk. The last mile climbs about 700 feet up along Warm Springs Creek into a grassy clearing in the Douglas fir forest where your tub awaits. Claim a nearby established campsite and soak the evening away.
Soak season Mid-July to September Trailhead Bear Creek (43.2761, -111.2324) Regs None 
Kayak to Blake Islands.
Umbagog Lake State Park, NH
If being king or queen of your own Northwoods island for a night sounds good, point your boat toward these conifer-covered twins near the southeastern shore of Umbagog Lake, a 10-mile-long tarn busy with bald eagles, loons, and moose. There, at site 32, you'll have sole claim to the Blakes' small, sandy shoreline. Come nightfall, retreat to a tent site under a canopy of pine, spruce, and tamarack within view of the water.
The paddle to the Blakes is half the fun: You can beeline it along the lake's eastern shore for a 2-mile trip, but the better route loops clockwise around Big Island for a 4.5-miler (one-way). En route, explore Big's rocky pockets, ledges, and scattered shoreline stone features, dipping in and out of Thurston Cove before heading east to the Blakes. (If site 32 is claimed, try for 34, on an unnamed island just east—it's equally private.)
Swim season July to September Put-in Park headquarters (44.7023, -71.0552) Regs Permit required for boatpacking ($30/night; reserve a site or try for a walk-in). Gear rental Canoes and kayaks are $40/day on-site. 
Play campsite bocce.
There's nothing lighter than a game you don't have to carry.
Find level ground, and mark off a 30-by-10-yard-or-so rectangle with rocks or sticks. (Dismantle after.)
Take turns tossing baseball-size rocks toward the pallino (golf ball-size rock) to see who can get closest. Feeling competitive? Find a full list of rules at backpacker.com/bocce. –Z.G.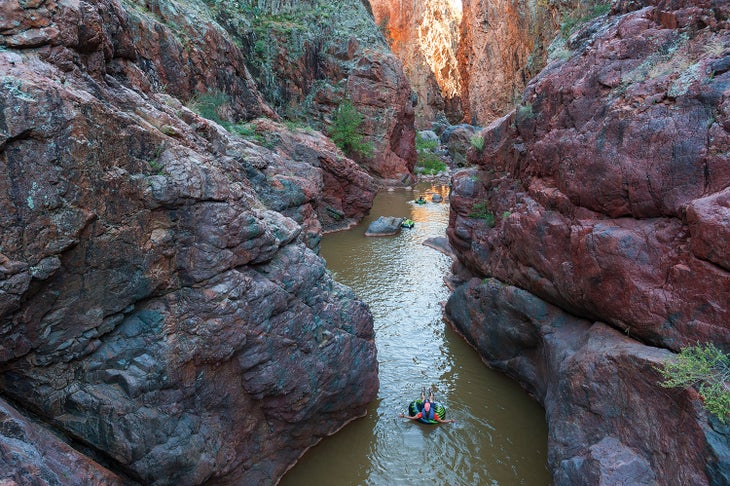 Float Tonto Creek.
Hellsgate Wilderness, AZ
Club Med has nothing on the R&R waiting at the bottom of this trail. From your sycamore-shaded campsite at the confluence of Tonto and Haigler Creeks, you're a quick jaunt from where rosy-hued granite walls pinch the Tonto into a nearly impassable narrows—except to you, prone, on your inflatable sleeping pad, of course.
The float may be easy, but getting there takes some doing: The 8-mile hike on Hell's Gate Trail through manzanita- and juniper-filled slopes loses almost 2,000 feet in the final couple of miles to the creek, and the wilderness hosts rattlesnakes, black bears, and giant centipedes. Rewards are commensurate, though: Besides the tubing, you'll get a community pool-size swimming hole, a 7-foot waterfall, views of the Mazatzal Mountains, and sweet solitude.
Swim season April to October (but beware midsummer's sometimes-scorching temps and high flash-flood risk in rainy weather) Trailhead Hellsgate (34.2798, -111.1367) Regs None
Run a 10-mile trail
Follow animal prints.
Find rock art
Get off the beaten path. Some well-known panels of rock art are named and easy to find. But the best are the ones you discover by exploring the nooks and crannies of the desert Southwest. Wilderness areas in southern Utah and northern Arizona are the hot spots.
Know your art. Petroglyphs are made by chipping or carving away the patina, or desert varnish, on a rock's surface. Pictographs, which are painted on the rock using natural pigments, are less durable so usually found in areas that are protected from the elements.
Leave no trace. Never touch rock art or do anything that could damage it.
Keep it secret. Found an unmapped, unGoogleable site? Congrats! Keep it to yourself so someone else can find it the same way you did.
Hike for 24 hours.
Camp in a wilderness where you don't need reservations.
See the sunrise from a summit.
Glissade on a summer snowfield. 
Check conditions. You want a moderate angle and settled, soft snow, nothing hard or icy.
Confirm a safe runout. If you can't see the bottom of the slope, don't slide. Rocks, a crevasse, or a drop-off could be hidden from view.
Remove excess gear. Take crampons off and stow them—they can catch and injure you.
Get in position. Sit upright, knees bent.
Use your ice axe. It works like a rudder to steer and brake. The pick should face away from your body. Drag the spike to slow down and turn.
Stop. Dig your heels in to stop. Going to fast? Roll over on your stomach and use your axe to self-arrest (don't attempt to glissade until you can do this). Know your personal speed limit.
Throw a backcountry party.
Make margaritas with summer snow.
Do trail work.
Climb a tree.
Hike to an unnamed lake.
Pack swimming goggles.
Sleep under the stars.
Set up your tent. Just in case.
Stay comfortable. Clear rocks, sticks, and thorns to protect your sleeping pad. Pack a groundcloth.
Stay dry. Avoid valley bottoms and other low-lying spots where moisture collects.
Stay sane. If bugs are buzzing, retreat to your tent. (You did set it up, right?)
Skinny dip.
Spend a day in one place.
Cook dinner over a fire.
Bring a newbie on the trail. (And show us on social with #takearookiehiking.)
This is not your hike. Adjust goals for your pal—this is not the day to target a huge peak.
Start easy. Pick a moderate route (5 or so miles and less than 2,000 feet of elevation gain for a dayhike).
Make sure there's a payoff. Views, wildflowers, lakes, swimming holes, and waterfalls suffice.
Pack good food. Some people think hiking is about deprivation. Prove them wrong.
Do a gear check. Don't let a newbie over- or underpack.
Check the forecast. Reschedule in case of rain or extreme temps.
Go for a post-hike toast. You both deserve it.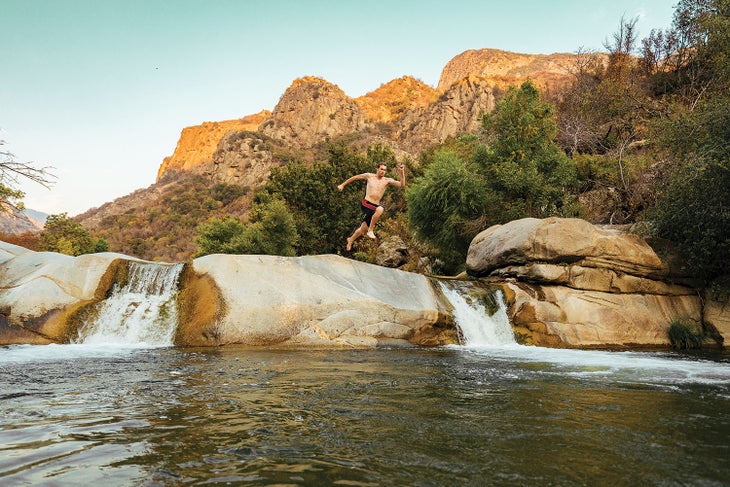 Slide into Tule River.
Giant Sequoia National Monument, CA
Choose your own adventure on the Tule, as every bend of the river hides a new waterslide, wading pool, or boulder-jumping spot sculpted from smooth Sierra granite. From the Stairs river access point, scramble up- and downstream the South Fork Middle Fork of the Tule to explore a series of mini-waterfalls and chest-deep rock tubs. Just west, near Lower Coffee Camp, the waterslides get steeper and splashier. And a few miles north, along the North Fork Middle Fork, you'll find both tranquil pools and a few natural chutes, including the frothy, 30-foot-long Wishon Slide.
Swim season June to September Trailhead Unmarked trail about .5 mile up the Wishon Drive junction with CA 190 (36.1676, -118.7049) Regs None
Keep your beer cold.
Find a mountain stream and you don't need a cooler that costs a paycheck. Here's how:
Empty a stuffsack and put your cans inside (never pack glass).
Submerge the goods in a river or stream. (Weigh down with rocks or tie off.)
Wait an hour—if you can. –Z.G.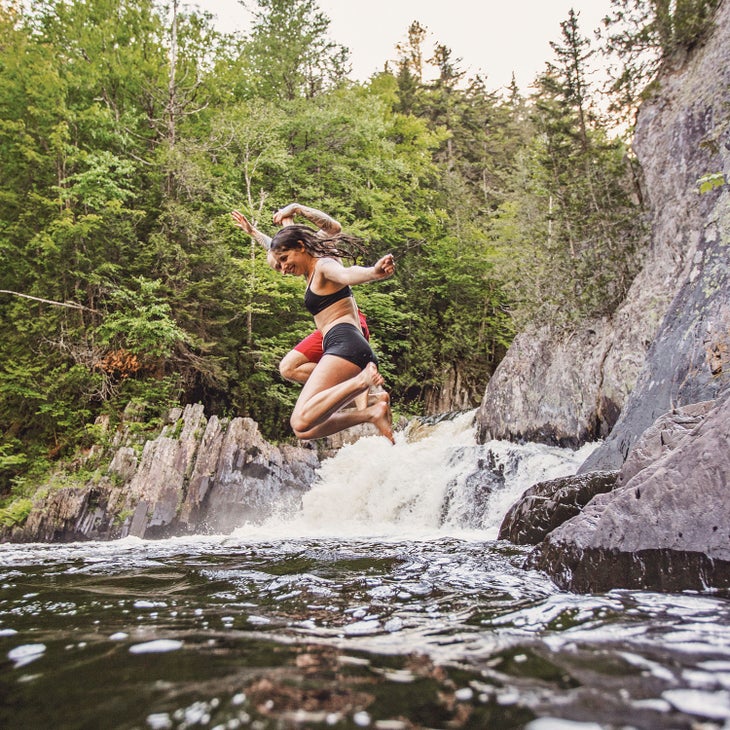 Splash in Gulf Hagas Brook.
Hundred Mile Wilderness/Appalachian Trail Corridor, ME
Choosing the best swimming hole in a gorge full of 'em is no easy task. Just off the AT in central Maine's moose-filled forests, the West Branch of the Pleasant River careens through a slate canyon, forming a chain of water features over about 3 miles. First up: Screw Auger Falls, a 26-footer on Gulf Hagas Brook that spills into a secluded pool (look for the mini waterslide just downstream). Next: Buttermilk Falls, a lacy pourover feeding a hardwood-framed pond. Then: Stairs Falls and Head of the Gulf—and the list of coves, bowls, and toe-dipping spots really does go on.
Decide for yourself on an 8-mile, lollipop-loop dayhike tracing the river. From the gorge's eastern trailhead, hike past 150-year-old white pines en route to the AT. Connect to the Rim Trail and start your research at Screw Auger Falls at mile 2.8. Pass the others as you loop back to the start via Pleasant River Tote Trail.
Swim season June to August Trailhead Hay Brook/Gulf
Hagas (45.4777, -69.2850) Regs $10/person entry
Explore the Winding Stairs
Ouachita National Forest, AR
Deep in the furrowed topography of the Ouachita, the Wild & Scenic Little Missouri River kinks back on itself a few times to form Winding Stairs, a mile-long segment where clear, waist-deep water pools under hulking outcroppings. The best swimming is where Ravens Branch and Viles Branch Creeks pour into the river. Make it a 20-mile out-and-back on the Little Missouri Trail, paralleling the water under oak, elm, and old-growth pine. Camp at an established site in Winding Stairs.
Swim season June to September Trailhead Little Missouri Falls (34.4227, -93.9196) Regs None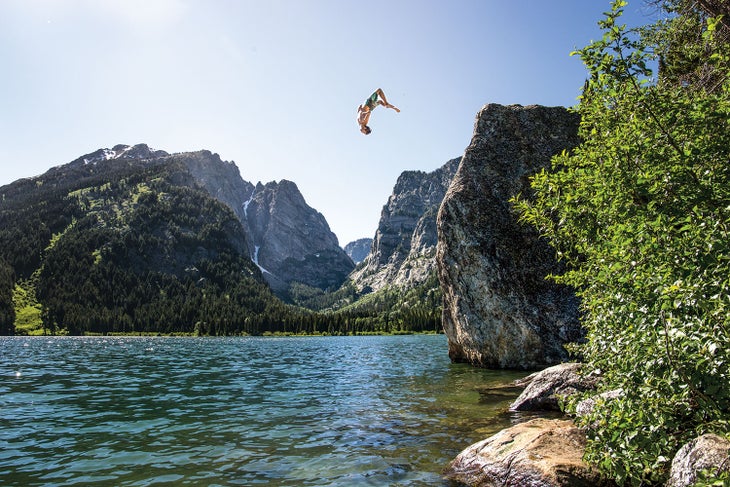 Go big in Phelps Lake. 
Grand Teton National Park, WY
There are other places where you can launch yourself from on high into the water, but we challenge you to find one with a better backdrop than The Jumping Rock on Phelps Lake. Stand on the edge of the sheer-sided boulder that rests on the northeastern shore and you'll take in the yawning mouth of Death Canyon just across the water, framed by 10,552-foot Albright Peak and 11,241-foot Prospector's Mountain. Then jump 25 feet into the glacially fed lake, and for a moment, your mind will go blissfully blank.
You can reach The Jumping Rock on a 4.6-mile round-trip dayhike from the Laurance S. Rockefeller Preserve, but why just look at the magnificence of Death Canyon when you're right on its doorstep? Better idea: Hike 4 miles up into the chasm to sleep among the expansive Teton vistas and kaleidoscopic wildflowers of the upper canyon, then take the plunge into Phelps Lake on the way back.
Swim season July to September Trailhead Death Canyon (43.6558, -110.7811) Regs $35 entry fee; permit required for backpacking ($35 walk-in, $45 advance reservations)
Score Lake Michigan's best campsite.
Newport State Park, WI
The Door Peninsula juts out into Lake Michigan like Wisconsin's extended pinkie finger, and Newport State Park clings to its eastern knuckle. Campsite 16 sits on the park's sandy northern beach, leaving nothing between you and the Michigan border but miles of lapping waves. Better yet? The submerged shoals here keep the water shallow (only knee-deep well into the lake) and relatively warm. Claim your beachfront property with a 3-mile hike on the Europe Bay Trail.
Swim season July to September Trailhead Parking Lot 3/Europe Bay (45.2380, -86.9878) Regs Permit required for backpacking ($20/night; reservations required)
Slide down Tate Creek.
Wild Rogue Wilderness, OR
Waterpark designers wish their twisty plastic chutes packed the splashy fun Mother Nature pulled off with this 15-foot wilderness waterslide. Deep in the lush canyons surrounding Oregon's Rogue River, Tate Creek pours off a moss-slicked rock slab into a fairy-tale grotto. Scramble up the cliff face, let 'er rip, and plunge into the pearly-blue pool at the base. Repeat.
Tate Creek Slide is the cherry on top of a classic overnight hike in the Wild Rogue Wilderness. Start in the large meadow at the Big Bend trailhead, then trace the Rogue 9 miles upriver through oak savannas and Douglas fir forest (watch for poison oak). Grab one of the sandy, beachfront campsites at the mouth of Tate Creek (some have pit toilets), then scramble .3 mile upstream to the waterslide.
Swim season May to September Trailhead Big Bend (42.6390, -124.0555) Regs None
Tell a good ghost story.
Spin an unforgettable yarn to keep long summer nights alive.
Wait for full dark and the last cracking embers.
Make yourself the main character, and be reluctant to share.
Let the forest do the spooking. Wind creaking in the trees? Perfect. Did a twig just snap over there? What was that?!
End at the part where the axe murderer gets away and is still on the loose—last seen at the trailhead 4 miles away. –Z.G.
Go under at Devil's Bathtub.
Jefferson National Forest, VA
Good: Soaking your feet in a goosebumpy-cold mountain stream on a sticky Southern day. Better: Achieving full immersion at The Swimming Hole, an 8-foot-deep pond. Best: Making it a twofer with another dip in the Devil's Bathtub, a waterfall-fed swimming hole nestled in phyllo dough-like stone just west of The Swimming Hole. A few minutes in either one is all it takes to go comfortably numb.
Work up a proper sweat en route on the Devil's Fork Trail, a jade tunnel of a hike that burrows through a dense, hemlock-
rhododendron holler. Rock-hop across the Devil's Fork stream at least a dozen times before reaching The Swimming Hole at mile 1.7 and Devil's Bathtub at mile 1.8. Make a night of it: Continue along the Devil's Fork loop (6.9 miles total), a route linking Corder and Finney Hollows, and scout a campsite near the junction with Straight Fork Ridge Trail.
Swim season May to October Trailhead Devil's Fork (36.8188, -82.6284) Regs None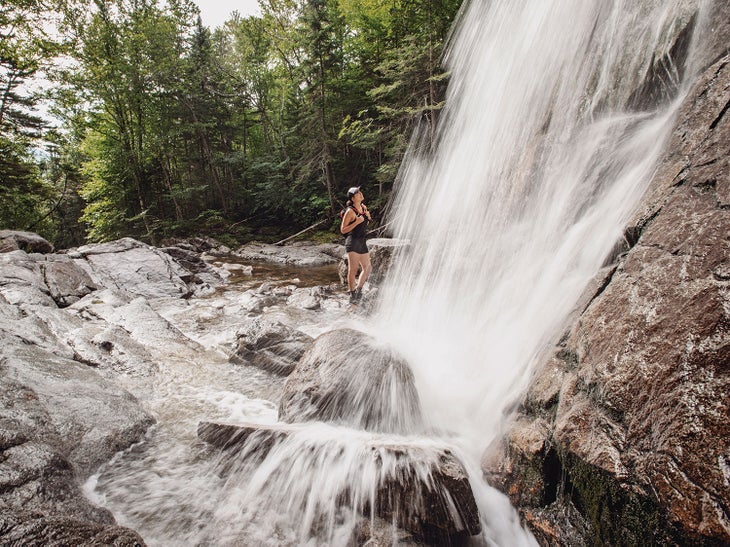 Find Thirteen Falls.
Pemigewasset Wilderness, NH
This deep-woods sanctuary along Franconia Brook technically holds five swimmable waterfalls, not 13—but the chain of burbling drops, plus a 15-foot horsetail, won't leave you wanting. Link the Lincoln Woods and Franconia Brook Trails for an easygoing, 16-mile out-and-back, camping at the Appalachian Mountain Club's 13 Falls Tentsite, a short stroll from the riverbanks and stone soaking pools.
Swim season June to September Trailhead Lincoln Woods (44.0639, -71.5879) Regs $10/person per night caretaker's fee for camping (first-come, first-serve sites)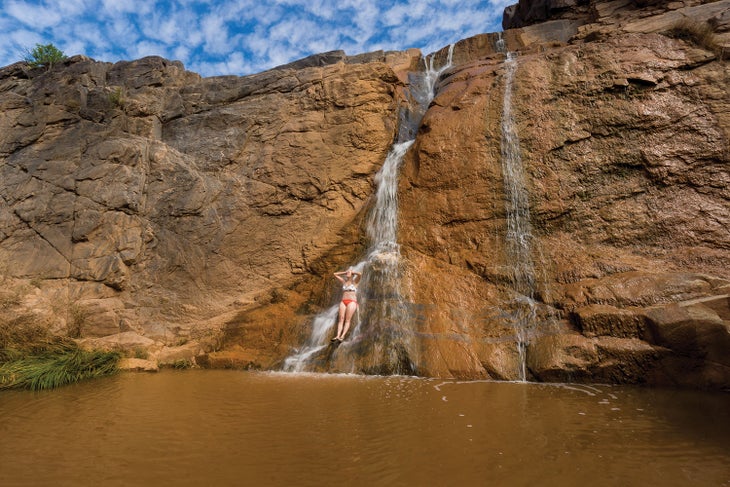 Visit an oasis in the desert. 
Dominguez Canyon Wilderness, CO
As it turns out, you needn't leave Colorado to find a desert wilderness chock-full of redrock cliffs, cacti, bighorn sheep, and petroglyphs. But the splashing pool at the base of the canyon's 30-foot waterfall (unofficially called Dominguez Falls or The Waterfall) still comes as the best kind of surprise. To reach the lacy plume, follow the Gunnison River to the mouth of Big Dominguez Canyon, passing a set of shallow wading pools with their own waterfall just beyond the old dam at mile 1.5. At the Y-junction, head west, continuing deeper into Big Dominguez to find the cascade around mile 3. Make it an overnight by hiking another 2 miles along the creek (the lower canyon is closed to camping).
Swim season August and September Trailhead Bridgeport (38.8494, -108.3705) Regs None
Dive into Sooke Potholes.
Sooke Potholes Provincial Park, BC
Thank the last ice age for this idyllic 2-mile stretch along British Columbia's Sooke River. Passing glaciers chiseled a series of vertical escarpments along the waterway and deposited erratic boulders, which the river used like a mortar and pestle to carve out deep underwater pockets. The result: a chain of pools perfect for clifftop jumps, plus plenty of low-key splashing spots, gushing waterfalls, and sunbaked mid-river lounging rocks.
Get the most out of your dip by making it the topper of the 9-mile (round-trip) overnight to Shields Lake in nearby Sooke Mountain Provincial Park. Track through a coastal rainforest thick with moss and ferns and home to black bears, wolves, and elk on the Harrison Trail. Camp on the lake's east side, once you cross the border from Sea to Sea Regional Park.
Swim season June to September Trailhead Sooke Potholes Provincial Park (48.4401, -123.7170) Regs None