The 12 Best Huts in America
Leave the tent at home: At these 12 perfect backcountry huts, you'll find an entirely new way to experience the trail
Heading out the door? Read this article on the new Outside+ app available now on iOS devices for members! Download the app.
Note: The pandemic has changed a lot of things about travel, and booking huts is one of them. Double-check with huts for current rules and regulations before you commit; for example, some huts now require groups to book the entire building rather than reserving it bunk-by-bunk.
Stargaze Yurt, Idaho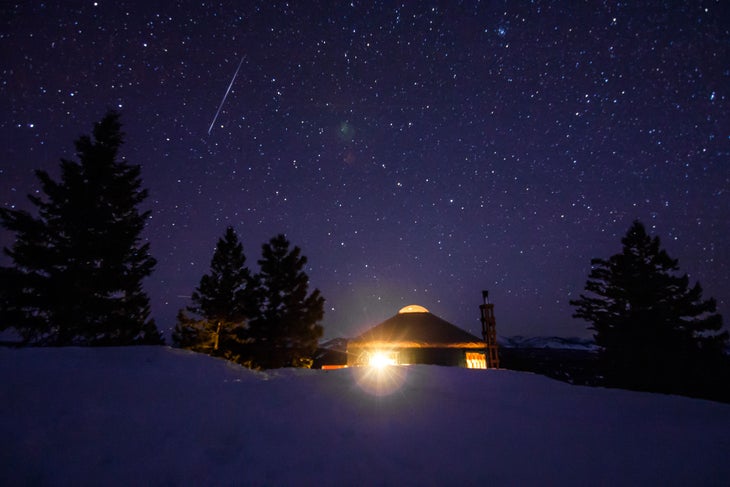 Poke your head out the front door of this hut for a view of the Payette River Valley set in front of the Sawtooths—or do as its name implies and wait for evening to spot constellations. To up the ante, head .3 mile west to Stargaze Point, situated another hundred feet above the yurt, where the view goes all the way around.
To get to the small shelter (sleeps six), follow the Stargaze Trail roughly 1.2 miles from the Beaver Creek Summit Park N' Ski on ID 21. Scan for a yellow blaze and then head the final .2 mile through the pines to the yurt. Inside, find a wood-burning stove, a gas stove, and solar-powered LED lights. Since Stargaze Hut's large deck faces east, plan an early wake-up for the sunrise over the 10,000-foot Sawtooths. After, explore the area's 50-mile trail system; head down to West Fork Beaver Creek for an easy day trip to summer wildflowers. In winter, the avy-savvy can carve tracks into the north-facing slopes off 6,682-foot Stargaze Point.
Trailhead Beaver Creek Summit Park N' Ski Season Year-round (snowshoe or ski in winter) Red tape The yurt is closed for repairs until the first snow of 2017; check availability with Idaho Parks & Rec. Amenities Bunks with mattresses; futons; wood-burning stove; two-burner stove (BYO propane); cookware Reservation Starting at $55/person; reserve online Contact
Mint Hut, Alaska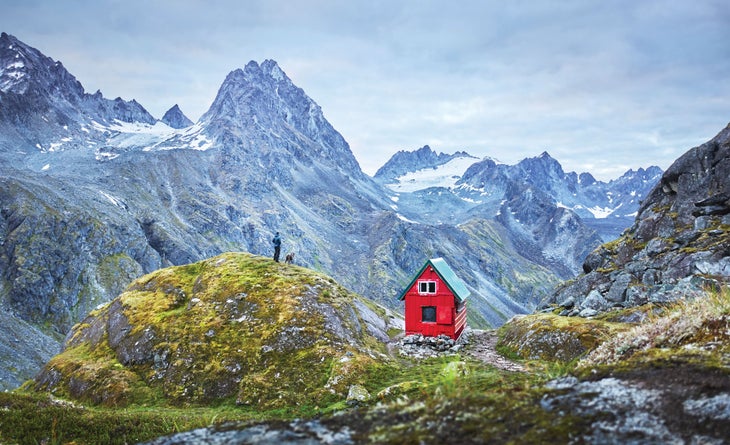 Basecamp the right way: at this 1971 cabin on the edge of a bowl overlooking Alaska's Talkeetnas. After an 8-mile approach over moss-carpeted meadows, past silver ribbons of snowmelt, and under the cabin's namesake Mint Spires, you're in position for any number of adventures. Link up with the Bomber Hut for a 16-miler or explore the Mint Glacier, just .5 mile from your doorstep. Or, you know, just hang at Mint; there's a two-burner stove (BYO white gas), a composting toilet (named "Darth Vader"), and room for eight.
Trailhead Gold Mint Season Year-round (ski in winter and spring) Amenities Sleeping pads; two-burner stove; cookware Reservation First-come, first-serve; you must be a member of the Mountaineering Club of Alaska ($20/person annually) Contact
Beaver Island Shelter, Michigan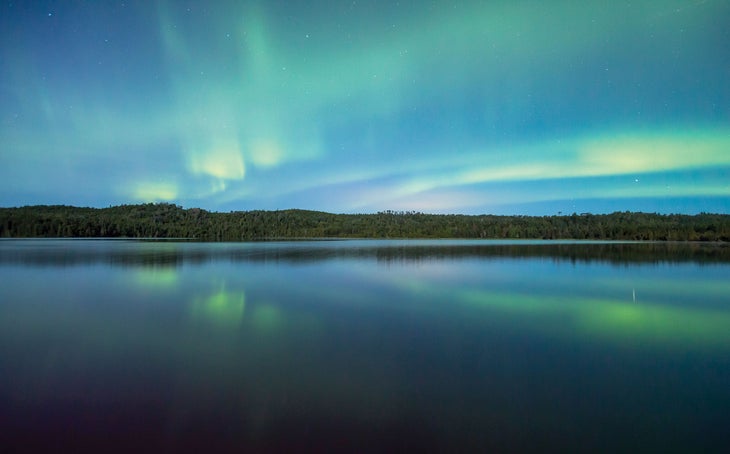 The evergreen-framed vantage over Lake Superior's steely bay from this small shelter would put most any tentdoor view to shame. The first-come, first-serve hut (sleeps six) is situated on small Beaver Island in Washington Harbor, Isle Royale National Park—meaning you need to kayak roughly .5 mile from the Windigo Ranger Station to get there. Rent a canoe from the Windigo Store (starting at $23) to secure paradise.
Trailhead Windigo Season June through September Amenities Wooden platform (bring a pad) Reservation Free; first-come, first-serve Contact 
Camp Peggy O'Brien, New York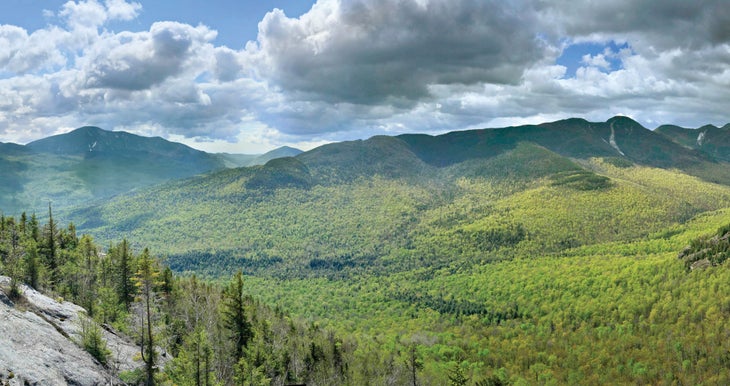 It's not cheating; it's strategy. Instead of tackling the 25-mile Great Range Trail in its entirety (roughly 10,000 feet of gain), cherry-pick the best parts of the famous traverse from Camp Peggy O'Brien. Your knees will appreciate the change of pace, and we bet you'll eat a lot better, too.
Situated inside the "V" of the Great Range Trail, Camp Peggy O'Brien is best accessed on a 3.5-mile trip along the Johns Brook Trail. At the 12-person shelter, peakbagging is the name of the game. Head south from the hut to tackle the Gothics, where 3.8 miles of relatively easy climbing land you atop the 4,734-foot summit for spin-around vistas. Or, nab the state's high point by continuing southwest on the Johns Brook Trail to 5,344-foot Mt. Marcy, roughly 4.7 miles away. You can also link both peaks together into a 13.3-mile loop door-to-door. Back at Camp Peggy O'Brien, survey your handiwork from—fittingly—Adirondack chairs on the front porch.
Trailhead The Garden Season Year-round Amenities Bunks with mattresses; two-burner stove (propane provided); cookware Reservation Starting at $60/night; reserve online Contact
Uncle Bud's Hut, Colorado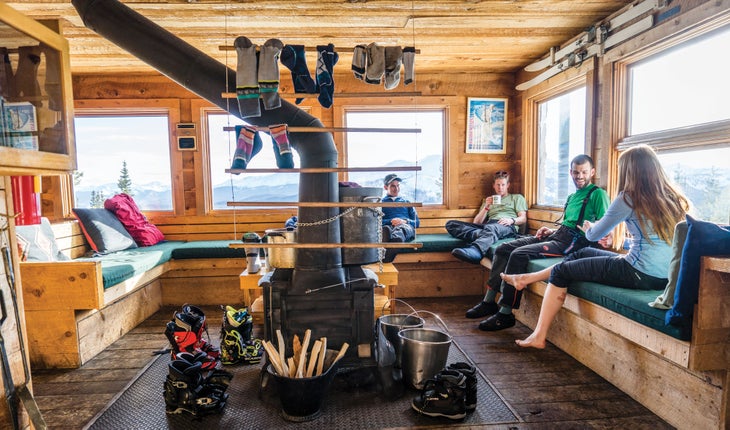 Hut" seems like a misnomer in this case. Uncle Bud's Château may be more appropriate. Consider that the first floor alone is more than a thousand square feet—a community space with sitting areas, a fully stocked kitchen suite with multiple sinks and wood-burning stoves, and, of course, huge window panes facing 14,421-foot Mt. Massive. A communal area and two private bedrooms upstairs sleep 16—standard for Colorado's famed 10th Mountain Division Huts. And the hiking is just as good: From the front door, the Continental Divide Trail is less than .3 mile northwest.
In summer, it's just a .3-mile walk to the mansion from Forest Service Road 107. Hikers can stage day trips along the CDT to views of 14,009-foot Mt. of the Holy Cross's iconic south-facing, snow-filled couloir. If you like what you see—both in the hut and out—consider creating an ambitious, 17-mile, hut-to-hut epic linking fellow 10th Mountain Division shelters Skinner and Betty Bear.
Come late fall, snow and road closures bump the trailhead servicing Uncle Bud's back to Turquoise Lake, 5.8 miles away. It's worth it, though: From there, a gradual climb (gaining just 1,620 feet) to the cabin lands you at one of Colorado's prime winter wonderlands. Backcountry skiers can run laps in the low-angle, open terrain just north of the hut or tackle bigger objectives like the chutes of Galena Mountain.
Trailhead FS Road 107 closure in summer; Turquoise Lake in winter Season July through September for summer; late November through April for winter Amenities Bunks with mattresses; wood-burning stove; two-burner stove (propane provided); cookware Reservation $33; you must be a member of the 10th Mountain Division Hut Association ($35 annually) to participate in the March lottery, but leftover dates are open to the public. Contact
Garnet Mountain Fire Lookout, Montana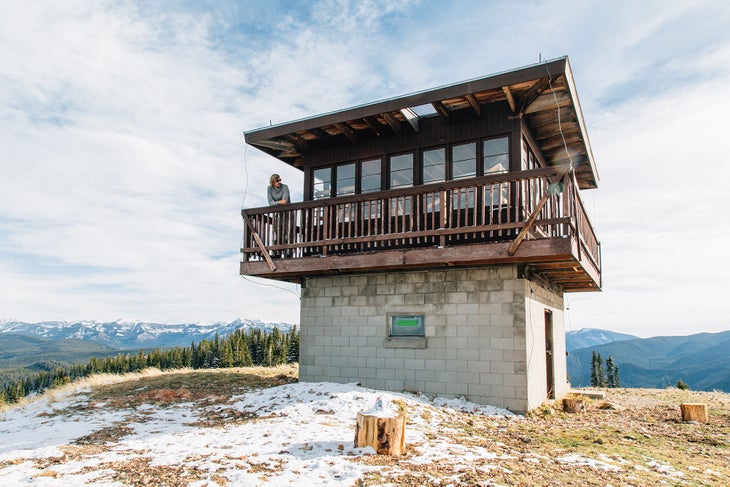 The top-of-the-world views that once made this lookout ideal for wildland fire spotters—unobstructed vantages north down the Gallatin River Valley, east to Hyalite Ridge, south to the Gallatin Range, and west to the Spanish Peaks—make it just as great for hikers. In October, scan for a different kind of blaze from the wrap-around porch: yellow patches of larch and aspen. It's a straightforward, 3.5-mile hike via the Garnet Mountain National Recreation Trail to the two-story tower (with winter closures, it can be up to 12 miles via Storm Castle and Rat Lake Roads). Claim one of four beds, then hit the trail: The Garnet Mountain Trail continues south to a faint user path to the twin Pioneer Lakes.
Trailhead Storm Castle Peak Season Year-round (snowshoe or ski in winter) Amenities Bunks with mattresses; wood-burning stove; two-burner stove (BYO propane) Reservation $30/night Contact
Nokhu Hut and Agnes Creek Cabin, Colorado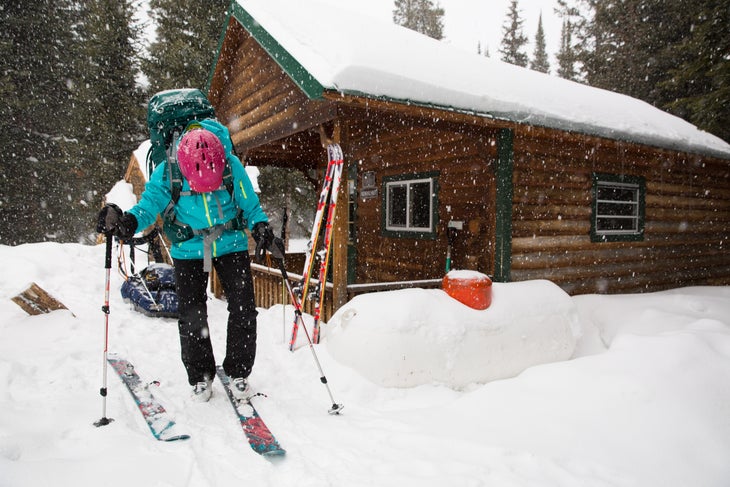 Colorado secret: You need only drive two-plus hours from Denver to find the sort of scenery and wildlife worthy of a real-estate brochure—but without open-house crowds. Up Poudre Canyon, just west of Cameron Pass, summer blooms cling to 12,000-foot peaks, dense conifers hide unnamed lakes, and the moose outnumber people (seriously, they have their own visitor center). It's a straightforward, 1.5-mile approach on a narrow Forest Service road to this pair of small, wooden cabins (in summer, you can drive even closer). Each sleeps six and boasts a well-stocked kitchenette and wood-burning stove, but the best part may be the easy access to Lake Agnes, an alpine pool nestled in a cirque. It's just a mile from the front door to the bowl, where moose hang at dusk.
Trailhead Lake Agnes Season Year-round (snowshoe or ski in winter) Amenities Bunks with mattresses; wood-burning stove; two-burner stove (propane provided); cookware Reservation $85/night; reserve online Contact
Frost Mountain Yurts, Maine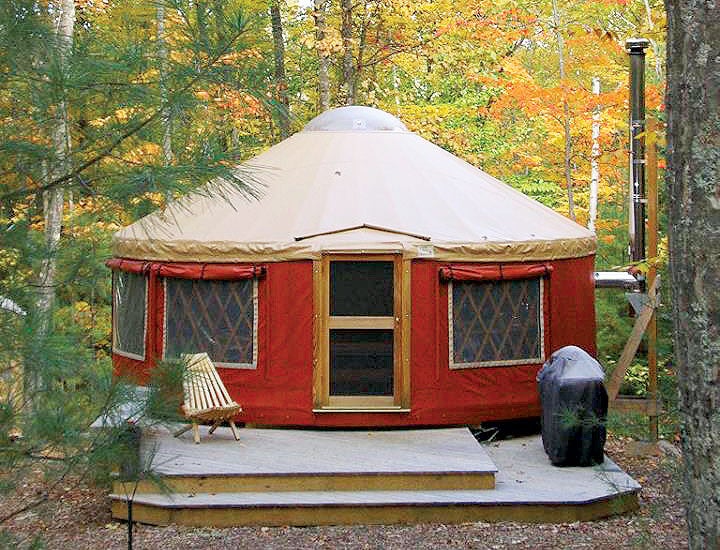 As far as we can tell, only two types of people stay at huts located less than a quarter-mile from the trailhead: those with kids and those who don't want to skimp on luxuries. Either way, the four Frost Mountain Yurts deliver in spades. Each shelter sleeps about six, has a Chopped-worthy kitchen (including a grill), a wood-burning stove, and, best of all, a solar shower. The front-door access to easy hiking isn't half-bad, either: Hit the Frost Mountain Summer Trail, which heads 1 mile south to the top of its 1,225-foot namesake, where views stretch all the way to the White Mountains.
Trailhead Frost Mountain Parking Area Season Year-round (snowshoe in winter) Amenities Bunks with mattresses; futons; wood-burning stove; gas grill; cookware Reservation $105/night; reserve online Contact
Lakes of the Clouds Hut, New Hampshire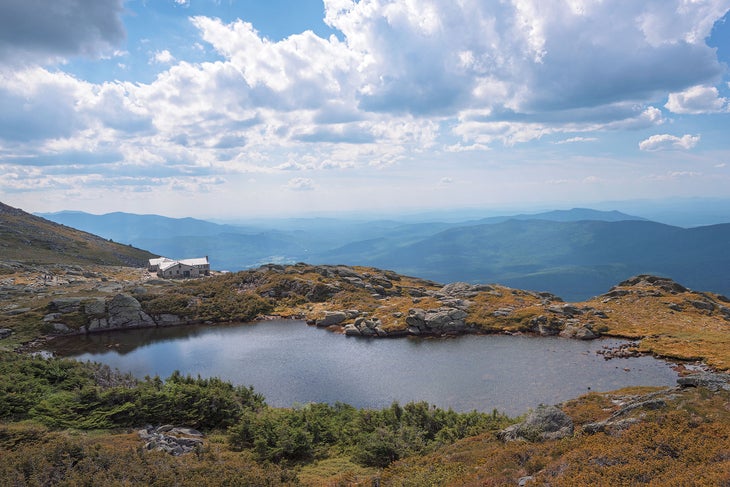 From the AMC's highest hut, you're just 1.5 miles from the top of 6,288-foot Mt. Washington. Get to Lakes of the Clouds via a 7-miler on the Crawford Path, then use the hut to stage a less committing summit bid or to lay low if the peak's legendary weather threatens. Of course, you can always sit back and enjoy the virtues of AMC huts—warm beds, home-cooked meals, hiker camaraderie—with a side of long-range views. Just remember to tip the croo.
Trailhead Crawford Season June 1 to September 16 (no self-service) Amenities Bunks with mattresses; meals prepared by live-in staff; running water Reservations $113/night; Contact
Doyles River Cabin, Virginia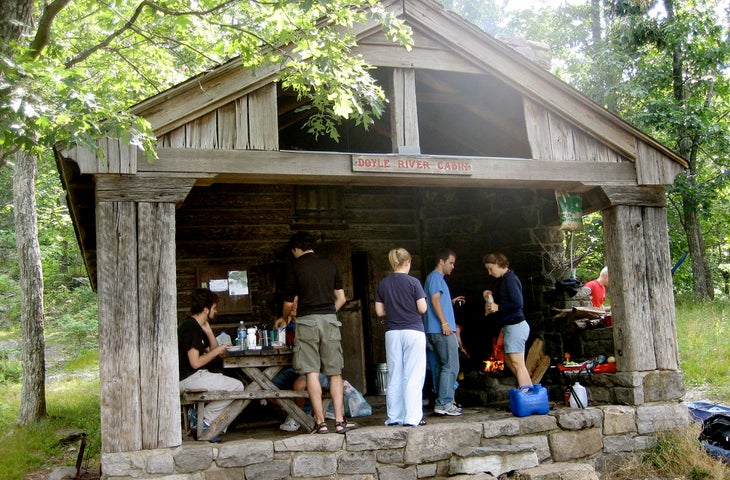 You'll feel like you've walked into a Thomas Kinkade painting when you visit this rustic, stone-chimney cabin in mid-October, when Shenandoah's legendary fall foliage paints the slopes. The 1930s hut—complete with wood-burning stove and outdoor fireplace—nestles in a grove of hardwoods at the head of the Doyles River. From there, you're just 500 yards from the Appalachian Trail. Or, simply continue on the Doyles River Trail: It passes through corridors of yellow poplar and skirts several seasonal cascades on a 9.2-mile out-and-back. Back at the cabin, toast the day's adventures with s'mores around the large, covered fireplace on the porch.
Get to the cabin via the Doyles River Trail. In summer, it's just a .6-mile walk from Skyline Drive (near mile marker 81), but in winter, you'll have to park back at the road closure, turning it into a 4.3-mile trek with 1,700 feet of gain.
Trailhead Doyles River Season Year-round (snowshoe in winter) Amenities Bunks with mattresses; wood-burning stove Reservation $30/night; reserve online Contact
Ostrander Ski Hut, California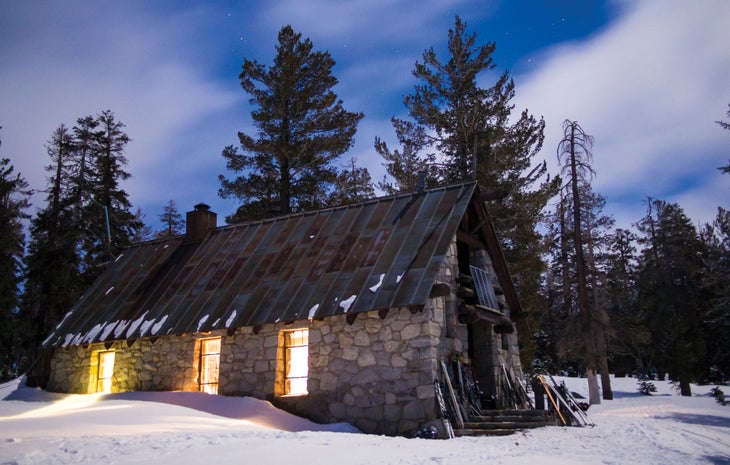 The numbers don't lie. Of Yosemite's more than 5 million visitors in 2016, only 1,500—.03 percent—visited Ostrander. Join the exclusive club by spending a night in this remote 1940s stone hut, which sits in a backcountry cirque beside its namesake lake. It's only open to the public in winter, but intrepid skiers and snowshoers who tackle the approach
can expect empty glades, big views, and full immersion in High Sierra solitude.
Get there on the Bridalveil Creek, Merced Crest, or Horizon Ridge Trails, all of which wend some 9 or 10 miles from Badger Pass to the two-story hut. (We recommend the latter for its views of Half Dome and the Clark Range.) At Ostrander, claim one of 25 bunks on the bottom floor (a hutmaster lives upstairs) and whip up a meal in the open kitchen before exploring the front yard. Tour up to 9,496-foot Horse Ridge to pick an untouched line down the bowl back to the hut. Ski hounds can pack in half a dozen laps in a day.
Trailhead Badger Pass Season Mid-December through March Amenities Bunks with mattresses; wood-burning stove Reservation Starting at $50/night; enter the lottery in mid-November Contact
Roan High Knob Shelter, Tennessee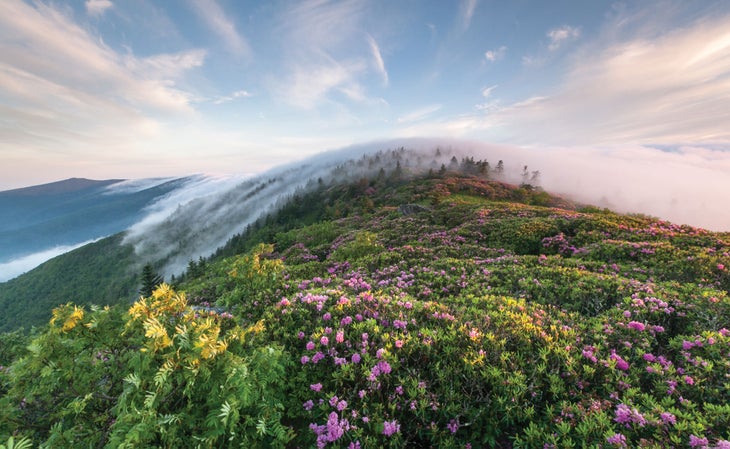 Thru-hikers are hard-pressed to find anything more than a three-sided, bunker-style lean-to along the entire 2,180-mile length of the Appalachian Trail. So when the climb up to Roan High Knob lands the weary at the foot of a four-walled 1933 log cabin, it might as well be a five-star hotel.
Compared to the rest of the AT hut system, amenities in this old fire warden's hut are far from spartan: It's got easy access to a year-round stream, a fire pit, a cook prep shelf on the front porch, a second-story loft (with an actual windowpane), plus enough room to sleep 15. But those aren't the only things that give this hut an air of the high life: At 6,285 feet, it also sits at the highest elevation of any shelter along the AT.
Access the hut on a .6-mile hike through rhododendron tunnels from the eponymous parking area. Next day, continue northbound on the AT to check off one of its best bite-size sections: Descend 1.5 miles through mist-drenched spruce-fir forest to Carver's Gap before strolling as many as 7 miles over Roan's famous balds for views down the valleys that drop off either side of the massif. Return the way you came.
Trailhead Roan High Knob Season Year-round Amenities Wooden platform (bring a pad) Reservation Free; first-come, first-serve Contact
Published in 2017; last updated in November 2021