Telluride Man Convicted of Dumping 8,500 Pounds of Trash in Forest
Faces six months imprisonment, public lands ban.
Heading out the door? Read this article on the new Outside+ app available now on iOS devices for members! Download the app.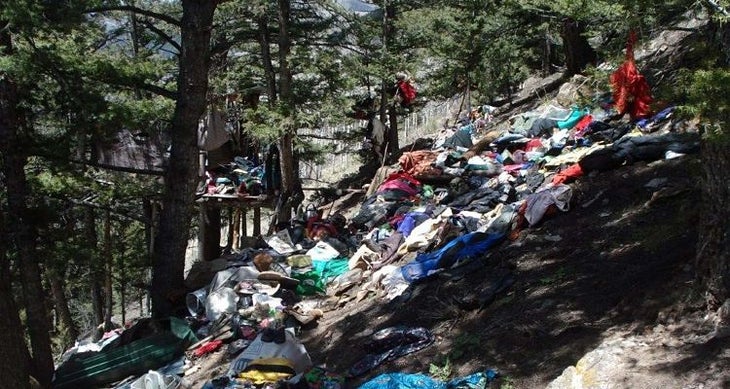 A man from Telluride, Colorado, was sentenced to six months in prison for building an illegal home and dumping nearly 8,500 pounds of trash in the Uncompahgre National Forest over a period of seven months.
Benjamin Yoho, 41, had been living in the illegal structure he had built near Jud Wiebe Trail. Yoho had built his impressive dump yard by taking massive quantities of items from the Telluride "Free Box." On September 15, he was found guilty of squatting, maintaining a structure, and leaving debris on National Forest System land, after a one-day bench trial before U.S. Magistrate David L. West in Durango, Colorado.
According to HNGN, authorities found the site when they were searching for a fugitive on the Jude Wiebe Trail in May. But instead of their target, they found an area littered in skis and ski boots, clothing-covered trees, a jam-packed tree house, and even a wedding dress. It took 48 volunteers from the Colorado Division of Fire Prevention and Control and a helicopter to remove the thousands of pounds of trash spread out across the forest.
"This is no ordinary case of littering in the national forest. This was full-scale trashing of the public lands, and merited a term of incarceration," U.S. Attorney John Walsh told USA Today.
Yoho will face a six-month sentence, will be placed on probation for one year, and faces a ban from all Forest Service and Bureau of Land Management lands. He will also receive mental health treatment.