Telluride, CO: Jud Wiebe Trail
Set aside a couple of hours for this 3.3-mile loop on the north end of Telluride that climbs 1,200 feet to breathtaking views of this small mountain town.
Heading out the door? Read this article on the new Outside+ app available now on iOS devices for members! Download the app.
The Jud Wiebe Trail—named for the Telluride local who helped design it in the mid 1980s—is a local classic. This clockwise loop begins with a steady climb from downtown that joins the dirt trail at the top of Aspen Street just before turning left and crossing Cornet Creek on a small footbridge. The trail continues uphill through aspen, bypassing the Mill Creek Trail just before mile 1 and leveling briefly after the Butcher Creek crossing where the loop turns east. There is another set of steep switchbacks leading to the trail's 10,000-foot-high point (where an impressive overlook bench awaits) at mile 1.5.
The beginning of the trail's downhill stretch is shaded by thick aspen—watch your step over roots crossing the trail. After the small bridge across Cornet Creek, there's a 5-minute uphill before the trail widens and begins heading downhill to town. The last several switchbacks toward town are loose and rocky: be careful and aware of bikes and other users who also frequent this loop.
-Mapped by Kristy Holland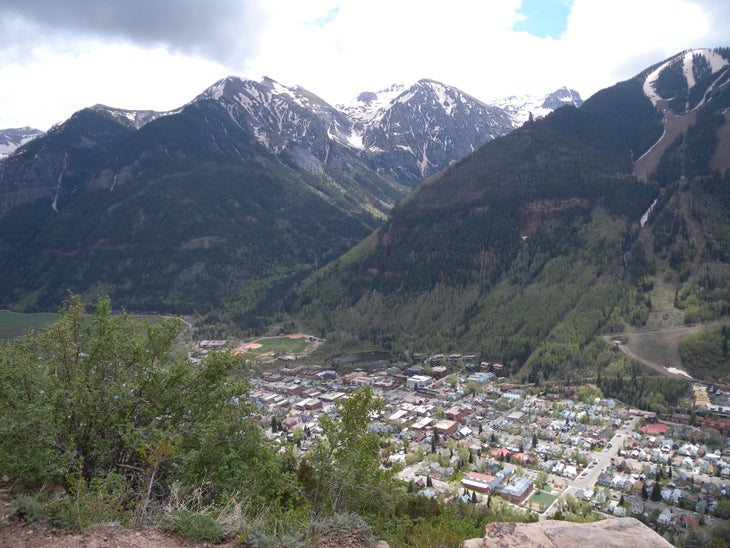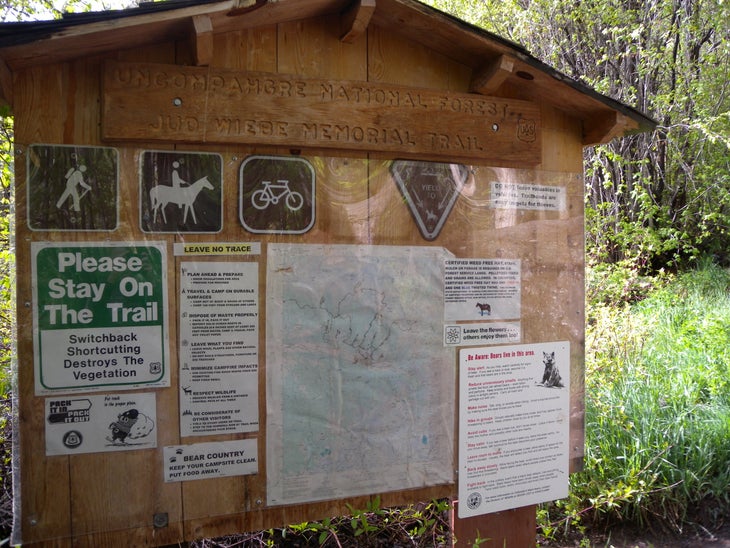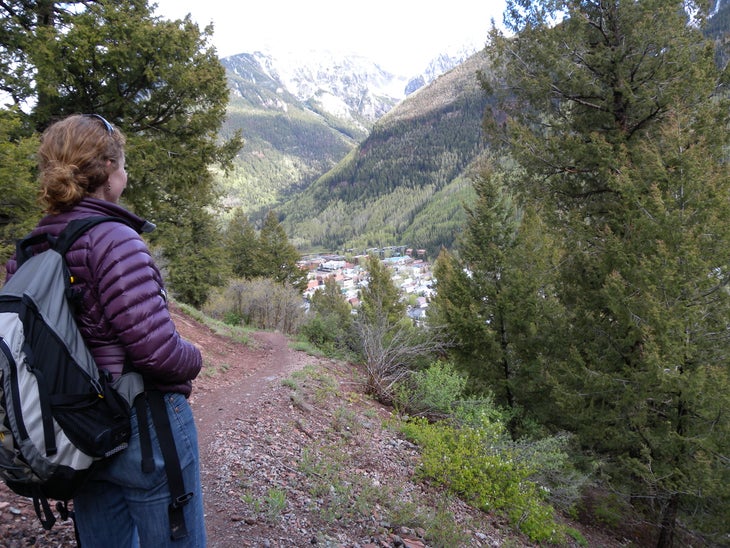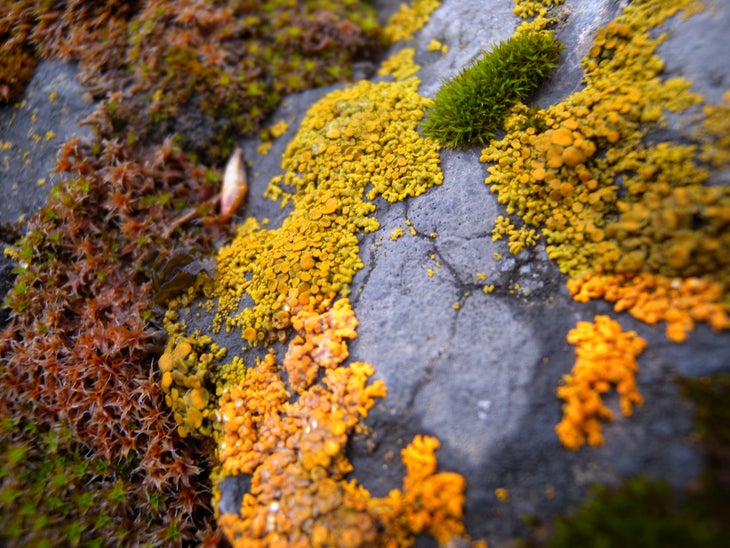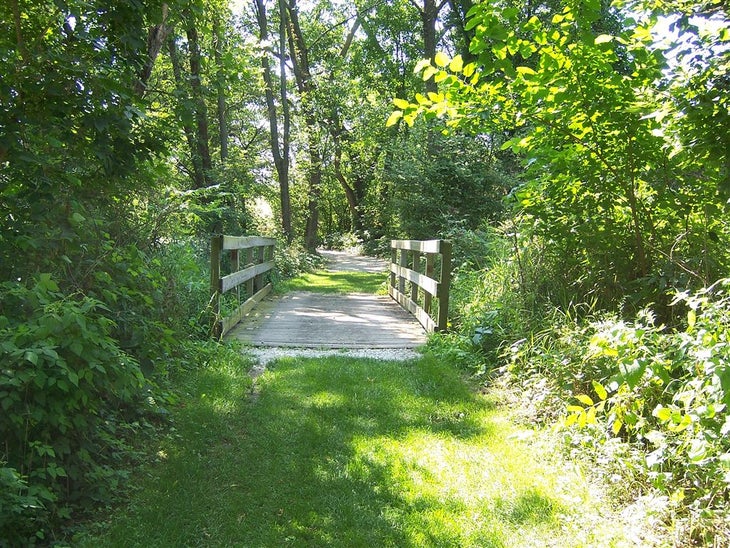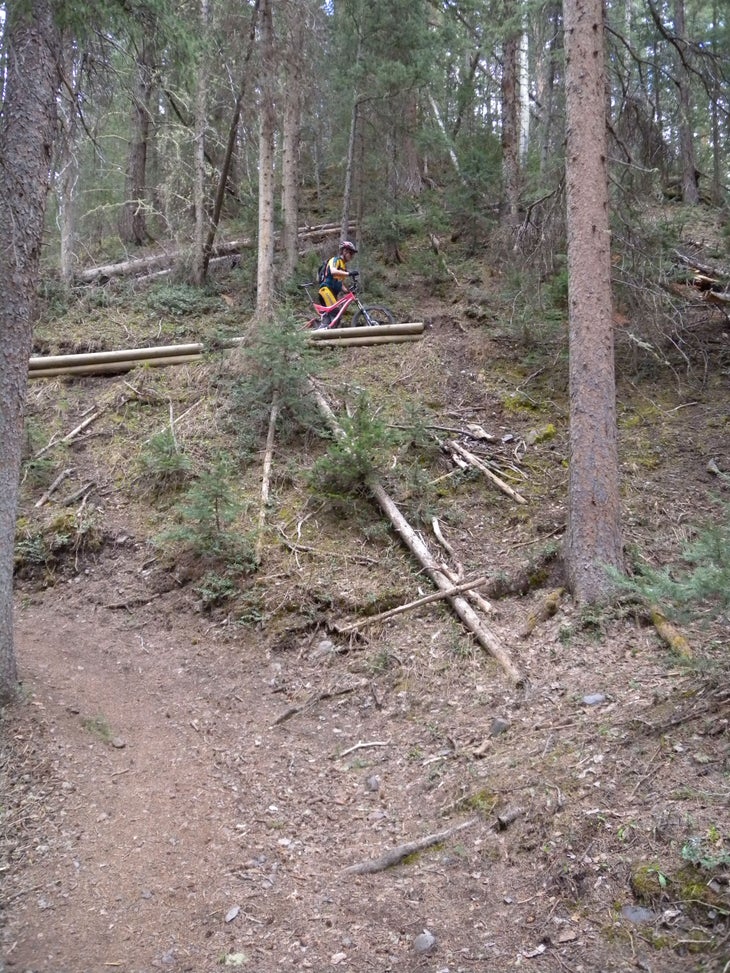 Trail Facts
Waypoints
JUD001
Location: 37.9378939, -107.8137517
From Colorado Avenue, turn north on Aspen Street and climb the pavement toward the trailhead about 3 blocks north.
JUD002
Location: 37.9406015, -107.8126252
Three large rocks and a map kiosk mark the trailhead on Aspen Street. Continue uphill on the dirt path and turn left to cross the footbridge over Cornet Creek.
JUD003
Location: 37.9478779, -107.8186172
Continue on the wider, main trail by bearing right at this 3-way junction with the Deep Creek Trail.
JUD004
Location: 37.9482078, -107.8178072
Turn right at the 3-way junction, following the sign along the Jud Wiebe Trail. Up ahead, you'll cross Butcher Creek and continue a mellow climb before a series of steep switchbacks.
JUD005
Location: 37.9454793, -107.8137249
This bench just before the loop's high point is at 10,000 feet above sea level (and about 1,200 feet above Telluride). As you round the bend, the narrow trail turns downhill through a shady grove of aspen.
JUD006
Location: 37.9453143, -107.8063488
After a short climb that ends with a few rocky steps, turn right at a wide-open, 3-way junction in Liberty Bell Flats. There's an easy southbound climb from here, but the trail turns steeply downhill just a few hundred yards from this junction.
JUD007
Location: 37.9424038, -107.8078508
A series of short, steep switchbacks begins about 0.5 mile above the road. Loose rocks congregate in the corners, so watch your step.
JUD008
Location: 37.9394931, -107.8066921
The rocky trail joins a rough road at this trailhead on Tomboy Road. Turn right and pass hillside houses on the last bit of downhill toward town. Tomboy Road intersects Oak Street just one block east of the trailhead where this route began.
View of Telluride
Location: 37.9451409, -107.815243
Rocky corners on the final switchbacking climb offer unobstructed views of town, but continue uphill toward a rest-worthy bench up ahead.
Map
Location: 37.94061, -107.812475
An information and map kiosk marks the beginning of the Jud Wiebe Trail.
Bridge
Location: 37.9411346, -107.8123891
Turn left to cross this bridge over Cornet Creek.
Town
Location: 37.9435799, -107.818011
Climbing is made easier with occasional breath-catching glances back toward town.
Lichen
Location: 37.9448701, -107.8180701
Close up views on the trail, like this colorful lichen, are also worth investigating.
Bench
Location: 37.9455005, -107.8135157
This bench offers respite near the hike's halfway and high points. Stop to enjoy the view before finishing the climb.
Bridge
Location: 37.946465, -107.806263
This small bridge cruises atop Cornet Creek.
Climb
Location: 37.946245, -107.8063059
A terraced climb after the river crossing.