Talkeetna Mountains, AK: Grizzly Pass
Hike to a private paradise up the Little Susitna River in the Talkeetna Mountains.
Heading out the door? Read this article on the new Outside+ app available now on iOS devices for members! Download the app.
Imagine Wyoming's Wind River Range with dark black rock, remnant icefields, and no people and few trails. That's the Talkeetna Mountains, located just 56 miles north of Anchorage. This 29-mile out-and-back links an on-trail start to a tough section of off-trail bashing, passes two backcountry huts, crosses spectacular mountain pass, and finally reaches a seldom-visited valley in the heart of the range
From the well-developed Gold Mint trailhead, follow buffed trail with marked mileposts for five miles up along the scenic Little Susitna River until milepost 5, where signs vanish and the trail deteriorates due to rampant beaver activity along the river. Persevere through several bogs and willow thickets into the head of the valley. There, a thready trail turns west and climbs 700 steep feet to a high plateau, where you'll find the Mountaineering Club of Alaska's Mint Hut. This red and green two-story frame building, tucked into a narrow ravine, has a ground floor kitchen and a sleeping loft for up to eight campers (membership required, mcak.org).
If the weather is good or the hut is busy (it's first come, first serve), there's excellent camping just beyond. Continue climbing up the obvious tundra ridgeline northeast of the hut. Pass a round, deeply recessed pond, and cross a low pass to a gorgeous alpine lake–unmapped and unnamed–less than a mile beyond the hut. Camp on flat ground southwest of the lake, with views from the buttressed pyramid of Montana Peak to the jagged Mint Spires. Above the lake, continue northeast on tundra and bare ice through a low moraine gap and onto the Mint Glacier. Make for the second "lobe" of the glacier beyond the gap, which leads to a slot, locally named Grizzly Pass, at mile 10.4.
Ascend Grizzly Pass by sticking to gritty ice and boulders on the north margin of the glacier. Light crampons or microspikes certainly make travel easier, but they aren't absolutely necessary. Near the top of the pass, you'll have to skirt one large crevasse by rounding it on the left. Then scramble a short dirt slope across the amazing knife-edged saddle and descend east off the pass on more ice, using the same strategy you climbed with; stick to the north margin. From the glacier toe, turn sharply right and cross unstable talus and boulders, making for the tundra–a tough, slow third of a mile away.
Locate a small lake on benches east-northeast of the glacier toe. Pass it, then turn north and descend 1,000 feet down steep tundra to the headwaters of Moose Creek. In clear weather, you'll be able to spot the Dnigi Hut, a silver dot sitting on an open plain beneath a jagged ridgeline on the far side of Moose Creek.
Cross the stream as high as possible (this is usually just a dry hop) and then begin a rising traverse on the northeast side of the valley. After 1.3 sidehill miles, gain a bench that runs close beneath several ridgeline buttresses. Follow this bench another 1.3 miles to the rarely visited hut, a modest A-frame structure with room for up to six (first come, first serve; MCAK membership required). The Dnigi Hut sits below imposing buttresses that rise 1,800 feet above the door, with the Mint Spires soaring impressively just across the valley. It makes an excellent basecamp for explorations north over the obvious pass at the head of Moose Creek, which threads between more glaciers before dropping into the remote headwaters of Kashwitna River.
PERMITS: None needed. To use the huts you'll need a membership in the Mountaineering Club of Alaska ($15/year, mcak.org; pay by mail several months in advance).
MORE INFO: Alaska DNR; dnr.alaska.gov/parks
–mapped by Steve Howe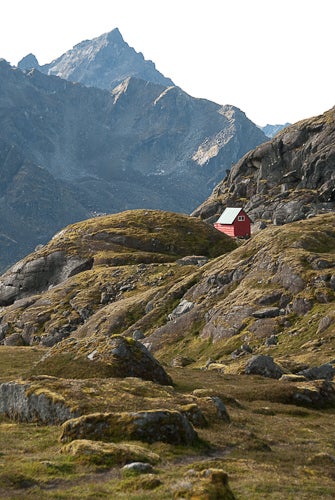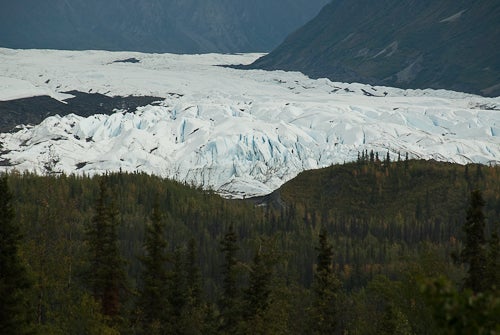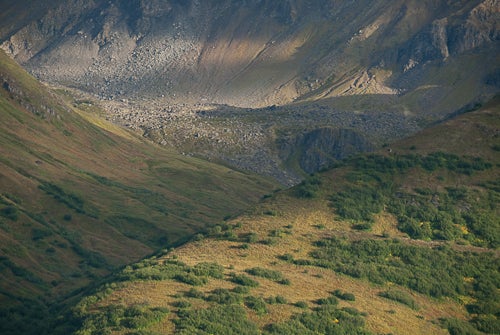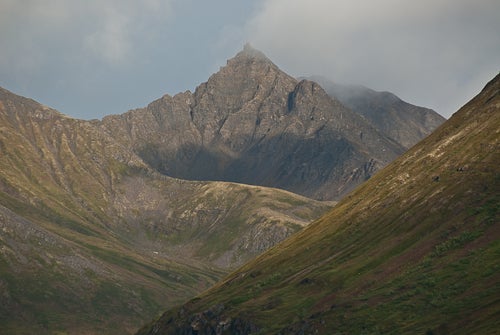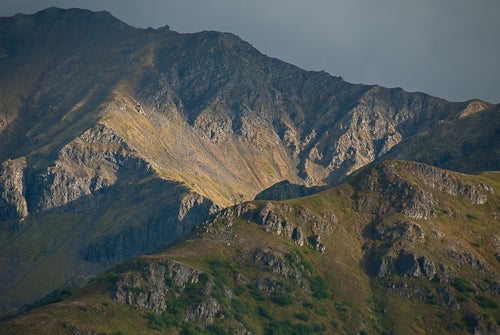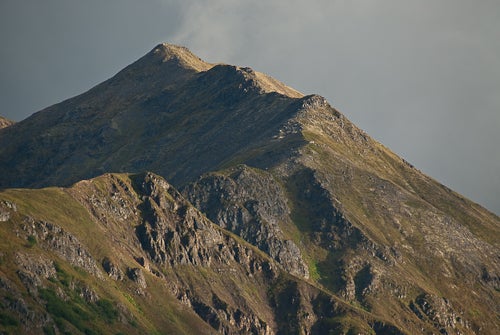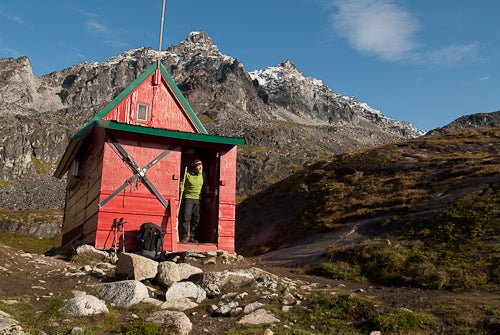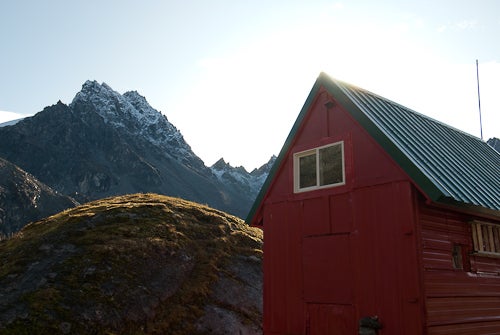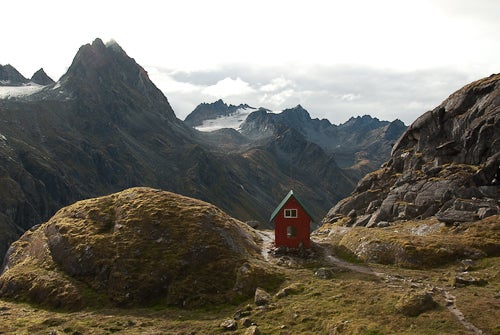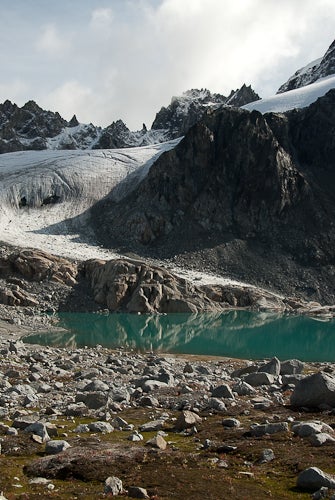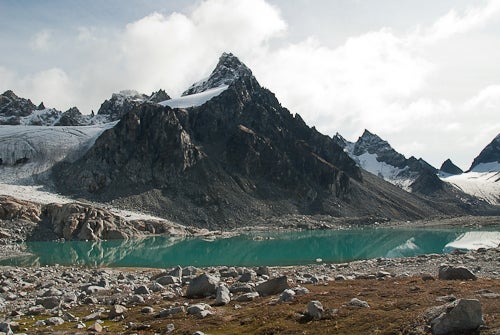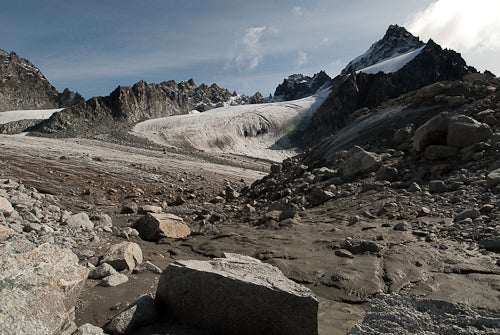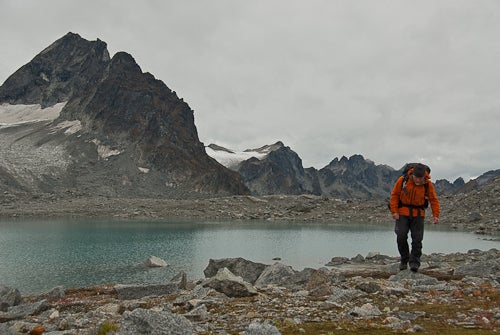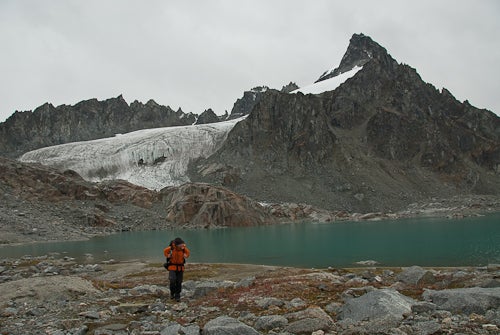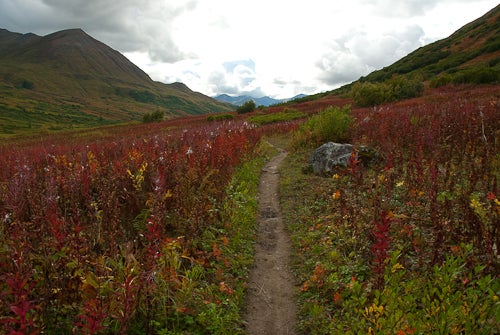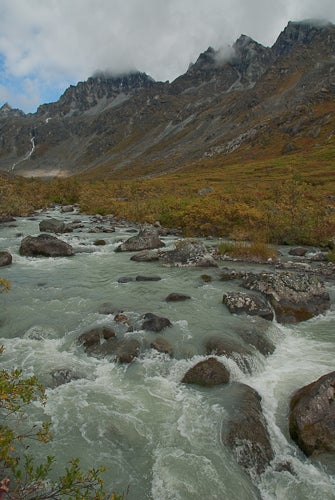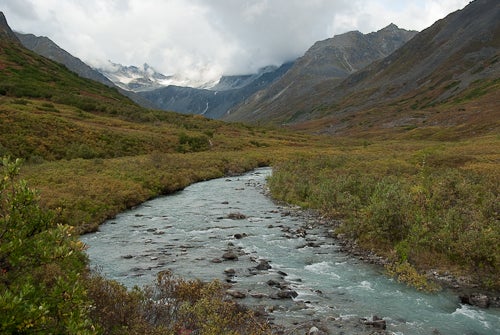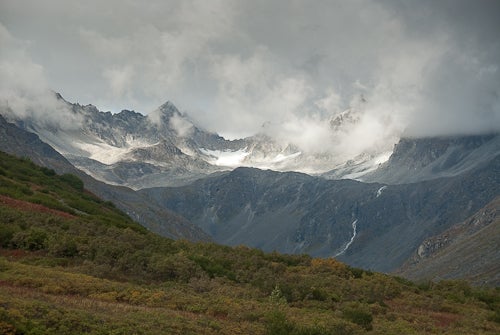 Trail Facts
Waypoints
TAL001
Location: 61.778969, -149.196095
Gold Mint Trailhead. Camping available $10/night. Parking $5/day.
TAL002
Location: 61.856828, -149.079815
Mint Hut. Mi 8.48. Use required Mtneering Club of AK membership ($15/year. www.mcak.org). First come, first served. You'll usually share.
TAL003
Location: 61.86277, -149.066917
Large unmapped lake. Mi 9.21. Superb campsite with jaw-dropping panorama of Mint Spires. Perfect for good weather spells or nights when hut is crowded.
TAL004
Location: 61.864624, -149.06246
Low pass through talus moraine
TAL005
Location: 61.868184, -149.055263
Toe of Mint Glacier. Mi 9.96.
TAL006
Location: 61.869558, -149.050964
Mi 10.13. If not carrying crampons, climb up along left/North margin of ice & moraine.
TAL007
Location: 61.86887, -149.046704
Mi 10.30. Pass around crevasse/bergschrund at top of glacier by detouring around its left/North end.
TAL008
Location: 61.868162, -149.045914
GRIZZLY PASS. MI 10.37. Cross narrow, knifeblade ridgeline on steep dirt. May require snow climbing before mid-August.
TAL009
Location: 61.868823, -149.045672
If not carrying crampons, descend unnamed eastern glacier along ice/moraine margin. Mi 10.41
TAL010
Location: 61.870229, -149.040456
Toe of bare ice. Mi 10.63. Avoid rotten talus bysticking to gravelly sections and bee-lining for tundra areas around hillside to East.
TAL011
Location: 61.871558, -149.021309
Mi 11.55. End of talus. Beginning of tundra. Travel becomes much easier.
TAL012
Location: 61.872019, -149.018654
Unmapped pond. Mi 11.65. Good water source. Decent camping nearby.
TAL013
Location: 61.871788, -149.017165
Brink of steep slope. Mi 11.7. Turn left/North and angle down grassiest ramps to head of Moose Creek streambed.
TAL014
Location: 61.873026, -148.985749
Mi 13.20. Begin climbing up slope to access flat bench above and avoid steep-sided stream gully.
TAL015
Location: 61.863766, -148.955165
Dnigi Hut. Use required Mtneering Club of Alaska membership. ($15/year. www.mcak.org. Apply by mail early.)
Mountain hut
Location: 61.814988, -149.0728
Glacier
Location: 61.812394, -149.063873
Green patchwork
Location: 61.807204, -149.105759
Talkeetnas
Location: 61.815313, -149.097519
Alpine glow
Location: 61.806879, -149.103699
Peak paradise
Location: 61.817258, -149.096832
Mint Hut
Location: 61.857444, -149.078979
Views from Mint Hut
Location: 61.858092, -149.081726
More sweet views
Location: 61.857768, -149.078293
Ice-blue tarn
Location: 61.82504, -149.078293
Peak above Mint Glacier
Location: 61.865054, -149.06147
Mint Glacier
Location: 61.860197, -149.073486
Skirting a glacier-fed pond
Location: 61.864569, -149.06353
More incredible views
Location: 61.866187, -149.057693
Trail along Little Susitna River
Location: 61.790006, -149.139061
Little Susitna River
Location: 61.792764, -149.126701
River runs through
Location: 61.792115, -149.128761
Clouds loom over the Talkeetnas
Location: 61.845621, -149.07486