Hiking the Tahoe Rim Trail
The loop around Lake Tahoe is a classic adventure—and one of the best moderate long trails in the world. Tackle it with our guide.
Heading out the door? Read this article on the new Outside+ app available now on iOS devices for members! Download the app.
Lake Tahoe is 122,200 acres of cobalt blue water and reflections of the Sierra. The best way to really get to know it: The Tahoe Rim Trail. The meandering loop is a great long trail for beginners, or a laid-back walk in the woods for seasoned thru-hikers. Plus, you'd be hard-pressed to find this diversity of scenery on such a modest adventure: In less than 200 miles, the trail hops the peaks of the Sierra and Carson Ranges, traces airy ridgelines, and dives into ponderosa and lodgepole pine forest. Get ready to hike with our guide to preparing, buying gear, and travelling the Tahoe Rim Trail.
What to Expect on the Tahoe Rim Trail
The trail is well-marked and easy to stick to, but you'll still need a map because only major junctions have signs and markers. In winter, under a 10-foot blanket of snow, signs and the trail may not be visible.
Don't expect cell service—it's unreliable on much of the trail.
You'll have plenty of opportunities for a swim: There are over a dozen lakes and streams along the way. Lake Tahoe itself is cool and clear in the summer.
Most of the trail melts out by the end of June. However, freezing temperatures and snow can occur any time of year. Expect snow at high elevations (like on Relay Peak and in Desolation Wilderness) and on north-facing slopes through July and early August, and be prepared for it year-round. Heavy snows return in October.
The trail is open all year, but some trailheads close in winter.
        ○ Road access to Barker Pass closes October to June.
        ○ Kingsbury South Trailhead is off limits for trail use during the ski season.
How Long is the Tahoe Rim Trail?
The trail is 165 miles long, making a full loop around Lake Tahoe.
Where Are the Trailheads?
The beauty of the Tahoe Rim Trail is that it's a loop: Unlike most long trails, you can start and end wherever you want. There are 10 official trailheads (and a few unofficial ones) along the Tahoe Rim Trail. Half of them are clustered around South Lake Tahoe, and the rest are scattered along the rest of the shore.
The easiest option? If you start at one of the two cities that border the lake (Tahoe City or South Lake Tahoe), the other is a convenient resupply on the opposite side. Tahoe City is the most common starting point.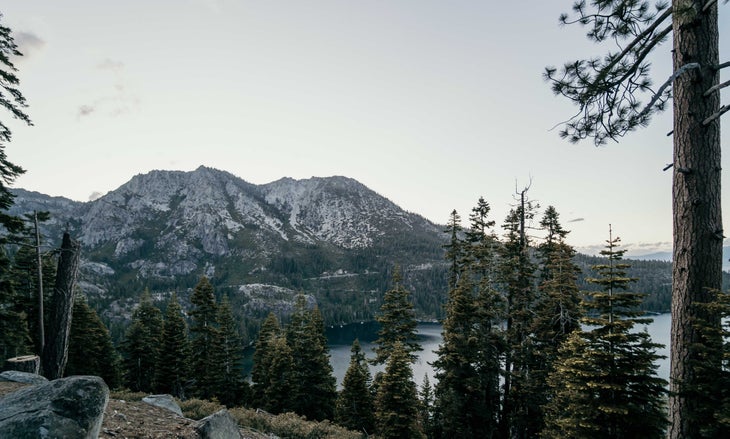 How Long Does a Thru-Hike Take?
A thru-hike of the Tahoe Rim Trail typically takes 10 to 15 days, but if you want to take your time there are plenty of side trails and a few towns to stop in. Allow yourself more time when there's snow and ice on the trail.
How to Prepare for Thru-Hiking the Tahoe Rim Trail
The Tahoe Rim Trail is great for both thru-hiking beginners and hardcore hikers looking for a laid-back, two-week trip. Even so, preparation is key. You need to know what permits to apply for, where to find water, and where to resupply. Don't go in without a plan.
When should I start a thru-hike?
Late summer (July through September) is the best time for a thru-hike. In spring, wildflowers like yellow mule's ears spring up in meadows across the trail. Mid-July to mid-August is peak wildflower season. The trail is open all year, but some trailheads are closed in winter and parts of the trail are more difficult to navigate.
Which direction should I hike?
Because it's a loop, the direction you travel doesn't affect elevation change. Most thru-hikers start from Tahoe City and follow the trail clockwise to save the Desolation Wilderness for last.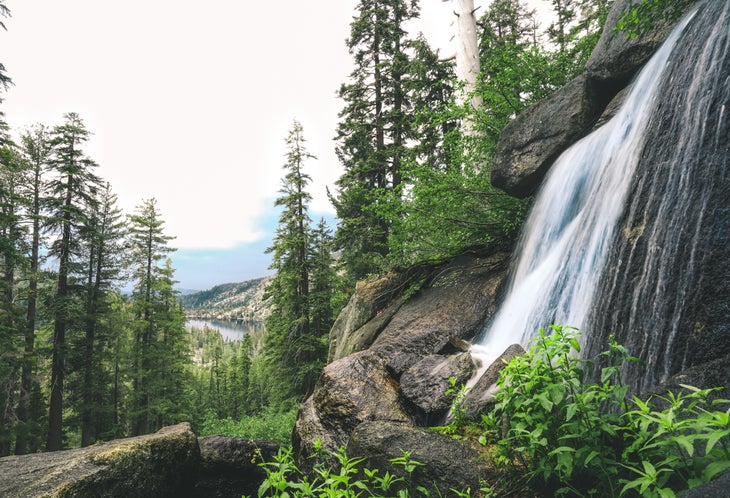 Do I need permits, and how do I apply for them?
You'll need at least two permits to complete a thru-hike of the Tahoe Rim Trail—three if you plan to camp in the Desolation Wilderness 
Desolation Wilderness day use permit: available for free at all trailheads entering the wilderness. 
Desolation Wilderness overnight camping permit: available online or at the local Forest Service visitor center. Permits are issued through a quota system May through October, so reserve them far in advance. You can sometimes bypass the quota system as a Tahoe Rim Trail thru-hiker; contact the Forest Service Supervisor's Office for more information. The permit itself costs $5 per person for the 1st night, and $10 per person for 2-14 nights, plus a $10 campsite reservation fee. 
California Campfire Permit: required to use a campstove anywhere on the trail. Get it online for free. You'll watch a campfire safety video (even though campfires are prohibited along the Tahoe Rim Trail) and take a brief quiz, then you can print your permit from home. Permits are valid until the end of the calendar year in which they're issued. You're required to carry the California Campfire Permit in the Nevada backcountry as well.
Are there any major restrictions along the TRT?
No campfires are allowed on the Tahoe Rim Trail. You can only start a fire within designated campgrounds, and only when there are no fire restrictions. Get the most current fire restriction information from the Forest Service.
The maximum group size in Desolation and Granite Chief Wilderness Areas is 12 people. In the Mt. Rose Wilderness Area, it's 15 people.
Where do I find parking or transportation?
Trailhead parking is limited, and the Tahoe Rim Trail Association discourages long-term parking at trailheads. There's a transit center with a parking lot near the trailhead in Tahoe City. You can also arrange alternative transportation options: public transit, a taxi, or a shuttle.
Trailheads may not be plowed regularly in winter, so parking is more difficult. The Tahoe Rim Trail Association recommends winter trailhead parking at 64 Acre Park in Tahoe City, Brockway West trailhead, Mt. Rose Summit trailhead, or Kingsbury North trailhead (off North Benjamin Road).
How and where do I resupply?
There are two cities along the trail: Tahoe City and South Lake Tahoe. They're almost the same distance from each other both ways, and both are convenient resupply spots. There are also other options if you go a little off trail:
Brockway West Trailhead: A 3-mile drive to Kings Beach, CA yields a grocery store.
Mt. Rose Summit Trailhead: An 8-mile drive to Incline Village, NV for a grocery store.
Spooner North Trailhead: A 12-mile drive to Carson City, NV, where there are grocery stores and a gear shop. If a friend is willing to bring you the package, this is the perfect spot to resupply on water—halfway along the dry east shore.
Kingsbury South/Stagecoach Trailhead: A 0.8 mile walk to the Tramway Market convenience store. The store might accept packages if you call ahead. From the trailhead, you can also take public transportation to Stateline Transit Center, where grocery stores and gear shops are within walking distance.
Echo Summit Trailhead: A 5-mile drive to Meyers, CA and its grocery store.
Echo Lake Trailhead: Right at the trailhead, Echo Chalet is a seasonal general store. They do not accept hiker packages.
There are several places where you can pick up packages along the trail. Send your resupply ahead of time under your name, marked for general delivery. Before sending a package to a retailer, always confirm that they are willing to take it.
Where do I get water along the TRT?
Even though you're walking around a huge body of it, don't count on Lake Tahoe for water. This is possibly the most challenging aspect of a TRT thru-hike. The trail often strays far from the lake itself, and the east shore is notably dry. That's where you'll have to do the most research and planning—much of the water along the east shore requires detours of a mile or more. The furthest you'll go without a reliable water source is 15 miles, between Spooner Lake and Edgewood Creek (a 2018 upgrade to the Kingsbury North Trailhead will shorten that distance to about 12.4 miles). Some water sources are seasonal. 
Campsites
Dispersed camping is allowed along most of the trail, within 300 feet of the trail corridor, 100 feet away from trails, and at least 200 feet away from water sources. There are a few exceptions:
Within Lake Tahoe Nevada State Park, camping is only permitted in three established campsites: Marlette Peak, Hobart and North Canyon Campground.
Camping in Desolation Wilderness is by permit only. Campsites must be on hard surfaces at least 100 feet from water and trails.
What to Pack for a Tahoe Rim Trail Thru-Hike
Bear-proofing gear—it's required by the US Forest Service and the Nevada Division of State Parks. Bear canisters are the recommended technique, since much of the trail is above the treeline and doesn't make for good bear bag hanging
Up to date topographic maps and/or a detailed guidebook of the entire Lake Tahoe area.
Compass
A filter or purifier—Lake Tahoe has some of the best drinking water in the world, but with population centers nearby, you'll still need to treat.
Trekking poles
First aid kit
Rain gear
Duct tape (a fix-all solution for any rip or tear)
Ziploc bags
Multi tool
Headlamp or flashlight with extra batteries
Camp stove and fuel (unless you plan to go stoveless and eat only cold food—no fires allowed)
Camp mug or bowl and spork
Lighter and matches
Trowel
Tent or bivy
Sleeping bag or quilt and pad
Extra layers.The weather can change dramatically day-to-day and between different elevations. A light down puffy will be your best friend.
Toothbrush and toothpaste
Sunscreen, sunglasses, a hat—anything you need to protect yourself from the sun at high elevations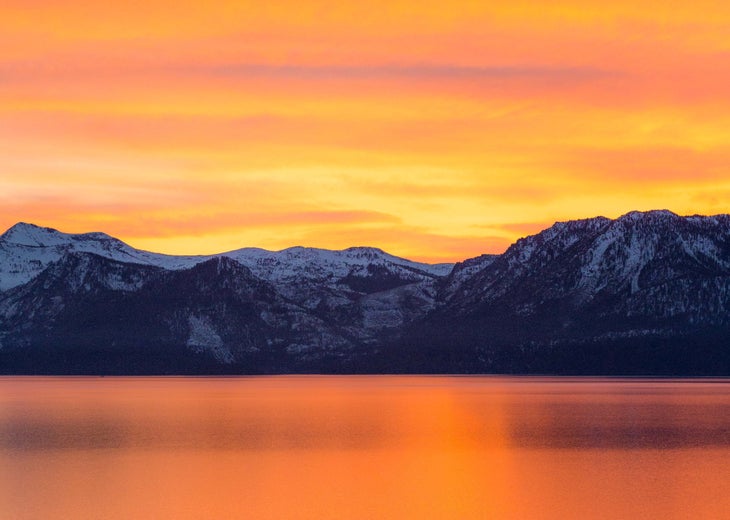 Section by Section Guide to the Tahoe Rim Trail
Going clockwise from Tahoe City:
Tahoe City to Brockway Summit (California)
20.2 miles
A steady climb out of Tahoe City leads through aspen, fir, and cedar forest, passing lava flow formations and cinder cones. Atop the Lava Cliffs, catch a view of Lake Tahoe and its northern peaks. Watson Lake offers prime camping.
Brockway Summit to Mt. Rose Summit / Tahoe Meadows (California/Nevada)
20.3 miles
This section is full of extremes. You'll experience serious elevation gains on your way to the trail's highest point, 10,338-foot Relay Peak. Pass meadows sprinkled with wildflowers and traverse the summits of ancient volcanoes, entering Nevada and the Mt. Rose Wilderness. On the descent, admire a 130-foot waterfall—the highest on the trail. For an extra 1.4 miles, extend the hike's elevation profile and take a side trail to the summit of 10,490-foot Mt. Houghton.
Mt. Rose Summit / Tahoe Meadows to Spooner Summit (Nevada)
23.3 miles
In Tahoe Meadows, spot alpine wildflowers like purple elephant's head. Then trek through old growth red fir and young conifer forest, and sit pretty above Lake Tahoe and the high Sierra on the most photographed part of the TRT, Christopher's Loop.
Spooner Summit to Kingsbury South Connector (Nevada)
17.9 miles
Follow switchbacks and ridge lines up from Spooner Summit through the Carson Range, with its Jeffrey pine stands and ancient fir forest. At 8830 feet, below South Camp Peak, survey the entire lake basin to the west, north, and south.
Kingsbury South Connector to Big Meadow (California)
22.6 miles
Continue along the ridges and passes of the Carson Range, shaking up the scenery with old growth juniper and full views of the Carson Valley. Camp among the hemlocks at Star Lake, at the feet of three of the highest peaks in the Tahoe Basin.
Big Meadow to Echo Lakes (California)
18.3 miles
The first part of this section follows more leisurely terrain. Here the trail joins the PCT and follows it for another 50 miles. Cut north along the Upper Truckee River to reach Echo Lakes and the Desolation Valley.
Echo Lakes to Barker Pass (California)
32.9 miles
Nobody said this was easy. The longest section of the TRT is marked by long, steep climbs through the Desolation Wilderness. Cool granite cliffs contrast with high alpine lakes, surrounded by pine stands and wildflower meadows. Take a dip or spend the night by the clear waters of Lake Aloha.
Barker Pass to Tahoe City (California)
16.6 miles
Now, the cooldown. Ditch the PCT and head straight east, towards Lake Tahoe and Tahoe City, for a long descent punctuated with strolls along flat terrain or gentle hills. Climb into and out of Ward Canyon, then follow the Truckee River downhill to Tahoe City.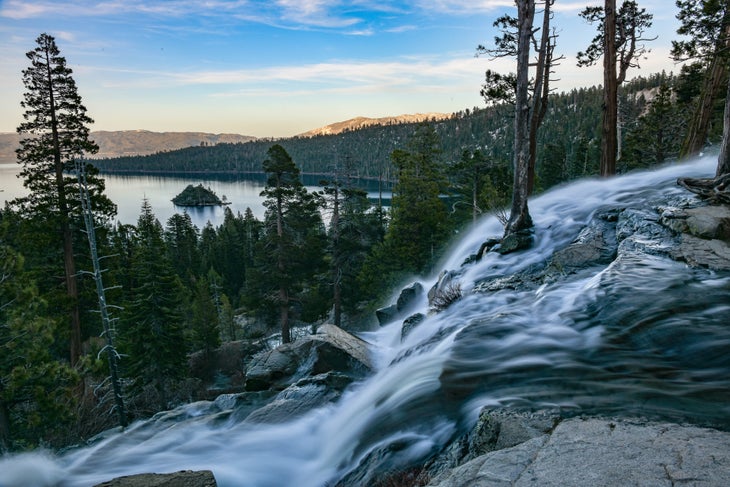 Fun Facts About the Tahoe Rim Trail
Lake Tahoe is one of the 20 oldest lakes in the world, dated at about 2 million years old.
Dogs are allowed all along the Tahoe Rim Trail. The TRTA asks owners to keep dogs on a leash in high use areas and always under voice control.
Join the 165 mile club: Become a member of the Tahoe Rim Trail Association (TRTA) and register your completed thru-hike with them. You'll get a certificate, a badge, and an entry into the TRTA book of records.
TRTA offers two guided thru hikes of the trail each year. They're usually at the end of July and August. They also hosts challenges and quests along the trail. Learn more on their website.