Summitting the Arctic's Mt. Chamberlin
Forty years after his own adolescent ascent of Mt. Chamberlin, John Harlin III returns with his 13-year-old daughter Siena. Photos and captions by John Harlin.
Heading out the door? Read this article on the new Outside+ app available now on iOS devices for members! Download the app.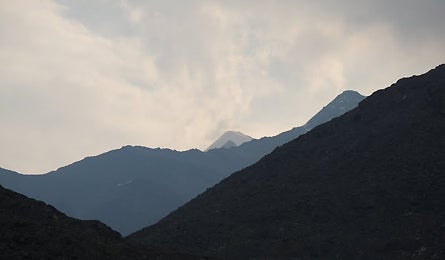 Day 1: Our first view of Mt. Chamberlin's 9,020-foot summit, taken from the landing site on the shore of Lake Peters. The dark sky is forest fire smoke from far to the south.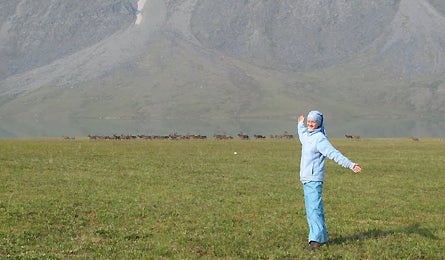 Siena greeting her new friends, a band of 50 or so caribou that roamed Lake Peters and the Carnivore Creek drainage. We're at the landing site, about to start hiking toward Mt. Chamberlin.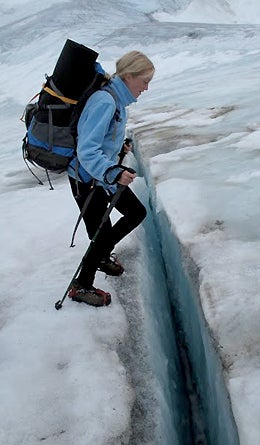 Day 3: Siena crossing a small crevasse on the Chamberlin Glacier on our way to Glacier Camp. The summer ice is so solid and crevasses are so obvious that we only roped up to jump the larger ones.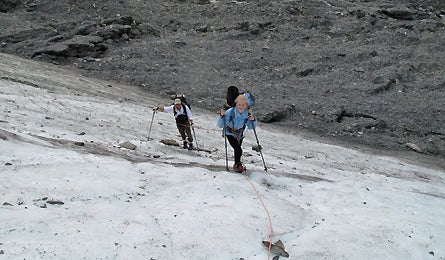 Day 3: Siena's first experience on crampons came as we climbed onto the toe of the Chamberlin Glacier. Arlene Burns (trip photographer), below, amplified the experience with her near-death story of falling 800 feet down a snowfield in Canada.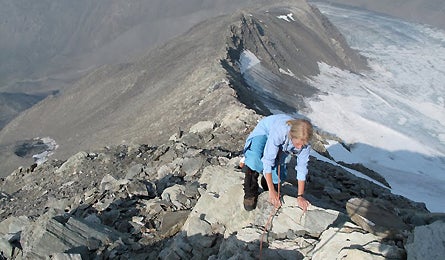 Day 4: High on the ridge above Chamberlin Glacier, shortly after I belatedly realized Siena wanted a rope. When I climbed this section in 1969 it was entirely under ice, which accounts in part for how loose the rock is.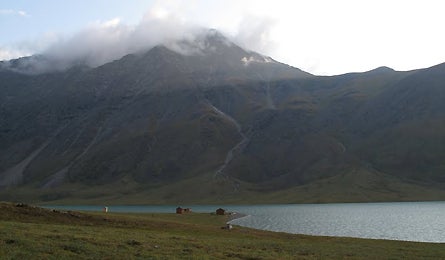 Day 6: The research cabins on Lake Peters, where we cooked pancakes during our rest day before hiking out to the pickup on the Canning River.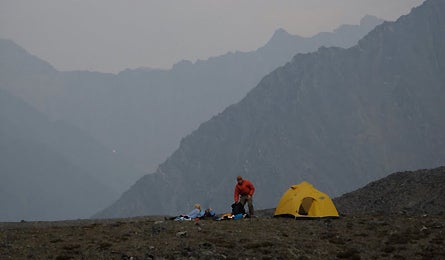 Day 8: Siena and Arlene on the pass between Carnivore and Franklin creeks, where at least a dozen bull caribou crossed. The haze in the air is smoke from forest fires raging in the Yukon River basin far to the south.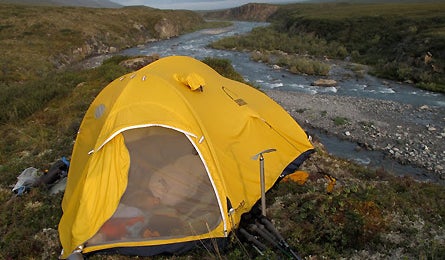 Day 11: Siena sleeping on a bluff above Franklin Creek, perhaps our most beautiful campsite. We positioned ice axes and trekking poles on my side of the tent in case they might come in handy against inquisitive bears.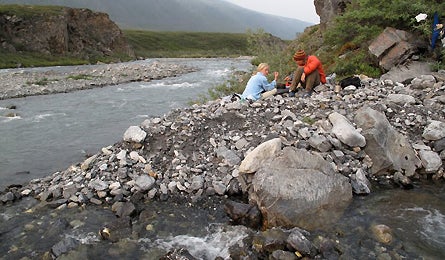 Day 11: Siena and Arlene at breakfast below Bluff Camp on Franklin Creek. Arlene had the steely nerve to dip in the frigid pool on the right, but when I stuck my foot in the liquid ice I gave up the idea instantly.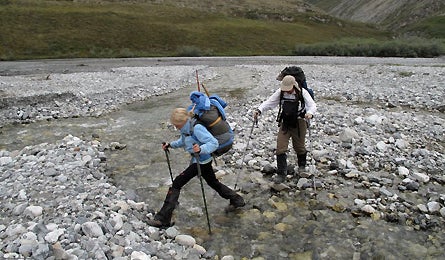 Day 12: Siena and Arlene crossing a small tributary on the Canning River. Sand flats on the Canning revealed innumerable tracks from animals we never saw, including wolves, moose, and relatives of the grizzlies.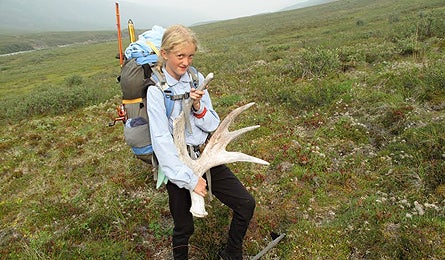 Day 12: Siena with a moose antler near the mouth of Franklin Creek. Despite vast numbers of moose droppings, fields of moose-chewed willow bushes, and frequent tracks, we never saw a single moose.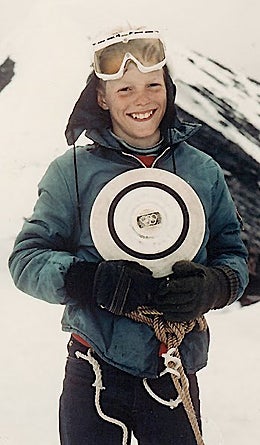 1969: The 13-year-old me during my first trip to the Arctic. The summit of Mt. Chamberlin is barely visible a few hundred meters behind me. Photo by Ken Davis.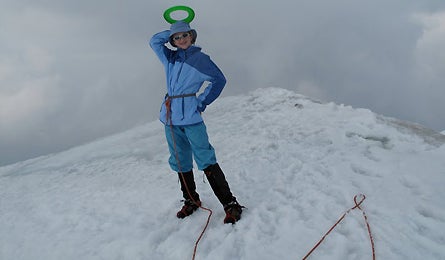 Siena on the top of Mt. Chamberlin with a smile and a frisbee…just like her dad 40 years earlier.
Day 14: Kirk Sweetsir made our day by picking us up despite storm clouds that made us fear we'd be stuck for a few days without food.