Summit Chief/Escondido Lake Loop
This 18-mile loop hike through the heart of the Alpine Lakes Wilderness follows parts of the PCT, with a bonus scramble up Summit Chief Mountain's south side.
Heading out the door? Read this article on the new Outside+ app available now on iOS devices for members! Download the app.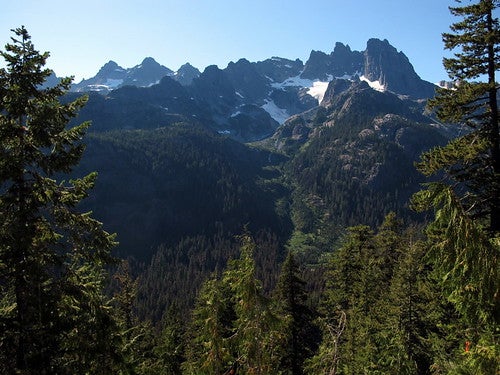 Take 3 days to take in the views on this route, hopping from remote tarns to views of the sheer cliffs of Lemah Mountain. The first day starts at the Pete Lake Trailhead (trail #1323), and is relatively flat to the shores of Pete Lake at mile 4. The trail winds through heavy woods, with occasional glimpses of Cooper River. There are several campsites around the lake.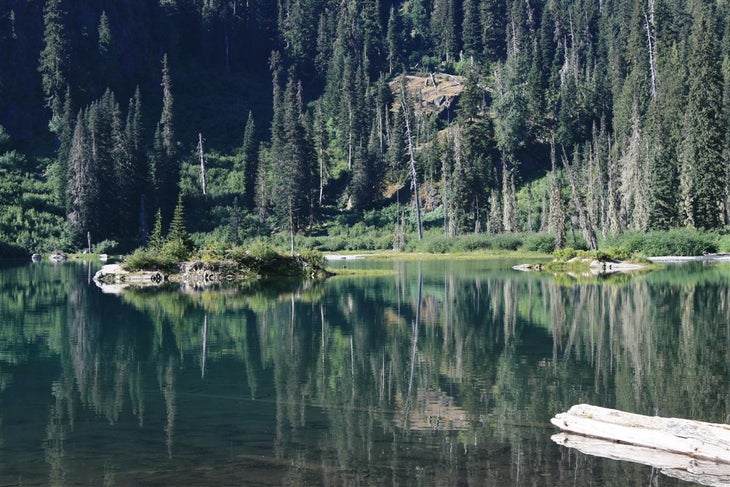 Continue past the lake through old growth forest  for another mile to Lemah Creek. Follow the Lemah Creek drainage up to Lemah Meadows, then join the PCT. Turn right and take the PCT to Little Vista Lakes (mile 11.6), at the end of a long string of switchbacks. These tarns are your camp for the first night, and base camp for an attempt on Summit Chief.

Near the top of the ridge and the tarns, you will enter an area that has been burned, and the ghostly remnants of that fire still stand vigil, stark white like bleached bones standing erect to remind you that once a forest thrived here. Lots of purple Lupine and yellow daisies dot the landscape, adding greenery and taking the edge off the harshness here. 
Pack light for an alpine start, the next morning if you want to bag Summit Chief (not included in mileage). Follow the ridgeline up, staying to the left of Summit Chief Lake, then skirt below the jagged spires of the upper ridge, towards the middle of the mountain. Head back up into a shallow bowl at the bottom of the mountain itself. From there, it's a challenging scramble to the left to gain the ridgeline (this route is for experienced scramblers only). The ridge runs all the way to the summit.
Hop back on the PCT the next day, heading past unnamed tarns with voews of Escondido Lake far below. After 3 miles turn onto the Waptus Pass Trail, heading downhill for 3.3 miles before turning right towards Pete Lake. At mile 8.35 reach another junction; this will take you back to the Pete Lake Trailhead on trail #1323.