The 11 Best Wild and Scenic River Trips in America
Some of the best wilderness in the country has no trail at all. Grab a paddle and get ready for the ultimate summer on the water with these 11 trips down National Wild and Scenic Rivers.
Heading out the door? Read this article on the new Outside+ app available now on iOS devices for members! Download the app.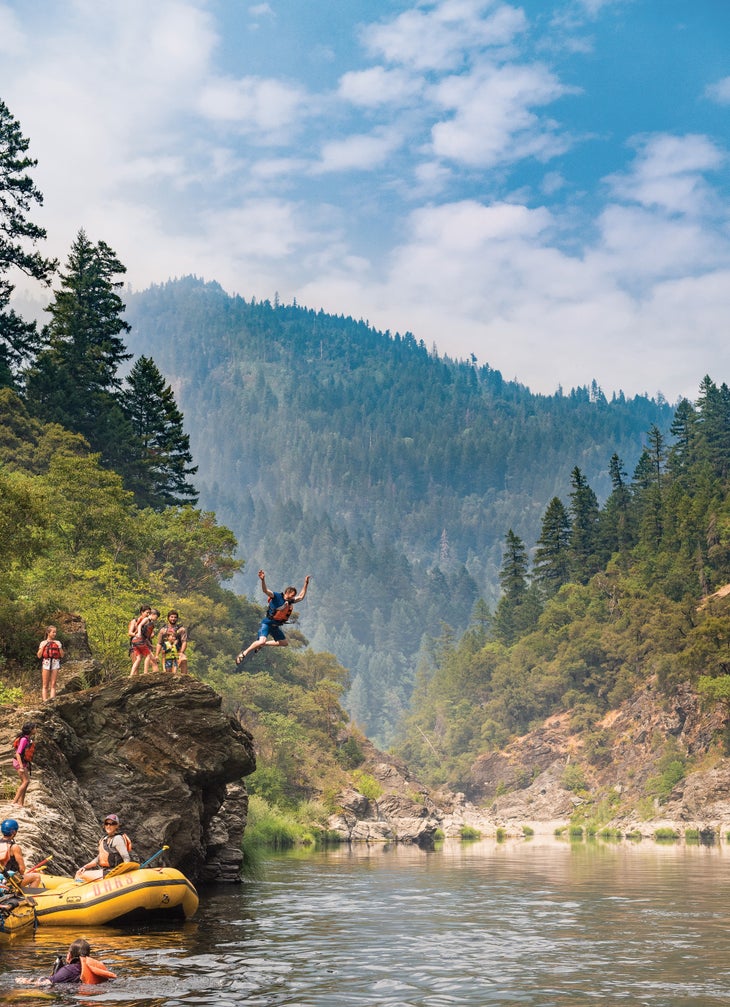 Congress established National Wild and Scenic Rivers in 1968. The designation applies to waterways that "possess outstandingly remarkable scenic, recreational, geologic, fish and wildlife, historic, cultural or other similar values," and stipulates that they "be preserved in free-flowing condition, and that they and their immediate environments shall be protected for the benefit and enjoyment of present and future generations." Today, there are 12,347 protected miles on 208 rivers in 40 states. Explore your aquatic heritage, starting with these 11 floats, which range from easy paddles to whitewater.
Klamath River, California
Length 286 miles Designated 1981
The ingredients for a perfect family river trip: warm water, exciting rapids, bald eagles, and waterfront camps where the fire's sparks mingle with the stars. While the upper section of the 286-mile Klamath roils out of Oregon with Class IV power, the Lower K has a mellower pace that's fit for an introductory rafting trip. From the put-in at Happy Camp, dip paddles into the 70°F water (average August temperature) and head west, keeping an eye on the sky for raptors, the water for otters, and the banks for black bears. One thing you won't find: boredom. The 20-mile trip has jumping rocks and riffles aplenty, and Class II/III Savage Rapid offers up a kid-size portion of whitewater. And should you need some ideas for campfire stories, the Bigfoot Trail runs through these same Klamath mountains.
Klamath River Trip Planner 
Permit None Season April to August Put-in Sluice Box Take-out Happy Creek Outfitter oars.com
Allagash Wilderness Waterway, Maine
Length 92.5 miles Designated 1970
The 92.5 miles of lakes, ponds, rivers and streams in the blueberry- and bear-filled North Maine Woods are as iconic a canoe setting as you'll find in the U.S. Tackle a six-day, 62-mile trip from Churchill Dam to Allagash Village, which includes lakes, Class II rapids, and a .3-mile, mandatory portage around 40-foot Allagash Falls. By day, look for moose, eagles, and common terns beyond your gunwales, as well as Katahdin poking out above the mixed-forest canopy. By night, camp at any of the 40 named sites while loon calls serenade you to sleep. Best bet: Hit the water in September, when the fall colors from red maple and quaking aspen stand out against the deep greens of mixed firs.
Allagash Wilderness Waterway Trip Planner
Permit Required ($13 for nonresidents) Season May to September Put-in Churchill Dam Take-out Allagash Village Outfitter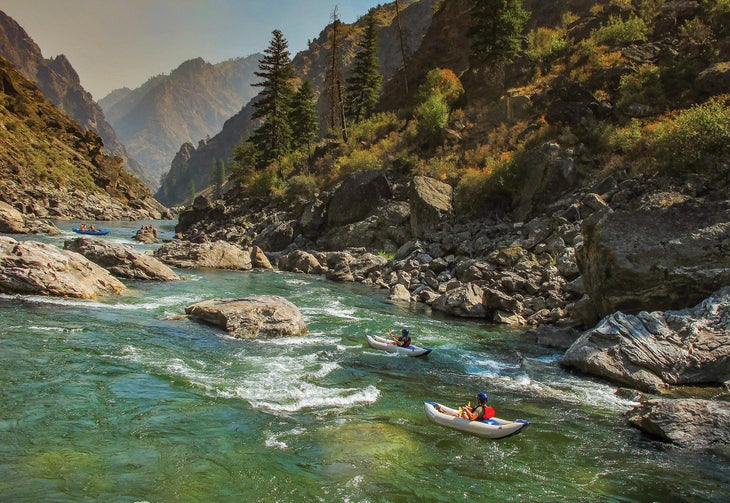 Middle Fork of the Salmon, Idaho
Length 104 miles Designated 1968
With rapids as big as the wilderness they pass through, the 104 miles of the Middle Fork of the Salmon through the Frank Church-River of No Return Wilderness top just about every thrill-seeking rafter's bucket list. That makes permits a tough get during the lottery window. Better bet: Wait until late summer, when crowds subside and trout are chunking up for the winter. Best part? Hot springs at camp all eight nights. Don't miss Hospital Bar (mile 53), where a 115°F spring bubbles up into a pool so close to the river you can cast a fly while you soak.
Middle Fork of the Salmon Trip Planner
Permit Required ($10 + $4/person per day); lottery for May 23 to Sept. 3 Season May to September Put-in Boundary Creek Take-out Cache Bar Outfitter blackadarboating.com
John Day River, Oregon
Length 147.5 miles Designated 1988
This is as close as it gets to a relaxed cruise through big Western terrain. The John Day, the third-longest undammed river in the Lower 48, passes through a volcanic wonderland of black, basalt gorges and colorful, fossil-filled ash deposits. For the most part, the lower section ambles along leisurely, letting you relax, take in the scenery, and birdwatch as you drift downstream. The 70 miles from Clarno to Cottonwood are mostly Class I /II, but Class III/IV Clarno Rapids lurks around mile 5 (scout from river left; portage if you need to). Below that is smooth sailing through 1,200-foot-deep canyons and rolling, grassy hillsides at a soporific pace. Target stands of junipers to camp in the shade and look for mule deer, river otters, golden eagles, and red-tailed hawks.
John Day River Trip Planner 
Permit Required ($20/group); reserve ahead May 20 to July 10; Season April to June Put-in Clarno Take-out Cottonwood Bridge Outfitter servicecreek.com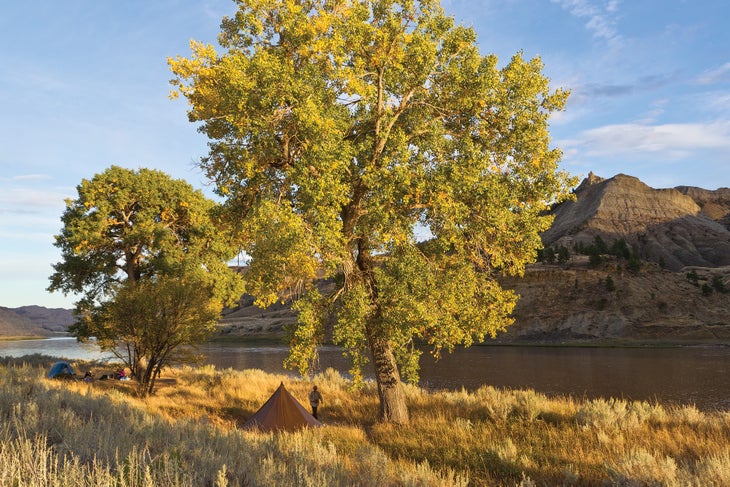 Missouri River, Montana
Length 149 miles Designated 1976
When Lewis and Clark floated the Missouri on their westward journey, they saw a landscape unmarred by human industry. The river left its mark on the party: "As we passed on, it seemed those [scenes] of visionary [enchantment] would never have an end," Lewis wrote in 1805. You won't regret the 10 days it takes to run the entire 149 miles, but if you don't have an expedition-length vacation, hit the three-day, 47-mile stretch from Coal Banks to Judith Landing. There, the water courses through an 800-foot-deep canyon of white eagle sandstone, flows across the plains, and threads through layer-cake badlands within Upper Missouri River Breaks National Monument. Camping is plentiful in designated sites, including three Lewis and Clark campsites and historic Blackfeet and Flathead tribal sites with petroglyphs.
Missouri River Trip Planner
Permit Required ($4/adult per day) Season May to September Put-in Coal Banks Take-out Judith Landing Outfitter adventureboundcanoe.com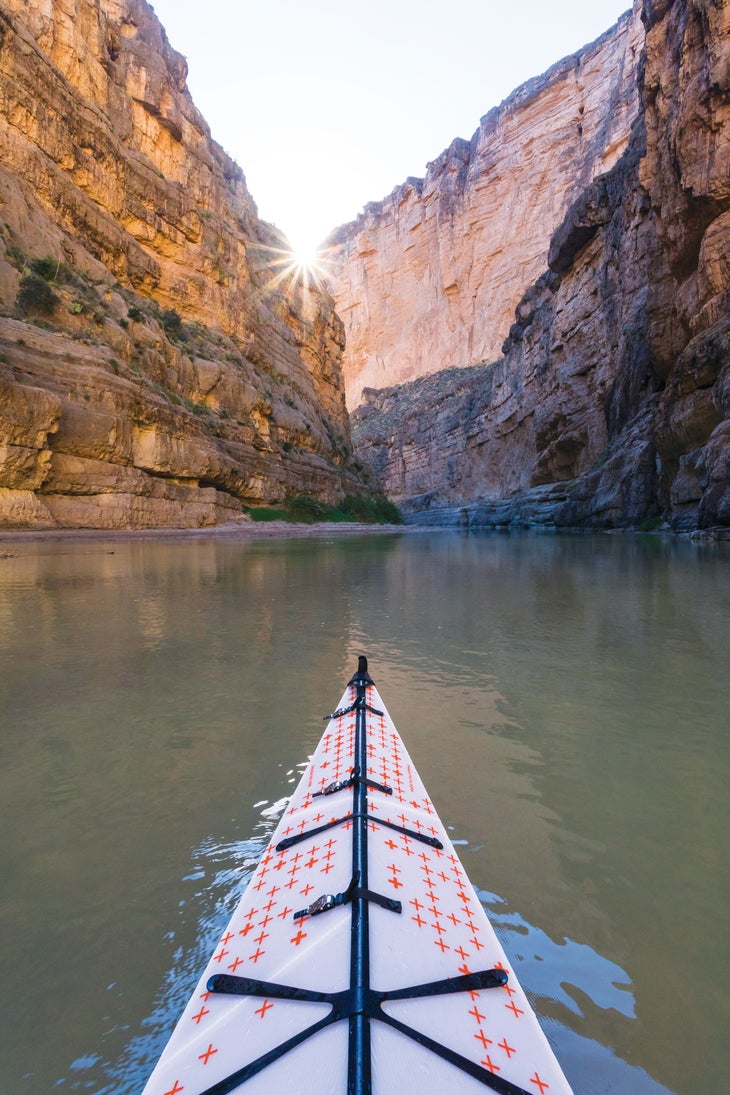 Rio Grande, Texas
Length 191.2 miles Designated 1978
Desert dwellers like others to think their stomping grounds are too arid and desolate for the rest of us to enjoy. Don't be fooled. From open, cactus-filled Chihuahuan landscapes to tight, twisty canyons and shady arroyo side hikes, this 20-mile overnight through Santa Elena Canyon offers a sampler of the Rio Grande's best scenery. It's also pretty picante: At mile 15, you'll run Rockslide Rapid, which can reach Class IV in flows approaching 1,200 cfs (scout river right; there's no portage option). When your heart rate settles, scan the skies for nose-diving peregrine falcons and the riverbanks for coyotes and wild burros. As you travel, look for grinding holes and petroglyphs from former Native American encampments. Camp on sandbars.
Rio Grande Trip Planner
Permits Required ($12); obtain in person at visitor centers. Season Year-round, but flows peak in August Put-in Lajitas Take-out Santa Elena Canyon Outfitter bigbendrivertours.com
Chattooga River, Georgia
Length 58.7 miles Designated 1974
Fans of Deliverance will be disappointed to learn that the Chattooga River, where the film was set, is not nearly as dangerous as the 1972 classic suggests. Fans of world-class river trips will not. While the rain-fed Chattooga serves up rapids from Class I to Class V, the best intermediate-friendly, two-day trip combines Sections 2 and 3 for a 20 miler that gets sportier the farther you go. The crux is Bull Sluice, a Class IV+ rapid toward the end (beware flows above 2.5 feet on the Clayton gauge). You'll be immersed in Southeast scenery as you pass through Sumter National Forest's mountainous woodland of red and white oak, birch magnolia, and mountain laurel—the latter reaches its peak kaleidoscope bloom in June.
Chattooga River Trip Planner
Permit Self-register at put-in. Season Year-round, but best April to September Put-in GA 28 Take-out US 76 Outfitter chattoogawhitewatershop.com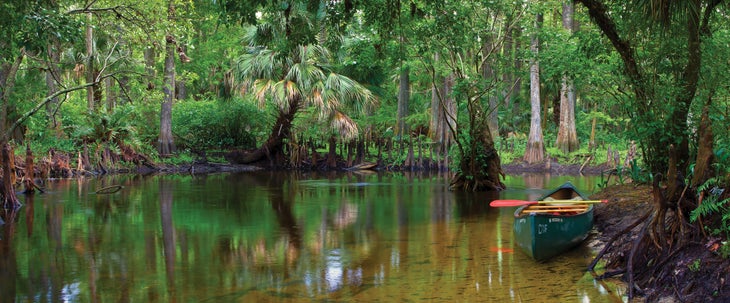 Loxahatchee River, Florida
Length 7.6 miles Designated 1985
The 8.5-mile day trip down this waterway will have you J-stroking in Jurassic Park as it meanders through a primordial swamp filled with centuries-old cypress, ferns, orchids, palms, and mangroves. While you won't see any velociraptors, you'll find plenty of their contemporaries: Sunning alligators often line the shores and slip into the water as you paddle by. (Encounters between boaters and alligators are rare, but keep your feet and hands in the boat, and never feed or harass them.) Head downstream from Riverbend Park to Jonathan Dickinson State Park with a prearranged shuttle, or paddle out and back from either of the two (the current is gentle enough to paddle against). The serpentine upper stretch is beginner-friendly, but involves two short portages around dams (or slide over them if going west to east). In Jonathan Dickinson State Park, the river widens into a mangrove-gnarled estuary.
Loxahatchee River Trip Planner
Permit None Season Year-round Put-in/take-out Riverbend Park or Jonathan Dickinson State Park Outfitter canoeoutfittersofflorida.com
Noatak River, Alaska
Length 330 miles Designated 1980
No, it's not easy to pull off an epic paddle trip in Alaska. Yes, it's worth it. In June, way up in the Gates of the Arctic National Park and Preserve, the 259,000 members of the Western Arctic caribou herd make their northward journey to their calving grounds, following the river for a portion of it. The best section of the gentle, 400-mile Noatak carves a 45-mile swath through the Brooks Range from Twelve Mile Slough to Lake Matcharak. Load crafts (inflatables are easiest to transport) into a floatplane in Bettles and fly over the granite spires of the Endicott Mountains to the slough near 8,510-foot Mt. Igikpak, where a 200-yard trail leads to the river. The waterway's gentle gradient affords time to take in the surrounding Endicott and Schwatka Mountains and to scan the tundra benches for Alaska's A-listers: wolves, Dall sheep, and grizzlies. Run it in June for your best shot at seeing the caribou migration, or in September for fall colors, ripe blueberries, and the aurora borealis.
Noatak River Trip Planner
Permit None Season June to September Put-in Twelve Mile Slough Take-out Lake Matcharak Outfitter arcticwild.com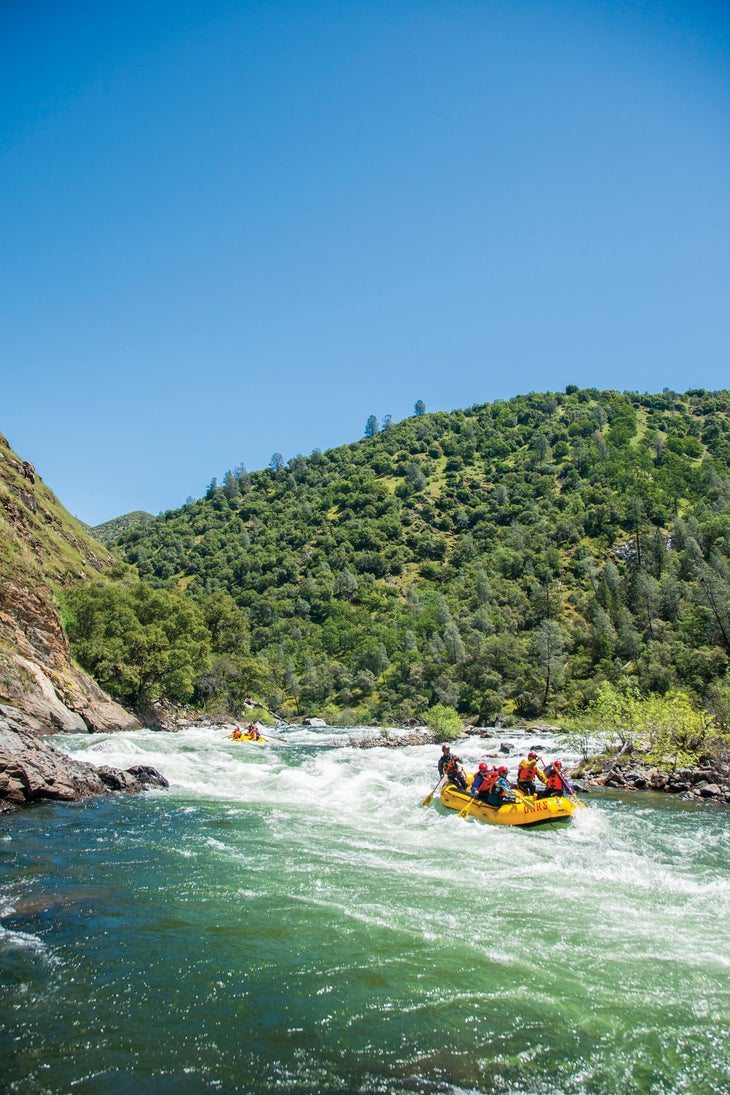 Tuolumne River, California
Length 83 miles Designated 1984
For paddlers with solid whitewater chops, the Tuolumne offers thrills aplenty. The 18-mile canyon teems with Class III to V pool-drop rapids, interspersed with just enough moments of calm to let you catch your breath. Take two or three days to camp on sandy beaches, fish clear pools, and hike up side creeks. Put-in below Hetch Hetchy, and negotiate Class IV Rock Garden and Nemesis rapids in the first .5 mile. At mile 5.4, land your craft at Clavey River and grab your fishing rod to try for native coastal rainbow trout or take a dip. Just below lies Class V Clavey Falls, which requires punching through two giant hydraulic holes (or portage on river right). From here, the river calms down, with jumping rocks, swimming pools, and easier rapids before ramping back up to a Class IV per mile in the final 5 to the take-out.
Tuolumne River Trip Planner 
Permit Required ($15) May 1 to Oct. 1; Season May to September Put-in Meral's Pool Take-out Ward's Ferry Outfitter californiawhitewater.com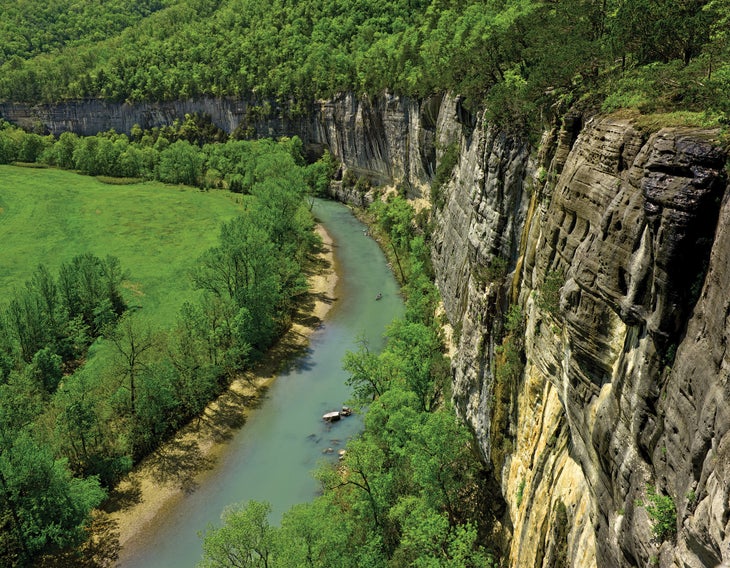 Buffalo River, Arkansas 
Length 15.8 miles Designated 1992
Arkansas's paddling options are outnumbered only by its crawfish, and the Buffalo River is the state's heart and soul. The undammed waterway sinks hundreds of feet below the rim of limestone bluffs as it flows through the Ozarks' forested hills. Plan a mellow weekend in the 24 miles from Ponca to Pruitt, where calm waters encourage swim stops, beaches and gravel bars invite picnics, and the waterway passes beneath 550-foot-tall Big Bluff, the tallest cliff between the Rockies and Appalachians. Beach your boat for the side hike to Indian Rockhouse, a massive but shallow cave where Native Americans once sheltered. If you catch rain on your trip, add the 20-minute walk to Hemmed-In-Hollow Falls, which cascades 209 feet—the tallest waterfall in the Midwest.
Buffalo River Trip Planner 
Permit None Season April to September Put-in AR 74 Take-out AR 7 Outfitter buffaloriver.com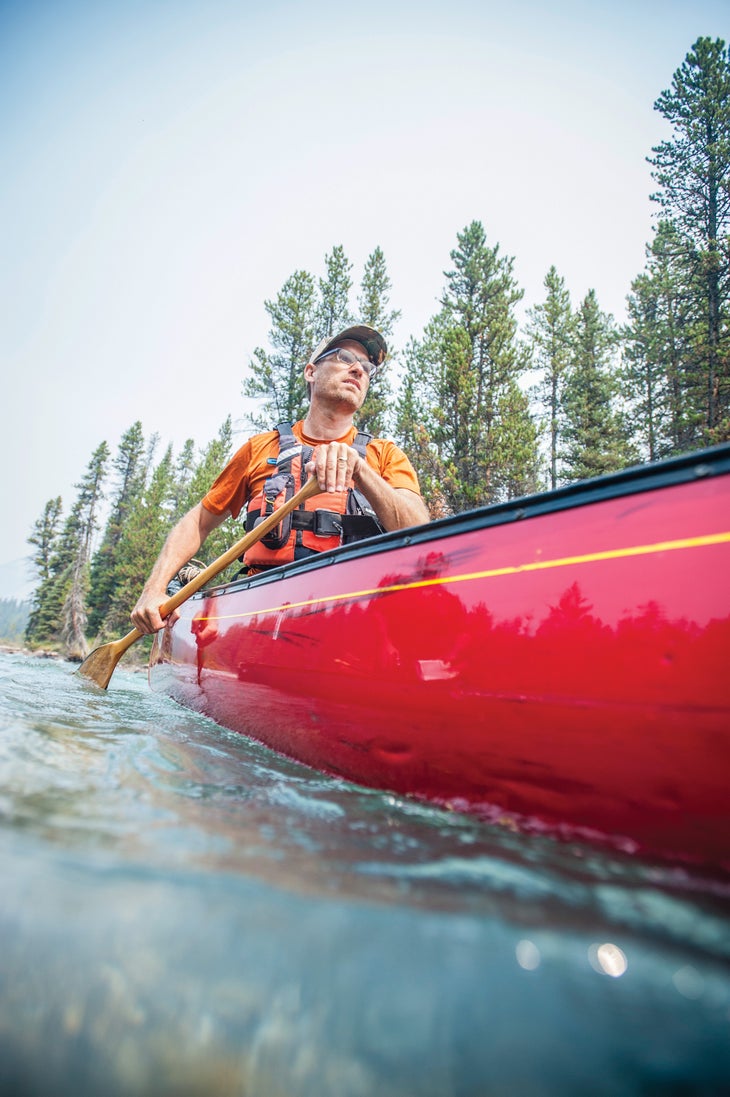 Master Paddling a Canoe
Learn these basic canoe techniques to move well on the river.
Forward stroke
WHAT: Conserve energy so you can paddle all day.
HOW: Keep your paddle close to the boat (about 6 inches away). Dip the full blade of the paddle straight in and draw it straight back. Use your back and core, rather than just your shoulders. Swivel your torso slightly toward the paddle to further reduce fatigue.
J-stroke
WHAT: Add a twist of the paddle to keep your canoe tracking straight.
HOW: Start like a forward stroke, but twist the paddle gradually to turn your blade away from the canoe at the end of the stroke.
Sweep stroke
WHAT: Change directions at speed.
HOW: Pull the paddle in a C-shaped motion (the paddle head is farthest from you in the middle of the stroke) to propel yourself forward while turning. Do it in reverse to slow down while turning. ~Spencer Cox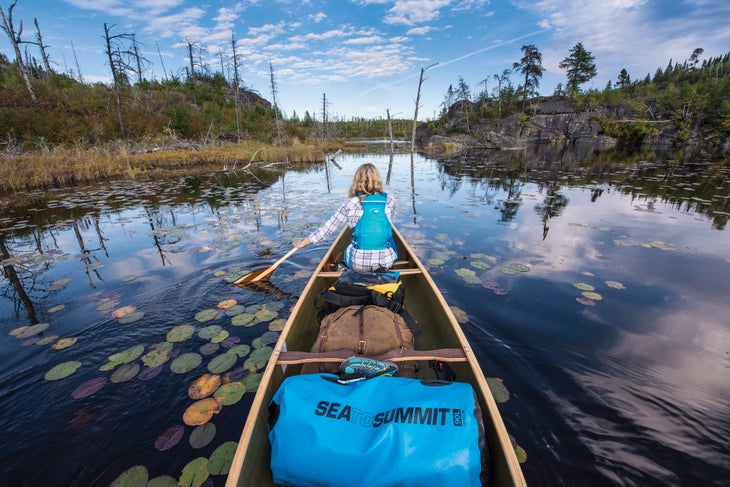 How to Pack a Canoe
Stow gear right to maximize space and stability.
1. Balance the load. Put lighter items in the front and back of the boat, reserving the middle for heavier gear (which boosts stability) and ensuring items are balanced left to right. Use small drybags: It's easier to fit them snugly around each other to fill empty space.
2. Keep air in your drybags. Maintain a little dead space in your bags and lash them below the inside edges of your boat. That way, they'll lend some extra buoyancy in a capsize and will be easier to salvage if they break loose.
3. Bring a bail bucket. Cut the bottom off of a gallon-size plastic jug (keep the cap) so you can hold the handle and use it as a scoop. When possible, do this between rapids to hit the next set without water weight sloshing around and hindering balance. ~Ryan Wichelns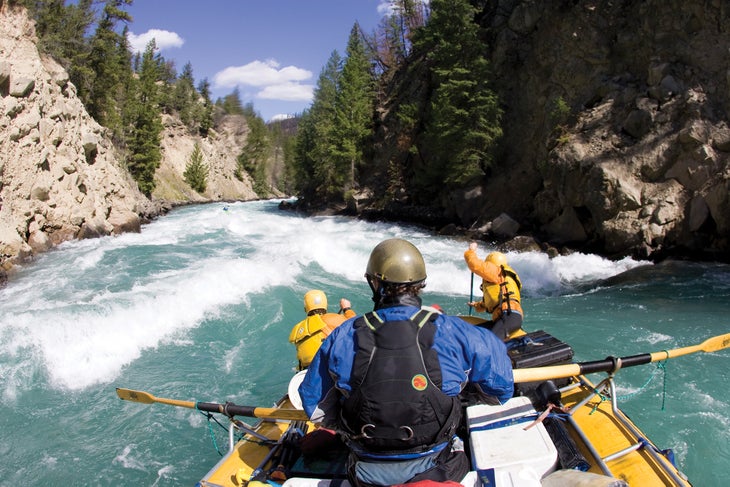 How to Read a River
Follow these signs for safe passage.
Downstream V: This feature generally denotes a good path through rough water. Look for lines in the river that form a "V" shape with the wider part closer to you and narrowing downriver.
Upstream V: These are the exact opposite, with the point of the V shape closer to you. An upstream V usually indicates water flowing around a rock or other hazard. Steer clear.
Holes: Water flowing rapidly over a submerged rock results in a frothy area of rough water just behind the obstacle. The force can flip canoes and drag swimmers under. Paddle hard and keep your boat straight if one grabs you; if in the water, swim to the side. Last resort: Ball up and hope the current flushes you out.
Color bands: Areas of water with slightly different colors parallel to each other indicate variable flows. Straight rivers tend to flow fastest in the center, while curving rivers flow fastest along the outside of a bend. Look downstream, and avoid entering faster bands that could force you into obstacles. Follow these signs for safe passage. ~Spencer Cox
Buy the Right Paddling Gear First
A great trip starts with great gear. Find boats, paddles, PFDs, and other water gear for any trip in our collection of paddling gear reviews.