Stub Stewart State Park, OR: Bumping Knots Loop
Wander amid shaded forest filled with fern and wildflowers on one of the longer trails in Oregon's newest state park.
Heading out the door? Read this article on the new Outside+ app available now on iOS devices for members! Download the app.
Just 30 miles west of Portland, Oregon's newest state park offers visitors camping, horseback riding, and over 15 miles of winding, interconnected hiking trails. One of the longer trails, Bumping Knots is a 6-mile lollipop loop that traces an old logging road along a length of Williams Creek, then climbs to a ridge with views across the park valley.
From the Welcome Center, walk back down the main road to the crossing of the Banks-Vernonia State Trail. Pick up the trail at a small shuttle parking area by hiking 0.25 mi. south on the paved BV trail to the junction with the dirt Hollie's Point of View trail. Follow Hollie's for 0.4 mi. to the junction with the Bumping Knots trail. Here the trail narrows, descends to a small creek, climbs to the loop fork, then descends to Williams Creek along an old logging road. When an old wooden train trestle appears, the loop turns west to the top of the ridge, where the trail is lined with tiger lily, columbine and hedge nettle, with occasional views eastward over the valley. Turn right again at a junction with a service road and connect back up with the loop fork. Return via the same route.
Info: http://www.oregonstateparks.org/park_255.php
By Eli Boschetto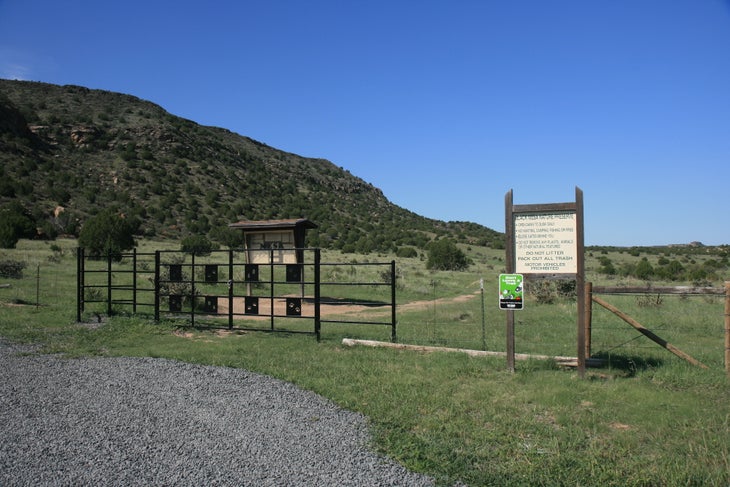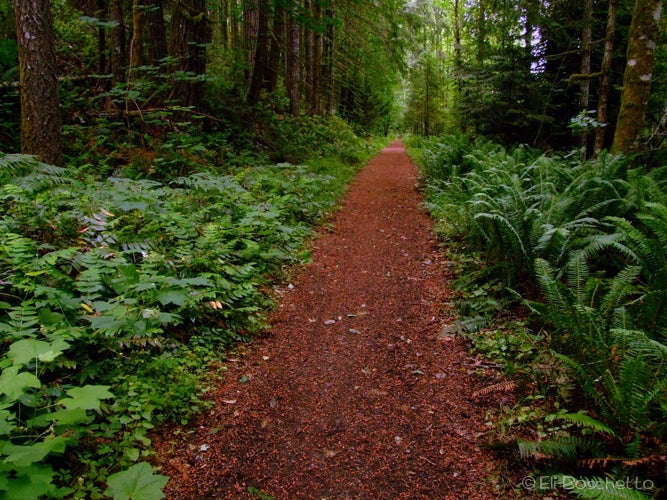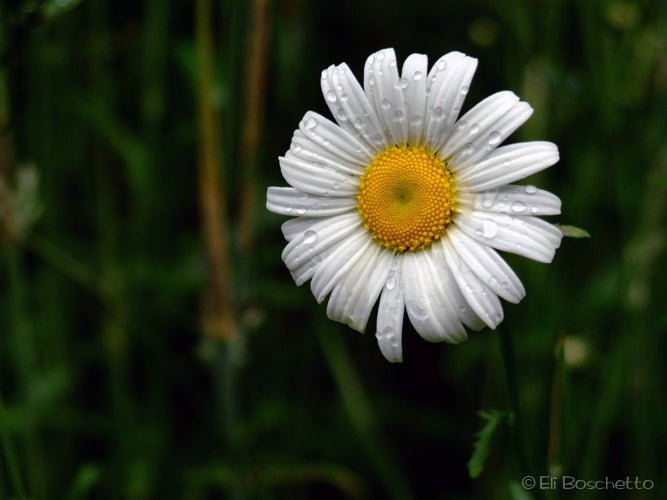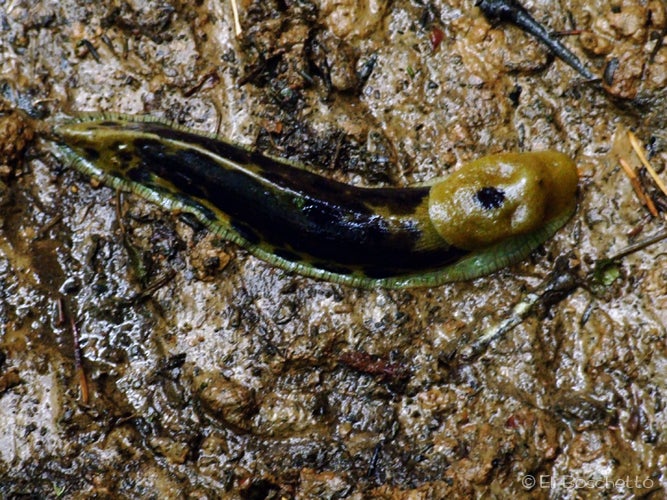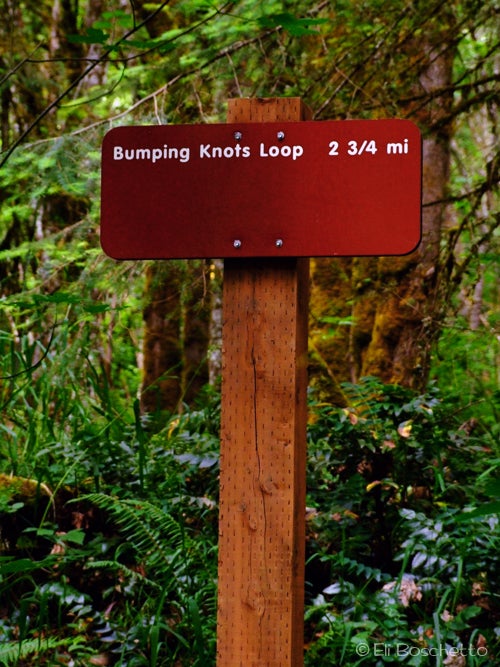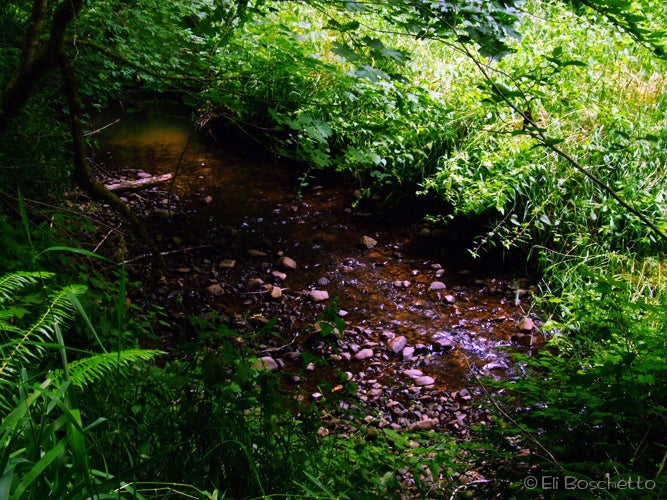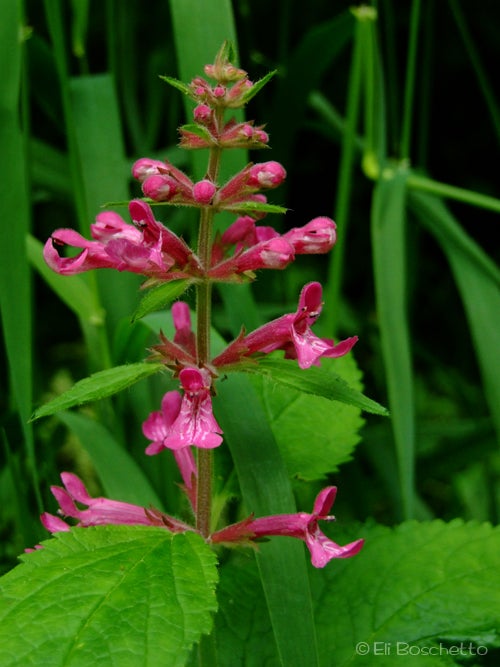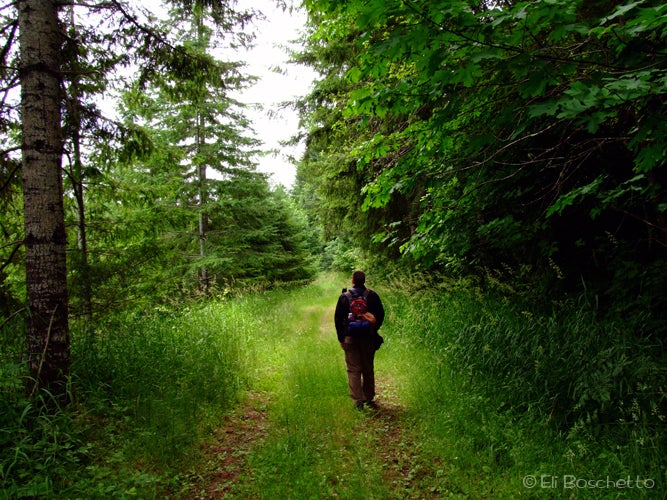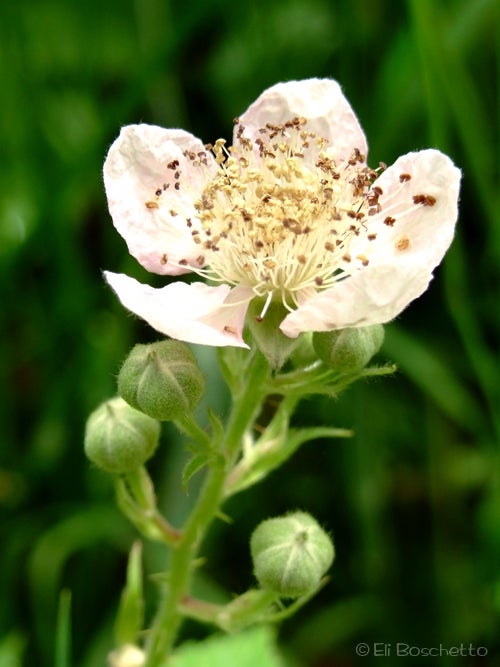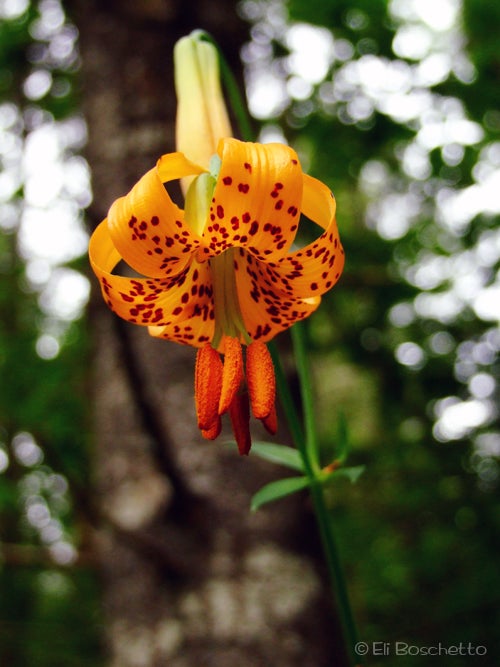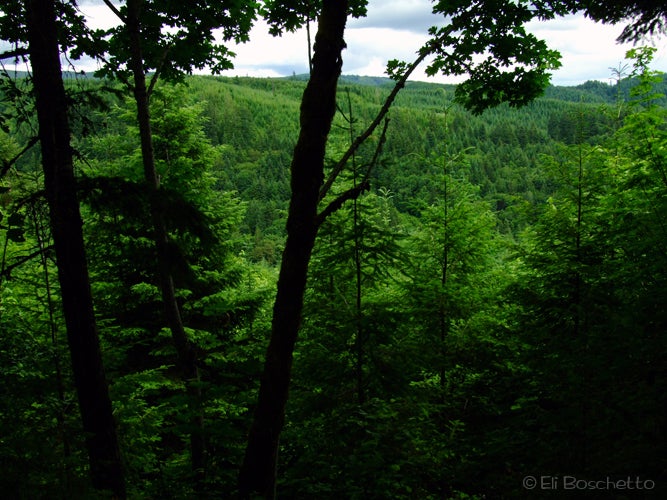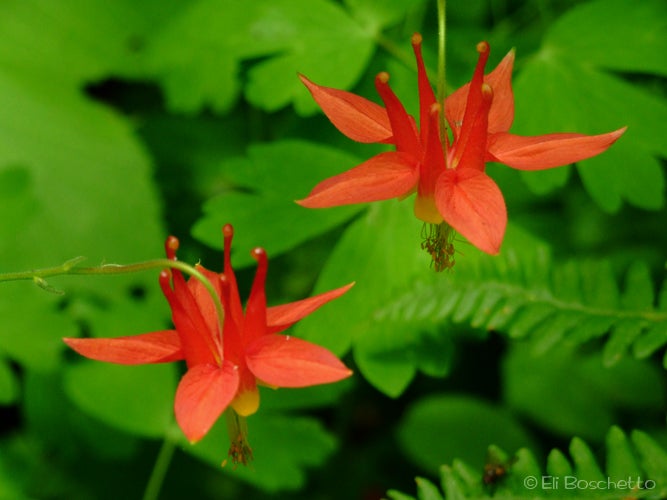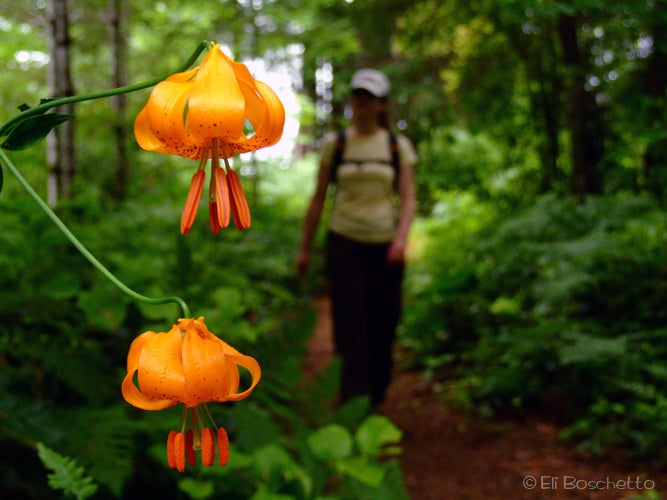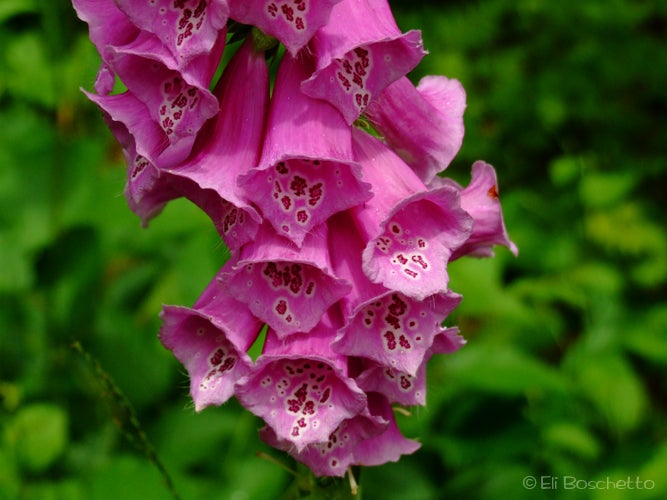 Trail Facts
Waypoints
BMP001
Location: 45.7378521, -123.1954048
Start at the Banks-Vernonia State Trail; head south to junctions with Hollie's POV and Bumping Knots trails.
BMP002
Location: 45.7350888, -123.1955436
Veer right on Hollie's Point of View trail.
BMP003
Location: 45.7302198, -123.1946594
Bumping Knots trail junction. Fork left for short spur to Hollie's Point of View; right for Bumping Knots trail.
BMP004
Location: 45.7296756, -123.1937471
Hollie's Point of View.
BMP005
Location: 45.7165671, -123.1926606
Trail forks for Bumping Knots Loop. Take left fork (SE) to Williams Creek. After completing loop, return along same route.
BMP006
Location: 45.7026742, -123.1916202
Short spur to creekside.
BMP007
Location: 45.7019002, -123.1922598
Loop trail continues to right (W). Area straight ahead closed to hikers.
BMP008
Location: 45.7082676, -123.1922295
Look for views east over valley. Lots of wildflowers in this area – columbine, tiger lily, hedge nettle.
BMP009
Location: 45.7135934, -123.195712
Trail turns right (E) at junction with service road.
BMP010
Location: 45.7377514, -123.1953287
End.
Trailhead
Location: 45.7377881, -123.1947613
Start on the Banks-Vernonia trail to reach the Bumping Knots Loop. © Eli Boschetto
Hollie's Trail
Location: 45.733984, -123.1953621
The wide Hollie's Point of View trail connects to Bumping Knots. © Eli Boschetto
Spring Daisies
Location: 45.7323365, -123.1952763
Oxeye daisies line many of the trails in Stub Stewart's. © Eli Boschetto
Slimy
Location: 45.7282324, -123.1951904
Keep your eyes peeled for banana slugs on the trails. This guy was about 6″ long. © Eli Boschetto
Loop Fork
Location: 45.7168024, -123.1923795
Start of the Bumping Knots Loop. Take the left fork to Williams Creek. © Eli Boschetto
Williams Creek
Location: 45.7134014, -123.1905127
One of the few close-up views of Williams Creek. © Eli Boschetto
Hedge Nettle
Location: 45.7090713, -123.1884313
Look for these pink stalky flowers along Williams Creek. © Eli Boschetto
Old Road
Location: 45.7054151, -123.1901693
Hiking the old logging road on the Bumping Knots Loop. © Eli Boschetto
Summer Treat
Location: 45.7021483, -123.1918859
Look for large blackberry bushes near the top of the Bumping Knots Loop. © Eli Boschetto
Tiger Lily
Location: 45.7039315, -123.1943321
Lots of this pretty orange flower can be found on the upper ridge along Bumping Knots. © Eli Boschetto
Park View
Location: 45.7090413, -123.1918216
Look for view spots along the upper ridge on the Bumping Knots Loop. © Eli Boschetto
Columbine
Location: 45.7103299, -123.1923151
Another prolific flower on the ridge portion of the Bumping Knots Loop. © Eli Boschetto
On the Ridge
Location: 45.7118882, -123.1941605
Tiger lily, with a hiker on the ridge of the Bumping Knots Loop. © Eli Boschetto
Foxglove
Location: 45.7150945, -123.1938386
Find stalks of pink and white varieties of foxglove along the Bumping Knots Loop. © Eli Boschetto