Strawberry Mountain Wilderness, OR: Strawberry Lakes
Get big mountain scenery without the big mountain effort on this 6.9-mile out-and-back that visits two gorgeous alpine lakes, secluded campsites, and a 60-foot trailside waterfall.
Heading out the door? Read this article on the new Outside+ app available now on iOS devices for members! Download the app.
Twenty miles southeast of John Day, the Strawberry Wilderness—with sparkling alpine lakes and towering glaciated peaks—has more in common with the Canadian Rockies than Oregon's high desert. The trail starts at the Strawberry Campground, at the end of FR 6001. Pick up the trailhead near the day-use parking area, register at the signboard, then start up through fir forest, keeping right at several junctions, to the landslide-choked outlet of Strawberry Lake.
Fork right (west) at the lake loop junction, and cross the dried up outlet to a small beach where the still water of early morning offers mirror-like reflections of the surrounding peaks. Continue around the west side of the lake, crossing several inlet streams and passing a couple of nice camp spots, one near a wide lakeside grassy meadow. At the head of the lake, after a couple more stream crossings, look for a signed trail branching off to the right, and start a steady climb to Strawberry Falls. The 60-foot falls comes into view around mile 3, and the cool spray is perfect relief on hot summer days. A long switchback leads to the bridge over the top of the falls and to the next junction; fork left (east) to Upper Strawberry Lake.
The trail follows Strawberry Creek a short ways, crosses, then runs east less than half a mile to Upper Strawberry Lake, a gorgeous alpine lake in an amphitheater of 1,500-foot glaciated volcanic rock, with a small meadow on one end and a large scree slope on the other. Lake access is limited, but several secluded campsites can be found in the area. Find a nice spot for lunch and enjoy the view, or pick your tent site for an overnight. On the return trip, retrace your route to the head of Strawberry Lake and turn right (east) to explore the other shoreline (you'll find several more campsites and nice lake access) before returning to the trailhead.
-Mapped by Eli Boschetto, Bosco Mountain Photo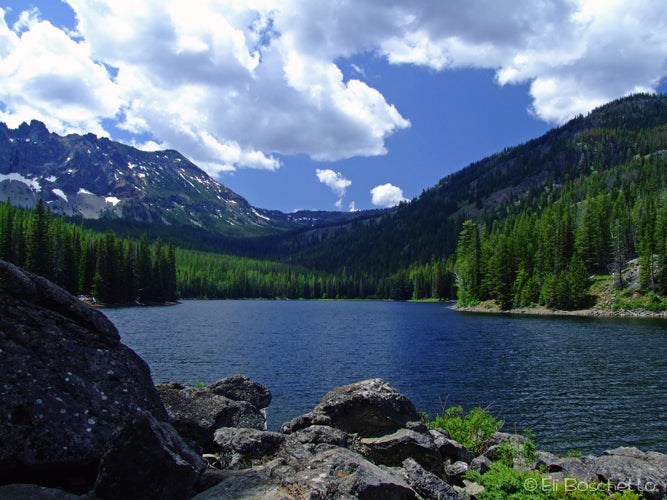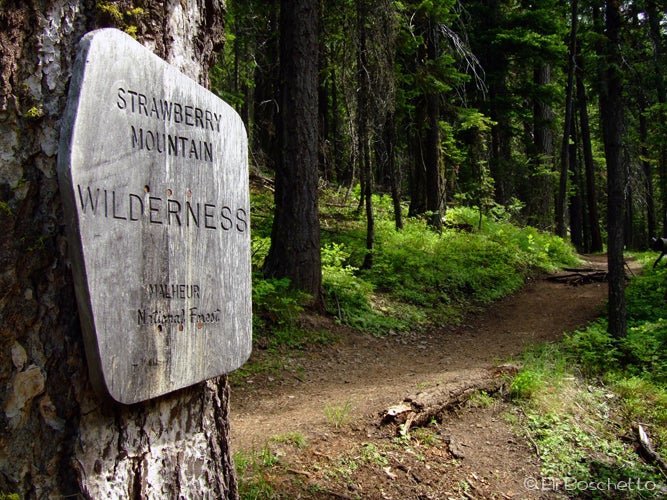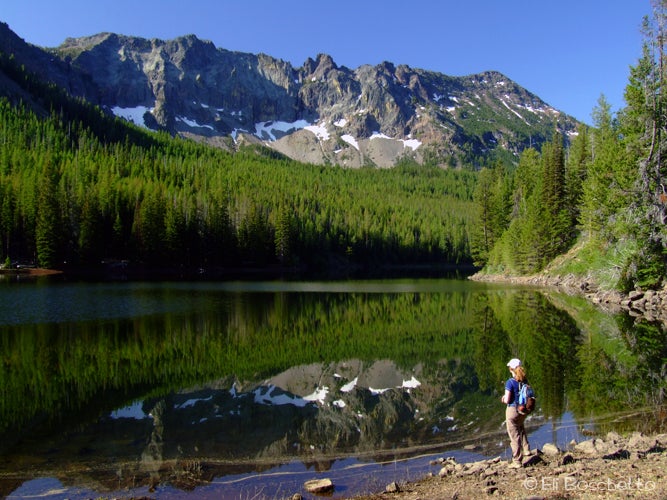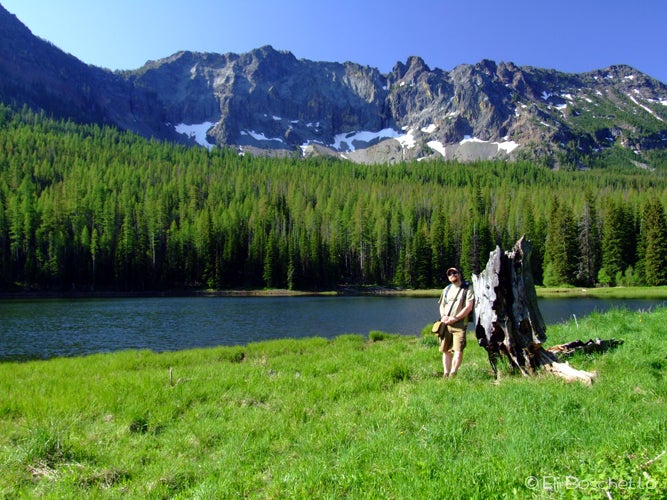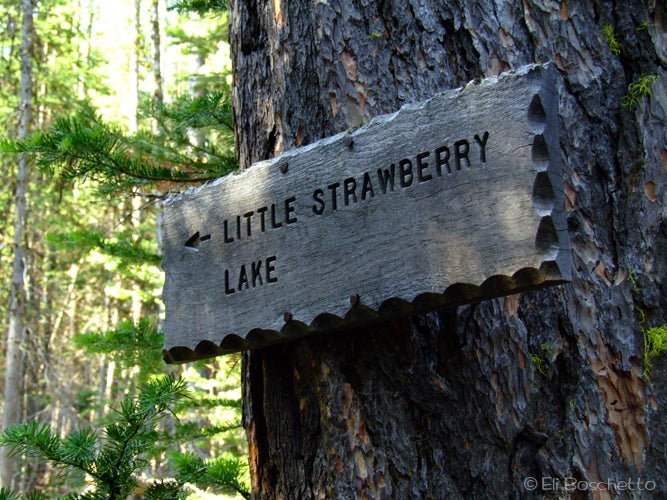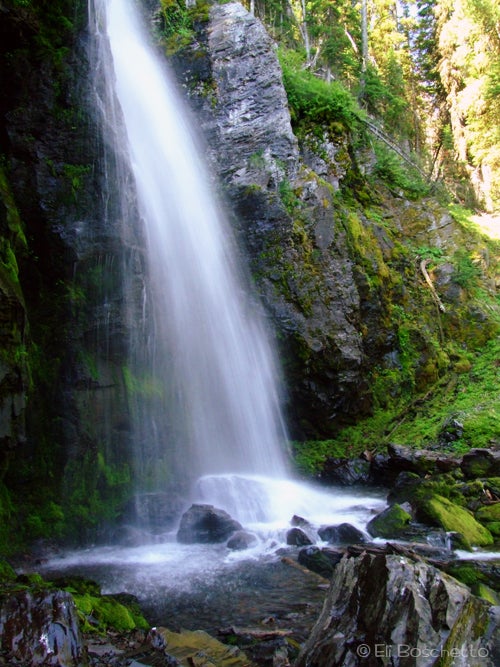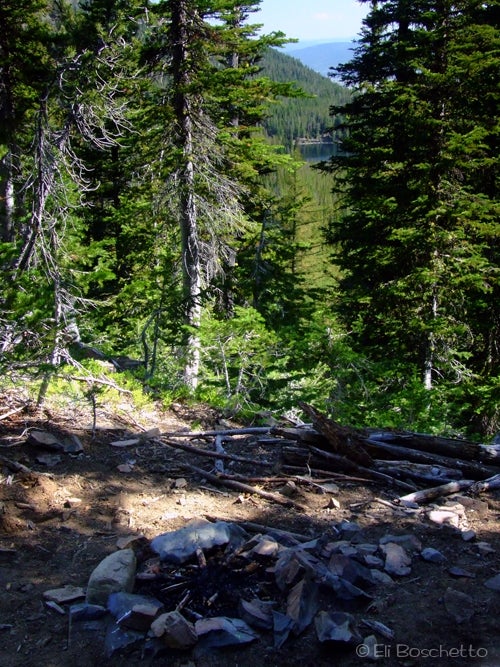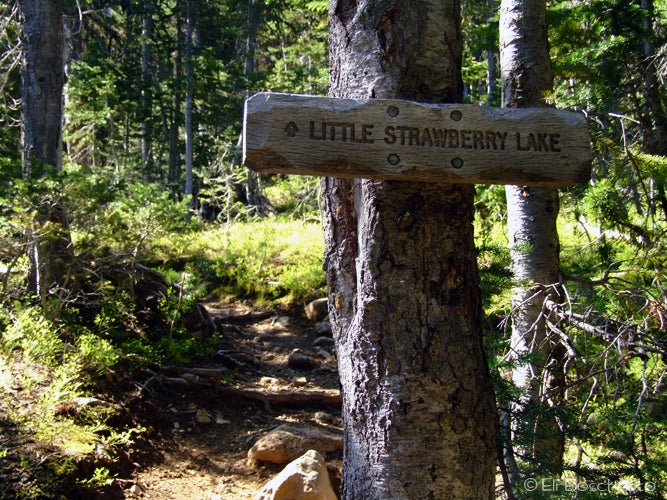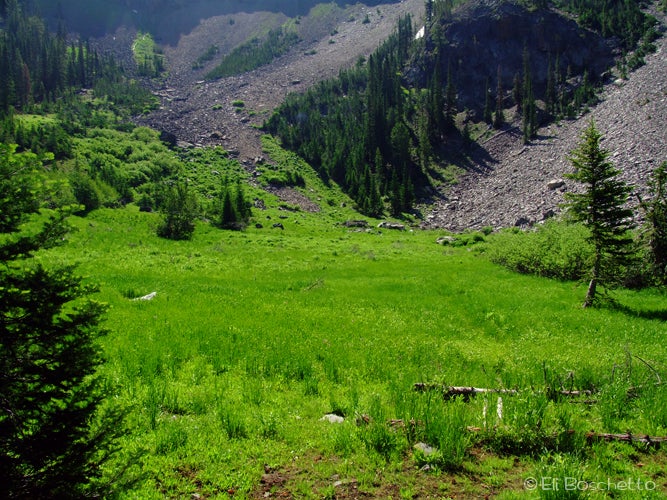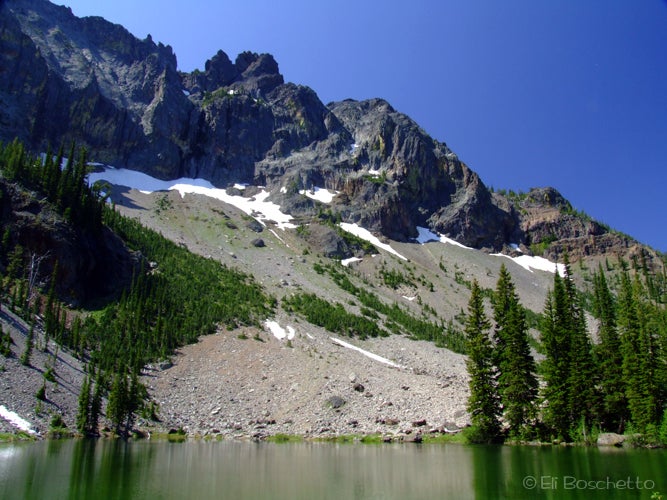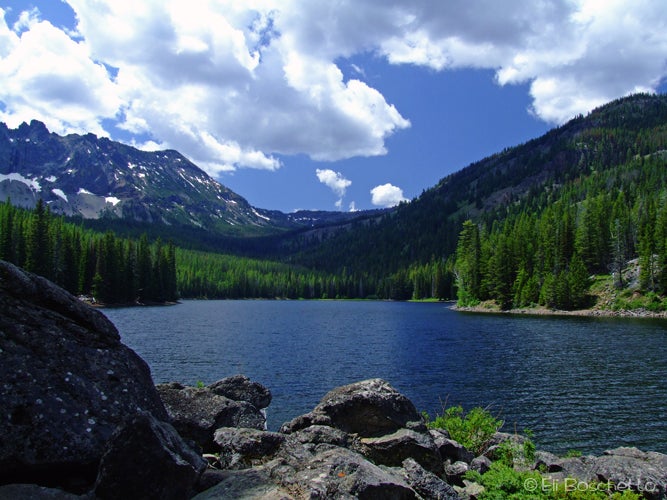 Trail Facts
Waypoints
SBL001
Location: 44.319281, -118.674102
From the trailhead in Strawberry Lake Campground, the path climbs south into the lake basin.
SBL002
Location: 44.311038, -118.677243
Bear right toward Strawberry Lakes.
SBL003
Location: 44.309854, -118.680775
Bear right.
SBL004
Location: 44.309589, -118.681934
At the northern tip of Strawberry Lake, turn right on the loop trail.
SBL005
Location: 44.309854, -118.682319
Pass a large campsite with spectacular lake views.
SBL006
Location: 44.306587, -118.687583
Cross the first of several creek crossings on log bridges.
SBL007
Location: 44.306472, -118.687442
Creekside campsite near large meadow
SBL008
Location: 44.304463, -118.688381
This wooded campsite is located between small creeks.
SBL009
Location: 44.304363, -118.68641
Turn right at this 3-way junction onto the trail to Upper Strawberry Lake (called Little Strawberry Lake on USGS maps).
SBL010
Location: 44.304055, -118.68627
Turn right at the T-junction.
SBL011
Location: 44.29649, -118.69307
Strawberry Falls: This 60-foot, trailside waterfall is perfect for cooling off on hot summer days.
SBL012
Location: 44.295976, -118.692985
Cross bridge above Strawberry Falls.
SBL013
Location: 44.295829, -118.692969
Pass a small campsite above the falls with lake views.
SBL014
Location: 44.295918, -118.693317
Fork left to Upper Strawberry Lake. The trail on the right climbs to Strawberry Mountain.
SBL015
Location: 44.293924, -118.685912
Upper Strawberry Lake: You'll find several secluded campsites around the lakeshore. Next: Backtrack to SBL009 and turn right.
SBL016
Location: 44.306227, -118.683521
Bear left at fork.
SBL017
Location: 44.307099, -118.683538
Nice lakeside campsite
SBL018
Location: 44.308203, -118.68202
Pass a large lakeside campsite. Ahead, the trail reconnects with SBL004; turn right to return to the trailhead.
Strawberry Lake
Location: 44.309355, -118.68187
View up valley over Strawberry Lake.
Strawberry Wilderness
Location: 44.320041, -118.672686
Entering the Strawberry Wilderness to Strawberry and Slide Lakes.
Reflection
Location: 44.309985, -118.682921
Early morning reflection on Strawberry Lake's still water.
Lakeside Meadow
Location: 44.306107, -118.687717
Large lakeside meadow with stunning views; campsite nearby.
Upper Trail
Location: 44.304368, -118.686373
Watch for the trail that branches south to Upper Strawberry Lake.
Strawberry Falls
Location: 44.296494, -118.693011
Secret Camp
Location: 44.295838, -118.692904
Score this small campsite above the bridge with lake and valley views!
Trail Fork
Location: 44.29593, -118.693247
Left at this sign for the final stretch to Upper Strawberry Lake.
Big Meadow
Location: 44.293914, -118.685834
Trail ends at Upper Strawberry Lake and large meadow under big talus.
Upper Strawberry
Location: 44.29392, -118.685869
Look for the Rabbit Ears formation in the wall towering above Upper Strawberry Lake.
Strawberry Lake
Location: 44.305178, -118.684745
View down valley over Strawberry Lake.