State Highpoint: Mount Greylock via Bellows Pipe Trail
Take the 5.5-mile trek up Bellows Pipe Trail to the summit, while your there enjoy a local cocktail a cup of chowder at Bascom Lodge.
Heading out the door? Read this article on the new Outside+ app available now on iOS devices for members! Download the app.
Ralph Waldo Emerson once warned his frequent hiking companion and fellow nature lover, Henry David Thoreau, that Mount Greylock was a "serious mountain." Thoreau, of course, climbed it immediately. He summited the 3,491-foot Massachusetts high point via what he described as, in the purplest prose, "a road for the pilgrim to enter upon, who would climb to the gates of heaven." That road is now the 5.5-mile Bellows Pipe Trail.
Hike it by heading 2.2 miles south from North Adams on Notch Road to the trailhead at Notch Gate. The path rises 1,000 feet through the falls-filled ravine between Mt. Greylock and Ragged Mountain. The state's only boreal forest grows here. (Want to make it an overnight? The trail passes a shelter hidden in the pines at mile 2.7.) Link to the Appalachian Trail at mile 3.7 and wind through birch and pines another half-mile to the summit, a flat, open field with a lodge (see right), the Massachusetts Veterans War Memorial (built in 1932), and wide-screen views of the rolling Berkshire Mountains.
Thoreau, of course, didn't have it so cush. He bushwhacked the final part of the ascent and slept on the summit under a plank of wood. And he wasn't rewarded with the now-legendary five-state view. It was socked in, or, in more Thoreauvian terms, obscured by an "undulating valley of clouds." In fall, the panorama draws foliage-heads (the majority drive to the summit on the newly restored road). Return the way you came or make an 11-mile loop with the AT and Bernard Farm Trail. Don't like to share? Wait until snowfall to trek—or snowshoe—in total solitude.
–O'rya Hyde-Keller
Note: The route shown on this map is approximate.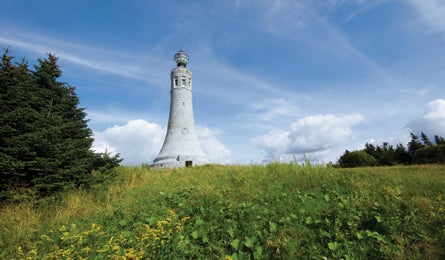 Trail Facts
Waypoints
TH: Waterton Canyon
Location: 39.490563, -105.09622
South Platte RD, Pike NF
TH: South Platte
Location: 39.400483, -105.167663
South Platte RD, Pike NF
TH: Little Scraggy Peak
Location: 39.34452, -105.257607
South Platte RD, Pike NF
TH: Shinglemill
Location: 39.344604, -105.281408
South Platte RD, Pike NF
TH: Buffalo
Location: 39.341052, -105.339307
South Platte Rd, Pike NF
TH: Rolling Creek
Location: 39.336075, -105.402676
South Platte RD, Pike NF
TH: North Fork
Location: 39.306779, -105.51513
South Park RD, Pike NF
TH: Lost Park
Location: 39.285008, -105.507017
South Park RD, Pike NF
TH: Long Gulch
Location: 39.347043, -105.618439
South Park RD, Pike NF
TH: Rock Creek
Location: 39.362479, -105.687543
South Park RD, Pike NF
TH: Kenosha Pass East
Location: 39.413579, -105.755162
South Platte RD, Pike NF
TH: Georgia Pass
Location: 39.4578, -105.916786
South Park RD, Pike NF
TH: Gold Hill
Location: 39.541273, -106.042139
Dillon RD, White River NF
TH: Miners Creek
Location: 39.533304, -106.097407
Dillon RD, White River NF
TH: Wheeler Flats
Location: 39.510482, -106.14128
Dillon RD, White River NF
TH: Camp Hale
Location: 39.422015, -106.271947
Holy Cross RD, White River NF
TH: Tennessee Pass
Location: 39.362615, -106.311284
Holy Cross RD, White River NF (or Leadville RD, San Isabel NF)
TH: Wurtz Ditch Road
Location: 39.35051, -106.349952
Leadville RD, San Isabel NF
TH: Bear Lake
Location: 39.301155, -106.407714
Leadville RD, San Isabel NF
TH: Timberline Lake (CT)
Location: 39.284963, -106.446718
Leadville RD, San Isabel NF
TH: Hagerman Pass
Location: 39.26974, -106.433873
Leadville RD, San Isabel NF
TH: Leadville National Fish Hatchery
Location: 39.225171, -106.391921
Leadville RD, San Isabel NF
TH: Mount Massive
Location: 39.151603, -106.419355
Leadville RD, San Isabel NF
TH: Mount Elbert
Location: 39.151329, -106.419325
Leadville RD, San Isabel NF
TH: South Mount Elbert
Location: 39.099352, -106.367147
Leadville RD, San Isabel NF
TH: Interlacken
Location: 39.074644, -106.330833
Leadville RD, San Isabel NF
TH: Clear Creek Road
Location: 39.020719, -106.278695
Leadville RD, San Isabel NF
TH: North Cottonwood Creek
Location: 38.865091, -106.239339
Salida RD, San Isabel NF
TH: Avalanche
Location: 38.813841, -106.280629
Salida RD, San Isabel NF
Mount Princeton Hot Springs
Location: 38.734206, -106.164614
TH: Chalk Creek (Bootleg?)
Location: 38.716182, -106.200392
Salida RD, San Isabel NF
TH: Browns Creek
Location: 38.671879, -106.161371
Salida RD, San Isabel NF
TH: Angel of Shavano
Location: 38.584329, -106.220992
Salida RD, San Isabel NF
TH: Mount Shavano
Location: 38.596442, -106.196463
Salida RD, San Isabel NF
TH: US-50 South Fooses Creek
Location: 38.543332, -106.242814
Salida RD, San Isabel NF
TH: Marshall Pass
Location: 38.394948, -106.247537
Salida RD, San Isabel NF
TH: Cameron Park
Location: 38.30108, -106.36246
Gunnison RD, Gunnison NF
TH: Sargents Mesa
Location: 38.285844, -106.377782
Saguache RD, Rio Grande NF
TH: Razor Park
Location: 38.293257, -106.516169
Saguache RD, Rio Grande NF
TH: Lujan Creek Road
Location: 38.239522, -106.55799
Saguache RD, Rio Grande NF
TH: CO-114
Location: 38.225224, -106.585822
Gunnison RD, Gunnison NF
TH: Cochetopa Pass
Location: 38.161438, -106.620861
Gunnison RD, Gunnison NF
TH: Eddiesville
Location: 38.025587, -106.835777
Gunnison RD, Gunnison NF
TH: Stewart Creek
Location: 38.02459, -106.841289
Gunnison RD, Gunnison NF
TH: San Luis Pass
Location: 37.938427, -106.960691
Divide RD, Rio Grande NF
TH: Spring Creek
Location: 37.94018, -107.158351
Gunnison RD, Gunnison NF
TH: Camp Trail
Location: 37.916703, -107.332609
Gunnison RD, Gunnison NF
TH: Williams Creek
Location: 37.923892, -107.33411
Gunnison RD, Gunnison NF
TH: Carson Saddle
Location: 37.85622, -107.368355
Divide RD, Rio Grande NF
TH: Stoney Pass
Location: 37.794779, -107.547741
Divide RD, Rio Grande NF
TH: Hunchback
Location: 37.712423, -107.517959
Divide (Creede) RD, Rio Grande NF
TH: Elk Creek
Location: 37.727044, -107.6468
Columbine RD, San Juan NF
TH: Molas Pass
Location: 37.747706, -107.687798
Columbine RD, San Juan NF
TH: Little Molas Lake
Location: 37.743838, -107.71067
Columbine RD, San Juan NF
TH: Bolam Pass
Location: 37.713413, -107.903423
Columbine RD, San Juan NF
TH: Hotel Draw
Location: 37.649714, -107.956982
Columbine RD, San Juan NF
TH: Kennebec Pass
Location: 37.451529, -108.011312
Columbine RD, San Juan NF
TH: Junction Creek Camp
Location: 37.337101, -107.919431
Columbine RD, San Juan NF
TH: Junction Creek
Location: 37.333962, -107.907893
Columbine RD, San Juan NF