Start Smart: Properly Pack a Canoe or Kayak
Follow these guidelines to keep your gear dry, secure, and well balanced in a canoe or kayak.
Heading out the door? Read this article on the new Outside+ app available now on iOS devices for members! Download the app.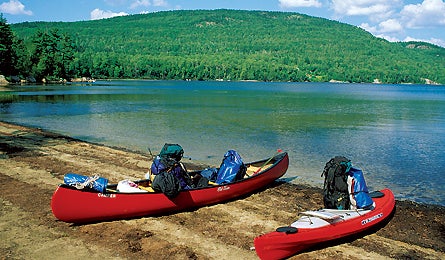 Use multiple dry bags for a balanced boat (Jerry & Marcy Monkman)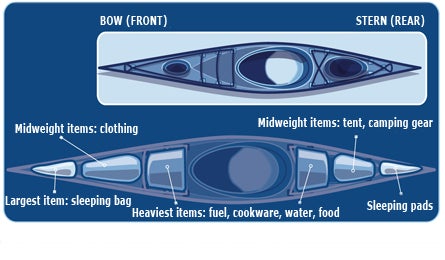 Illustration by Supercorn
Keep it dry
Start with waterproof dry bags. Thin, coated nylon bags (such as SealLine, seallinegear.com) are lightweight and pack easily in tight spaces. If you're a gear abuser, go with heavier rubber bags (like Watershed, drybags.com).
Make gear easy to load and balance by organizing everything into several smaller dry bags instead of one big one. Use different color bags for clothing, food, etc.
Pack the dry bag two-thirds full. An under-stuffed or overstuffed bag compromises the watertight seal.
Before sealing, squish the dry bag with your knee to burp out extra air.
Use the taped seam near the top of the bag to make the crucial first fold. Maintain horizontal tension as you roll.
Load the boat
Pack as close to the water as possible so you won't have to drag a heavy boat to the launch.
Load items tightly so they won't shift and become unbalanced as you go.
Put light, bulky items like sleeping bags and sleeping pads in the very front and back of the boat.
Midweight gear such as clothing, tents, and cooksets go in the middle of the bow and aft compartments.
Place the heaviest gear–usually food, stove fuel, and drinking water–near the center of the boat.
Keep cameras, sunscreen, snacks, water bottles, and maps where you can reach them: in front of your feet, between your legs, or behind the seat.