St. Louis: Lewis and Clark Trail
This 8.5-mile loop climbs to rugged bluffs and views of the Missouri River and its bluffs, then rolls through cool hollows in Weldon Spring Conservation Area.
Heading out the door? Read this article on the new Outside+ app available now on iOS devices for members! Download the app.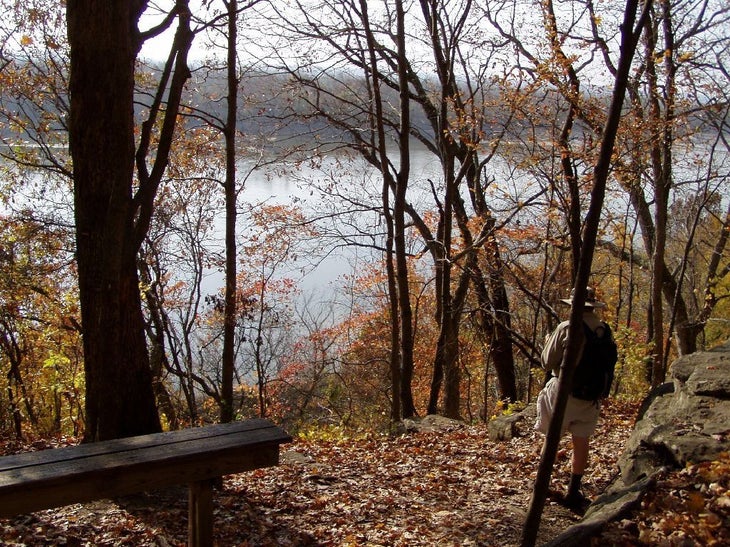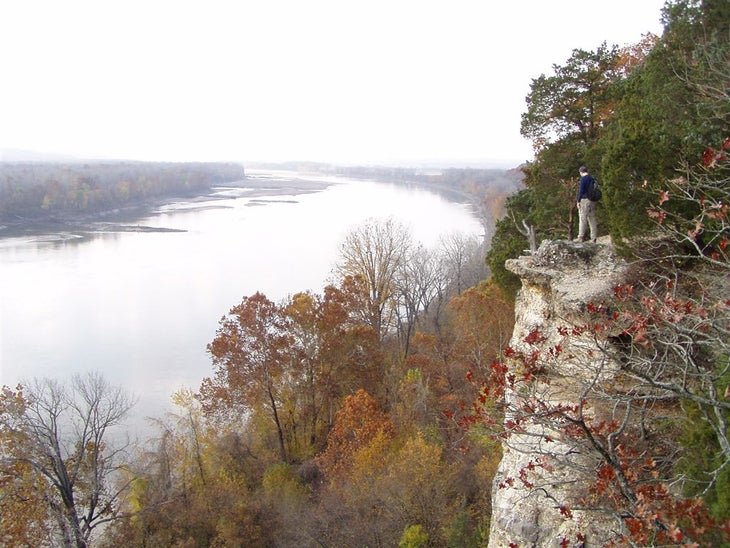 Trail Facts
Waypoints
Missouri Overlook
Location: 38.6760292053223, -90.7153549194336
©Bill Yearout
High Bluffs
Location: 38.6787338256836, -90.7088394165039
©Bill Yearout
LAC002
Location: 38.6841812133789, -90.7182464599609
R @ Y on Lewis and Clark Trails
LAC003
Location: 38.6757392883301, -90.715446472168
Take photos of giant bend in the Missouri River from limestone bluffs; short, steep descent into gully, then climb again
LAC004
Location: 38.6777992248535, -90.711067199707
Overlook #2: Note ridge across river, a popular rookery for birds migrating the Missouri River Flyway
LAC005
Location: 38.6825103759766, -90.7079162597656
Continue E on Lewis Trail, leaving the Clark Trail
LAC006
Location: 38.6805686950684, -90.7043228149414
Continue straight; traverse along bluffline above river. Optional side hike: A 100-yd. spur trail leads to Katy Trail and Missouri River shoreline
LAC007
Location: 38.6910209655762, -90.6930313110352
Rocky outcrop near unnamed stream; head WNW
LAC008
Location: 38.6914405822754, -90.6994857788086
Ascend into gully then back on ridgeline
LAC009
Location: 38.6905403137207, -90.709602355957
R @ T; Clark Trail rejoins Lewis Trail
LAC010
Location: 38.694580078125, -90.7164306640625
Stroll above running creek on large 20-foot wood bridge
LAC011
Location: 38.6944694519043, -90.7225494384766
Pass through healthy tract of pines and cedars
LAC012
Location: 38.6932106018066, -90.7234573364258
Cross small creek
LAC013
Location: 38.6914100646973, -90.7235565185547
Cross stream again on small wooden bridge and head WSW to close loop @ trailhead