Spring's Best National Park: 5 Tips for Hiking Big Bend
Our expert's top tips for hiking Big Bend National Park in spring
Heading out the door? Read this article on the new Outside+ app available now on iOS devices for members! Download the app.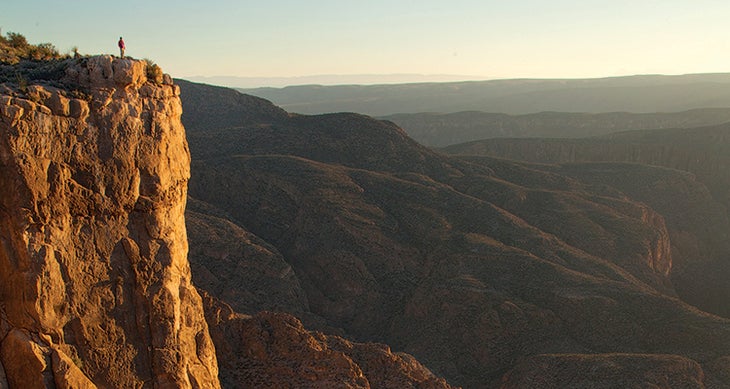 Mariscal Canyon Rim is one of the most spectacular places in the park, says photographer Laurence Parent. It's a 3.3-mile hike from the Talley trailhead on River Road.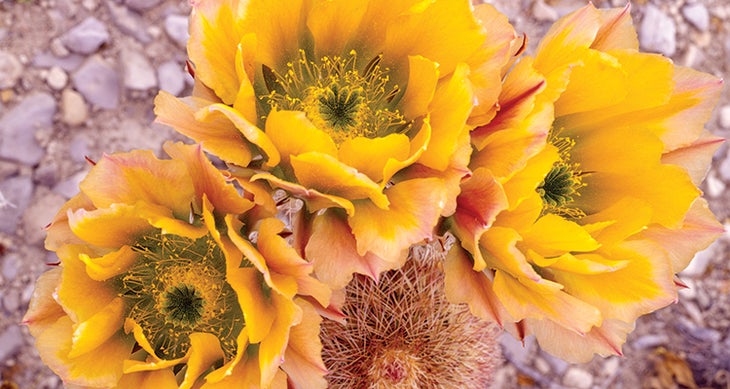 The park's 46 species of cactus mostly bloom in spring. Photo by Laurence Parent.
The Payoff of Hiking Big Bend
When locals say that everything is bigger in Texas—well, they've got a point. You'll believe it after setting eyes on this seemingly endless topography (1,200 square miles) carved by giant river canyons and punctuated with far-flung peaks and outcrops. And that's not all that's extreme. The night sky? It's darker. Cacti? Forty-six species. The hikers? They're extremely satisfied.
Your Guide
Writer and photographer Laurence Parent has written 29 books on the region. "Even during the spring peak hiking season," he says, "there are places you can have all to yourself."
Plan to basecamp
Backcountry water is mostly unreliable, making dayhikes a good choice. Hit up the park's dirt roads for private, primitive campsites (high-clearance vehicles recommended). The Terlingua Abajo sites, backdropped by Mesa de Anguila's limestone cliffs, are Parent's top pick when exploring the park's western reaches (the sites are 11.4 miles southwest from Maverick Junction). "It has a creek and ruins from an old farming community," he says.
Top dayhike
Parent's tip for the popular 4.8-mile (round-trip) Lost Mine Trail? "Head out late in the day, pack a headlamp, and linger until sunset." The route climbs to a 6,800-foot ridge, with views of cliffy outcrops and dusky foothills fading into the distance.
Get off the beaten track
If you're willing to haul in your water, there's an overnight well worth doing, Parent says. The Mesa de Anguila—bordering the park's southwestern boundary—is secluded even by Big Bend standards. To avoid exposed cliffs on the mesa's east side, start from the western Lajitas trailhead. Navigate a faded, cairn-lined trail .9 mile to the base of the mesa, then climb to a 2,900-foot notch called The Saddle. From here, hike southeast another 4.5 miles, and set up camp near the middle of the mesa.
TRIP PLANNER
Season September to May
Permit Required for backcountry camping ($10)
Infonps.gov/bibe