Mom's Big Backpacking Adventure
Some months, Ted Alvarez spends more night in a tent than beneath a roof, but his mom had never backpacked. A mother-and-son road trip through all five of Utah's national parks in one week would be the perfect way to make up for lost time—or court disaster.
Heading out the door? Read this article on the new Outside+ app available now on iOS devices for members! Download the app.
CAPITOL REEF NATIONAL PARK, DAY 5, 1:36 A.M.
IN CAPITOL REEF NATIONAL PARK, the Waterpocket Fold creases Earth's crust in a 100-mile network of multi-colored sandstone canyons that web and crimp together like giant veins. It's easy to feel small here. 
I find this sensation to be magnified after midnight, while squatting barefoot and half-naked in a sandstorm and trying desperately to jury-rig a snapped tent pole back into place before my underwear fills with grit.
Me? I'm used to backcountry exercises in humiliation and nature's occasional profaning of my unmentionables. But my mom? She's inside our tent, on her first backpacking trip ever. I stop hammering at the splintered aluminum pole to cast a dim light into our battered and crumpled home-sweet-home. I can make out the shape of a mummy bag and just barely hear a muffled whimper from within above all the howling and flapping.
I think I may have broken my mom.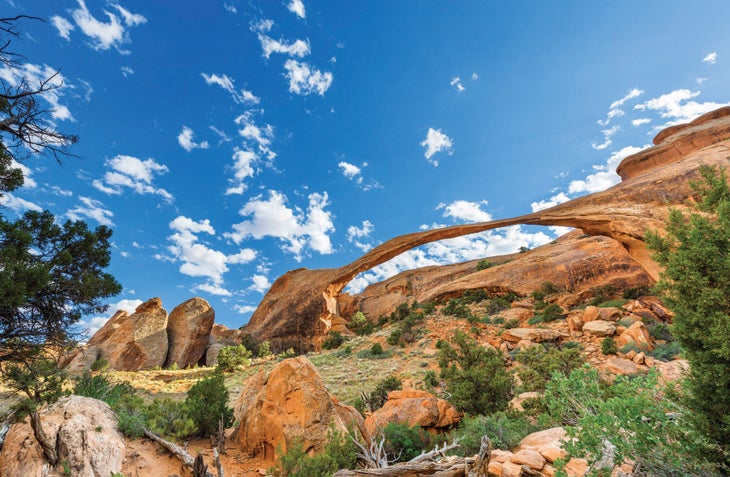 LOTS OF KIDS SAY their moms are the strongest person they know, but I think it would still surprise my mom, Liz, to hear that I mean it. Enduring patience and bottomless empathy don't usually pop up on superhero stat sheets, after all. But there's a flip side to that kind of strength: deference. Growing up as the quiet one in a kaleidoscopically unstable family of nine in rural Texas taught my mom to be supportive, reactive, and always on duty.
My older sister and twin sister clashed a lot. That set me up to be the peacemaker. –Liz Alvarez
My mom's commitment to her kids' dreams is the gravitational center of our nuclear family—the reason her three children ended up as a professional writer, an opera singer, and a drummer. In her career, she turned those same traits outward as a Montessori preschool teacher, where success was measured in inspired children. Parents and kids still stop her in the grocery store to say hello and share updates. She lights up every time they do, as if hearing good news about her own children.
But I worry that beyond teaching and raising a family and seeing her kids scatter happily to the four winds, she's never really chased her own dreams.
The way I grew up, raising kids who knew they were loved and had confidence in themselves was the dream.
As the years rolled by, health issues—first her family's, then her own—seemed to sap her energy and her joy. When she retired two years ago, she expressed excitement about traveling or finally learning how to play guitar. But instead of trips to Europe or tinkering at James Taylor songs, the years were riddled with the grief and exhaustion of caring for an aging parent and a dying sibling.
The guitar I got her as a retirement gift gathered dust in its case. Then her little brother died, and something cleaved. Listless and distant, she seemed as if she wanted to sleep straight through her golden years. The constant light behind her eyes started to fade, and her health began to falter mysteriously. When we tried to lift her out of the fog, she would grow protective and snappish about her mourning.  
I didn't know it was affecting you guys in a way that caused you to worry so much. 
But when I visited, I noticed how her blue eyes regained their sparkle when she walked the dog through the quivering aspens that crowd the cabin she built with my dad in Colorado's Sangre de Cristo Mountains. Maybe she just needed to go for a hike, and didn't know it—or didn't know what she was capable of.
I used a climb up a modest Thirteener near the cabin ("It's easy!") to assess her ability and come up with a plan. We didn't quite make the summit and her pace slowed to a crawl on the descent, but she'd cleared nearly 7 miles and 2,500 feet. This I could work with.
It was not "easy." My husband and I had tried it once before but didn't get far. That was probably 10 years ago. 
Back on the cabin deck, we treated our sore feet with Woodford Reserve while the sun melted behind a trio of Fourteeners and updrafts tossed her blond and silver hair. Seeing her now, obviously pleased with the fresh air and effort, I wondered what other dreams or goals she might be keeping to herself. I asked her about her bucket-list and her answers were a gut punch to me. She had always wanted to go camping under the stars. She wanted to visit the alien deserts of the Southwest. But, because of the creakiness that comes with age, she didn't think either of those things could happen for her now.
When I was a girl, we had a two-story house with a roof we could access from a window. And you could see so many stars. Wanting to reconnect with that is definitely tied into my childhood.
This was insane. She lives in Colorado, a mere six hours from Moab, and some months I spend more days outside than under a roof. Why hadn't I taken her on a grand Utah adventure? Am I a bad son?
There was only one solution to my goals of showing her the Southwest of her dreams and making up for decades of lost time: A road trip through the densest patch of desert canyons in the world. We made a pact to get in shape.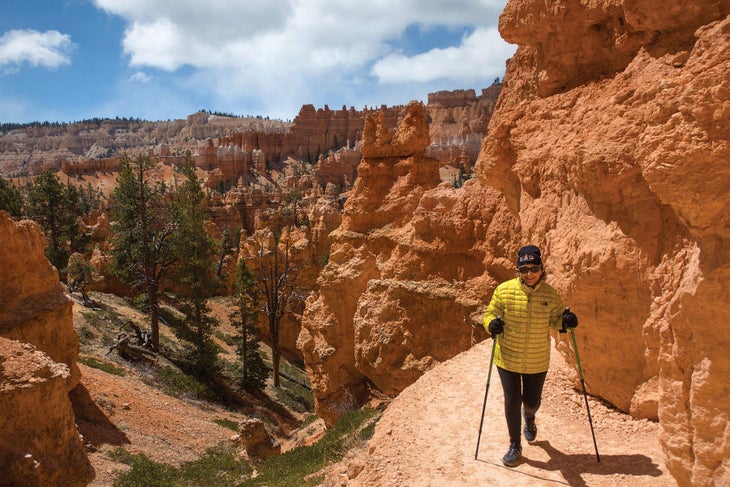 NATIONAL PARKS ARE MADE for big lists and bold ideas, and we had both. We'd visit all five Utah parks in a week, and she'd train on the job: Dayhikes in Arches and Bryce would beget overnights in Canyonlands and Zion before culminating in a backpacking trip in Capitol Reef. In my experience, southern Utah can break anyone's funk.
I've planned a lot of trips, but the stakes felt so much higher this time: This was my mom, after all. And I wanted more for her than a vacation. I wanted her to find purpose, inspiration, and a reason to stay strong in body and mind somewhere out there in all that red sand. Was that too much to ask?
That's what I wanted, too. After taking care of someone else, you kind of forget and let go of the things that you do for yourself.
Kidnapping her unannounced seemed unfair, so I called to give her two weeks' advanced warning. Her voice trembled a little when she admitted that her efforts to prep hadn't gone much beyond neighborhood dog-walking. I told her that she'd be fine, hoping it was true. But the silences on the phone were longer than normal. She swallowed hard before admitting to the big one: She was nervous about pooping in the woods. But she said she trusted me. By the end of our redrock rager, I wanted her to trust herself.  
DEVIL'S GARDEN TRAIL, ARCHES NATIONAL PARK,
DAY 1, 2:30 P.M.
We almost bailed on day one. High winds on the drive in threatened to topple our car—just as they threw the trailers we saw in roadside ditches. I'd hoped for perfect spring weather, but now I hoped my mom wouldn't think the whole week was going to be like this. More than rain or snow, wind can ruin any first-timer trip: It's a constant headache, it's loud, and you have to stake everything down. But it was too early to go off itinerary. The wind might have been beastly, but we had a good tent, triple windproof layers for my mom, and a collapsible flask of bourbon if the whole plan hit the skids. My mom brought an ultrastylish scarf, too. We were ready.
I had no idea I would be using this as a face mask.
My easy-entry plan was to tackle Devils Garden, a 7-mile loop with a buffet of arches, and hit Delicate Arch at sunset. It seemed like a perfect starter hike when I was looking at the map a few days earlier, imagining a sunny, mild spring day. But it was high season, and we were dodging a line of scarfed hikers coughing through the airborne grit. The massive sandstone fins and loops walled in the trail and acted like wind tunnels; the strongest gusts blasted sand into our mouths and ears.
I knew there'd be crowds, and worried my mom would be disappointed, but she didn't even notice. Like a kid, she was finding shapes in the sculpted stone: a reclining lion, an otter, a vulture, a child squatting, two cats next to a dog—wait, no, that's a piglet. We laughed. She hadn't made a joke in years.
Ted is my eldest. He's a peacemaker and a pleaser, kind of like I am.
The fun stopped when we reached a short section of stone stairs. She tensed up and had to lean on my shoulder, then blasted up the next slickrock bench like a champ, then froze when it ended in a sloping pile of stones. I could see her fear. Walking the dog hadn't really prepared her for the psychological challenge of a pile of stones with a 14-foot drop on one side. Where I saw adventure, she saw danger.
Landscape Arch rose behind us like a totem from space; we were maybe 2 miles in. I knew the entire 7-mile Devils Garden Loop was out of reach. Delicate Arch would have to wait. I knew there'd be taxing moments this week, but saw no reason to make the first day a killer. 
There is no way I could've handled that.
We turned around and I felt the magic drain out of the day. Then my mom darkened my mood by indulging in my least favorite of her post-retirement habits: naming her past, present, and potential future ailments. Diverticulitis. Glaucoma. Hiatal hernias. Esophageal spasms. Indigestion. Excessive constipation. Macular degeneration. Lost eyebrows. Bunions.
Did you really have to mention all of these? I sound so neurotic.
Maybe she just wanted to know the enemy, but I was annoyed it had joined us under the Double O Arch. I walked faster to leave her grim summoning behind. But when I saw her struggling on a sandstone bump the size of a large throw pillow, I dropped back and offered up my hand and shoulder. We hugged at the bottom.
I remembered my goal to help her shed her perception of herself as someone who doesn't belong off the scenic drive. Back at the cabin, she'd confided that the fantasy of shouldering a pack and striding into the wilderness was obscured by stinging joints and fading stamina. But I think national parks are the best way to reappraise who you are and what you're capable of. I've healed self-inflicted wounds before with slickrock, and return whenever I sense a better, happier, fuller self is hidden out there in the miles of dirt.
I've always been curious about what makes Ted tick. I think the outdoors for him is a form of therapy. It feeds his soul.
And now I wondered if my chafing at her list was less about her aging process than my own. A nasty case of plantar fasciitis hobbled my autumn and forced a reckoning with my own abilities. I'm also about to close my fourth decade and thinking about living in a van while my friends settle down with houses and kids. Mortality—my mom's, mine—whistled shrill in my ears.
We can both benefit from more time outdoors, I know. New research shows that exposure to nature yields health benefits like reduced cancer risk, lower blood pressure, lowered depression and anxiety, lowered inflammation response, enhanced immune systems, and boosted memory. The latest buzz is around forest bathing—frequent but small doses of the outdoors—and I'm all for it. But it sounds like dipping your toe in. Sometimes you need a good old-fash ioned dunking—full immersion, the deeper the better.
But you can't make someone take the plunge; you can only show her where to do it.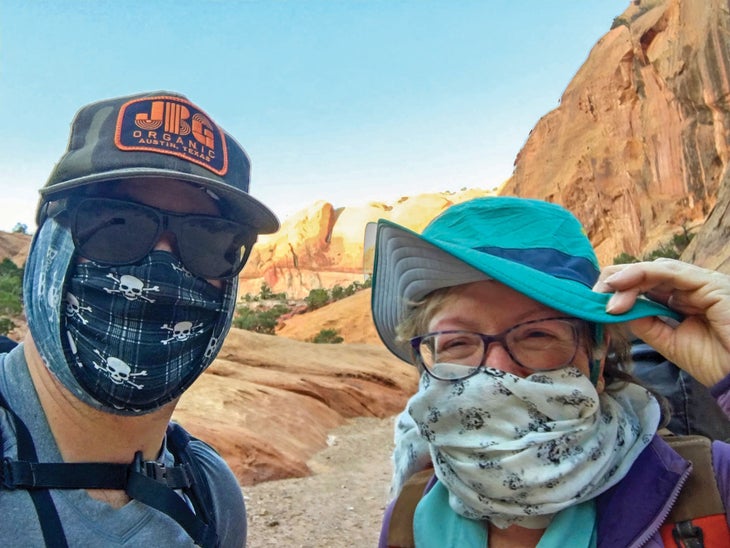 ISLAND IN THE SKY ENTRANCE, CANYONLANDS NATIONAL PARK, DAY 1, 7:30 P.M. 
Winds whipped sand and fury at the Island in the Sky. A Mad Max-style haboob erased the sagebrush horizon—and my plans to camp on the rim and duck into the Syncline for our first overnight. I couldn't very well have my mom's inaugural night out end with her being blown off the rim of Canyonlands. That certainly wouldn't have helped with the esophageal spasms.
My mom's only camping experience thus far was a soaked, chilly nightmare at Colorado's Guanella Pass, sleeping on the bare ground beside a soaked dog. 
That was 13 or 14 years ago. My husband was like, "Well, we're never going to do this again."
I needed her first night since then to be a stunner, not a fight for survival. As every backcountry traveler knows, sometimes you have to improvise. We headed south and checked into a Best Western in Bryce Canyon City.
Honestly, I was pretty excited about this.
BRYCE CANYON NATIONAL PARK, DAY 2, 9:30 A.M.
We woke up to a sun-bright morning with snow crystals twinkling in the fierce breeze. Yes, it was still blowing, but the air was clear and invigorating. We blasted to the Queen's Garden, a 3.5-mile chance at redemption.
The forested rim of Bryce melted below us into Neapolitan towers, and I could sense my mom tensing up on the loose gravel. I coached her through, telling her to trust her poles and her feet. Coral-and-pink hoodoos crowded our descent, each turn in the trail revealing a new ornate section, like dripping Gaudí cathedral spires cast in dirt. Bryce was at its shoulder-season best: A thin layer of snow decked the ridges like cake icing, making the red and peach pop enough to crack viewfinders. But the trails remained dry and trustworthy. She didn't balk at the zigzagging switchbacks. We high-fived with our poles at the top.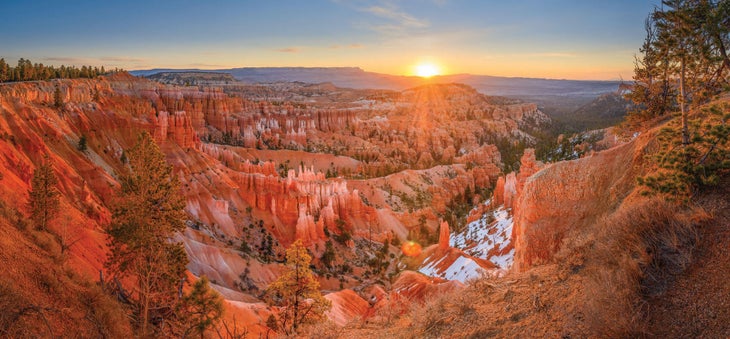 SPRINGDALE, UTAH, DAY 2, 9:30 P.M.
On park adventures, plans change with weather and circumstance. A little chaos is part of the fun.
I learned that I get my roll-with-it taste for improvisation from my mom when she just laughed at our plan B, which was neither glamorous nor scenic. It was a campground behind a La Quinta Inn in Springdale—we were two months late to get a car campsite in the park. We set up while an adventure bus from New Jersey barfed out a half-dozen fit 20-somethings who went to work on a canvas city with hammers and railroad spikes. 
I knew this wasn't the real experience—noisy neighbors, RVs. But it was nice to see the whole process in a really controlled environment.
Time for more improvisation. Mom said she was just happy to be here, and I explained "here" doesn't have to be a tent-and-RV town, so we went looking for a "here" with margaritas. I assured her the walk through town would count toward her daily mileage total (5.1). She swelled a bit, and by the time we got to camp the air had calmed. We celebrated with a miniature bonfire.
ZION NATIONAL PARK VISITOR CENTER,
DAY 3, 8:30 A.M.
Here's the thing about beauty-queen parks like Zion: They're popular. I know that, so I should have insisted on a sunrise start but didn't, and by the time we arrived at 7:30 a.m., the Zion parking lot was full. I threatened to bail on the overnight in Zion entirely (we drove through—that counts!) for a civilized (read: empty) park like Capitol Reef.
Mom to the rescue with her soothing patience: "Let's just ask around," she offered. She was trying to calm me down, but there was something else, too. I sensed she wasn't ready to leave—that she was asserting her desire, however subtle, to see Zion.
This is true. If something is important enough to me, I find a way to make it happen.
A young, ruddy-faced ranger with chapped lips told us he thought the Lava Point road was open, contrary to the NPS website. Before he could say, "but what about your shuttle," we zipped off to Lava Point, where we set out on Zion's West Rim Trail.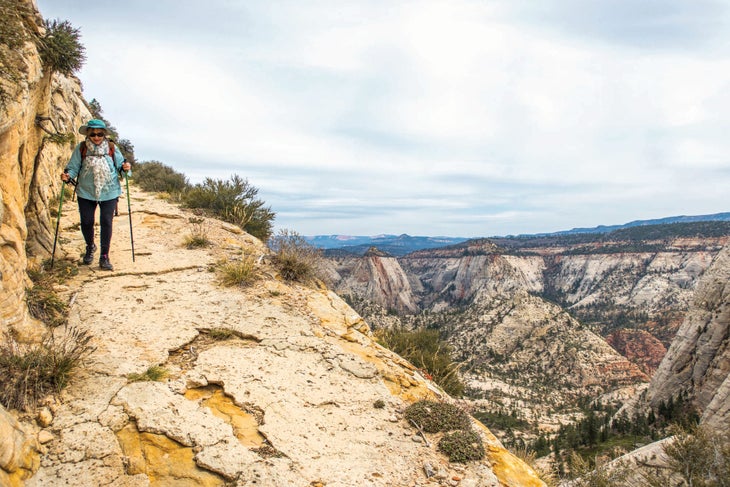 WEST RIM TRAIL, ZION NATIONAL PARK, 
DAY 3, 1:30 P.M.
The trail rambled through miles of largely burned ponderosa forest—a blight for most backpackers. But we nicknamed my green-thumbed mom Gaia in our youth, and she was enthralled by a forest in renewal. She wondered at an immaculate ponderosa bursting green in a field of charred siblings: "How'd it stay that way? It's so gorgeous." I dragged her from fuzzy leaves and indigo flowers to keep pace: We started late, and our planned 9-mile day was almost double her max on this trip, margarita miles included. But she grunted into the uphills and grimaced only when gravelly downhills swayed too close to the 3,000-foot drop. 
I hadn't hiked 9 miles in my life. It was super exciting and powerful to be up on that rim and watch all the different colors of the sunset.
The sun had already slunk behind the mountains by the time we reached the cones and ramps that surround the Guardian Angels. It was all white sandstone shot through with bands of crimson and reddening in twilight. I thanked my mom for saving the day.
That night, we shared mom's first backcountry campsite with a herd of mule deer. Their silhouettes milled around us as they picked at grasses in the final oranges and lavenders of the evening. 
REFRIGERATION CANYON, ZION NATIONAL PARK,
DAY 4, 11:30 A.M. 
Tired from the previous day, we opted to go 5.5 miles to the Virgin River. The tradeoff involved 3,500 feet of descent with exposure—my mom's Big Bad. She was shaky at the crux: A path switchbacked down the face of a cliff at a moderate grade, but it was only 4 or 5 feet wide, and beyond the cracking sandstone edge was a thousand-foot drop. 
Luckily, beauty takes the edge off the anxiety.
By the time we reached the rust-colored drop-offs that frame Angels Landing, her joints were murdered. She was bugabooed by the ants-marching crowd heading down Walter's Wiggles, so she slowed to a crawl. We death marched into the Grotto and boarded a shuttle full of daytrippers who smelled like hotel soap. "I think I'm ready to lose the crowds," she said, sounding like a backpacker.
I kept thinking of all the people coming up that late, the dayhikers—there was no way they were going to see all the things we saw.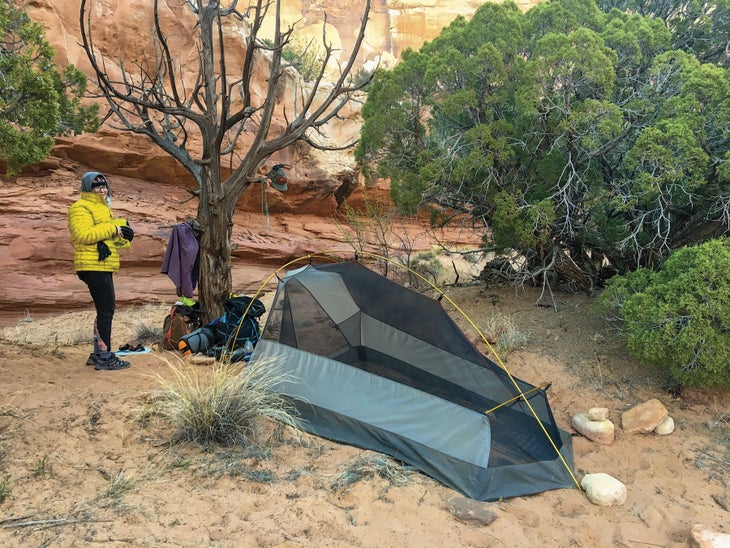 CAPITOL REEF NATIONAL PARK, DAY 5, 5:30 P.M. 
The teeth-chattering drive up the Burr Trail Switchbacks coiled a thousand feet up a cliff edge like a panicked diamondback. At the top we ditched the car and right away mom hit a new crux: "I don't know if I can do this!" she shouted into a vengeful wind, eyes bugging at the 20-foot friction scramble that would dump us into Lower Muley Twist Canyon. We needed to get to protected terrain before the sun set to get in position for a big day in Lower Muley Twist. A mile or 2 might have done it, but we wouldn't know until we got down there. 
This was the heaviest pack I had, with all the water. And with the wind, I didn't think I could keep my balance. But I did think: I can always crab walk.
She followed my steps, breathing hard. I heard a deep sigh when she reached the bottom, and a grimace turned into a smile. She might've been scared, but I thought she was having fun. A sandy path sliced around terraced colonies of cryptobiotic soil, and we crossed a broad wash to turn down a tight canyon. The wind picked up, and we covered our faces to ward off stinging sand. 
 We camped in a bowl between tripartite barriers of pinyons and junipers. The wind picked up and sand filled our tent like a torpedoed submarine, but Mom just wanted to know, "What's for dinner?"
In the bends and licks of the canyon walls, wind gusts boomed like zoo lions at sunset. She loved it. We found Orion and the Big Dipper before ducking into the tent. But it was a noisy night, and even several doses of whiskey couldn't blunt the din of flapping nylon. We laid awake for three hours.
It was really hard to go to sleep with the wind pounding. I didn't feel scared or intimidated, it was just, 'Wow, I didn't know that it could be like this." 
Finally, a rogue microburst slapped the top of the tent into our faces, shattering a pole and thrusting it through the fly like a broken femur through leg meat. In my skivvies in the sandstorm, I had my little freak-out: I wanted Capitol Reef to be the conversion moment, a wild narcotic that keeps my mom fresh and alive forever, and it was backfiring. She was learning that the desert wonderland of her dreams is an inhospitable hellhole, and her son had spent decades mining routes to backcountry incompetence—his latest low point: forgetting to bring duct tape. Great. Transformative road trip squandered. I sought to lift my mom up and literally buried her.
The murmurs from underneath grew louder. Sand sloughed off her bag. Was she . . . convulsing? No. She was . . . laughing. Hard.
We'll just sleep in a collapsed tent. What's the big deal?
LOWER MULEY TWIST, CAPITOL REEF NATIONAL PARK, DAY 6, 9:30 A.M.
When we wake up, my mom's still chuckling. This time because her eyes are glued shut with sand; she asks me to pass the saline. The wind has died—it's still and cool—so we set to exploring the crazy-colored sandstone canyons. My mom resumes her obsession with naming formations: Mother and Child, the Alien Brain, the Coyote.
Sound tints any wilderness experience, but there's a peculiar way it grows acute in the desert. Our day without seeing another human amplifies our voices, and yet puts us on even footing with the rustle of cottonwood leaves or the cascading laugh of a canyon wren. Muley Twist opens into alcoves deep and tall enough to house jumbo jets, and desert varnish spills down like black, iridescent tear tracks. We poke around until the fading light tells me it's time to go. She slows to a stumbly crawl in the last mile to our campsite, and I wonder if this is the wall. She tells me a story.
We knew if we didn't turn around it was going to get dark, but beyond each turn, we'd see something else amazing. We kept saying, "Let's just do one more."
I'm six or seven, in Rocky Mountain National Park. I can't go any farther on the trail, but we're miles from the car. My father marches ahead with my little sister on his shoulders, but I'm sulking and whining in the dirt. She begins singing "the ants go marching one-by-one, hurrah, hurrah. . ." and I stand up, join in, and start hiking. She does this for a few miles, until her tongue goes numb and the words melt into gibberish. I never stopped hiking.
LOWER MULEY TWIST, CAPITOL REEF NATIONAL PARK, DAY 7, 8:30 A.M. 
Mom wakes up in what we'll call Sandy Camp astonished that her joints didn't hurt. It's been days in the backcountry, and the issues that dog her in civilization have mostly vanished. And even her major concerns out here have faded. "I've never pooped in a more beautiful place," she tells me. We bolt out early to make our last stop: Canyonlands.
I can't believe you put this in!
A few hours later, we're hiking to the edge of the rim at Island in the Sky, setting foot in the park that eluded us the first time around. She swoons at the view, and we promise to come back for a longer trip soon—maybe a prelude to something bigger, like the Grand Canyon.
This is just the beginning. I want to go to Colorado's San Juans this summer, and then the big one—Grand Canyon in the fall. From there, who knows?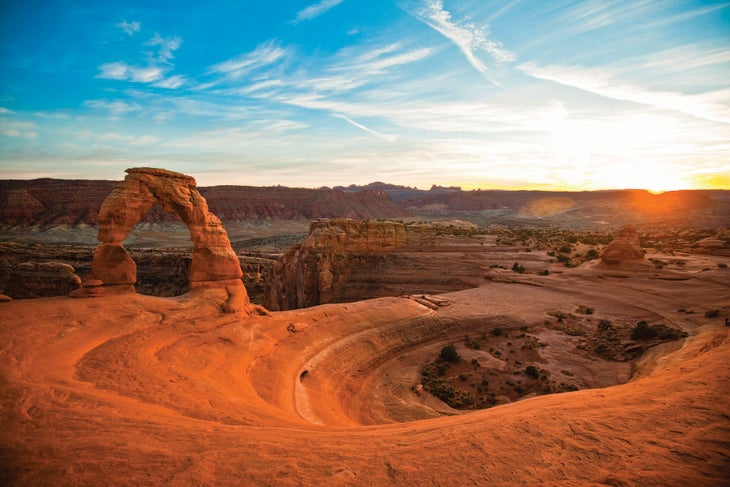 DELICATE ARCH TRAILHEAD, ARCHES NATIONAL PARK,
DAY 7, 4:30 P.M. 
Our trip ends the way it started: with a late start to see Delicate Arch. But this time we won't be thwarted. And no, I'm not pushing her. She says she needs to see it for herself.
Her steps are slow and deliberate, but she's gone from the couch to four backcountry nights and 35 miles in six days. She shrugs at the mildly exposed sections, zips past goggle-eyed tourists. It's a busy trail, a cliché view, and totally worth it. We get glory shots as Delicate Arch goes ruddy in the sunset.
We stand together and wonder how long the arch will stand, an unlikely bulwark against the grind of time. We know it won't last forever, because nothing does. But that doesn't seem to matter. We stand together today and it's enough. It's a gift.