West Virginia – Wardensville and the Lost River Trading Post
Heading out the door? Read this article on the new Outside+ app available now on iOS devices for members! Download the app.

"How many people live here?" I asked the local barista at the Lost River Trading Post in Wardensville, West Virginia. I felt completely in the boondocks, though I hadn't been on the road for long. I'd driven 86 miles through the countryside of Virginia and across the state line: a quick 1.5-hour drive along Interstate 66 from Washington, D.C.'s Dulles International Airport to US-48 West in West Virginia. Raised in the Mountain West, this trip was my Eastern icebreaker and a taste of the Southern states' Appalachian region.
Four days long, the journey would be my annual away-from-home treat: a summer backpacking adventure in a foreign place (i.e. terrain unlike Colorado's.) Last year, I ventured to the Himalayas. Before that, I spent a week in Washington's Olympic National Park and several days on Kauai's Kalalau Trail another year. Now, I was on my way to the Dolly Sods Wilderness area for a 21-mile solo excursion through the rolling Allegheny Mountains.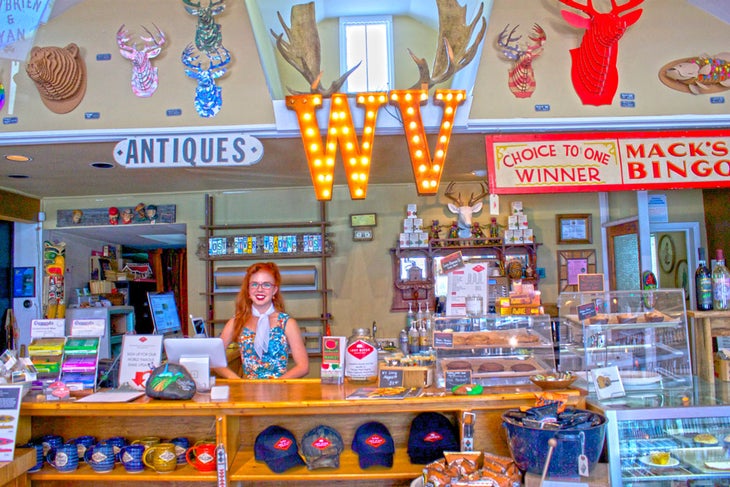 In contrast to the arid landscape—canyons, high plains and desert—that surrounds much of the Southern Rocky Mountains, the stretch of the Virginias that I'd seen so far was incredibly hydrated, vibrant, and lush. The silhouette of the valleys and hills mirrored an old-fashioned rollercoaster and was blanketed with a thick canopy of maple, chestnut, and birch among countless other varieties of trees. Between the woods, stretches of well-manicured farmlands took me back to Colonial times.
Even some of the gas stations I passed were architecturally pastoral with a barn-like resemblance.
Wardensville was my first pit stop. While I was no stranger to small towns—I'd grown up among a population of 2,000—in such a rural locale, I was surprised to stumble upon a general store of such high caliber. TheLost River Trading Post is chock-full of gorgeous antiques, quirky décor and locally crafted or harvested goods like birdhouses and maple syrup. My favorite item—other than the hilariously gargantuan marquee-style mustache with a cache of light bulbs—was a lamp made out of three elk's hooves. When you go: it stood on the dresser in the ladies' restroom.
Next to the front door, a wrap-around porch was filled with cozy, two-person tabletops. Inside, Jazz music filled the background and the entire wall adjacent to the café counter was lined with microbrews including local bottles from Big Timber Brewing Company and Mountain State Brewing Co. Neighboring the bakery and the relics on consignment was a gallery—called the Grasshopper—filled with ceramics and paintings from the vicinity's artists.
Now three years old, the Trading Post's name follows that of the 3,712-acre Lost River State Park, located in the mountains of Hardy County. (In light: Lost River Brewing Company is one-quarter mile further as you drive southbound on Main Street.) The trading post is located next to the Visitor's Center, which was closed when I arrived at 3:45 p.m. on a Sunday afternoon. But the Trading Post may as well serve travelers' Q&A sessions: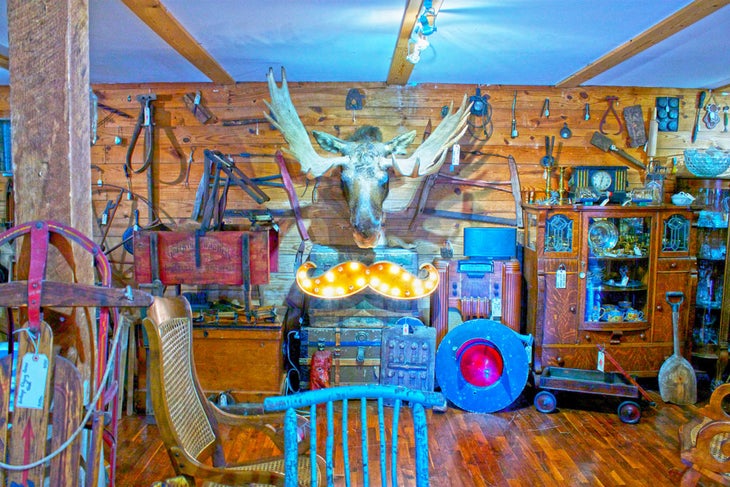 "Oh, a few hundred people live here," replied Karen with a huge smile, when I asked her about the population. She was styled out in a vintage 1950's floral dress, incredibly friendly, and helpfully responded to all of my questions about the area.
Here's what not to miss:
For a bite and brew, dine atLost River Brewing Company
Chill out at the sandy beach ofTrout Pond, the only natural body of water in West Virginia, which was formed from runoff that filled a sinkhole. Bring your swimsuit, hiking shoes, fishing rod—for the native Brook tour—tent, and sail boat (or motored.) Next door: Rock Cliff Lake, a 17-acre reservoir.
Go hiking inGeorge Washington National Forest
Grab sustainably grown, organic veggies at theWardensville Garden Market (Fri, 2-7 p.m.; Sat-Sun 9 a.m.-2 p.m.)
Enjoy the art—including classes and an open mic night, the first weekend of every month—atMansion on Main: a two-story house that's now a community art collective with curated displays and studio space.
My Advice
Make sure to have a road map in hand or your driving directions written down. In the entire area, I had zero cellular and Wi-Fi reception, as did several locals that I spoke with.
Secondly, if you're set on visiting any of these shops or restaurants, call ahead to confirm they'll be open. Small towns have unique working hours that revolve around the traffic flow. When I drove back through on a Wednesday the Lost River Brewing Company was closed, and—even though I arrived during the listed open hours—the Lost River Trading Post was also closed.

For more information about wild, wonderful West Virginia visit gotowv.com