Sponsor Content: 5 Top Hikes to Discover Revelstoke's Alpine Beauty
Surrounded by mountain ranges, this Canadian mountain town packs a punch with beautiful hikes that you have to see to believe
Heading out the door? Read this article on the new Outside+ app available now on iOS devices for members! Download the app.

Revelstoke is a spectacular town for the outdoor enthusiast, with so many must-do hikes that it comes down to a matter of choice.
Neatly sandwiched between the Monashee and Selkirk mountain ranges, Revelstoke is positioned within a unique interior rainforest that serves-up world-class hiking, skiing, biking and climbing in all directions.
The locals love their mountain wonderland and are keen to share their exploits in any number of pursuits.
Revelstoke's #1 Hike – Mount Begbie
Mount Begbie rises over Revelstoke – its distinct peaks and glacier are captured in many scenic photographs of the Columbia Valley, where the town is nestled. The mountain is a must-do for anyone venturing to Revelstoke for hiking or backpacking.
The first recorded hike of this landmark was in June, 1907. A group of four men took on the strenuous task of ascending the steep and unmarked terrain. They made camp for the night before climbing the peak above the glacier.
Unfortunately for this team of explorers, the weather was anything but clear – their hard work was barely rewarded with the stunning views that make this hike worthwhile. Battling wind and heavy rain, the team made the risky journey to the summit and inserted a flag amongst some rocks with little time for ceremony.
Today it is still a challenging journey, although a marked path takes hikers 3.1 miles (5 km) to the campsite, gaining about 4,200 feet (1,300 m) in elevation. Many do just this, exploring below the glacier before heading back down. Others summit the peak above, which requires mountaineering skills and equipment.
The campsite in the alpine meadow is a beautiful spot to camp the night, regardless of whether hikers intend to summit, with the town glittering far below.
Multi or day hike
Best time to go: summer/fall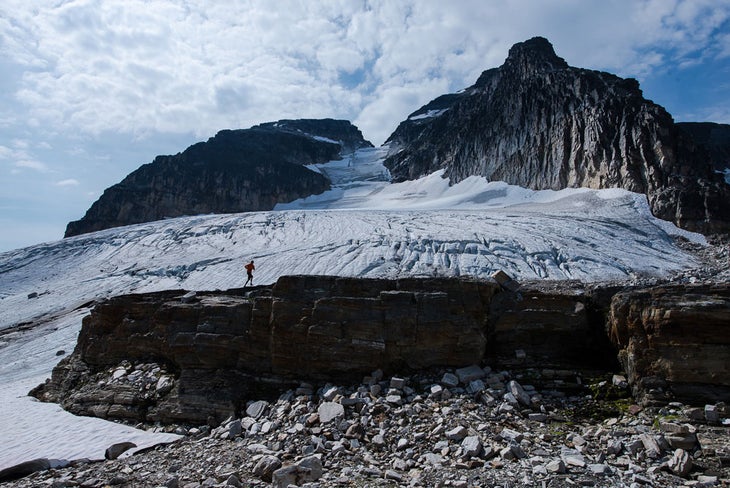 A trail runner enjoys the rock beneath the Mount Begbie glacier.
Photo Credit : Bruno Long
#2. Mount Cartier
Another peak that is a feature of Revelstoke's skyline, beyond the popular ski resort on Mount Mackenzie, is the impressive Mount Cartier.
The trail to the 8,600-foot (2,610 m) high summit is 10.5 miles (17 km) and was built in the early-1920s to access a fire lookout. It's arduous with a long trail of switchbacks. At the top, though, hikers are rewarded with spectacular views across the valley.
Mount Cartier has recently become popular with mountain bikers – some getting dropped by helicopter on the summit for a 6,500 foot descent. The hardiest of riders ride (or push) their bikes to the summit.
Multi or day hike (or hike-a-bike)
Best time to go: summer/fall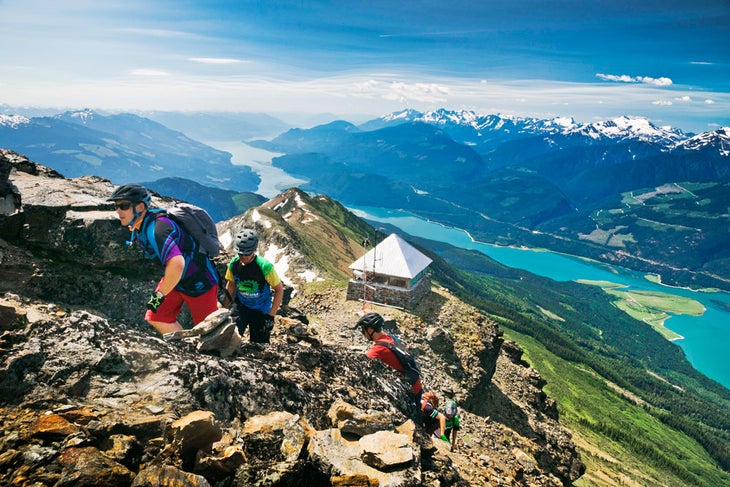 Hearty bikers ascend the final summit of Mount Cartier, with the old fire lookout in the background.
Photo Credit : Ian Houghton 
#3. Mount Sir Donald
Glacier National Park is a hiker's paradise. Most of the trails here will lead you to stunning ridges and 360-degree viewpoints that make the arduous climbs worthwhile. Mount Sir Donald (named for Sir Donald A. Smith), was built as a mountaineering route and is a rigorous hike. The trail is 3.2 miles (5.1 km) one way and ends abruptly in a narrow, rocky col. A favorite amongst experienced climbers, summiting Mount Sir Donald is often a "bucket list" tick.
Multi or day hike
Best time to go: summer/fall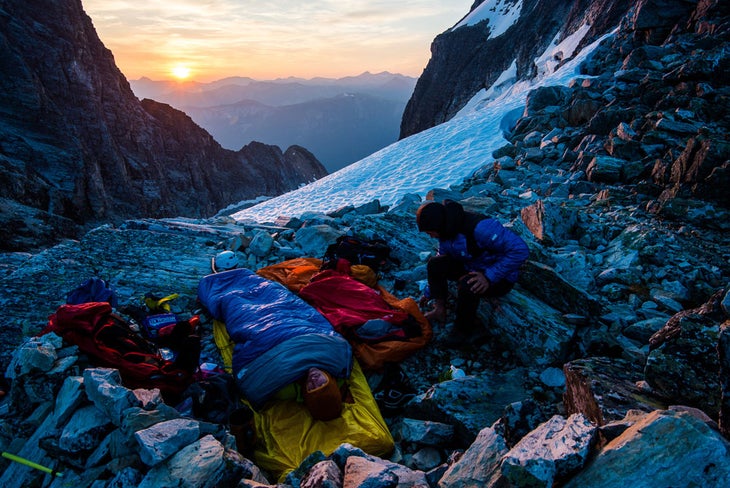 Chris Rubens and Greg Hill shake off the morning cobwebs before starting their ascent of Mount Sir Donald.
Photo Credit: Bruno Long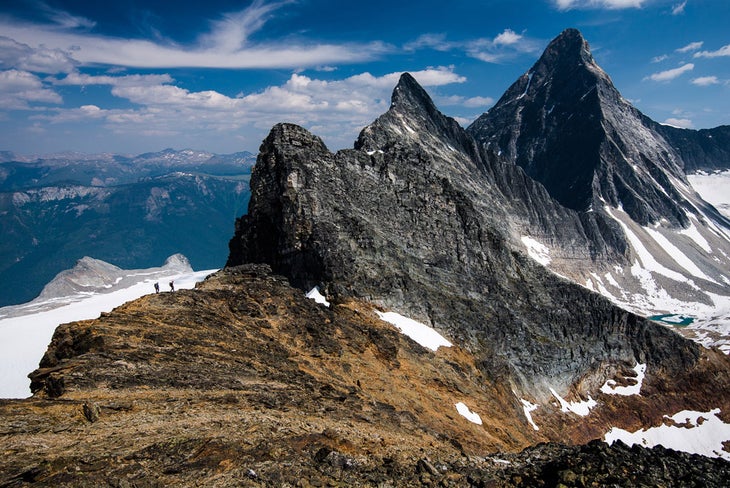 Experienced climbers traverse the rocky col, heading for Mount Eagle, Uto, and finally – Sir Donald.
Photo Credit: Bruno Long
#4. Mount Hermit
It's all about the breathtaking views on this trail. It's a short but punishing 2-mile (3.2 km) hike, where hikers quickly gain 2,690 feet (819 m) in elevation.
After a number of switchbacks up through the trees, hikers pop out into an open alpine meadow with a magical stepping stone rock path over gurgling, glacier-fed streams. There is a stunning camp spot up top with designated pads and plenty of options to explore beyond.
Multi or day hike
Best time to go: summer/fall (check Glacier National Park website for snowpack information)
#5. Eva, Miller, and Jade Lakes
Mount Revelstoke National park offers an experience like none other: the chance to stand on the summit of a mountain literally steps from your vehicle door. Hikers can enjoy many small hikes through the alpine meadows. For the more avid enthusiast, a jaunt out to Eva (3.4 miles or 5.5 km one-way) and Miller (3.7 miles or 6km one-way) Lakes is highly recommended.
The jade-green waters of the Upper and Lower Jade Lakes in the Mount Revelstoke National Park await determined hikers who climb over the pass leading from Miller Lake to the Jade Lakes.
This popular hike is 5.8 miles (9.4 km) one way, with about 1,400 feet (428 m) in elevation gain. Meadow lovers should go in August to enjoy the abundant wildflowers. Some opt to extend this beautiful hike by camping at the site near Upper Jade.
Multi or day hike
Best time to go: summer/fall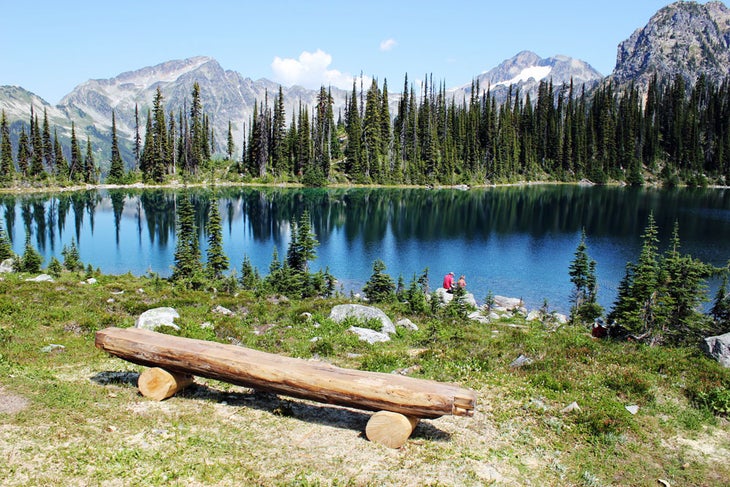 Eva Lake, the second closest of the three, offers a nice picnic spot on route to Jake Lakes.
Photo Credit: Parks Canada, Jacolyn Daniluck
For a comprehensive list of hiking around Revelstoke, from easy to difficult, the See Revelstoke Hiking Guide