Spokane, WA: High Drive Parkway
Expansive views of Latah Creek and the city of Spokane, Washington await hikers who tackle the trails of the High Drive Parkway.
Heading out the door? Read this article on the new Outside+ app available now on iOS devices for members! Download the app.
This innovative trail system clinging to the slopes above a narrow valley begs to be explored. 
As Latah Creek leaves the undulating farmland of the Palouse Hills and approaches its confluence with the Spokane River, it carves a shallow, scenic gorge familiar to motorists approaching the city from the south. The historic South Hill neighborhood commands the skyline to the east, but development ends where the ground plunges 500 feet to the stream below. The walls of the valley are too steep for construction, but the developer's loss is the hiker's gain. Carved into the precipitous slopes is an impressive trail system, granting users panoramic views of the city and surrounding timberland only minutes from downtown Spokane.
Hike High Drive Parkway
Trip stats:
Distance: 3.6 miles
Elevation gain: 530 feet
Time: 2 hours
To the trailhead:
From Spokane, head south on Maple Street until it merges into Cedar Street. 0.8 miles after the merger, park at the turnout on your right.
Turn by turn:
1) From the turnout, head south on the dirt singletrack.
2) At the junction at mile 0.3, take the right fork and descend 500 feet to the banks of Latah Creek.
3) Stay to the right at the junction among the ponderosa pines at mile 1.5.
4) At the junction at mile 1.8, take the left fork and begin the long climb back up the canyon wall.
5) After switchbacking up the steep slope, continue straight at the junction at mile 2.1 and follow the trail north for 1.5 miles to return to your car.
Season:
Year-round
Red tape:
No camping allowed. Dogs must be leashed.
Contact:
City of Spokane Parks and Recreation, (509) 755-2489 (ext. 2489)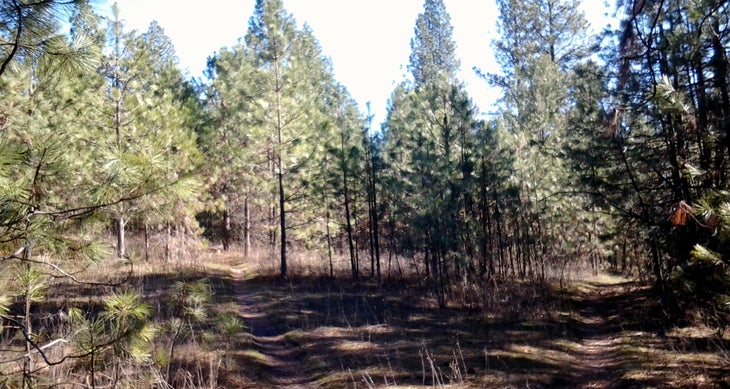 [photo by Paul Chisholm]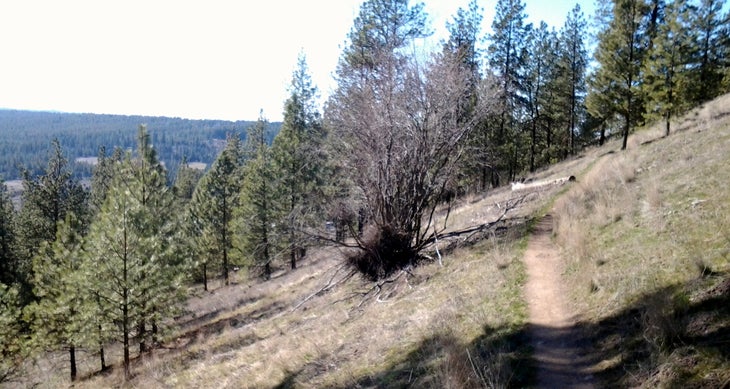 [photo by Paul Chisholm]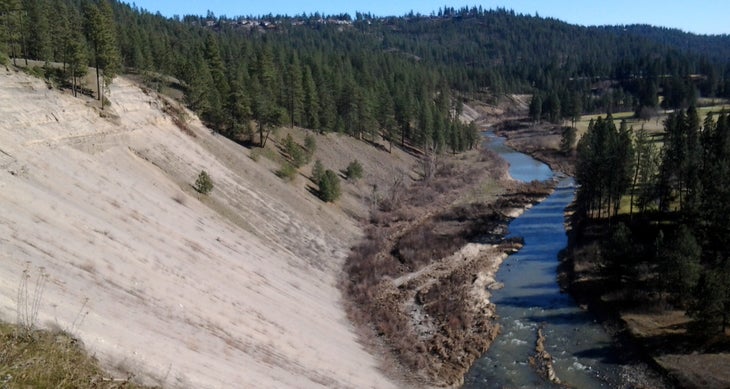 The route traverses the bluffs above Latah Creek for several hundred meters. [photo by Paul Chisholm]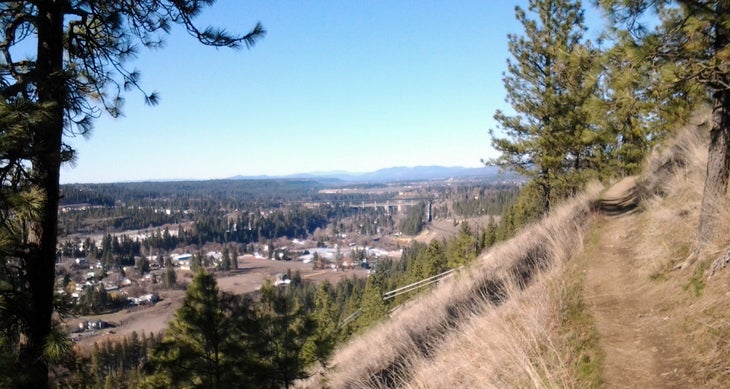 The trail provides several nice views of the city. [photo by Paul Chisholm]
Trail Facts
State: WA
City: Spokane
Distance: 3.6
Contact: City of Spokane Parks and Recreation, (509) 755-2489 (ext. 2489)
Land Type: Other