Untracked Alaska
Bigger-than-life wilderness plus smile-a-second skiing equals the best winter trip on Earth.
Heading out the door? Read this article on the new Outside+ app available now on iOS devices for members! Download the app.
It's four in the afternoon and a thick fog hangs over Ruth Glacier. It conceals the 12,000-foot peaks that rise above the amphitheater of ice, drops the temperature to about 10°F, and flattens the light. Not ideal conditions for skiing. That's a shame, because the mountains circling the Glacier, in the heart of Denali National Park, are supposedly flush with couloirs, spines, and open powder faces. The few who have been here say it's world-class terrain that lacks only one thing: skiers.
I've come here to find out just how good—and empty—the Ruth Glacier really is. Denali is known for backpacking and mountaineering. Could it also harbor some of the world's best backcountry skiing?
Dan Corn, a guide with 11 years of experience in Denali, isn't fazed by the fog. We're standing on the glacier and he gestures toward the socked-in terrain, cataloguing invisible features like a gardener ticking off flowers yet to bloom: "The Rooster Comb, Dan Beard, the Japanese Couloir." He pauses, then adds, "I have the gear to get you into any shenanigans you want."
The offer is exciting and a little unnerving. The mountains rise imposingly from the glacier, creating a 35-square-mile alpine wonderland that's so remote visitors must arrive by bush plane. And once here, reaching the terrain is an adventure that involves navigating icefall and avoiding hidden crevasses. Corn leads the way, and I start skinning across the glacier, along with Marmot athlete Jess McMillan and photographer Cam McLeod. We're attached to each other with a rope and keep about two body lengths apart. If one of us breaks through a crevasse, the others will serve as anchors. Corn, 34, is lanky with a boyish face. He spent much of his youth in New Hampshire and speaks with the diction of a New England farmer. "When you take your skins off on a glacier," he advises, "leave one ski on so you don't sink in deep snow and, if you do fall into a crevasse, hopefully that ski will catch you."
"Hopefully" is not a word you want to hear from a guide, but we make it across without incident. The fog thins as we climb higher on Mt. Dickey, a nearly 10,000-foot-tall mountain with a bony ridgeline that's flanked with giant aprons of snow. The pitch grows increasingly precipitous as we ascend. To our right, we spy a hanging serac with tractor trailer-size chunks of ice clinging to near-vertical granite walls.
"This is a lot steeper than it looked from the bottom," McLeod says as we boot through knee-deep snow.
"It looked like a gentle slope because everything around it is so big and raw," says McMillan, 40, a blond-haired, blue-eyed former ski racer from Jackson, Wyoming. She's spent 12 years traveling the world to make ski films, and is also getting her first taste of the Denali backcountry.
After postholing for 2,000 vertical feet, we stop just below a rocky outcrop and Corn digs a pit to check the snow stability. The Alaska Range benefits from the maritime climate with wetter-than-average snow. But though the snowpack is relatively stable here, slides do happen.
"There are a few layers of crust, but they're deep," Corn says. "I have total confidence in this snow."
I don't need any more encouragement. Visibility be damned, I'm about to ski the most remote slope I've ever been on. I push off down the mountain. The hill is wide open with a shaded aspect that's holding the fluffier snow. A ray of sunshine pokes through the fog and illuminates 12,240-foot Mt. Huntington. As I begin picking up speed on the 45-degree slope, powder blows around me. I can't help but let out a yelp of joy—an impulse I usually suppress. Five minutes later, I'm at the bottom, a grin on my face.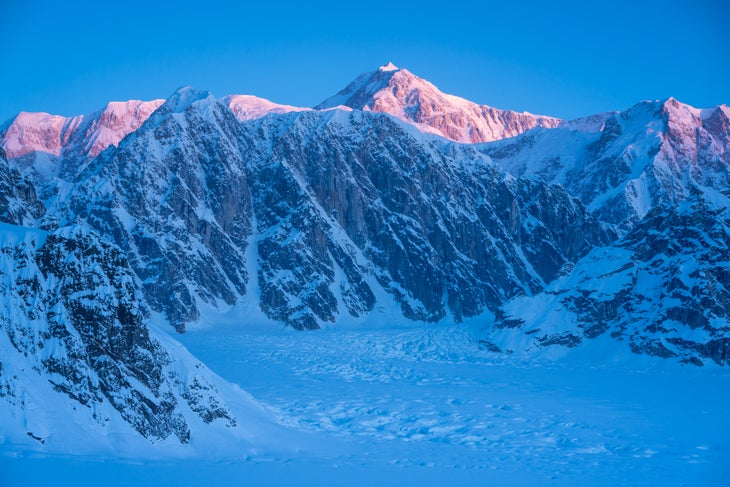 First light on Denali as seen from our camp in the Don Sheldon Amphetheater.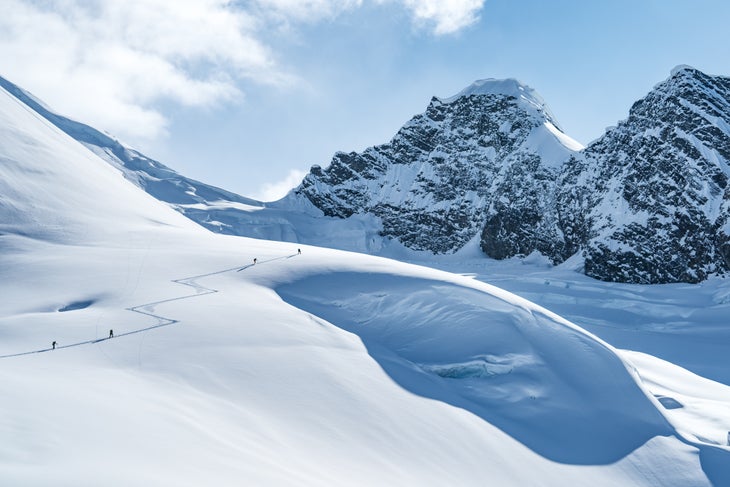 A short walk from the Don Sheldon Mountain House leads the team to amazing skiing and breathtaking views.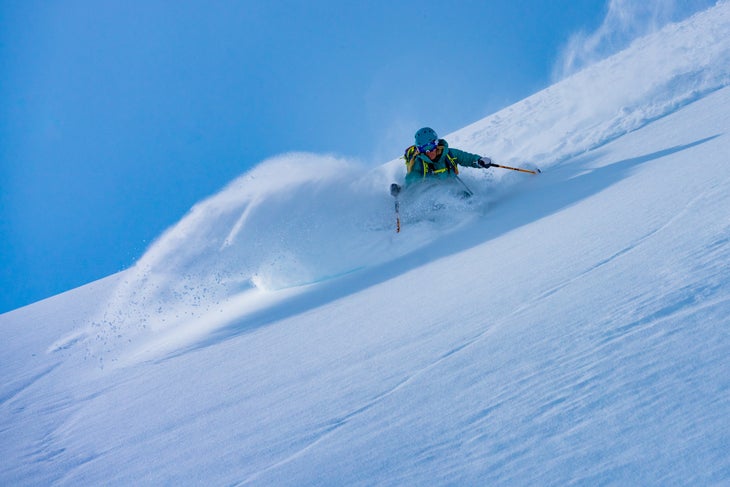 Jess McMillan finding the good snow while in the Don Shedlon Amphetheater on the Ruth Glacier in Denali National Park.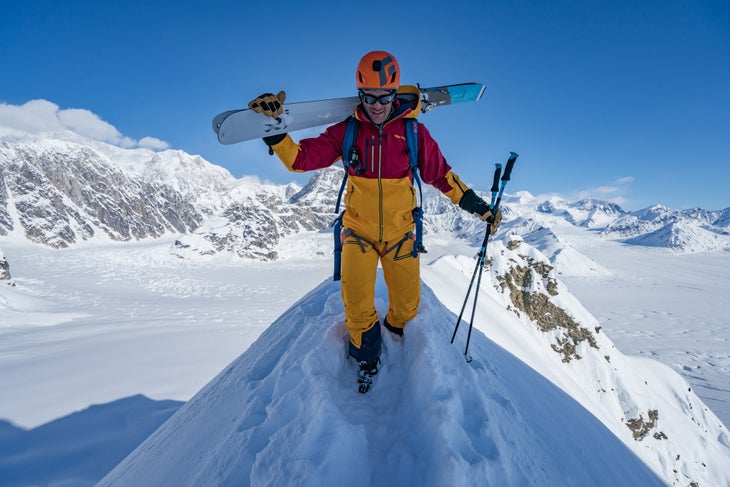 Forrest Jillson walks the fine line of Cameron Ridge before dropping his line back to the glacial valley below.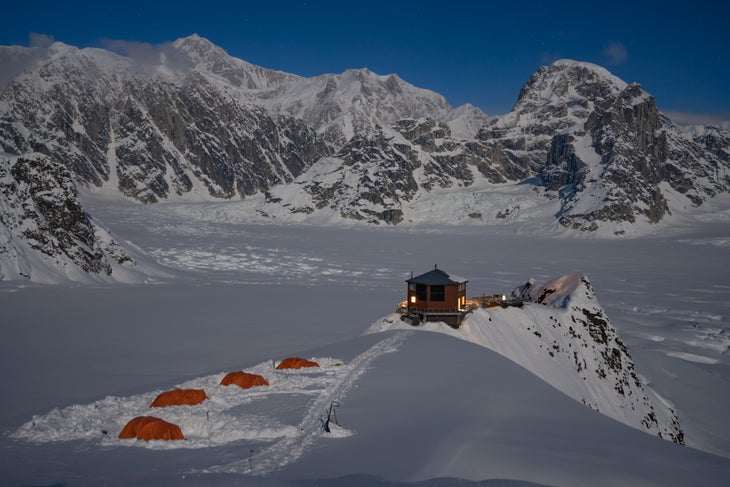 A full moon and clear night illuminates camp with Denali in the background.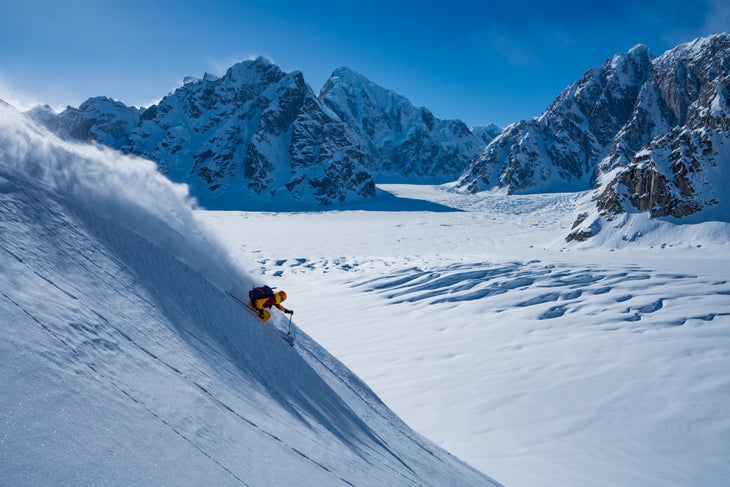 The opportunity to travel to this remote landscape and explore these mountains with skis on our feet was an experience of a lifetime. Although the impressions we made on the snowy slopes have long been swept away the memories have been seared in our minds forever. At the very least, I'm sure Forrest Jillson remembers this moment.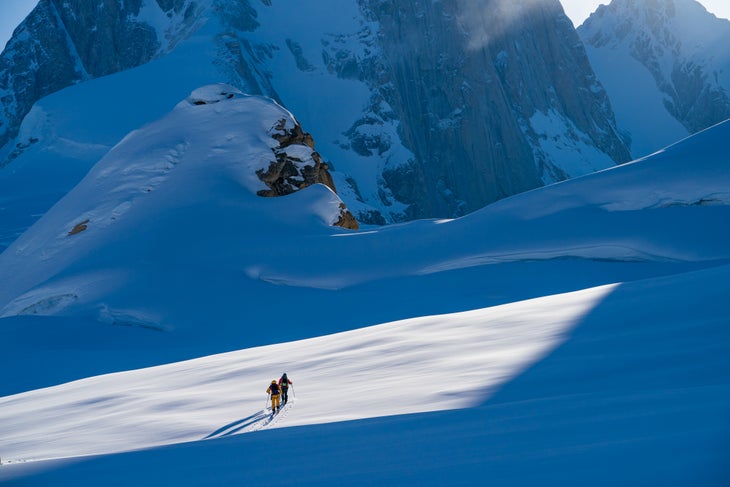 Forrest Jillson and Jess McMillan make thier way to a nearby saddle to peer into the Great Gorge to scout what ski opportunities exist just beyond the bend.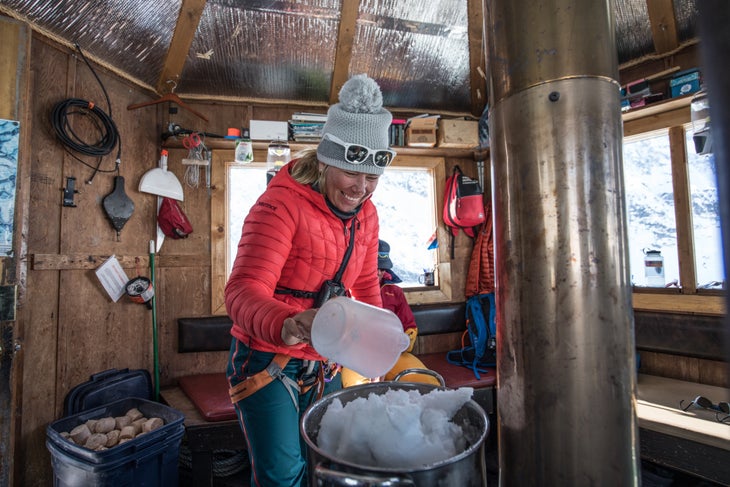 Melting snow for drinking water was a endless daily chore but Jess Mcmillan knows how to have fun with even the most mundane tasks.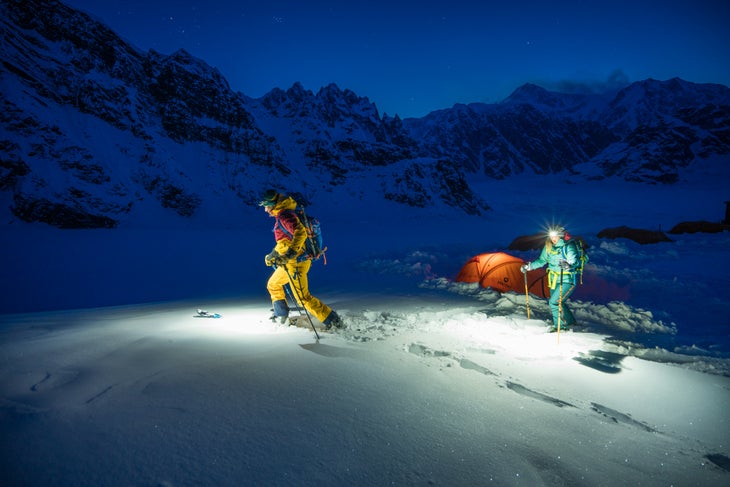 With clear skies nighttime temperatures were well below freezing, making it tempting to stay in our tents cocooned in our 40 below sleeping bags. But when Denali comes out with a star covered sky, bearing the cold is a small price to pay for that show.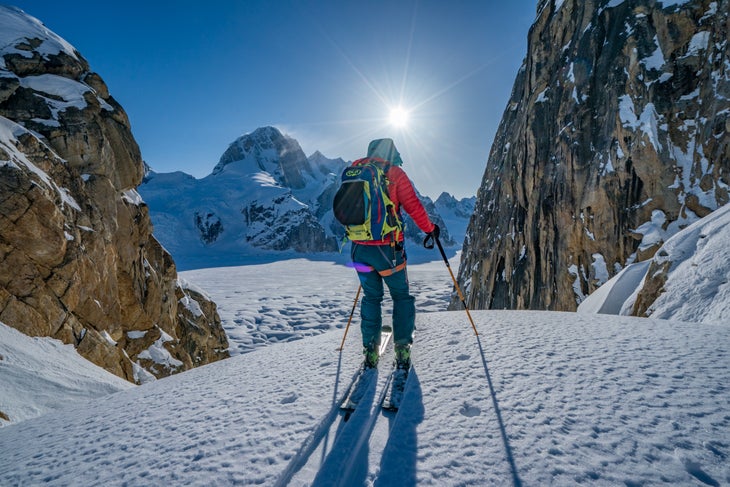 Jess McMillan looks into the belly of the Great Gorge while ski touring on the Ruth Glacier in Denali National Park.
The smile lasts all the way back to our basecamp atop a nunatak—an island-like outcrop of rock that overlooks the glacier and surrounding peaks. It's an iceberg of stone, and we just see the tip. The nunatak holds a small, one-room cabin and several winter tents—our home for five days.
I've come to the Ruth with a crew from Warren Miller Entertainment, here to film a segment for an upcoming movie, Face of Winter. Marmot has partnered with Warren Miller on the Denali shoot, sending two athletes, McMillan and Forrest Jillson, who also lives in Jackson. At 31, Jillson has had some success in freeskiing competitions, but this is his first movie shoot in a faraway locale. I'm just a writer who lucked out. Corn has been assigned to guide us on an exploration of an area known as the Don Sheldon Amphitheater.
The region's namesake would have been pleased. Sixty years earlier, Sheldon, a bush pilot living in Talkeetna, stood on the Ruth Glacier for the first time and realized two things: This place is special, and he wanted to share it with the world. He'd flown to the glacier to help on an Alaska Range survey project. On the far south end of the Ruth, Sheldon discovered the nunatak, where the team could set up mapping equipment and measure the height of peaks.
But Sheldon had bigger plans for the area. Where others saw a frozen, barren landscape, he saw an alpine heaven. Though Denali National Park (at the time, McKinley) had been formed in 1917, the Ruth Glacier area sat just outside its boundaries. In 1955, Sheldon, under the Homestead Act, put a claim on 4.9 acres, and envisioned one day operating the property as a ski destination, complete with a lodge and rope tow. In 1966, he built the small, hexagonal cabin—a 212-square-foot shelter with a woodstove, some bookshelves, and an outbuilding—and began drawing up plans for a much larger chalet. He also started advertising, sending out posters that encouraged people to "Ski McKinley."
"He thought that everybody on the planet should see this incredible place," says Robert Sheldon, 47, Don's son. "The elevation is only 6,000 feet, so he felt people could come and acclimatize quickly." And despite the extreme-looking scenery, you don't need to be an expert to ski here. There are plenty of low-hanging intermediate slopes and thousands of feet of 30-degree faces that are approachable and powdery.
Despite the difficult access—it's a 40-minute flight from Talkeetna—the Ruth Glacier almost immediately began attracting skiers. But Sheldon died in 1975 after a battle with cancer—before he could build the chalet or install the rope tow.
Then, in 1980, the park expanded to include the Ruth Glacier. The land owned by the Sheldons was grandfathered in, but the park rules changed the complexion of the area. "They asserted that, if you ventured off of our property on a commercial trek, you needed to have a guide," Robert says. (All commercial trips on the glacier are required to have a guide.) With the new rule in place and without anybody shepherding Don Sheldon's vision, fewer and fewer people went to the Ruth to ski.
That's hard to believe even after a short time here. I'd flown into the glacier through a corridor of granite that yawned into an open sea of the purest white. And after just one outing on skis, in questionable conditions, I've caught a glimpse of what Sheldon saw.
But word of the area is getting out, thanks to Robert Sheldon, who is picking up where his father left off. In 2017, Robert followed through on his father's plan and built a 2,000-square-foot lodge on the nunatak, not far from the original hut. With metal construction, large windows, comfortable furnishings, and an observation deck, it's a deluxe outpost by any measure.
Prefer to rough it? That minimalist cabin is still available. For our large group, we use the hut for cooking and melting water, and camp nearby. With warm gear—temps drop to single digits during our March trip—it's a welcome version of indoor/outdoor living. Most nights, I'm asleep before dark.
One evening, though, Jillson, McLeod, and I stay up later than my usual 8 p.m. bedtime. We bundle ourselves in down layers and kick back in lawn chairs outside the cabin. With the sky completely clear, the full moon and bright stars cast long, day-like shadows over the glacier, and the snow glows silver. Shooting stars ping through the mesosphere, providing a light show like nothing else I've seen.
After our afternoon of "poor" skiing conditions, the sky clears and we follow a predictable routine over the next few days: wake up to spindrift catching pink morning light on the peaks, suit up, and head out. Each day, we cover at least 10 miles.
Corn leads the way, but it's hard to go wrong. The amphitheater is crowded with spines, couloirs, and powder slopes. We find great stuff just an hour-long skin from camp; on other days, we trek for more than three hours before we make a turn. It's hard to say what has and hasn't been skied before, but due to the plentiful terrain and dearth of skiers that have made it here, there's a pretty good chance that many of the lines we ski are first descents.
One morning, we skin up a moderate face as the sun beats down and reflects off the snow, making it feel like it's about 90°F. I strip down to a T-shirt, keep trekking, and start telling Corn that I'm worried I didn't bring enough water. Then, mid-sentence, I stop short. "Holy . . ." I say as I reach the top of the slope.
Jillson, a 6-foot, 200-pound beast of an athlete, had arrived five minutes before me. "Doesn't it look like it's out of a movie?" he asks. "It doesn't look real."
Between the granite walls of a giant couloir, I can see across the valley. Below is the glacier and its pocked and undulating features. It looks lunar. Directly in front of me is the Moose's Tooth, which looks, no surprise, like a giant molar. The east side of the mountain, which appears to be at least 5,000 vertical feet, is somehow covered in a thick layer of corrugated ice, clinging improbably to the sheer walls. "There's a hanging glacier up there that's big enough to land a plane on," Corn says. The mountain, first summited in 1964, is famous among climbers.
After another descent that leaves me grinning and speechless, we put our skins back on and trek across the glacier, stopping in the middle for a snack. "Now you get a better perspective of the Ruth," Corn says. It's true. From the middle of the glacier, surrounded by towering mountains, I feel like a speck. All around us are windswept dunes of snow.
"It's like we're walking across the Sahara with Yosemite all around us," McLeod says. "It's hard to take everything in at the same time without being completely overwhelmed."
We skin for more than three hours, until we reach the top of a small ridgeline that lies below the sharp spire of Explorers Peak. The film crew shoots Jillson and McMillan as they skin and ski a sunbaked line. I lap a few runs down a mellow, 1,000-foot face, making shin-deep turns in creamy snow.
Is this the best backcountry skiing in the world? The world is a big place, but I will say this: We have 35 square miles of outrageous terrain to ourselves. Denali is only 10 miles away. Wispy clouds puff from the 20,310-foot peak like a smokestack. The only sound I hear is faraway icefall.
My last day on the glacier, we push off from the nunatak and ski down a gentle slope toward the Rooster Comb, a peak that uncannily resembles its moniker. While the film crew goes to work, Corn and I continue, meandering around deep crevasses and over giant chunks of ice. When we reach what seems to be an impassable section surrounded by 20-foot-high walls of snow, Corn breaks out his avalanche shovel and spends 30 minutes excavating a path, chipping a ramp into the snow while balancing above a bottomless abyss. If he falls, he reminds me, I need to be his anchor. "Then we'll just talk," he says. He doesn't elaborate.
We make it through and reach a smaller amphitheater, about 2 square miles of hanging seracs and jagged peaks. The slopes are loaded with powder. Corn and I take a few laps and then, as the day winds down, we find a vantage to watch Jillson and McMillan ski a steep spine. So far, I haven't heard McMillan voice any emotion during descents. (She's "working.") But as she makes her way down, she lets out a joyful yell. I'm glad I'm not the only one who couldn't stifle the stoke. On the skin out, I ask her how the area compares to the best spots she's skied.
"We all have 100 things we should do before we die," she says. "I didn't even know this was one of them and now I need to come back."
The next morning, I walk down to the airstrip and hop onto my flight back to Talkeetna. The plane takes off and rounds the glacier's bend, soaring past the Gargoyle, a nearly 7,000-foot-tall "boulder," and down the corridor of mountains, past the Moose's Tooth and the Bear's Tooth. The sun bursts through the window and warms me into a solar daze. For nearly a week, I skinned and skied for eight hours a day, learned the ins and outs of glacier travel, saw terrain that dwarfs most mountain ranges, and collapsed in a tent each night. And discovered that the rumors about the Ruth Glacier are not quite accurate. It's better than anyone says.
Gordy Megroz lives in Jackson, WY. He used to think the skiing there was pretty good. 
Do It
Get there The round-trip flight from Talkeetna is $545 per person. Season Spring Guide Alaska Mountaineering School offers a five-day package for four people—with two guides, flights from Talkeetna, camping gear, and food—for $2,900 per person. Sheldon Mountain House Rent the historic cabin for $500 per night for four people, and $100 per additional person up to a total of 9. The Sheldon Chalet costs $2,300/night per person, sleeps 10, and comes with heli service, guides, gear, concierge, and a chef.