Silverthorne, CO: Ptarmigan Peak
This 11.8-mile dayhike links quiet forests and wildflower-filled meadows to a broad mountaintop overlooking Lake Dillon.
Heading out the door? Read this article on the new Outside+ app available now on iOS devices for members! Download the app.
The Ptarmigan Peak Trail starts above Silverthorne and climbs steadily along grassy hills dotted with intermittent aspen groves. Unobstructed views of Lake Dillon and the Tenmile Range stretch out to the south and southwest until the trail enters the forest at mile 0.6.
From here, the path winds past trickling brooks, vibrant wildflower displays, and fragrant pines—look west for views of the Gore Range between gaps in the trees. After four miles, the trail passes above treeline and ascends an expansive ridge with bird's-eye views across Summit County.
Leave the trail at mile 5.7, and follow a string of cairns along a 300-yard non-technical approach to Ptarmigan's broad summit. Savor the far-reaching vistas before retracing your steps back to the trailhead.
-Mapped by Kim Phillips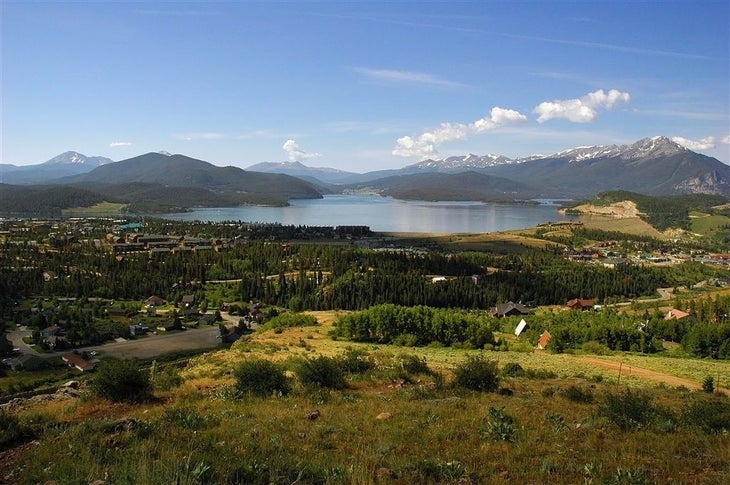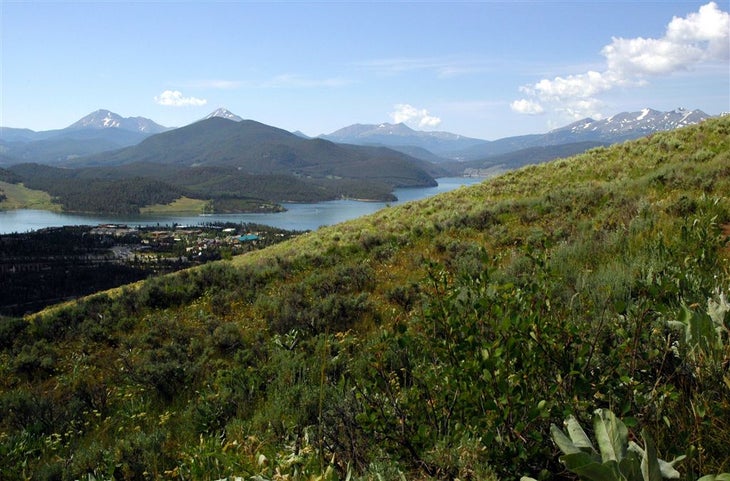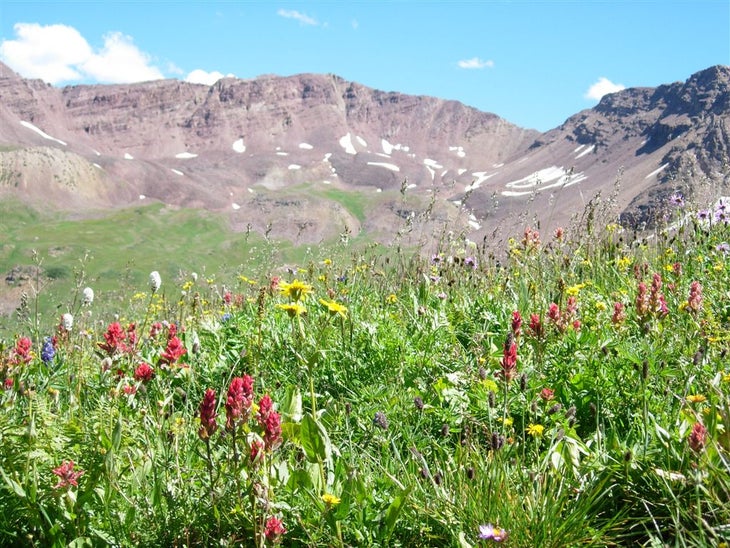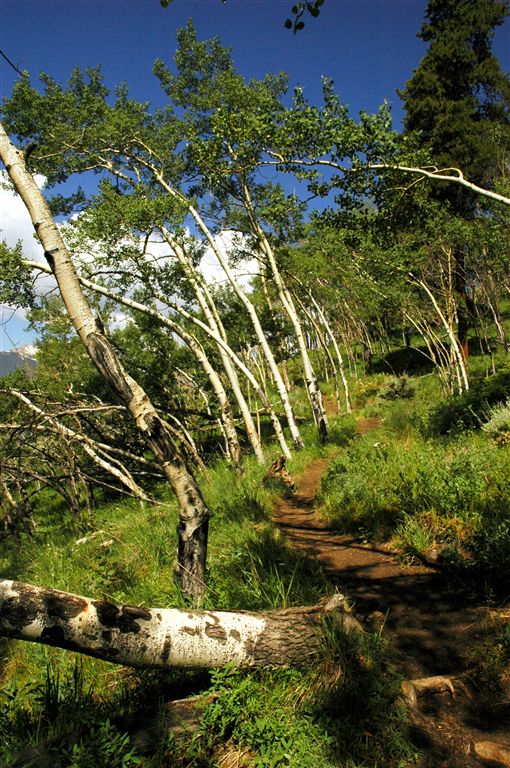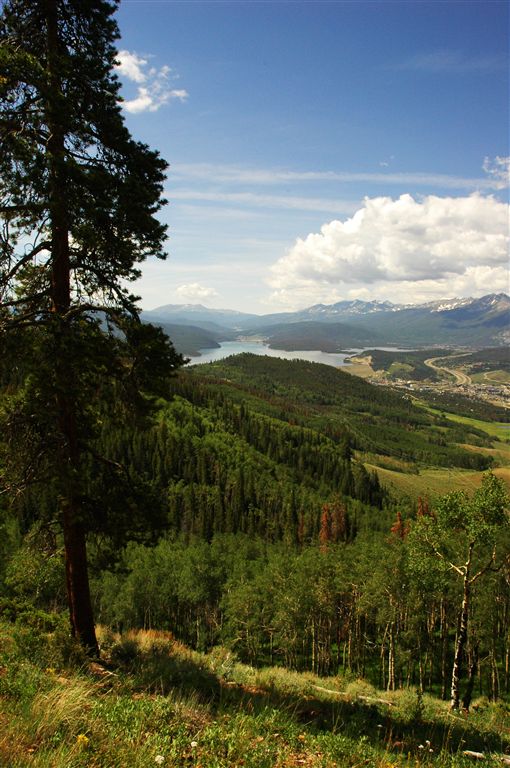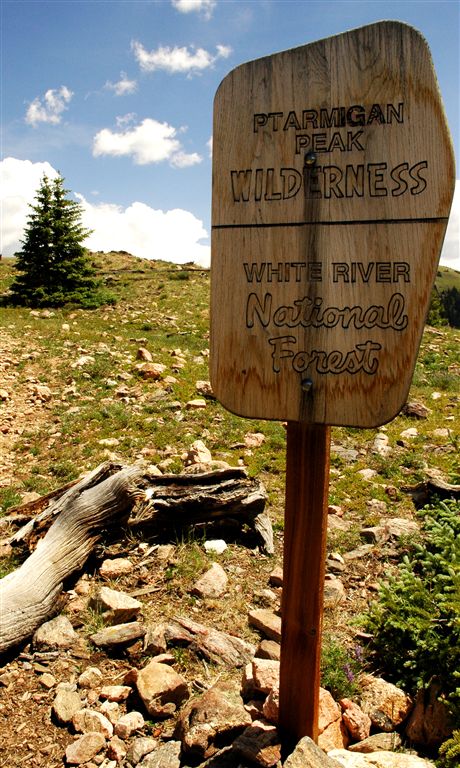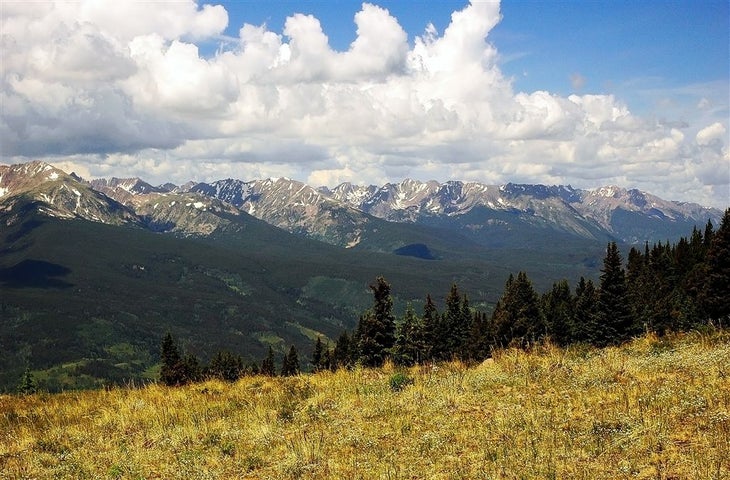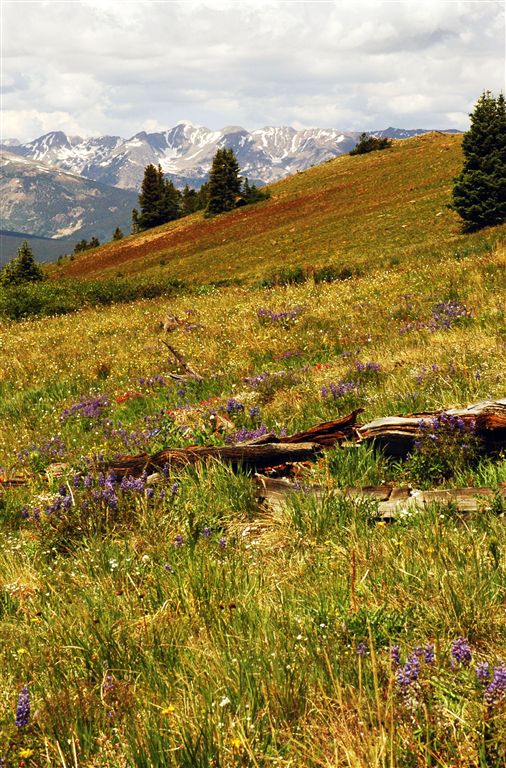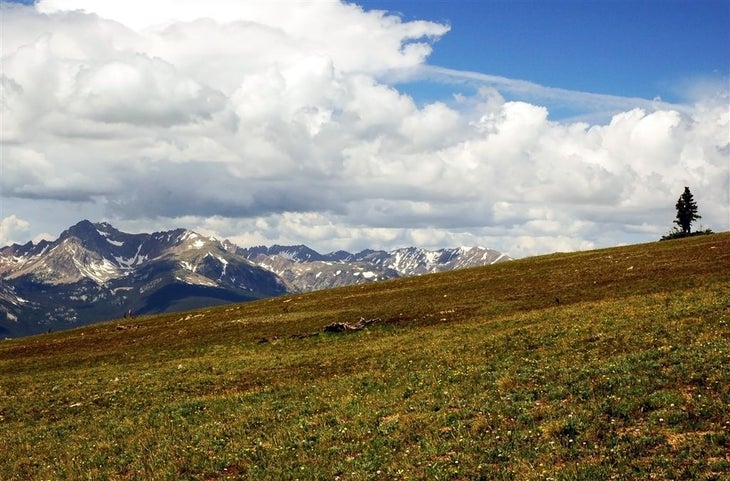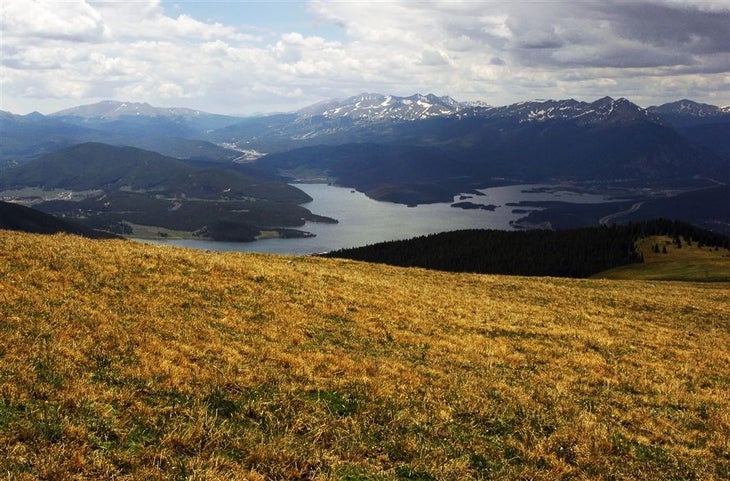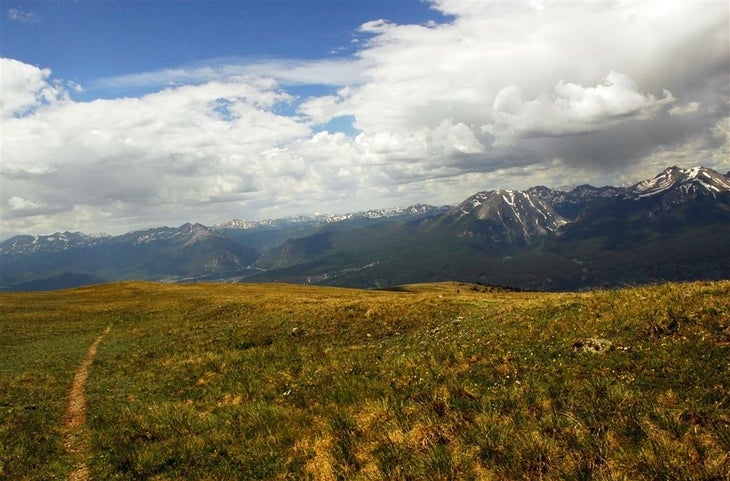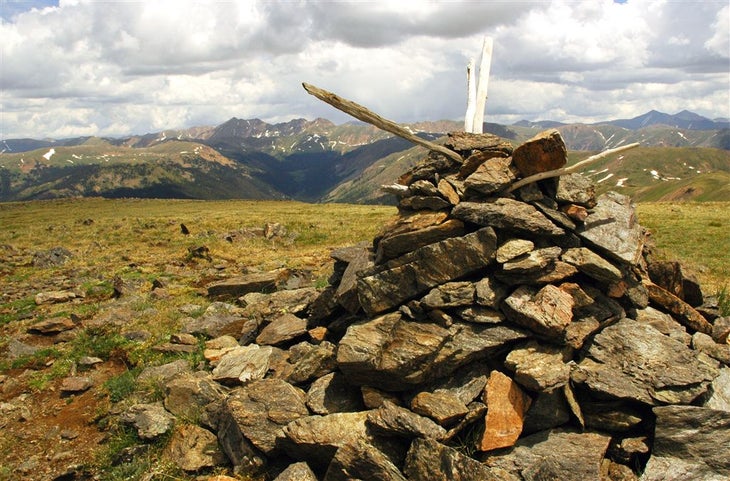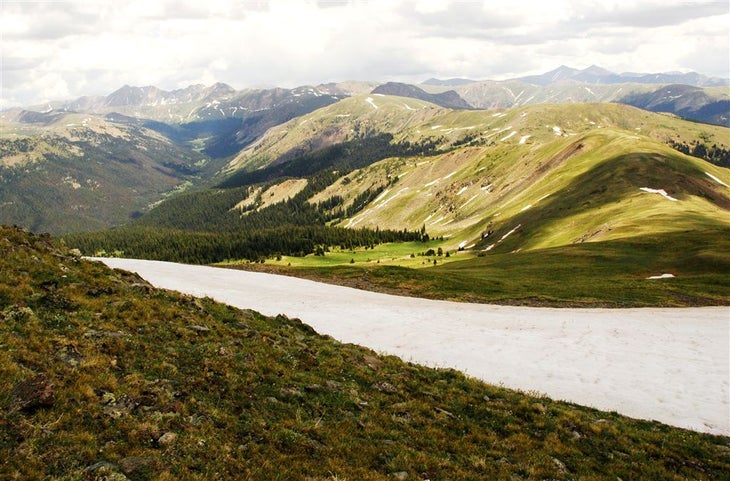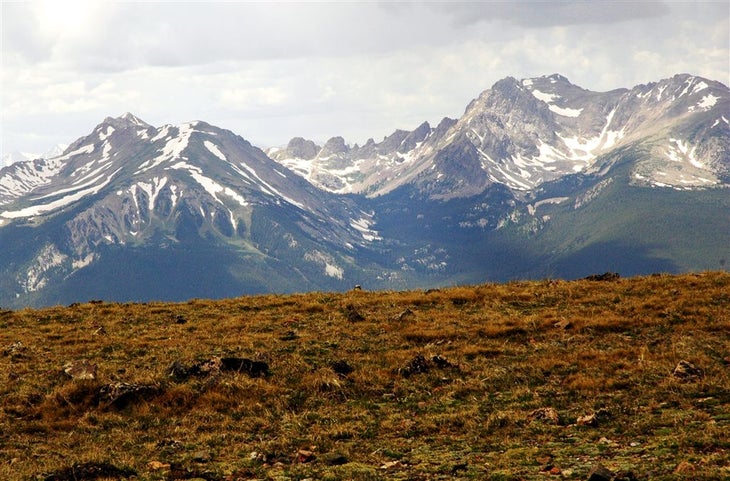 Trail Facts
Waypoints
PPT001
Location: 39.635151, -106.053497
Follow Ptarmigan Peak Trail to the north. In 500 feet, turn left and follow paved County Road J for steep uphill stretch.
PPT002
Location: 39.637619, -106.053497
Bear right onto narrow dirt path cut through stubby bushes and shrubs. In 100 yards, trail curves to the right, heading east.
PPT003
Location: 39.638931, -106.052696
Turn around for far-reaching views of Lake Dillon stretching out beneath the rugged Tenmile Range. Next, continue north up grassy hillsides.
PPT004
Location: 39.642899, -106.052902
Trail gently descends between aspen groves on slightly rocky trail.
PPT005
Location: 39.650269, -106.053497
Clearing in aspens reveals up-close views of the snow-capped Gore Range to the west; continue hiking north.
PPT006
Location: 39.654011, -106.053497
Trail meanders through shady, pine-scented forest; lavender columbine speckle the ground.
PPT007
Location: 39.657162, -106.051697
Cross a small stream that trickles across the trail; in 100 feet, walk through a corridor of bent aspens.
PPT008
Location: 39.66151, -106.052696
Cross a small, gurgling stream.
PPT009
Location: 39.66272, -106.054604
Rest legs on the log bench overlooking the Gore Range. Next, trail travels northwest.
PPT010
Location: 39.667141, -106.051498
Climb though pine forest; catch an occasional glimpse of the Gore Range through the trees.
PPT011
Location: 39.672192, -106.042198
Climb southeast, then northeast up an open, grassy ridge.
PPT012
Location: 39.678131, -106.037201
Continue straight on Ptarmigan Peak Trail @ 3-way junction with Ptarmigan Pass Trail.
PPT013
Location: 39.680019, -106.033897
Stunning panoramas of Lake Dillon, Keystone, and the Tenmile and Gore Ranges stretch out to the south and to the west.
PPT014
Location: 39.689079, -106.027901
Keep climbing north. In 800 feet, turn right @ wooden sign and leave the trail. Connect the cairns to reach Ptarmigan Peak's summit.
PPT015
Location: 39.690716, -106.026344
Ptarmigan Peak (12,498 ft.): A 4-foot cairn marks Ptarmigan's broad, windy summit. Look out onto the gently, rounded slopes of the Williams Fork Mountains to the north and east. In stark contrast, the rocky, sawtooth ridgeline of the Gore Range dominates views to the west. Retrace route back to trailhead.
Lake Dillon
Location: 39.636017, -106.053558
Views overlooking Lake Dillon and the Tenmile Range.
Views of Lake Dillon
Location: 39.640575, -106.052704
Wildflowers
Location: 39.652157, -106.054291
Aspen Grove
Location: 39.657387, -106.051773
Summit County Views
Location: 39.67102, -106.042526
Ptarmigan Peak Wilderness
Location: 39.672234, -106.040283
The Gore Range
Location: 39.674381, -106.039352
Wildflower Meadows
Location: 39.675877, -106.038696
Views of the Gore Range
Location: 39.685692, -106.028885
Summit County
Location: 39.687221, -106.028366
Grassy Trail
Location: 39.688583, -106.028038
Ptarmigan Peak Cairn
Location: 39.690765, -106.026344
Snowfield
Location: 39.690556, -106.02639
Summit Views
Location: 39.690342, -106.026443
The Gore Range rises dramatically behind grassy slopes.