Shenandoah National Park: Lewis Spring Falls
This *3.3-mile loop behind Big Meadows Lodge drops past rocks and ridgelines to Shenandoah's 4th highest falls.
Heading out the door? Read this article on the new Outside+ app available now on iOS devices for members! Download the app.
From Big Meadows Lodge, follow a short path north to the junction of Lewis Spring Falls Trail and the Appalachian Trail (AT). From there, the blue-blazed Lewis Spring (it's the path to the right when facing both trails) drops toward the falls on a consistently steep and rocky path. The trail levels off along the western slope, tossing up tree-framed glimpses of mountains and the Shenandoah Valley. About one mile in, pick up the trail to the right of the silver-banded concrete marker. This spur passes an overlook then scrambles over a creek (just above the falls) before dropping slightly to the observatory.
Return to the Lewis Spring Falls Trail for a switchbacking climb to the AT. Follow the latter north to expansive ridgeline views that may include a peregrine falcon or two. Next up is the Big Meadows complex, where not-so-bashful deer might just be nibbling a leafy lunch beside the trail. At hike's end, settle into a rocking inside the Grand Room, located just off the Lodge's lobby. Views of the Shenandoah Valley from here are superb.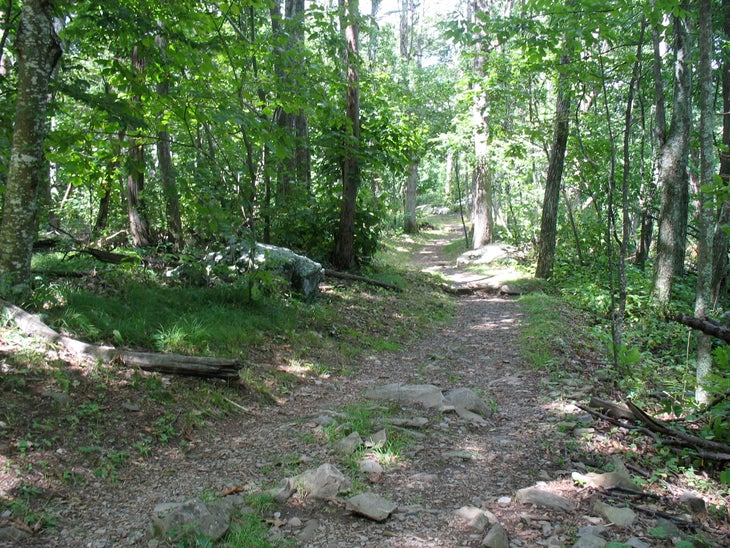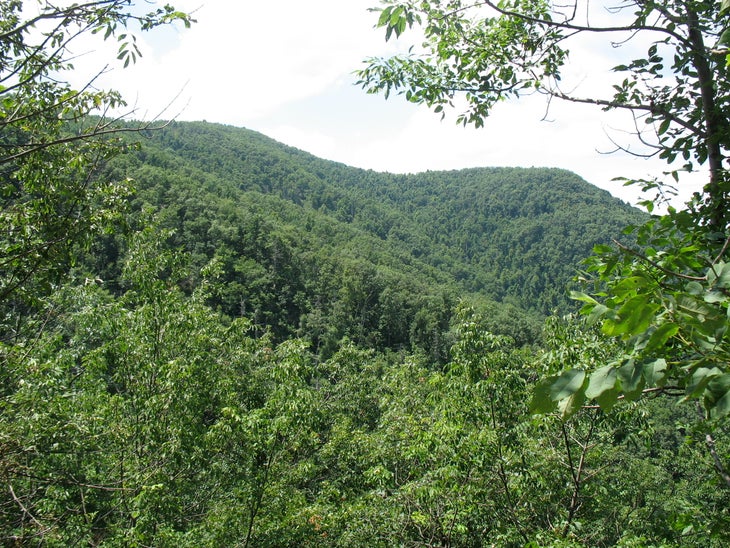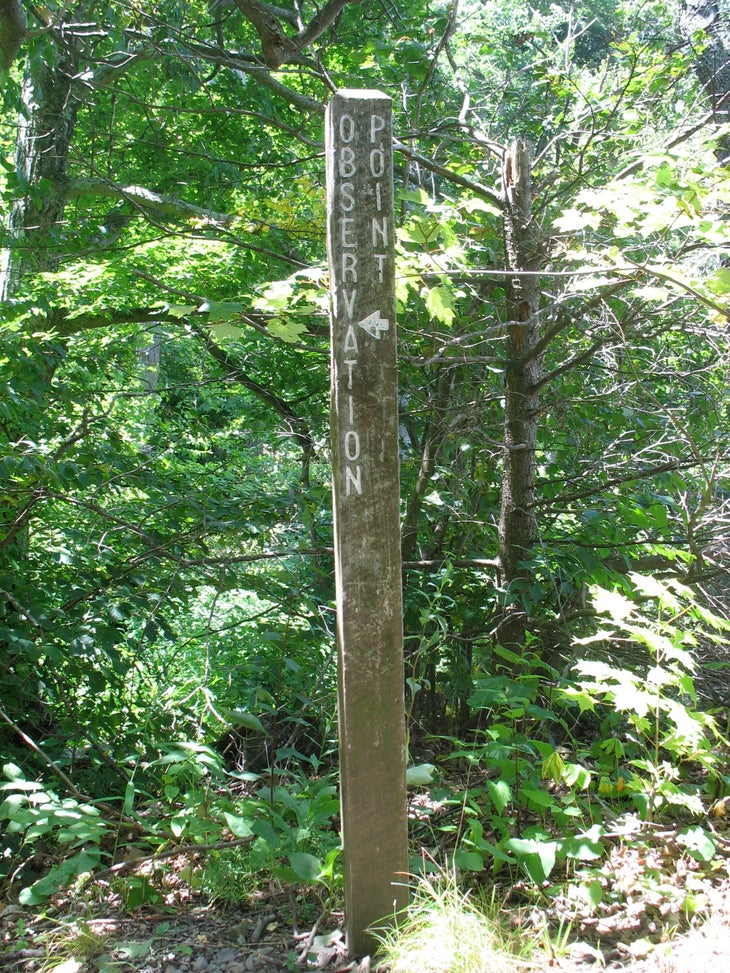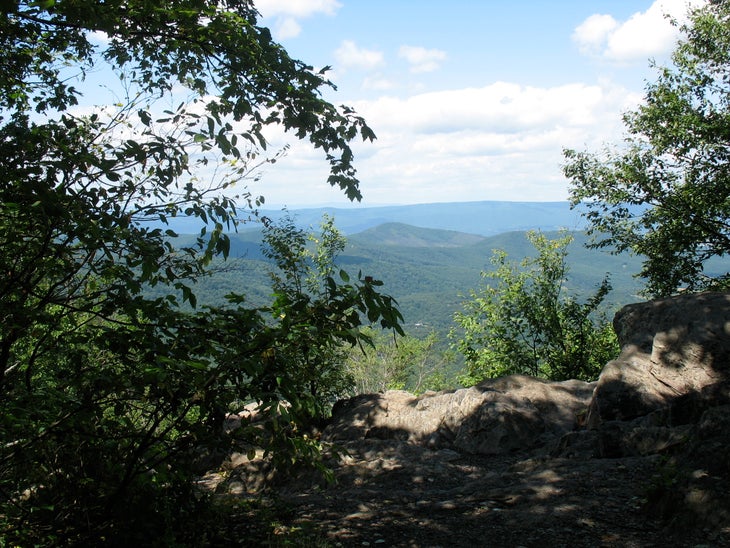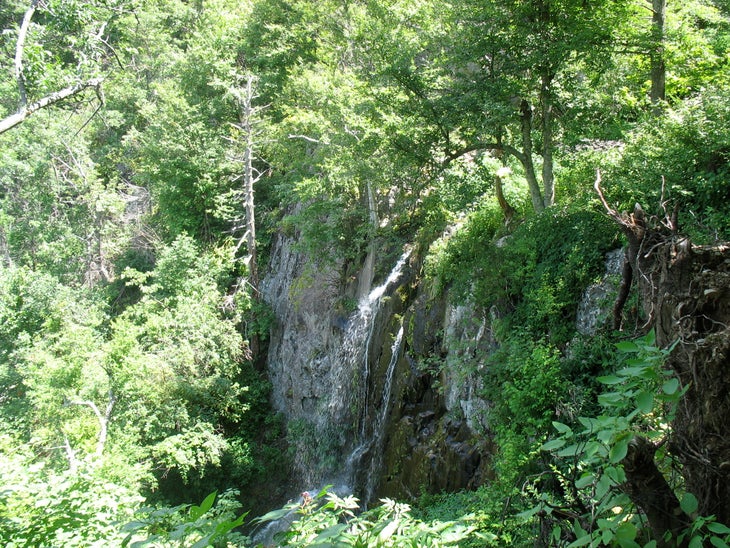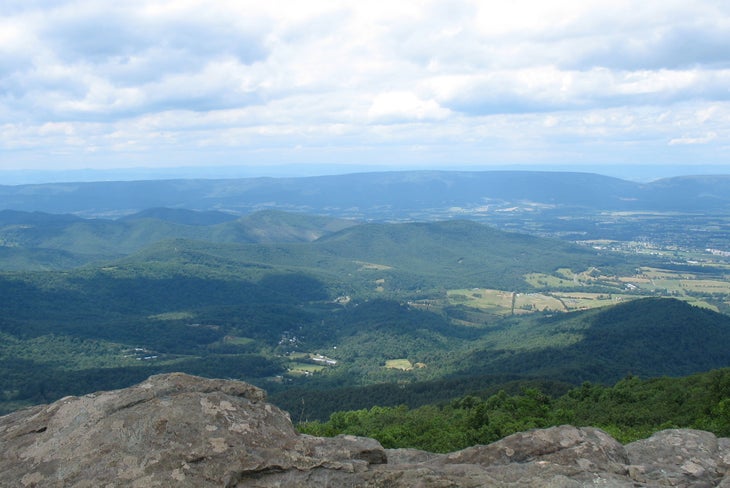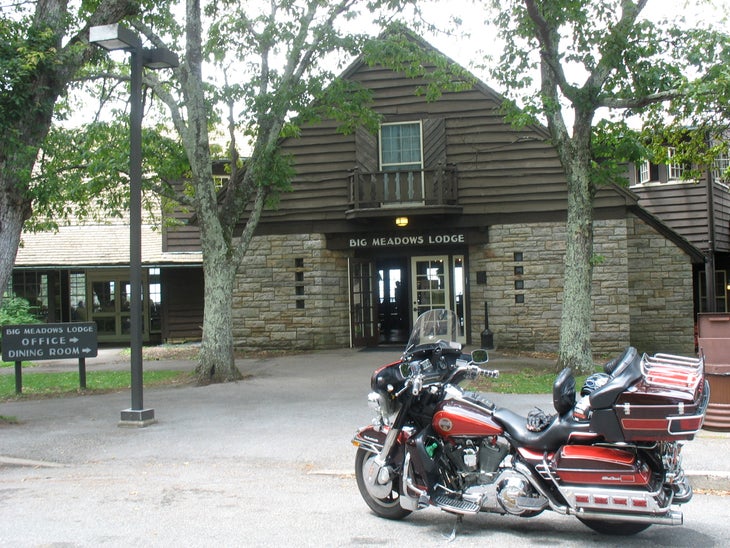 Trail Facts
Waypoints
LSF004
Location: 38.531063, -78.440647
Look for marker at junction of Lewis Spring Falls Trail and the Appalachian Trail (AT). Follow the Lewis Spring Trail, descending on the right. The trail drops steeply at points and is often very rocky.
LSF005
Location: 38.522124, -78.450451
Scramble up and over rocks.
LSF006
Location: 38.520739, -78.449493
Turn right at marked junction. Follow spur trail to a small overlook then turn left, picking your way over a rocky creek above the falls.
LSF007
Location: 38.520202, -78.450142
View of falls from stone-walled overlook.
LSF008
Location: 38.520109, -78.443955
Junction with wide spur trail leading to Appalachian Trail. Turn right. Depending on the sign you read, the AT is either 50 yards or 70 yards ahead.
LSF009
Location: 38.519564, -78.443348
Turn left to join the white-blazed AT.
LSF010
Location: 38.526766, -78.444357
Pass Blackrock Trail to Big Meadows Lodge. It's currently closed for nesting peregrine falcons.
LSF011
Location: 38.527059, -78.444271
Short path leads to rocky viewpoint on the ridgeline. Grab a seat for fantastic valley views. In summer, keep an eye out for soaring falcons.
LSF012
Location: 38.529208, -78.442871
Look for deer and other wildlife after passing the Big Meadows Lodge complex.
LSF013
Location: 38.530874, -78.439691
If parking at Big Meadows is tight, try the amphitheater lot which has a spur trail leading to the AT and Lewis Spring Falls Trail junction.
LSF014
Location: 38.531233, -78.44035
If starting from the amphitheater lot, turn left onto AT, following it south to the Lewis Spring Falls Trail junction.
Lewis Spring Falls Trail
Location: 38.531008, -78.445655
Mountains from Lewis Spring Falls Trail
Location: 38.53108, -78.446138
Spur Trail to Lewis Spring Falls Overlook
Location: 38.520737, -78.449458
Page Valley from Spur Trail
Location: 38.520323, -78.449619
Lewis Spring Falls
Location: 38.520208, -78.45011
Ridgeline View of Page Valley
Location: 38.527055, -78.444207
Big Meadows Lodge
Location: 38.529456, -78.440897
Brews and Views inside the lodge.