Seneca Rocks
A West Virginia Playground for More Than Just Climbers
Heading out the door? Read this article on the new Outside+ app available now on iOS devices for members! Download the app.
Driving east from the Otter Creek Wilderness nets a lot of the same roller-coaster ups and down of earlier roads, until all of a sudden a giant monolith of rock explodes from behind the hills and you drop down into a valley that serves as a hub of multisport activity and exploration.
The small town of Seneca Rocks, sitting on the North Fork South Branch of the Potomac River below the finlike crag of the same name, is a hive of hiking, camping, fishing, climbing and more, and there's enough to do here to stay busy for days.
Climb and Hike Seneca Rocks
The most obvious thing to do, for those equipped and experienced, is to climb the rock itself. The sandstone-like quartzite is home to almost 300 climbing routes, ranging from beginner to expert and keeping climbers busy all along the sheer 300-foot face.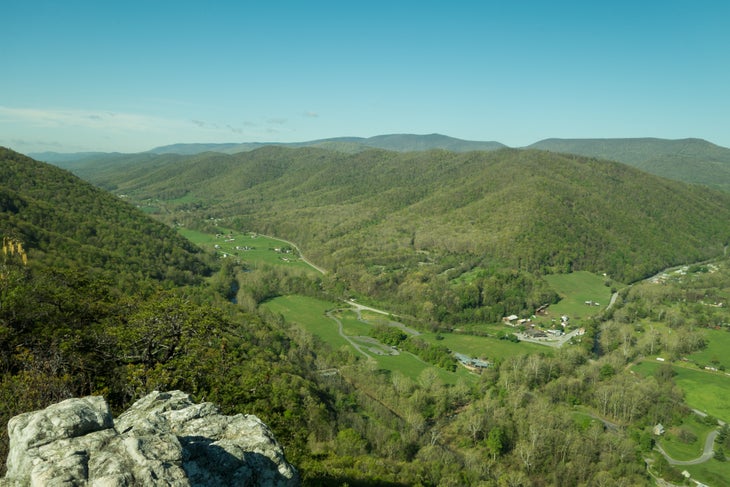 But for those less inclined to enter the vertical world, there are other options to get to the top. A 1.5-mile trail climbs from the Visitor's Center below the rocks, switchbacking up the mountain's easier northwest side to a viewing platform just beneath the top of the cliffs, giving you a climber's-eye view of the town and valley formed by the Potomac. Only the sure-footed should climb a little higher to the rocks to mingle with climbers as they top out. On the way down, cool your feet or on a hot day jump right in the shallow Potomac.
Kids will love the Visitor's Center below the mountain which documents the Rock's important Native American history through vibrant exhibits and displays. Binoculars on the back deck will help you pick out individual climbers on the face—If you can spot them. The area is also the perfect place for picnicking, photography, short walks through the wildflower fields and forests and just relaxing in the West Virginia sun.
Camp at Seneca Shadows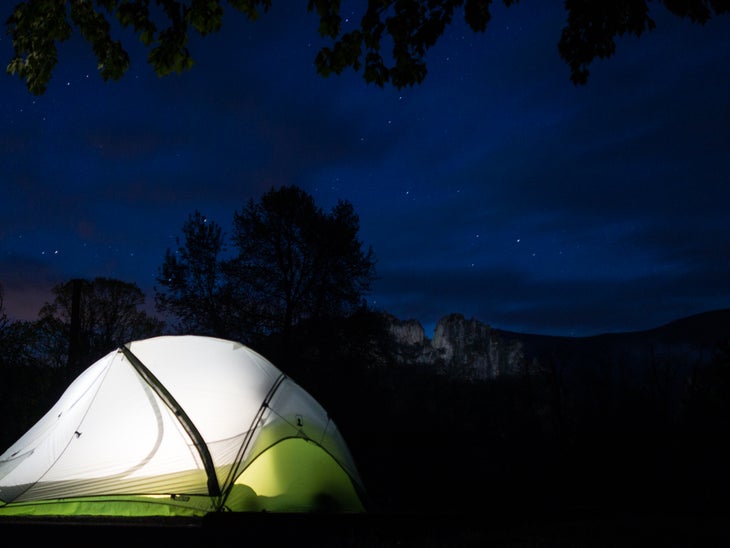 Camping here doesn't need to be an effort and is the perfect way to stay for families and the less-than-hardcore. Just up the road from the Visitor's Center, Seneca Shadows Campground is the obvious place to rest while enjoying the area. Sites in the walk-in tent loop are separated by lush green grass and have tent-flap views of Seneca Rocks. Post up outside your tent for sunset and watch the Rocks glow yellow and pink as the sun goes down behind you.
Be sure to stop through Yokums for the breakfast sandwiches, then head to Front Porch Restaurant just across the street for delicious pizza. Between the food and ample things to do, you'll have a hard time driving out of this valley. 

–
Learn more about wild, wonderful West Virginia here
–